This tasty Caprese Pasta Salad recipe is loaded with tons of my favorite Italian flavors. It's light, refreshing, and super colorful making it the perfect summer dinner side dish!
Jump to: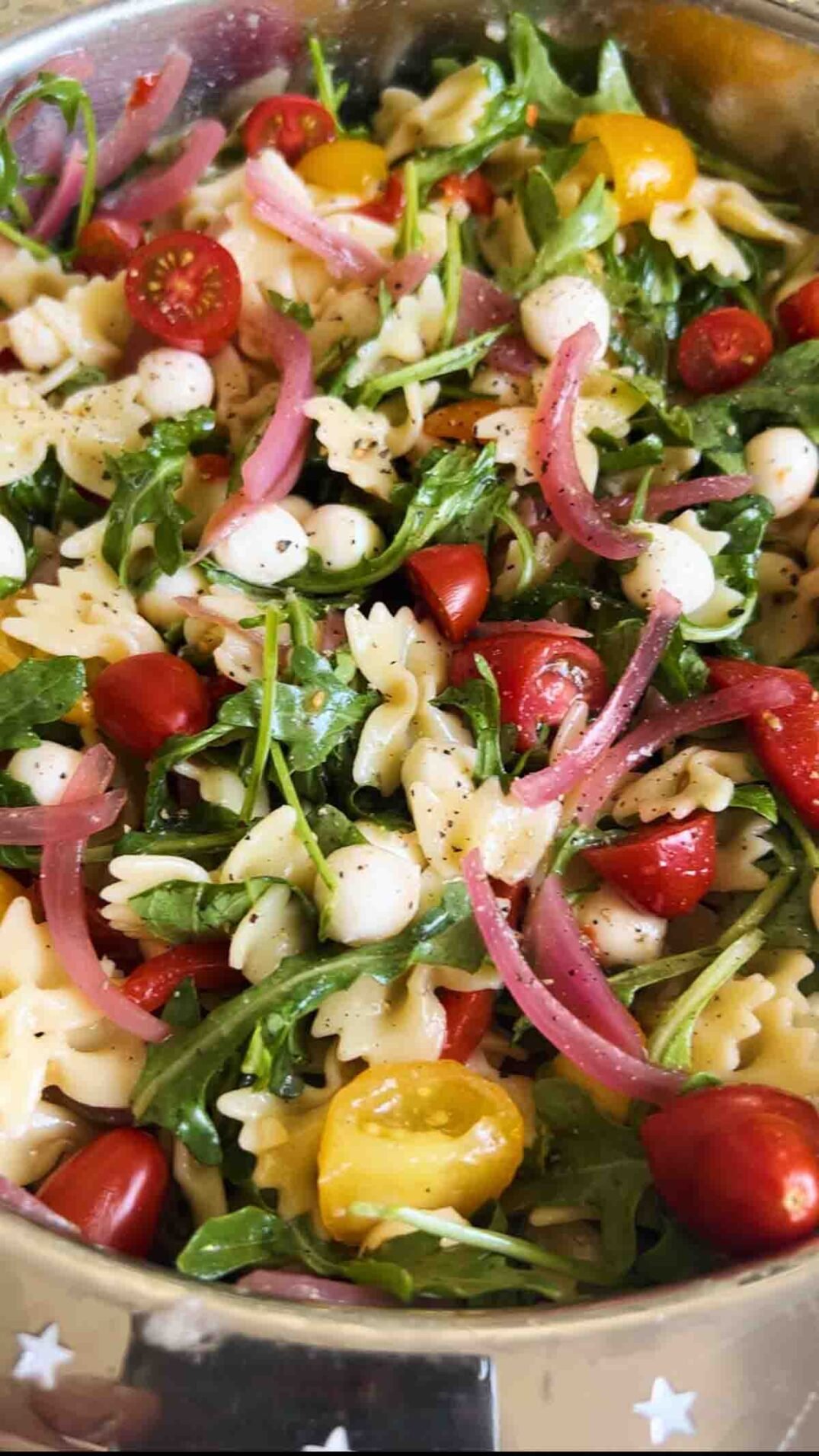 What is Caprese Pasta Salad
Caprese pasta salad is a cold pasta salad recipe that combines the flavors of a traditional Caprese salad with a a bowtie pasta salad.
Not only is it refreshing and vibrant recipe but it also holds up really well in the fridge.
This recipe features fresh heirloom cherry tomatoes, mini mozzarella pearls, roasted red peppers, pickled onions, basil, arugula and a simple dressing.
My caprese pasta salad is a versatile dish that can be enjoyed as a side dish or a light main course. It's perfect for picnics, potlucks, or as a refreshing summer meal.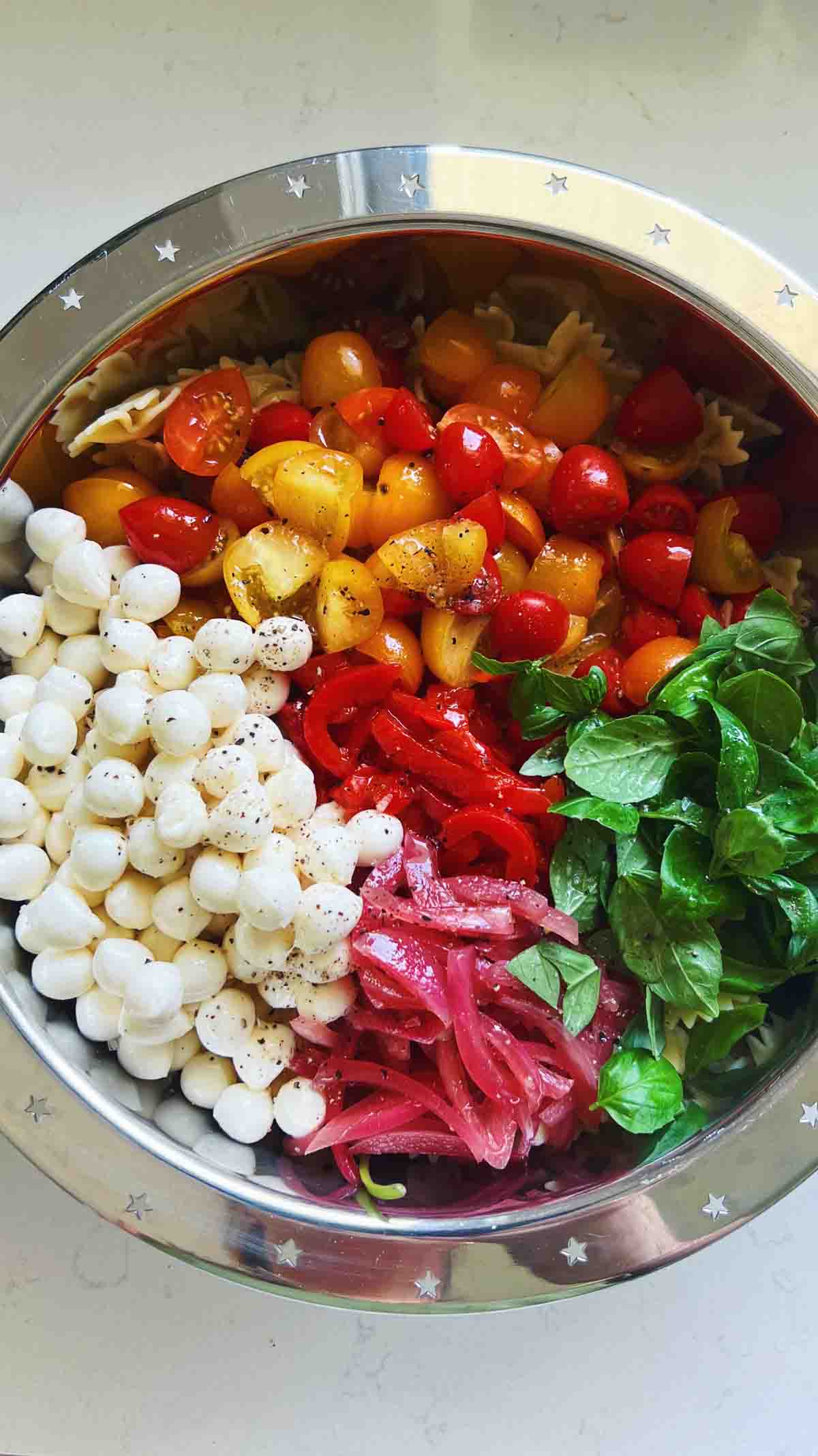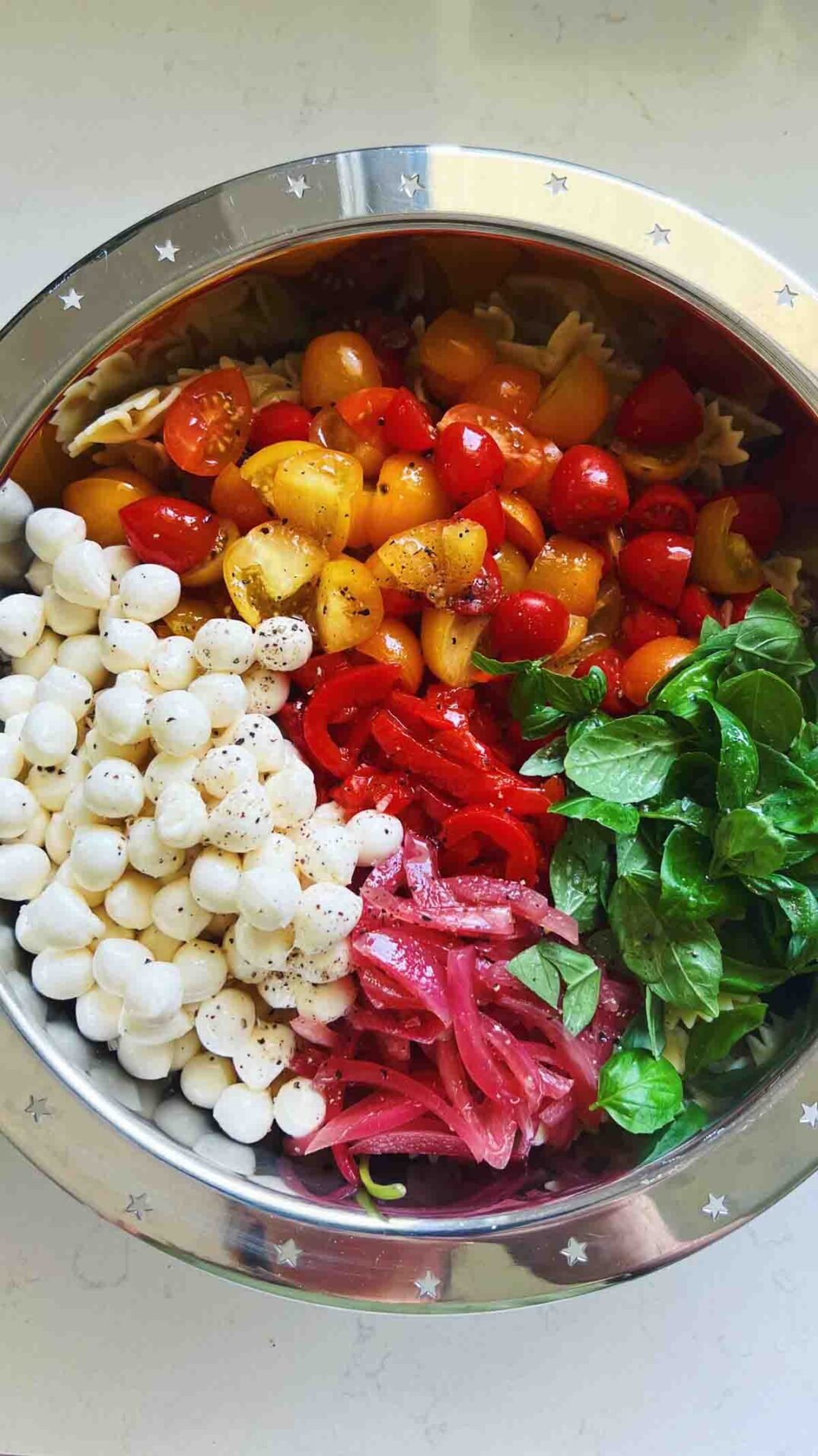 Ingredients and Substitutions to make Caprese Pasta Salad
Arugula - Arugula is my green of choice but you could also use fresh spinach.
Farfalle Pasta - Feel free to use whatever shape pasta you prefer for your pasta salads!
Heirloom Cherry Tomatoes - Any sort of diced tomatoes will work! Try heirloom, cherry, roma, or beefsteak!
Roasted Red Peppers - I use the marinated roasted red peppers that come in a jar but you could totally grill your own! If you don't like peppers, I recommend leaving them out.
Pink Pickled Onions - I always have a jar of my pink pickled onions in the fridge! They are easy to make and add so much flavor! You could use regular red onions if you like that better, though!
Mini Mozzarella Pearls - Regular diced fresh mozzarella also works.
Basil - You have to have basil in a caprese salad! Dried can work but i do not recommend it. Fresh is best!
Garlic Expressions - This is my go-to italian style dressing but if you don't have it or have never heard of it, you can either make your own or use your favorite italian dressing.
White Balsamic Vinegar - You can use regular balsamic vinegar but it will make the pasta salad darker and not as beautiful.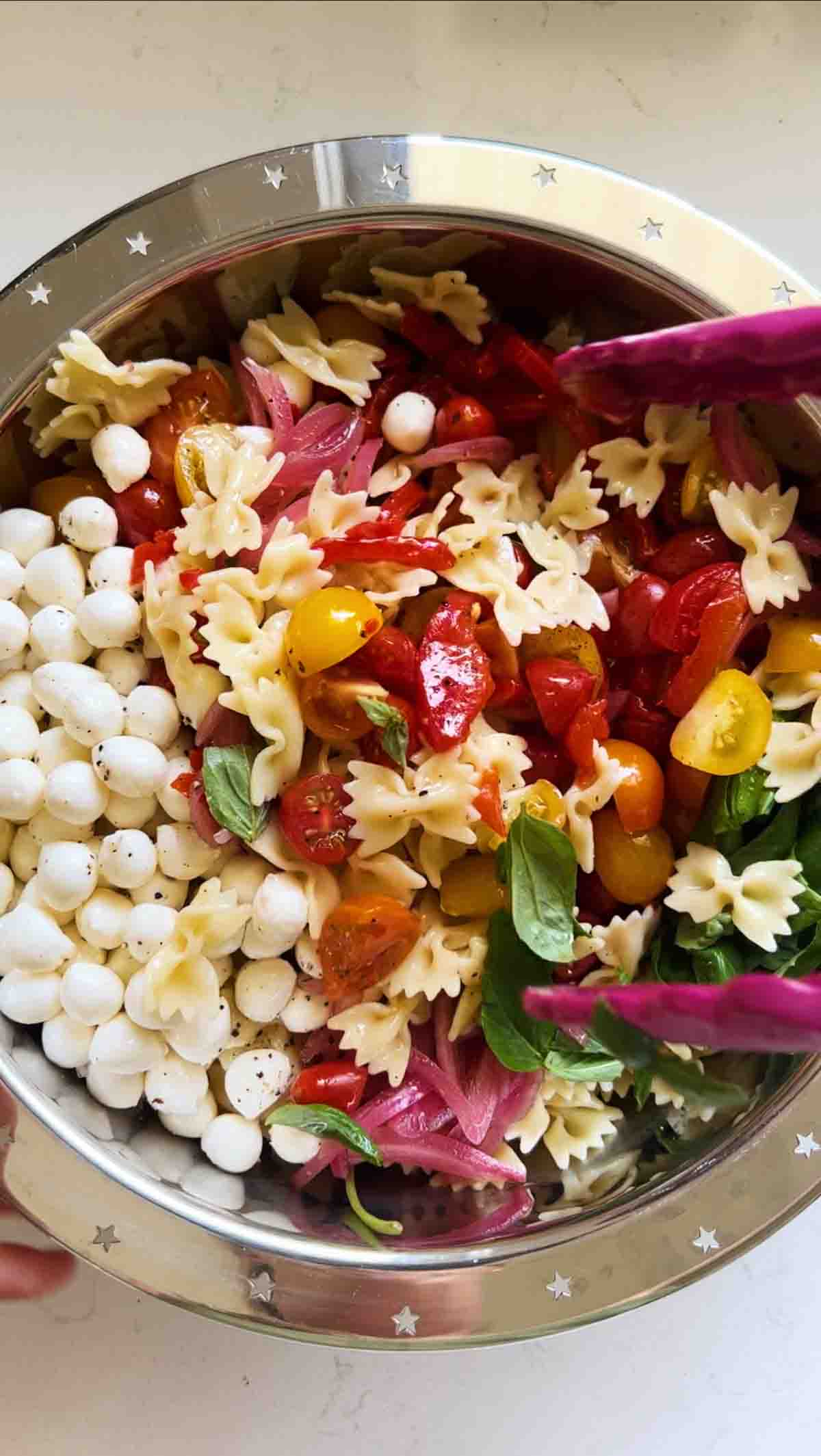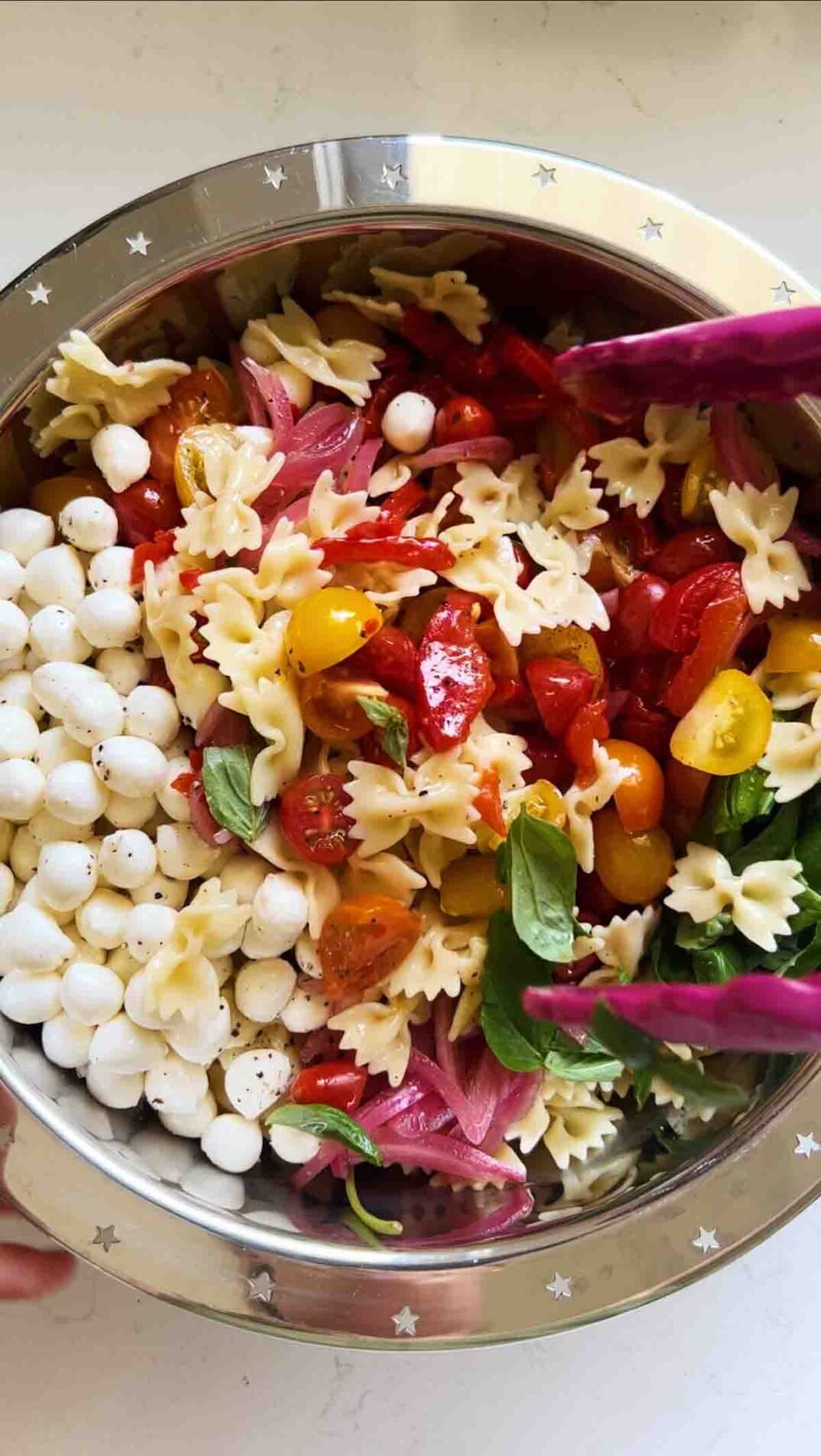 How to make Caprese Pasta Salad
Honestly there is not too much to making my caprese pasta salad!
First you;ll just want to wash and dry your vegetables if needed.
Then chop everything up.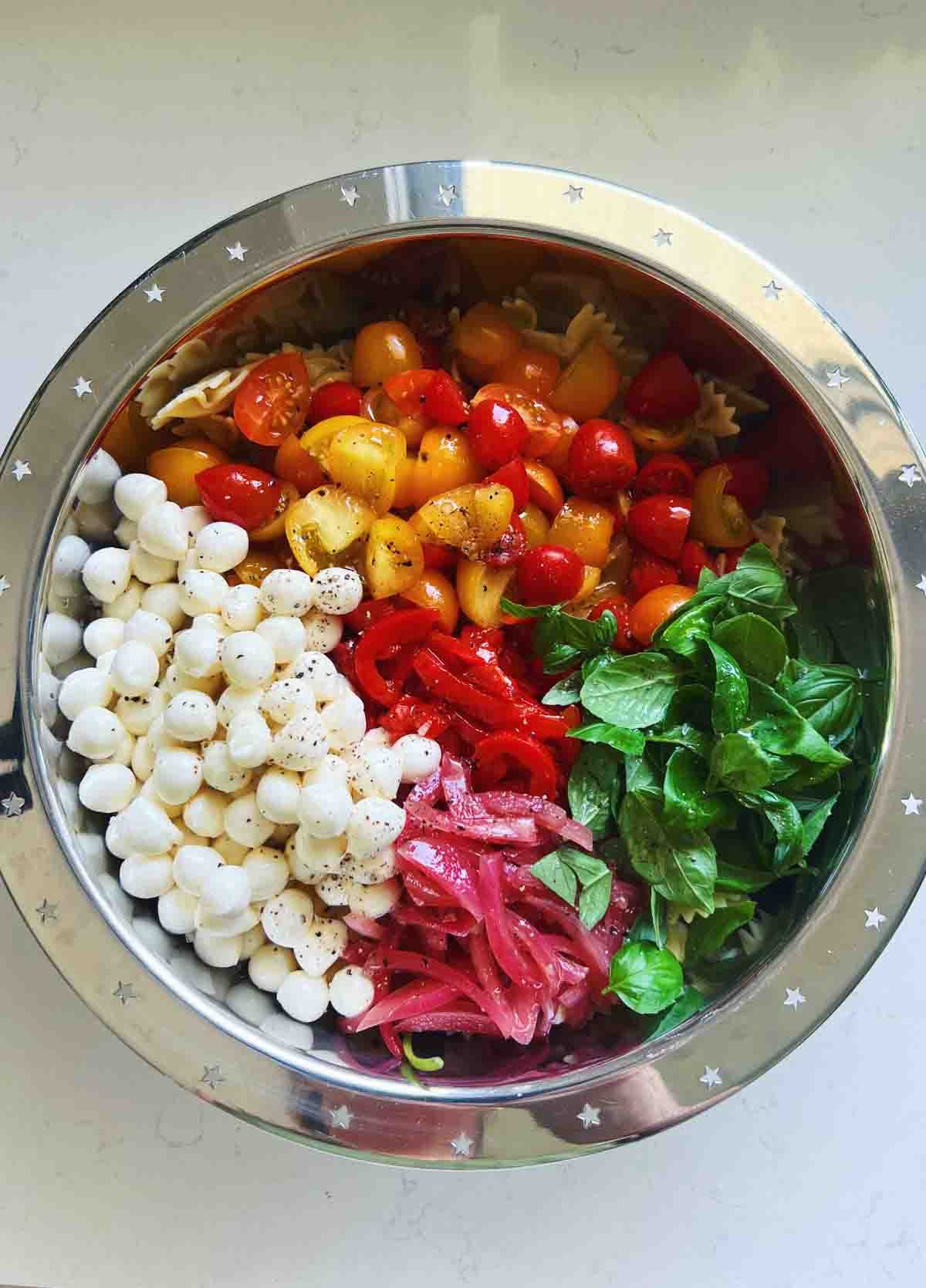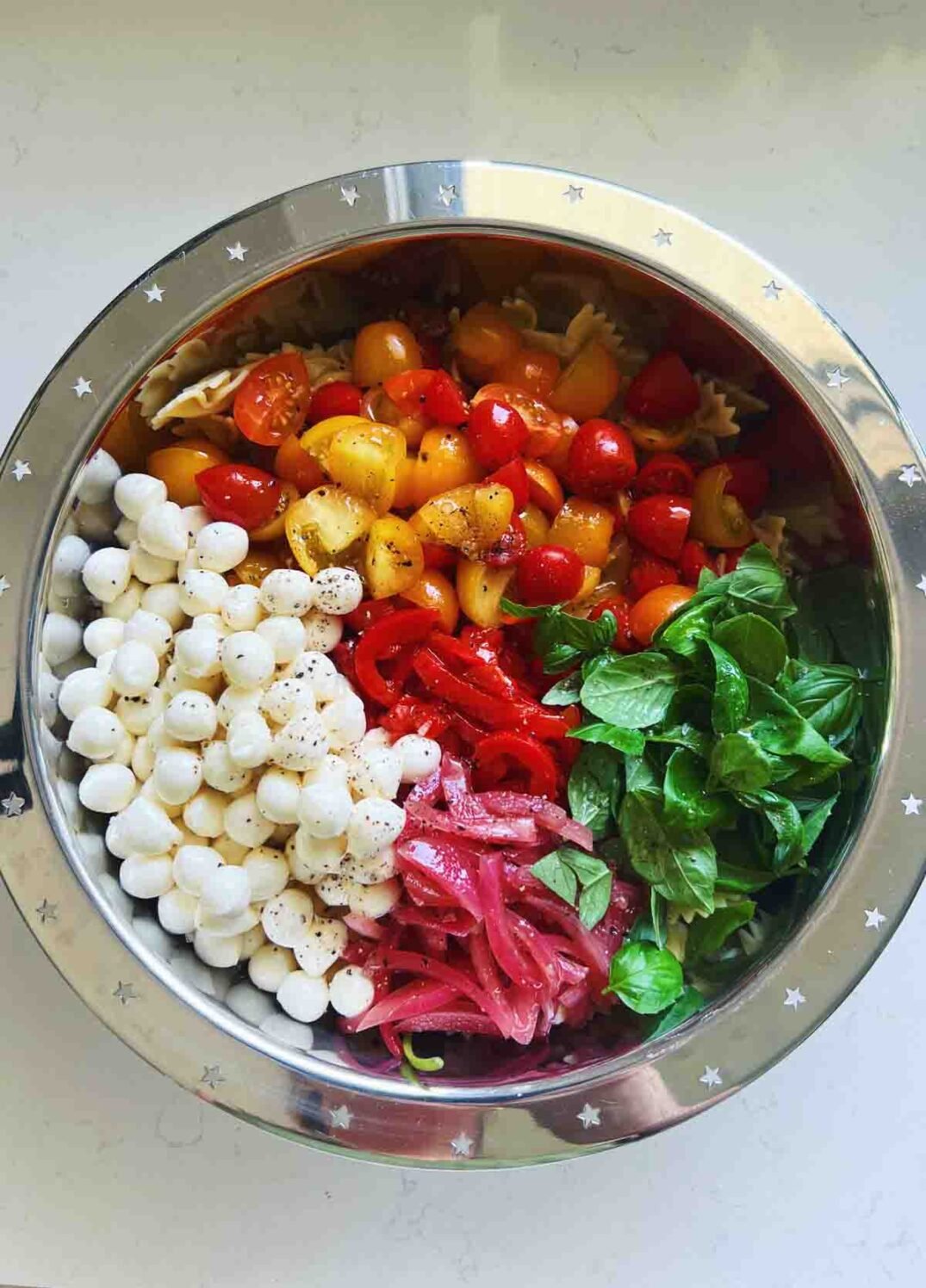 Add everything to a large bowl and then gently toss it.
It'll last up to 4 days in the fridge if you don't eat it all!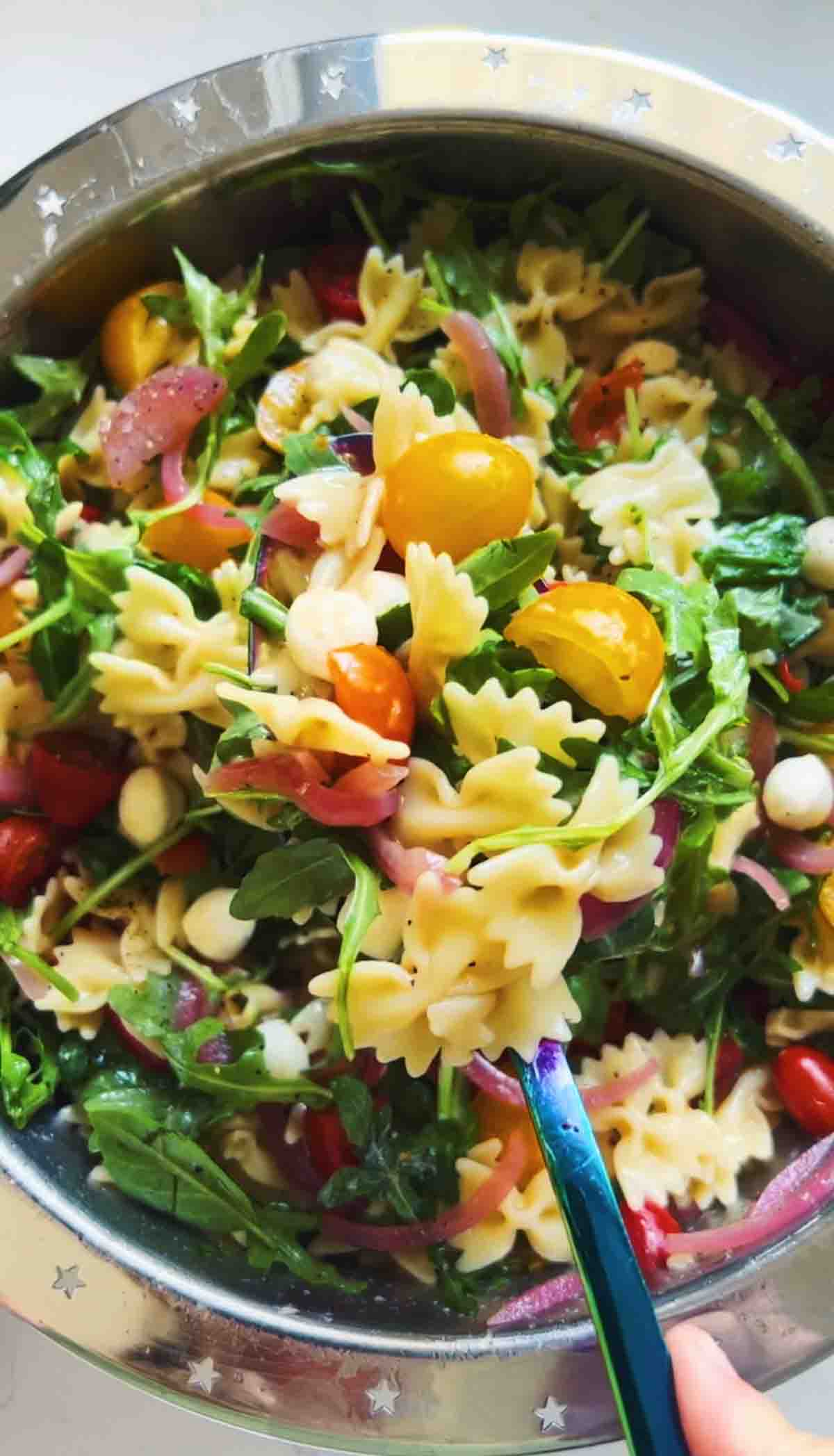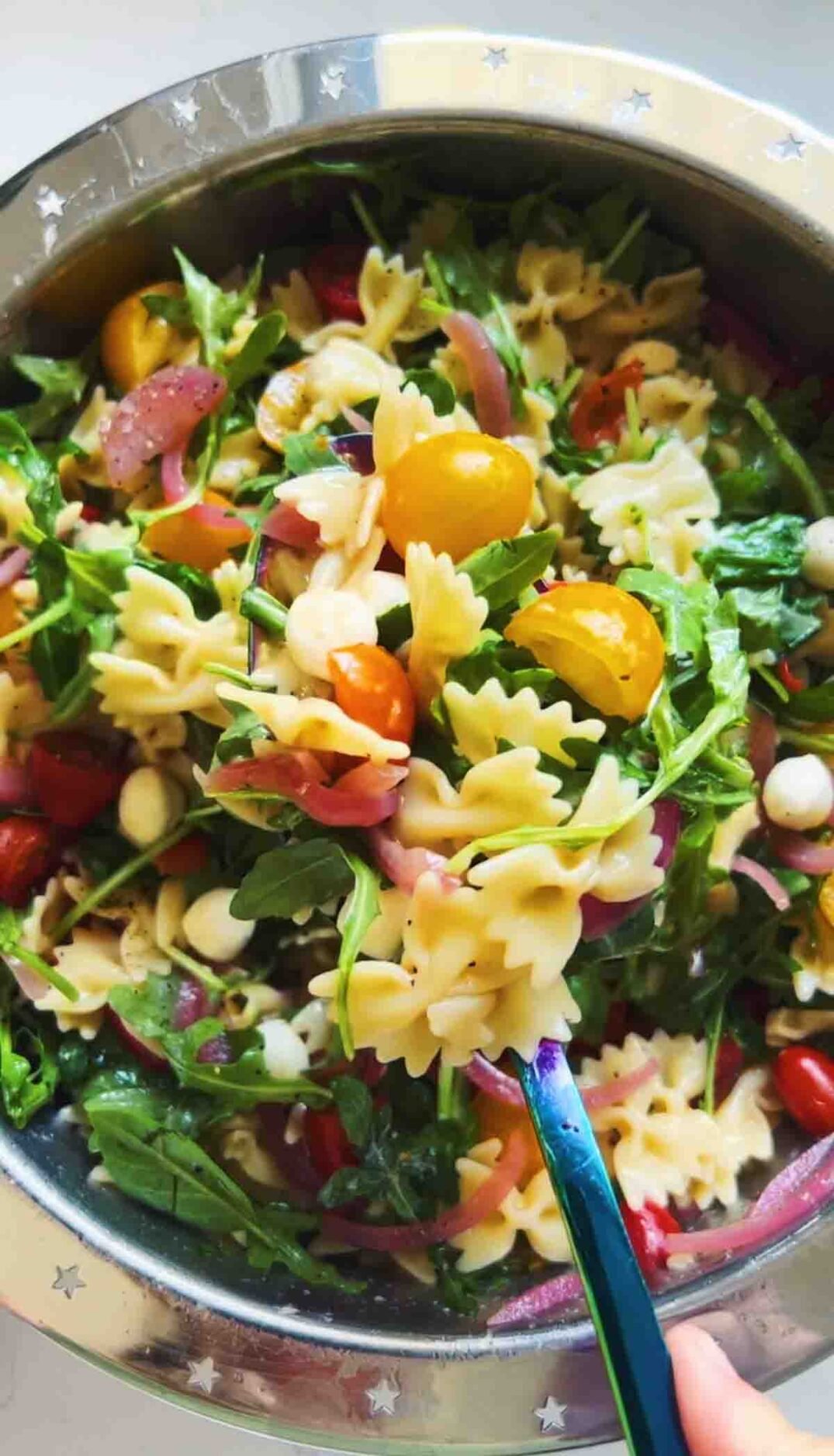 What goes with Caprese Pasta Salad
A Caprese Pasta Salad goes well with pretty much any Italian dish ever!
And if I was making it for lunch, I'd pair it with this tasty avocado grilled cheese, these italian sliders on Hawaiian buns, or even this honey grilled cheese.
For dinner, I'd pair it with some creamy pesto pasta, one pot cheesy orzo with broccoli, baked feta spaghetti squash or my Trader Joe's sweet corn, burrata ravioli with a lemon basil cream sauce.
For dessert, I would suggest my Vital TikTok Cinnamon Rolls with Heavy Cream or my Strawberry Tres Leches Cake.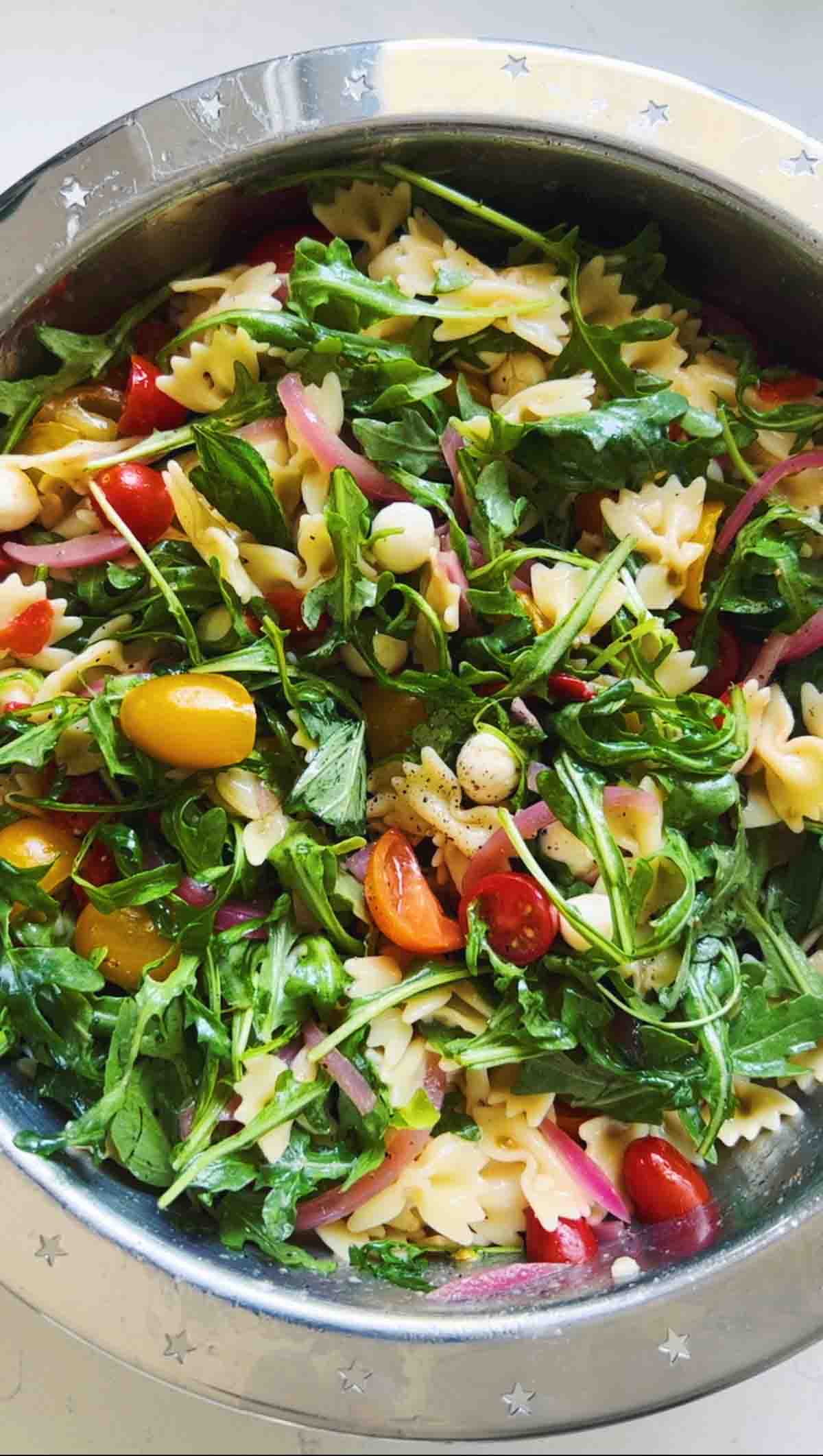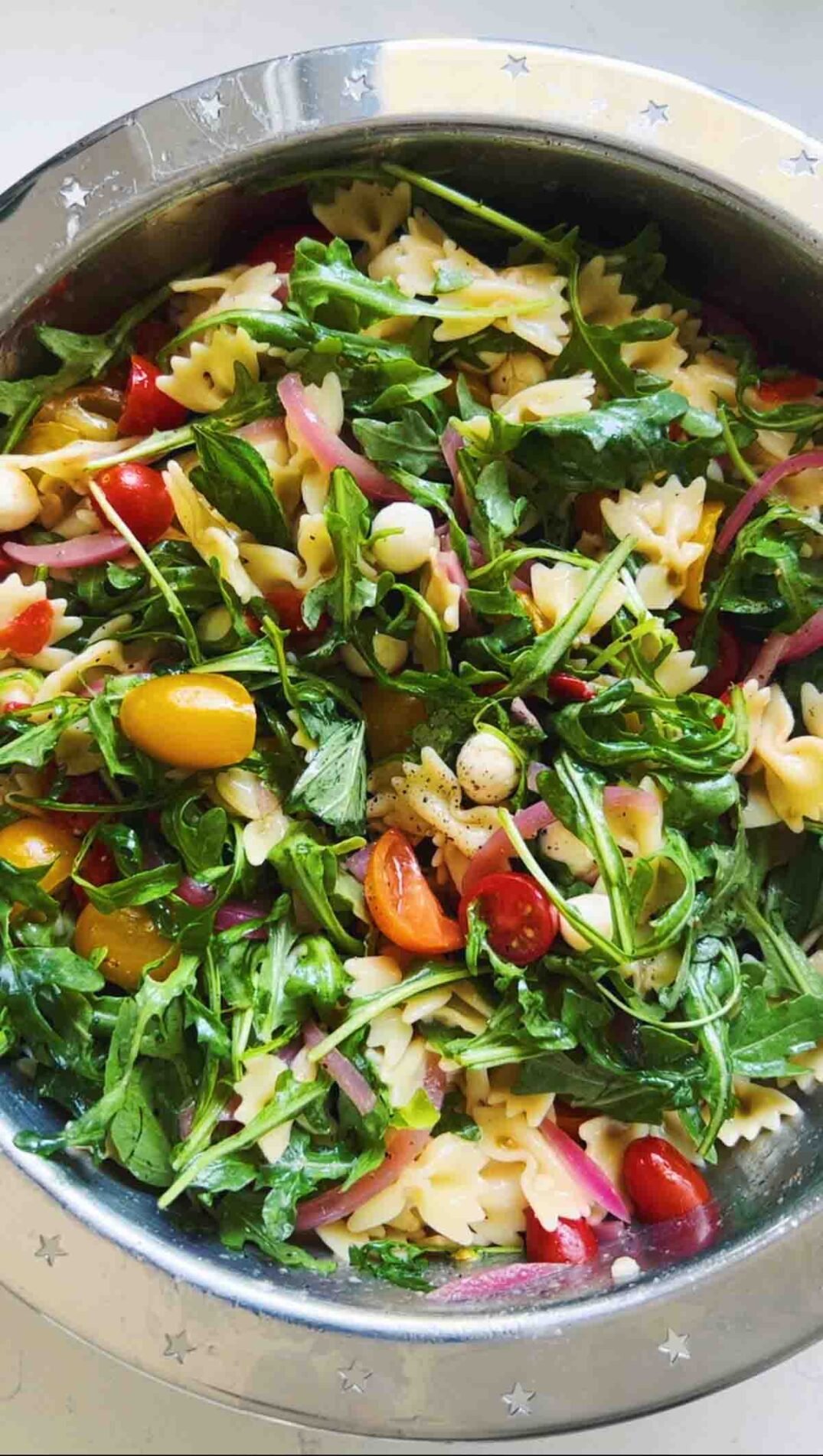 Frequently asked questions
How long does Pasta Salad last in the refrigerator?
Since this pasta salad has a lot of fresh greens, it's best eaten within the first few days. Just make sure you store it in an airtight container and keep it cold. If you're using it for meal prep, I recommend making the pasta salad in its entirety but holding the arugula and just adding that before serving.
Can I add other ingredients to my Caprese salad?
Always! While the classic Caprese salad is a droolworthy combination of just tomatoes, mozzarella, basil, and dressing, you can certainly add your own creative mouthwatering twist. I recommend adding grilled cheese, grilled zucchini, fresh avocado slices, or even some crispy prosciutto for an extra burst of flavor.
Can I make Caprese salad ahead of time?
While Caprese salad is best enjoyed fresh, you can prepare certain components in advance. I recommend cooking and cooling the pasta, slicing the tomatoes and peppers and storing them in an airtight container in the refrigerator. When you're ready to serve, simply assemble the salad, toss everything together and add the finishing touches after tasting.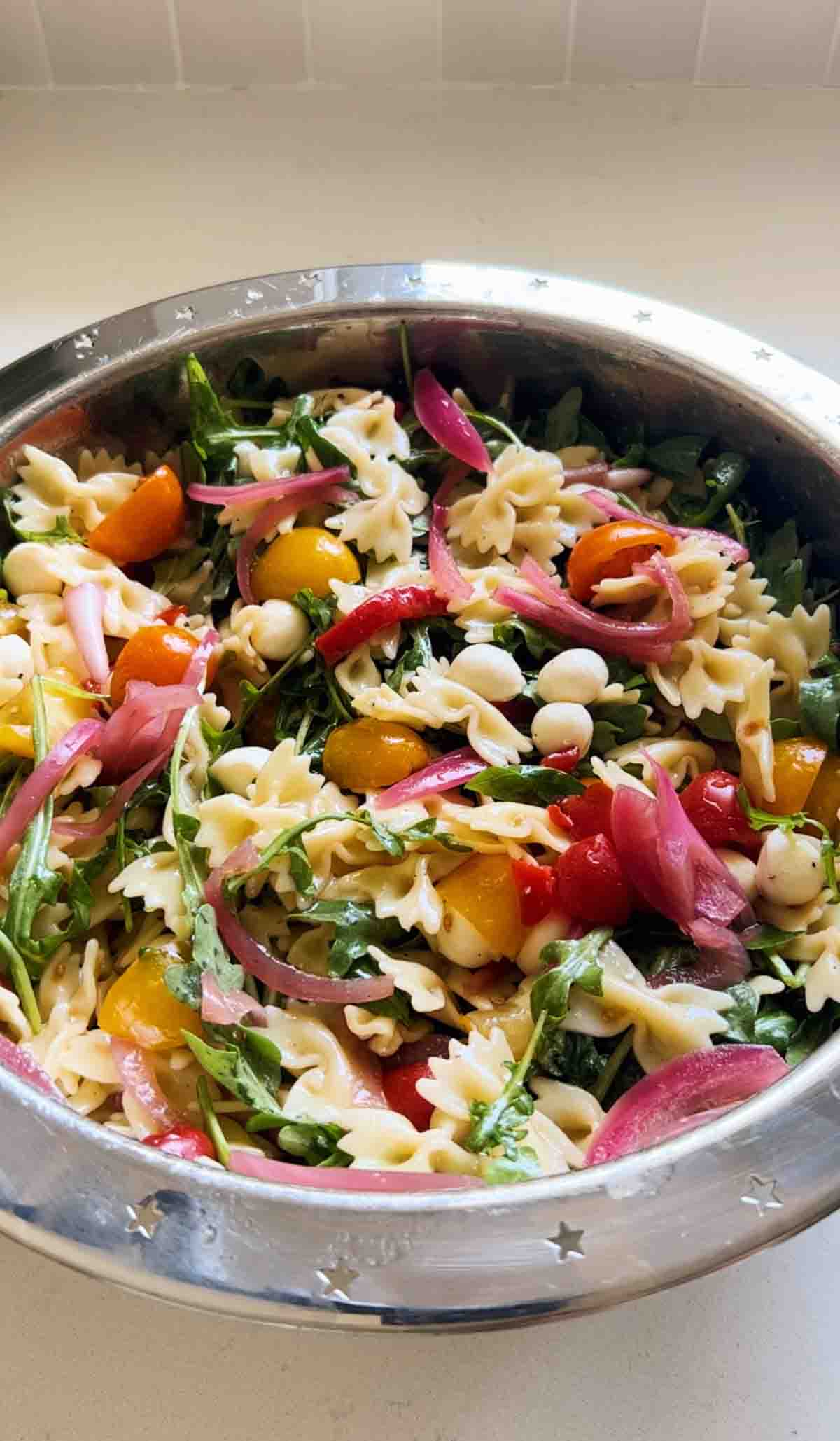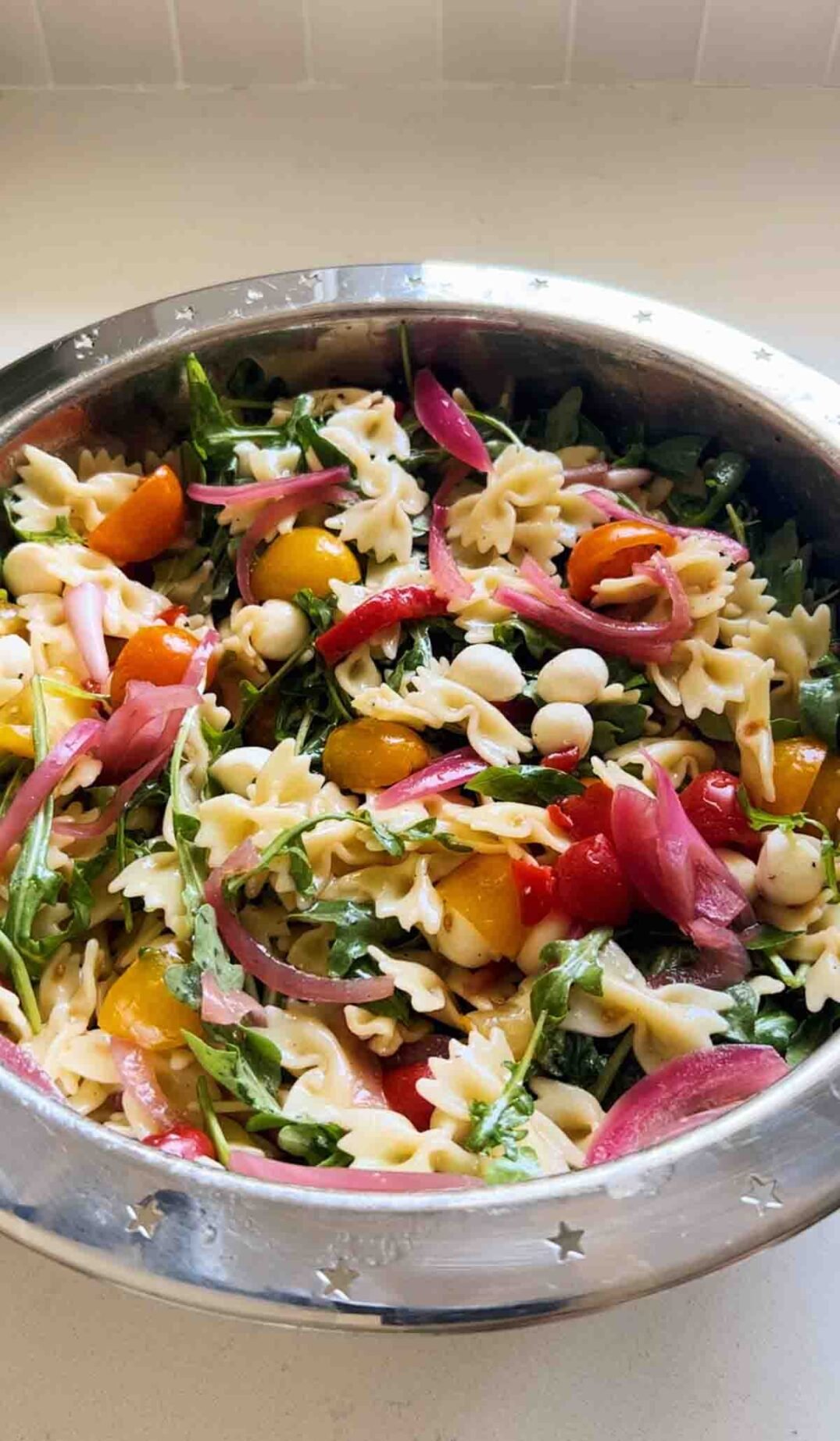 Save this recipe for later
Want to save this Caprese Pasta Salad recipe for another time? I got you!
You can pin any image on this page or use the pretty ones I made below specifically for your lunch pinterest boards.
And if you don't already, feel free to follow me on pinterest, instagram, youtube, facebook, and tiktok for tasty inspiration shared daily!
And if pinterest isn't really your thing, you can always scroll down to the bottom of this post and print the printable recipe card.
Recipe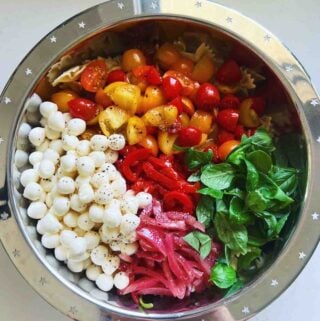 Caprese Pasta Salad
This tasty Caprese Pasta Salad is loaded with tons of my favorite Italian flavors. It's light, refreshing, and super colorful making it the perfect summer dinner side dish!
Print
Pin
Instructions
Add all ingredients to a large bowl and toss.

Taste and season with a pinch of salt and pepper if needed.

Store in an airtight container for up to 4 days.