Atlantic Beach is one of our favorite places to visit in Jacksonville, Florida. This hip little beach town is full of amazing restaurants, happening bars, stylish boutiques, unique hotels, and of course, North Florida's pristine coastline.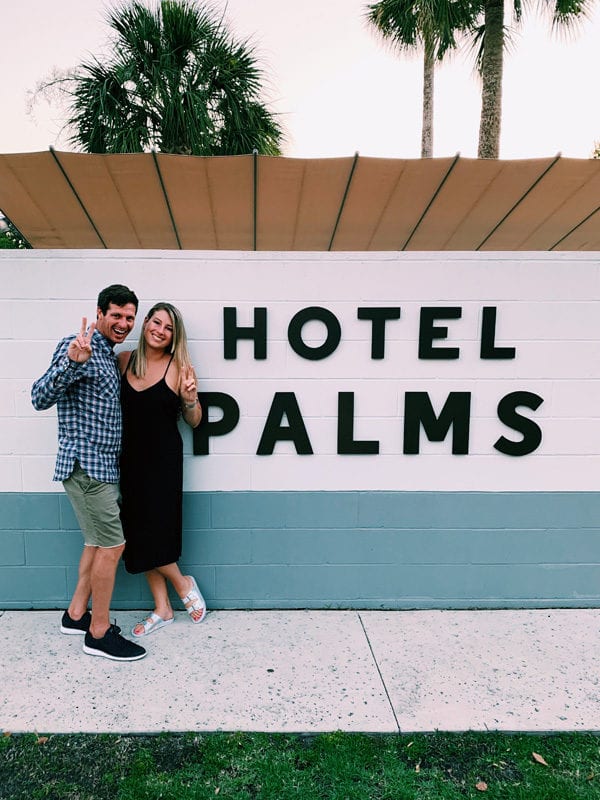 Where to Stay in Atlantic Beach
When visiting the city of Jacksonville, we recommend heading straight to Atlantic Beach. This perfectly quaint little beach town has everything you need within walking distance.
You'll love how the locals treat you like one of their own and how proud they are of their area. It reminds me of New Smyrna Beach but with an unpretentious yet sophisticated twist.
And although there are plenty of hotels in the area, you'll definitely want to stay at the oh-so-perfect Hotel Palms. You can even check out my youtube page or scroll down to the bottom of this post to watch the little video we made all about our trip.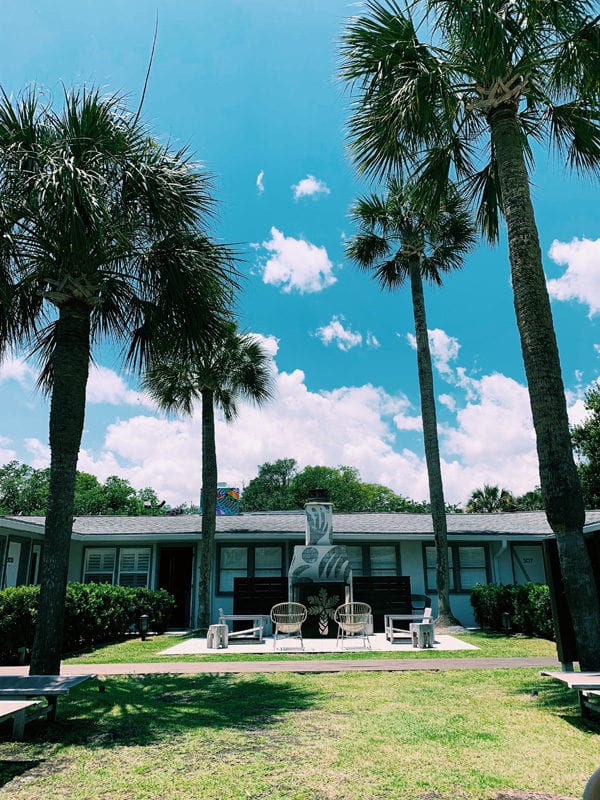 Hotel Palms
Once a classic beachside motor court hotel, Hotel Palms is now the only boutique hotel in the Jacksonville Beach area. This iconic Florida Inn was originally built in 1947 and has recently been renovated into something truly amazing.
With 11 unique rooms just blocks from the beach, each one has a simple and clean yet stylish vibe that's unforgettable. We loved how helpful the staff was and how they made us feel right at home. As they say and do with their Unlikely Local element, they want you to have the most local experience possible. And we did!
We stayed in room 305 which is a super cool suite with a queen size bed and pullout couch. The room itself is adorned with awesome art and modern rustic furnishings. The bathroom is big and spacious and the Malin+Goetz products are top notch.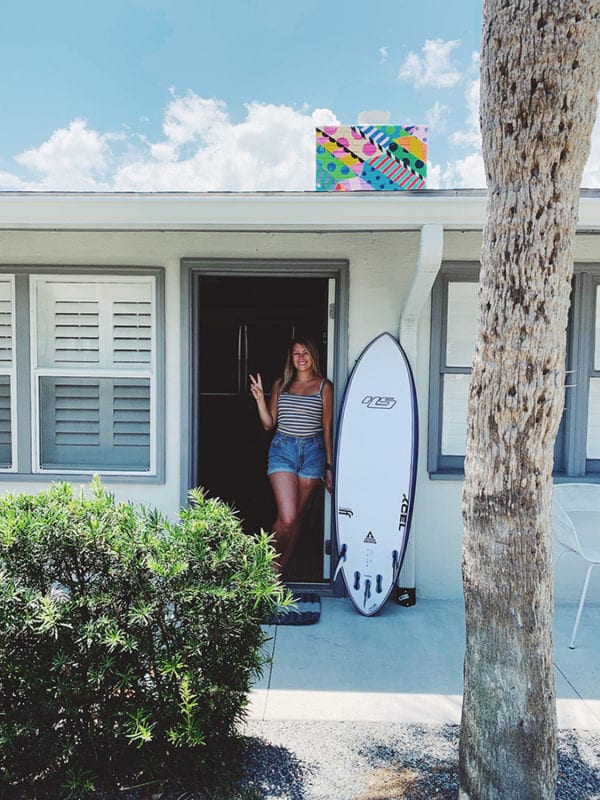 The hotel also has a ton of awesome amenities for vacationers, too. Whether you want to hop on a beach cruiser to bike along the sand or need a yoga mat to get your vacation zen on, this hotel has ya covered.
Hotel Palms is also known for their events that take place in their courtyard. From dance-worthy jazz performances, to tasty pop-ups, to live action art battles, you can always find something unique to experience.
And shameless plug, but if you happen to be in the area this week, you should definitely come to my free grilled cheese cook book singing party which will take place in their courtyard this Thursday, May 23rd 2019 from 6-9pm! Yay!

Where to Eat & Drink
There are tons of amazing restaurant options in Atlantic Beach. So whether you're looking for something super healthy and affordable or want something more decadent and locally sourced, you're sure to find it.
Lunch
When we arrived, we headed to one of the the local favorites, Bar-B-Q Meat Sticks. Although we nervously laughed at the simplicity of the name, we were blown away by the food.
This place serves up fresh, flavorful (and cheap!) Filipino food in a no-frills outdoor seating area just steps from the beach. Although they have quite a large menu, we stuck to the basics and ordered a few different BBQ meat sticks and halo halo.
The meat sticks were perfectly grilled. The chicken and beef were both tender, sticky, sweet and savory. It was the perfect punch of umami goodness that we needed after walking around all day.
For dessert, we tried Halo Halo. And to be honest, I'd never had it before but spent years dreaming about this intriguing dessert. Back when I worked at Saveur, Michael DeForge featured it as his favorite desserts and illustrated how each layer was composed.
When we got it, i was amazed at all the layers of ice cream, colorful gelatin, evaporated milk. sweet beans, sticky rice, coconut, shaved ice, flan and more! To say I was giddy is an understatement.
Halo Halo is translated to "mix mix" and that's exactly what you're supposed to do to eat it. Although it's hard to describe, I like to think of it as a mix of a 7-11 fruity icee, mango sticky rice, and boba tea. Not sure if that makes sense but try it to see for yourself!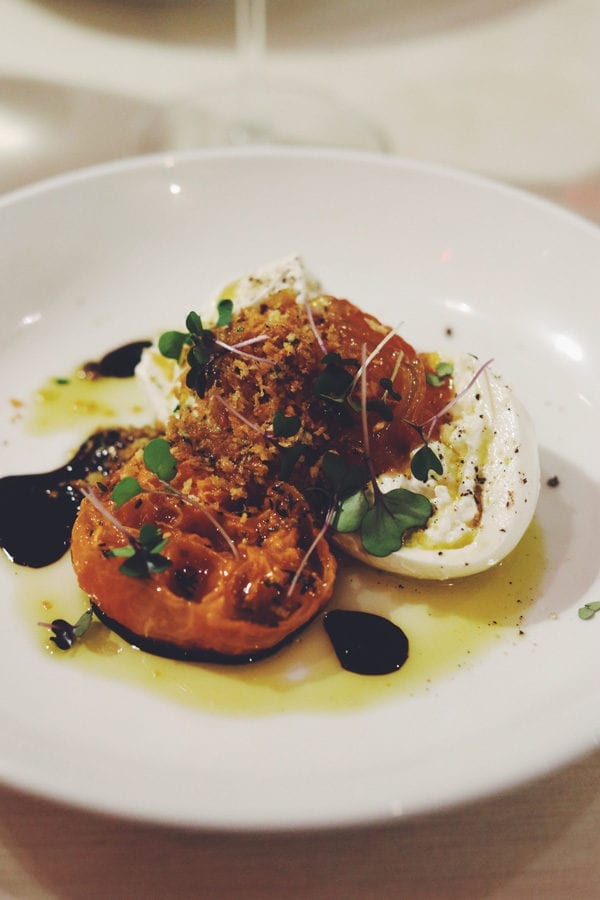 Dinner
For dinner, you MUST check out one of my new favorite restaurants in all of Florida - Doro! This light, airy, and bright beachside restaurant has a sexy, fresh vibe that's definitely reflected in its eclectic menu.
Opened by Chef Christopher Polidoro, who's not only a renowned graduate of the CIA, but also an organic farmer and previous private chef to one of America's most prolific news anchors.
His 25 years in the industry are best experienced through taste so I recommend going with some friends and ordering pretty much everything on the menu!
We started with the Burrata which will forever be in my head as one of the most delicious and creative ways I've ever seen it served. A big fresh ball of burrata cheese is served with a gorgeous roasted yellow tomatoes and topped with house made kumquat jam, crispy breadcrumbs, and saba -- which is an italian syrup made from cooking down grape must. It's legit insane.
From there, we had the roasted pistachio soup (holy hell it was amazing) and the pork schnitzel which reminded me of a new age spin on a banh mi. Both dishes made our tastebuds do a little happy dance.
For our main we split the crispy short ribs with pickled napa, heirloom tomatoes and tamari bbq. The meat itself had a perfect crispy glazed crust on the outside which kept the inside meat tender and moist. I think Jeremy could have probably eaten 4 plates of this by himself.
For dessert, we were served the Pavlova which came with fresh kiwi and passion fruit syrup. I'm a sucker for Pavlova and never see it on the menu in Florida so I was stoked.
Other Spots to Eat & Drink in the area
Other spots that are worth mentioning are:
North Beach Fish Camp
M Shack
Poe's Tavern
Ragtime Seafood & Grill
Flying Iguana
Lemon Bar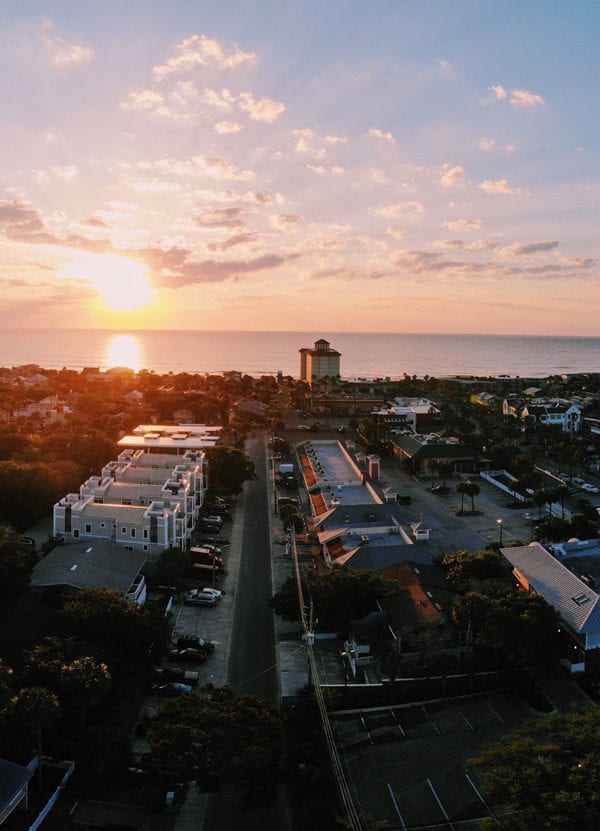 What to do in Jacksonville Beach
Jacksonville is one of the America's top 15 largest cities. So as you could imagine, there's tons to do!
Whether you're into sunbathing on the beaches, eating delicious food, or upgrading your wardrobe, Jax Beach has it all.
Exploring
We recommend starting your day by heading to Atlantic Beach to catch one of the beautiful east coast sunrises and some waves. From there, you can rent a bike (or use a free one if you're staying at Hotel Palms!) and cruise through Neptune Beach and Jax Beach. Each area has its own identity and it's super fun and easy to explore.
Shopping
While you're there, be sure to check out the local events like their art walk and stop by my friend's booths - Phillip and Elizabeth Walker who are two amazing artists. There's also a Yappy Hour each Wednesday for those of you traveling with your four legged friends
If you'd like to shop, you can either check out the Beaches Town Center for locally owned boutiques and surf shops. Or if you'd like something with more recognizable options, you can drive to St. Johns Town Center for shops like Madewell and Urban Outfitters.
Other Things To Do
Beyond that, you can catch try and catch a Jaguars Game or head to the Riverwalk for another downtown experience. If you'd like to explore the surrounding area, you can take a drive to Ponte Vedre Beach or Amelia Island
And if you'd like to get out of Jacksonville and explore another cool Florida surf town, we recommend checking out our New Smyrna Beach Restaurant Guide. From there, you can also head to Rock Springs Kelly Park for another day of fun at the natural springs. Or you could keep driving north just 2 hours and use our Savannah Foodie City Guide to get the best experience of this idyllic southern city.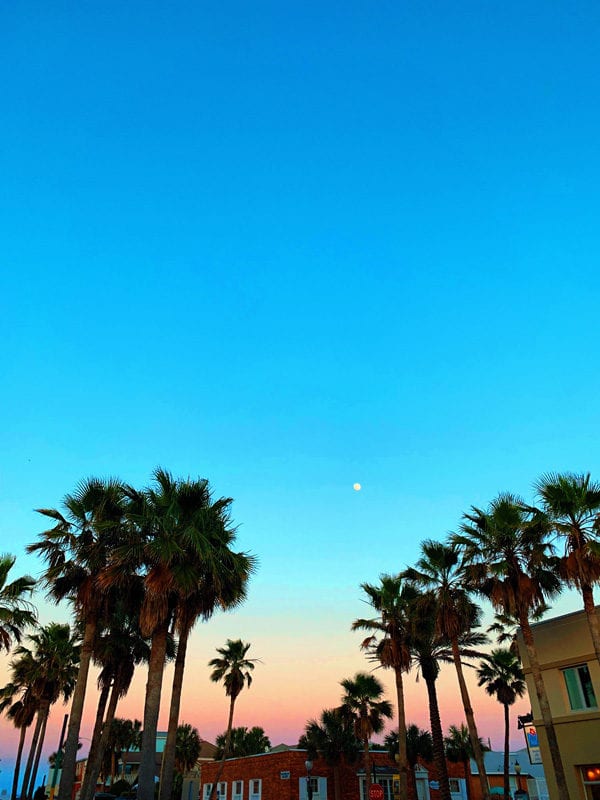 Video: 24 Hours in Atlantic Beach, Jacksonville Florida
So this is our very first TRAVEL VLOG and I'm so excited! Not going to lie, after i watched the footage the first time around I wanted to die of embarrassment. But after my husband, Jeremy, worked his magic, I'm obsessed! For real though, this is our first attempt at vlogging so please be nice... because we would definitely like to do more!
[embedyt] https://www.youtube.com/watch?v=TcwCRVvArfk[/embedyt]
And if you'd like to save this post for later, pin it below!
xoxo,
Kenzie aka GCS