Rock Springs at Kelly Park is one of our favorite places for tubing, kayaking, and camping in Florida. This beautiful Spring, located in Apopka, is like a natural lazy river that's crystal clear year round. It's the perfect summer day trip in Central Florida.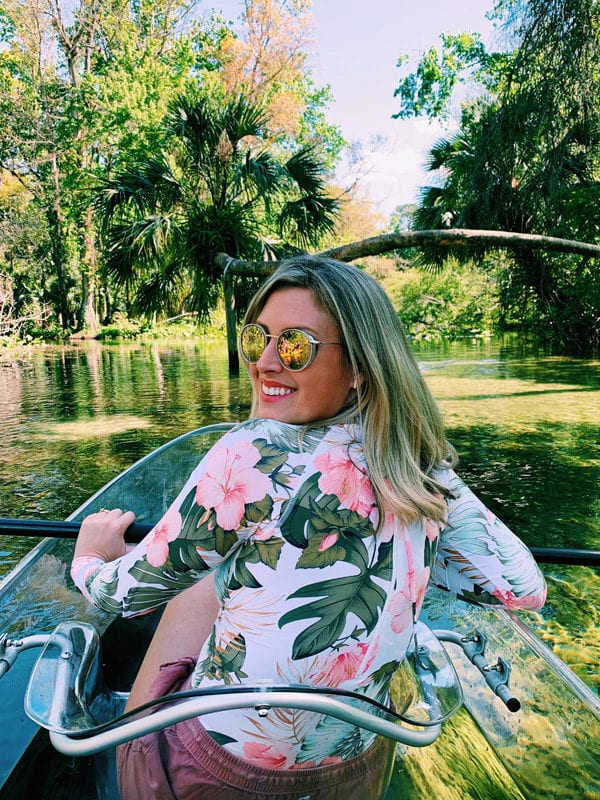 Rock Springs Kelly Park
Rock Springs at Kelly Park is one of our favorite places to adventure in Central Florida.
The fresh, free-flowing water is 68-72 degrees year round which makes it the perfect place to cool off in the summertime heat.
Not only can you float down the lazy river, but you can rent a clear kayak, camp, hike, snorkel, and nature watch.
You probably remember me posting about it last year when we went for my birthday.
Well this year, we decided to step up our game.
Instead of tubing, we tried out clear kayaking for the first time and it was INSANE!
We rented the clear kayaks at Get Up and Go Kayaking and highly recommend it.
You can see literally everything in the water -- from little fishies, to turtles, to otters. You can also bring your dog to Kings Landing, too, which is super fun!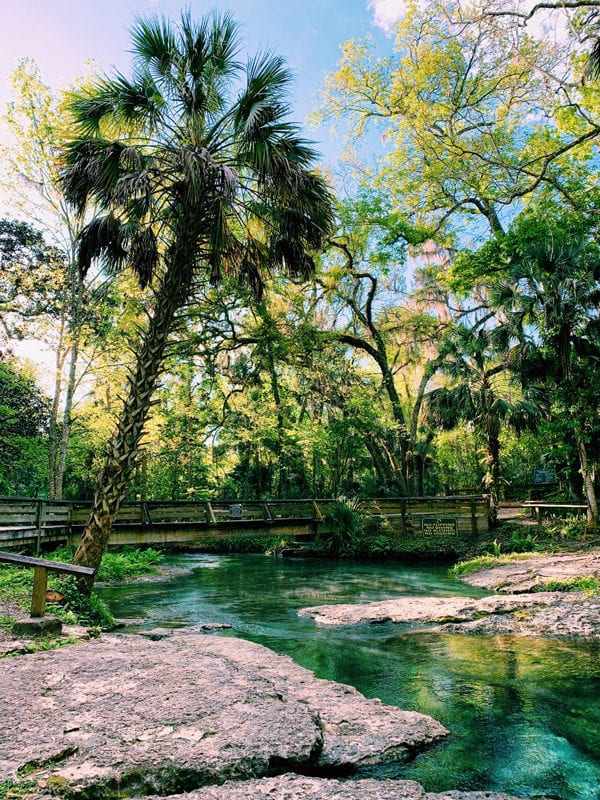 When we arrived at Rock Springs we saw a ton of deer and turkeys.
But we've heard that you can sometimes see gators, bears and the illusive monkey that swings around the trees.
During the spring and summer, the park fills up FAST.
That being said, it's super important that you arrive early before they reach max capacity. It's also cash-only so be sure to bring your wallet!
I also recommend packing a picnic as there's not a whole lot of lunch options.
There is, however, a concession stand but if you're like me, it's best to bring your own goodies. We always stop at the Publix (which is super close by) before we head in.
Also, so you know - the entry fee doesn't include re-entry so it's best not to leave the park until you're done for the day.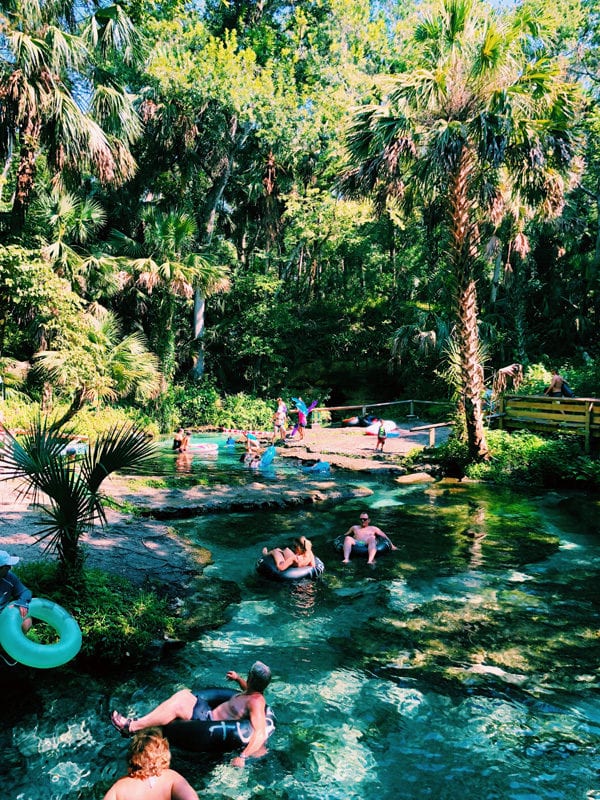 Where is Rock Springs Located - Address
Rock Springs at Kelly Park is located at: 400 E Kelly Park Road - Apopka, FL 32712
It costs $3 to get in if you have a party of two or fewer in your car.
But if you have a car with more than 3 people, it costs $5. Regardless of the entry fee, it's so worth it!
If you have any questions, you can reach them at Phone:(407) 254-1902 or email them at KellyCamping@ocfl.net.

Rock Springs Kelly Park Hours
Rock Springs Kelly Park is open at 8am all year long.
During the winter, the park closes at 6pm and in the summer, it closes at 8pm.
Like I said above, it's crucial that you arrive early.
The park is not that big and it fills up fast.
It's also important to get there early if you plan on kayaking as they get rented pretty quickly.
You can call their hotline at 407-254- 1906 to see if they've reached capacity yet.

Tubing at Rock Springs
If you love lazy rivers, you will love tubing at Rock Springs!
Just sit back, relax, and float down this beautiful tropical oasis.
The whole tube run will take you about 25 minutes but it's full of awesomeness.
At the end, you'll find these giant swimming holes and picnic areas that are full of people.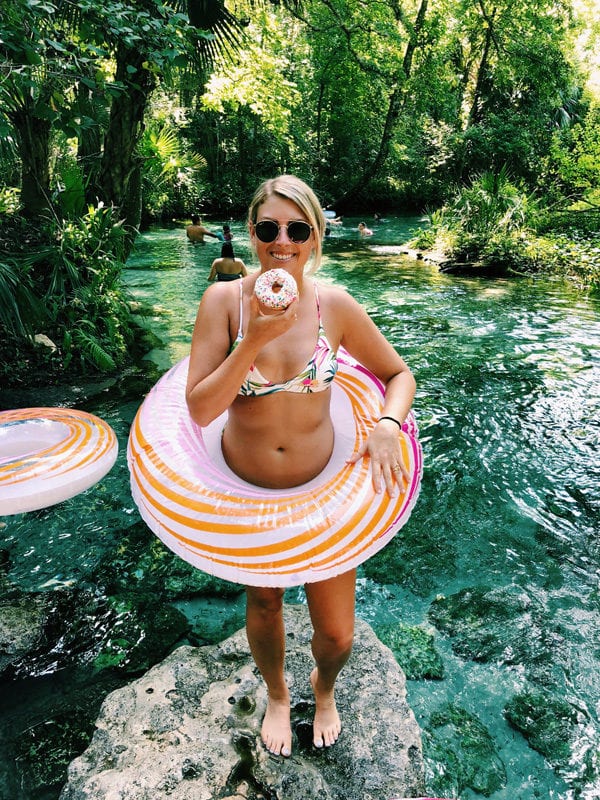 Although the run is pretty small, we recommend doing it a few times since you never know what you'll see.
Each time you'll find something new that you didn't see the first time around.
And the walk back is only about 10 minutes and it's mostly shaded so it's quite enjoyable.
Each time we've gone, we brought our own floats. If you decide to do that, just be sure that it's less than 5 feet across.
And just so you know, they don't have air pumps to fill-up so it's probably best to get a cute, small tube.
If you want to rent tubes, you can do so right before the entrance of the park.

Renting Clear Kayaks at Rock Springs - Kings Landing
To rent clear kayaks at Rock Springs, we strongly recommend that you head to head to Get Up And Go Kayaking before 11am.
Kings Landing is a launch site that's located right after the park. Once you arrive, you'll see a tiny little building with lots of of kayaks and canoes scattered around.
You can rent a variety of clear kayaks and canoes from them and embark on your own solo adventure.
Or if you'd like a little more help, you can go on one of their expert guided tours.
We went on our own but I really want to go with a group next time to learn even more about the springs!
The people that run it are super nice and helpful.
You'll definitely want to take advantage of the free beer that sits in the cooler outside the building. lololol. It's one of my favorite things about this place!
To get the most up to date information about rates and rentals, visit their website.
Oh, and if you have your own kayak you can launch it right next door at Camp Joy.
If you need to rent one from somewhere else, check out Wekiva Springs State Park or Wekiva Island.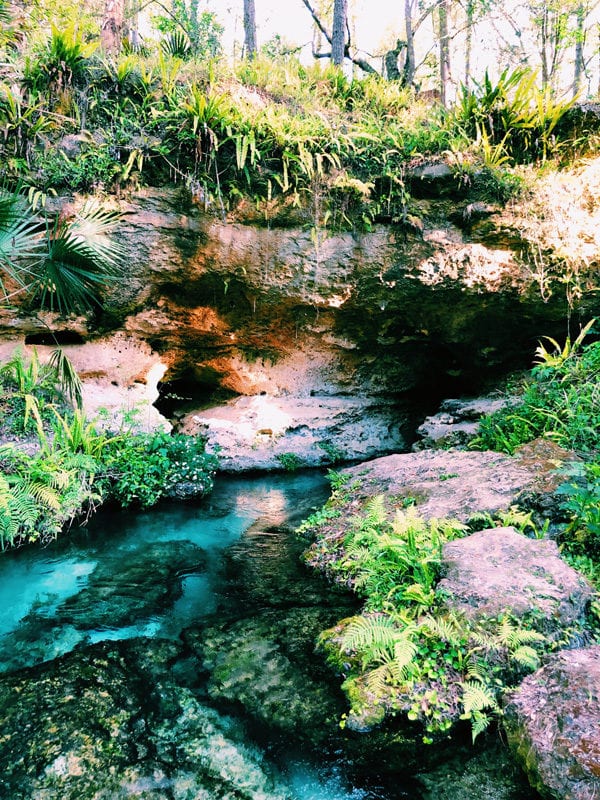 If you have any questions, leave them in the comments and I'll get back to ya!
Oh, and Check out this Natural Spring Video we made with Visit Florida
And if you'd like to save this recipe for later, pin it below!
If you like this post about Rock Springs, you might also like one of my other travel posts: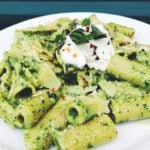 Where to Eat in New Smyrna Beach, Florida - If you're a foodie looking for The Best Restaurants in New Smyrna Beach, Florida - then look no more! This guide shares all most popular foodie hot spots, hidden gems, and dog friendly restaurants in NSB!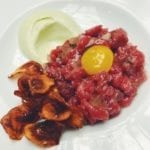 Where to Eat and What to do in Savannah, Georgia - Savannah, Georgia is a foodie paradise! From swanky farm to table spots to down-home southern cooking, Savannah really has it all!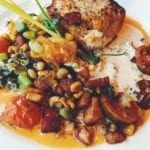 Where to eat in Tallahassee, Florida -If you're visiting Tallahassee, you're in for a treat! Not only are there a ton of amazing restaurants, but there's so much to do - including natural springs! This post shares our favorite places for breakfast, lunch, and dinner!
xoxo,
Kenz GCS