If you're a foodie looking for The Best Restaurants in New Smyrna Beach, Florida - then look no more! This guide shares where to eat along with all most popular foodie hot spots, hidden gems, and dog friendly restaurants along with the most crave-worthy dishes of NSB!
BEST RESTAURANTS IN NEW SMYRNA BEACH
I'm so excited to finally share our foodie guide to The Best Restaurants in New Smyrna Beach! For such a quaint and charming little Florida beach town, NSB truly has an incredible food scene!
Located about an hour east from Orlando, and an hour south from St. Augustine, there's a reason this place is known as one of the best foodie beach towns in the country!
So whether you're hungry for some authentic Greek food or want to grab some tasty tacos, we've got you covered!
best dinner restaurants in new smyrna beach
Upscale Bistro, Classic French with a German Twist, Date Night Spot
Outdoor and Dog Friendly Seating Available
The Baker's Table is consistently one of the best places in NSB for a romantic dinner. Although most of the menu items could be classified as French, they definitely have some German and Southern influence.
In my opinion, they have the best fillet mignon in town. We recommend their cheese plate, the warm goat cheese tart, foie gras, and the wiener schnitzel. You'll also want to be sure to order one of their fresh baked items that are handmade in house each day!
They also have an amazing brunch and lunch menu which is definitely worth checking out.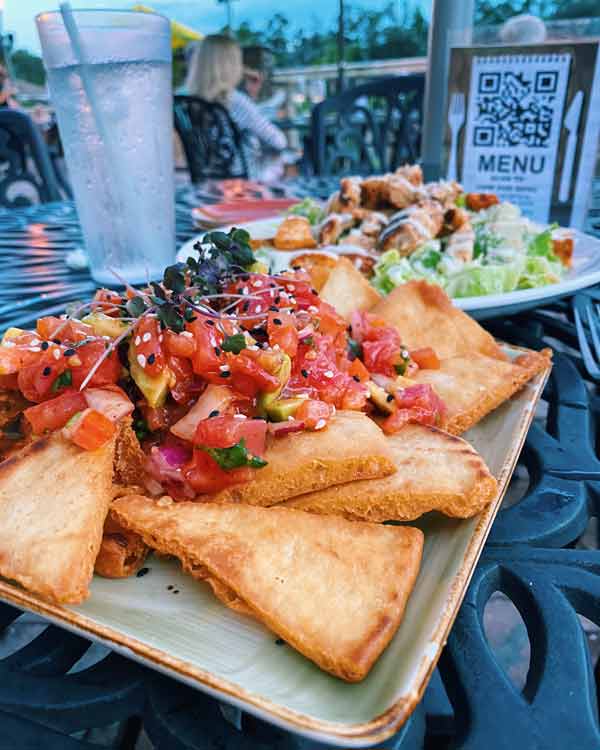 Lakeside Dining, Perfected Classics, Something for Everyone
Outdoor and Dog Friendly Seating Available
I'm sort of ashamed to admit that it took me so long to get out to the Bistro 424. But since this restaurant is located in the Venetian Bay neighborhood, which is on the outskirts of town, I never really put it as a priority. So I'm here to tell you that it's time to make the drive and check it out!
If you're like me, you might be overwhelmed by the giant menu that has a little bit of everything... but don't let it make you second guess this place! This restaurant executes each dish perfectly and the plates are both plentiful and affordable!
We recommend trying the ahi tuna nachos which might just be our new favorite tuna dish in town! They also have a perfect grilled chicken caesar salad, amazing bolognese, perfectly chewy thin crust pizza and more!
And if you're worried about outside seating and social distancing, this restaurant takes all the precautions with a beautiful lighted lakeside view! You'll love it!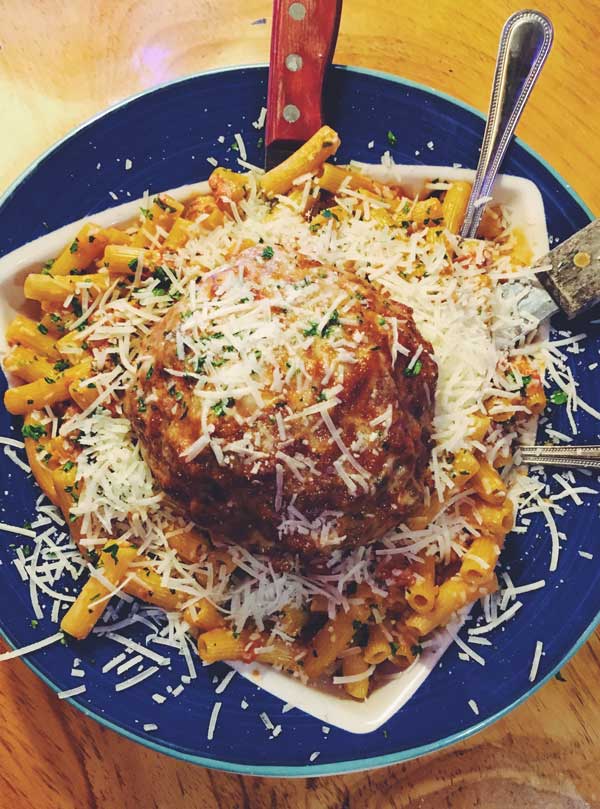 Magical Outdoor Wonderland Vibes, Huge Old School Italian Portions, Always Packed
Outdoor Seating Available
If you've been to New Smyrna, you've probably been to the Garlic. This place is most definitely New Smyrna's most popular restaurant which is evident of the crowds that surround the building at 4 o'clock each day.
What makes this place so special? Short answer - The atmosphere. It's filled with magical twinkly lights, colorful lanterns and glowing glass orbs with tropical plants growing at every corner. It's actually hard to tell if you're sitting inside or out which is pretty dang cool! Not to mention the sound of live music and the smell of roasted garlic continuously linger in the air.
When it comes to ordering, we recommend sticking to the wood-fired menu with dishes like the bocce ball, the garlic rack of lamb, osso busco, If you like pasta, try order the tortellini or asking for the princessa sauce which is a mix of alfredo and marinara. To be honest, we mainly go for the roasted garlic and french bread that is served endlessly when you sit down.
PS... local's tip - When you enter, head to the right side to sit at the Blu Bar which has a slightly different menu that us locals love!
Cheery Ambience, Vietnamese Fusion, Casual Dinner
Outdoor and Dog Friendly Seating Available
AA Garden Fusion is the only Vietnamese restaurant in town and they slay the noodle game! From crunchy garlic-y Vietnamese chicken wings to giant bowls of perfectly seasoned pho, AA nails the classics while also blowing us away with their fusion dishes.
Try the Chicken Singapore Noodles, the Cold Noodle Salad with Grilled Pork, and The Mango Salad along with one of their hand picked Sakes. They're also known for their tasty desserts that are made fresh every night!
Japanese Sushi Bar, Fresh Seafood, Intimate Vibes
If you like fresh, raw seafood, you will love Sasaki! This family owned business is continuing their legacy with this intimate sushi bar off Flagler avenue. There's a reason it's one of the best restaurants in New Smyrna Beach!
We recommend trying the tuna inari, the poke bowls, the octopus salad, the ceviche and any and all of the rolls.
If you're visiting during Spring or Summer, be sure to check out their lunch specials for their colorful bento boxes which are out of control delicious!
Tropical Garden Oasis, Southern Farm to Table, Romantic Bungalow
Outdoor and Dog Friendly Seating Available
If you're looking for a romantic date night spot, Riverpark Terrace has your name written all over it. The restaurant itself is housed in a quaint bungalow surrounded by a lush, tropical garden full of twinkle lights.
The ingredients are sourced locally and the seasonal menu definitely has an eclectic yet Southern flair.
Although the dishes change quite regularly, we recommend ordering the truffle fries, the fish tacos, the fried flounder, and the grilled shrimp and white cheddar mac n cheese. The Terrace Burger is another one of their dishes that's always amazing and always on the menu.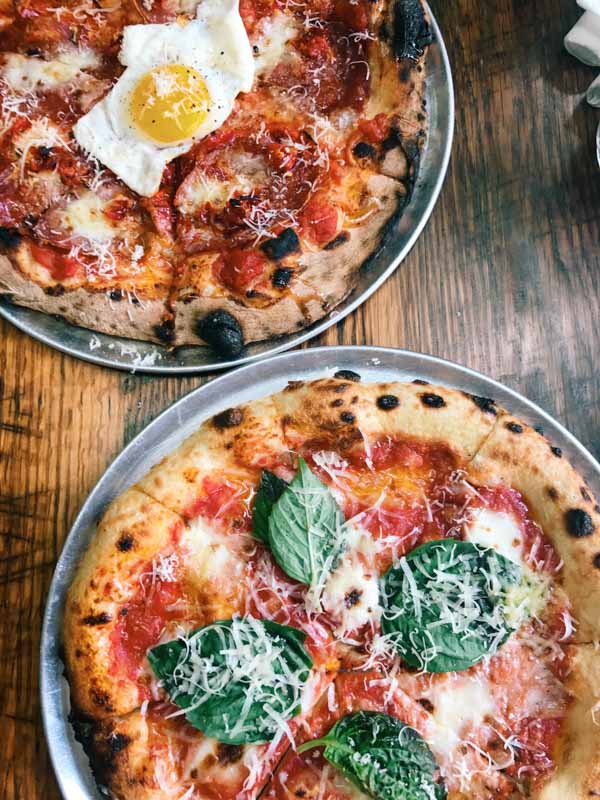 Tropical Secret Garden Cafe, Modern & Eclectic Farm to Table, Sustainable Seafood
Outdoor and Dog Friendly Seating Available
Located right on Flagler Avenue, Thidwave is a modern eatery that serves breakfast, lunch and dinner in a beautiful lush outdoor garden. It's definitely one of the most eye catching restaurants in town and is a great place to stop for your morning coffee or tea!
For breakfast, we recommend the Southwestern Hash, the Basic Breakfast and the Crepes with one of their tasty coffee drinks or brunch cocktails.
For lunch, you can't go wrong with a kale salad, a fully loaded sandwich, and/or of their tasty Neapolitan pizzas. Our favorites are the Honey Baby which is covered with hot soppressata salami, fresh mozzarella, calabrese chiles and wildflower honey and their Funghi Fromage which has tons of tasty cheese, mushrooms and truffle oil!
For dinner, their menu kicks it up a notch by offering dishes like their redfish reuben, cabernet braised short rib, and the tenderloin Barcelona. Their seafood offerings are also part of the James Beard Sustainable Seafood Program so you know you're getting a fresh catch each time!
Lively Atmosphere, Traditional Greek Food, Tons of Family Fun
Outdoor and Dog Friendly Seating Available
Me and my entire family are definitely regulars at The Beacon's Greek Night. Each Saturday, the Kotsonis family, shares their Greek heritage with the town of NSB. From whole grilled locally caught fish to traditional greek salad, everything that's on the menu is absolute perfection.
We recommend starting out with the saganaki (flaming cheese!), the avgolemono, and of course the village greek which is a traditional greek salad just like they make in Greece.
For dinner, we recommend ordering the combo platter for a little bit of everything, or the roasted lamb, or whatever fish special they have. As for desserts, do yourself a favor and get all of them. It's one of the main reasons I work out! hah.

best lunch restaurants in new smyrna beach
Funky Vibes, Over the Top American Sandwiches, Colorful Scene
Outdoor and Dog Friendly Seating Available
If you're looking for the most creative sandwiches in NSB, Yellow Dog is your spot! From pulled pork sandwiches topped with thick slices of brie, cherry peppers, raspberry melba, crunchy onions and homemade yellow bbq sauce to fully loaded ahi poke nachos, this place really comes up with some tasty innovative dishes!
Our favorites are What the Fig, the Florida Cracker (pictured above), The Rufus, the Johnny Rocket and The Holy Crap! Treat yourself to a locally sourced beer or order keep it PG with one of their insanely delicious root beers.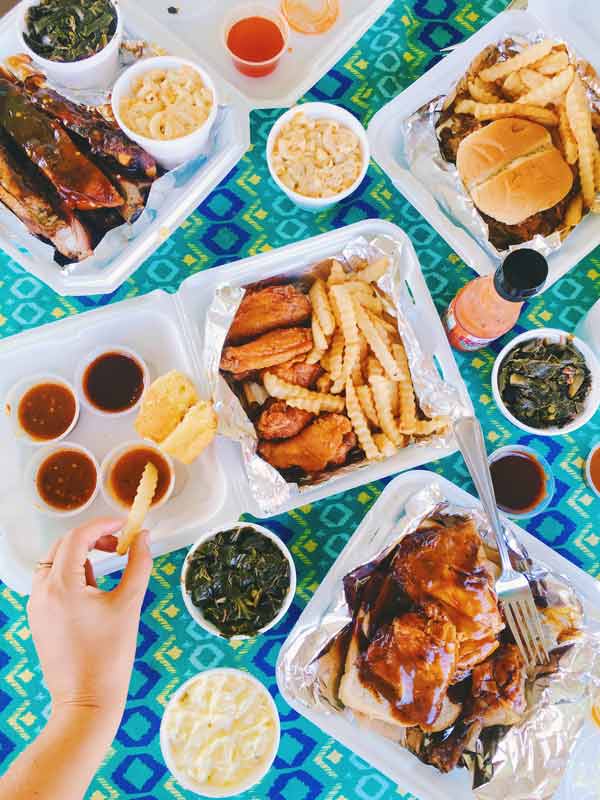 Southern barbecue, Black-owned Awesomeness, Feel Good Southern Soul Food
Outdoor and Dog Friendly Seating Available
Finger Lickin' is one of those spots that just makes you feel good. As you pull up, the smell of delicious barbecue lingers in the air and it's just impossible to not want to indulge.
And although the building is rather small, this place is more of a pick-up and take home type spot as you'll notice by the long line that sits by the front door!
As for what to order, we have enjoyed literally everything on the menu but the finger lickin' wings are one of our family favorites. It's like a hot honey sauce that is literally impossible to not want to drink! We also recommend their ribs, their chicken and well pretty much every protein they offer. When it comes to sides, you'll definitely want to get their baked mac and cheese, the collards, baked beans, and some french fries!
Nostalgic Beach Bar, Perfect Burgers, NSB Institution
If you've visited New Smyrna before, you've probably been to The Breakers. Needless to say, it's one of the best restaurants in New Smyrna Beach. This place is most definitely a local institution and is one of the only restaurants located on the actual beach itself.
They're famous for their fresh made burgers, cooked to your preference, and topped with a variety of awesomeness. Pair that with one of their icy cold beers and frosty frozen drinks, for a perfect NSB experience.
If you prefer wings or fried chicken, def try them tossed Jeff's Secret Sauce! The old school nostalgic vibe of The Breakers is definitely worth checking out.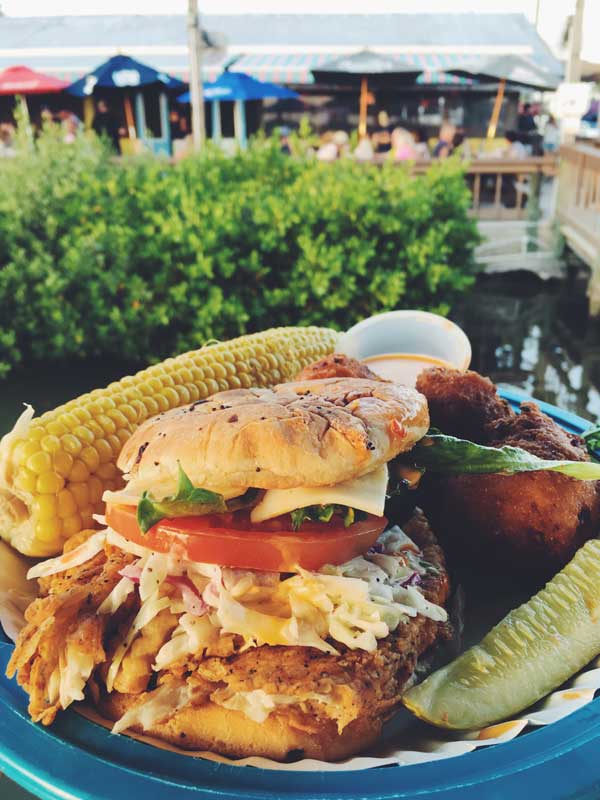 Old School Florida Fish Camp, Classic NSB Institution, Seafood Extravaganza
Outdoor and Dog Friendly Seating Available
Located on the southern point of New Smyrna Beach, JB's Fish Camp has been Bethune Beach's most popular seafood restaurant for over 50 years. What was once a bare-boned building for fisherman to grab some lunch and beer, this restaurant now serves dozens of seafood dishes and tasty frozen cocktails in a no frills old Florida style restaurant on the intracoastal.
For food, try their famous rock shrimp cakes, peel and eat shrimp, grouper sandwiches, crab cakes and fried gator. You can't go wrong with a frosty Rum Runner and an ice cold pitcher of beer.
And while you're there, don't forget to rent a kayak or paddle board and sit out front of the restaurant for views of dolphins, turtles, fish and the local manatees that frequent the waters.
Open Air Dining, Fresh Eclectic Menu, Chill Vibes
Outdoor and Dog Friendly Seating Available
Cafe Verde is one of the most eclectic lunch AND dinner restaurants in town. The menu features fresh globally-inspired dishes that are undeniably delicious. If you want to know where to eat healthy food in town, this is it!
From crunchy kale salads to creamy curry dishes, you can't really go wrong at this Flagler avenue joint. We recommend going for happy hour from 3-6 for sweet deals on drinks and various menu items. As for what to order - You can't go wrong with their gyros, bowls, and yuca fries.
And if you like something a little lighter, we recommend the verde salad, cauliflower soup and quinoa salad. Everything if fresh, flavorful, filling and healthy!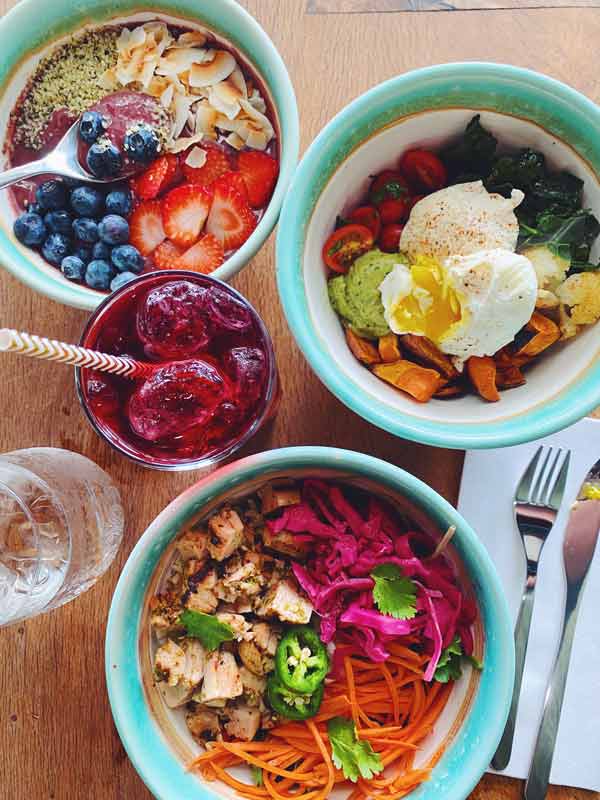 Locally sourced goodness, health forward dishes, insta-worthy restaurant
Outdoor and Dog Friendly Seating Available
If the beautiful aesthetics of this new restaurant don't lure you in, then the food surely will! They're open for breakfast and lunch and the menu is packed full of super health-conscious dishes that are both vibrant and delicious.
All of the meats they use are organic and the seafood is all local to Florida. And depending on the season, the vegetables are local too or organic if it can't be grown around here. You'll probably notice that they focus on health is quite prevalent with a menu that lists if things are Vegetarian, Vegan, DF, GF, Paleo, etc. But don't let this off-put you if you don't have a special diet -- there's something for everyone!
We recommend the Cilantro Lemongrass Chicken Bowl with coconut rice and the Sunrise Bowl packed with fresh roasted veggies and poached eggs. To wash it all down, order a tall glass of hibiscus tea or one of their delicious smoothies.
And I can't stress this enough -- I'm not too sure what is more instagram-able -- the dishes themselves or the tropical paradise themed murals that are on all the walls!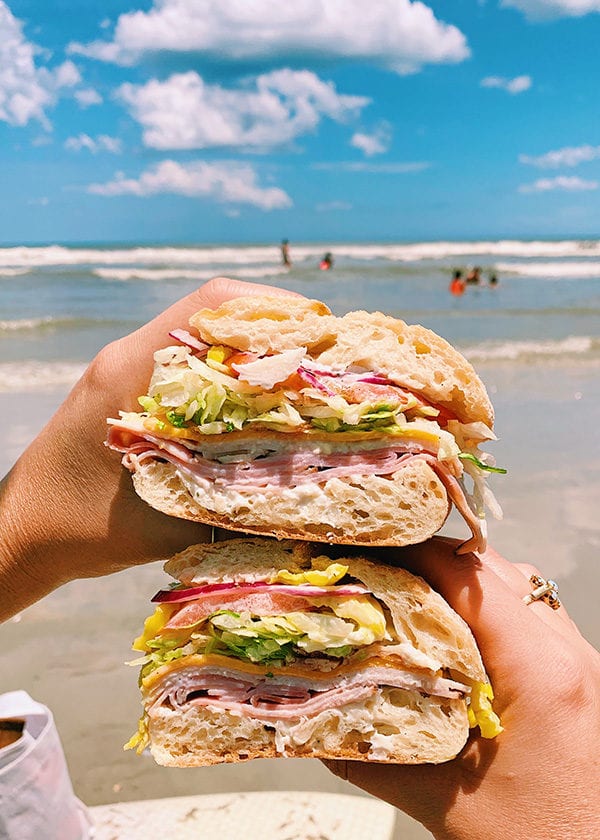 Flagler Avenue Deli, Huge Subs, Low Key Atmosphere
Outdoor and Dog Friendly Seating Available
Manzano's Beachside Deli is known as the go-to spot for beachside subs. Not only do they have humungous out-of-control delicoius sandwiches, but they've also got salad, pizza and some fried food, too.
Stop by for your breakfast, lunch, and even late night sandwich needs!
For breakfast, we recommend getting The Laird which is filled with hot cappicola, fresh mozzarella, tomato and egg or the Gnarly Charley which is loaded with avocado, pepper jack, ham, egg and tomato.
For lunch and dinner, be sure to order The Maverick which is loaded with turkey, bacon, smoked gouda, chipotle ranch, jalapenos, banana peppers, tomato and lettuce or the Balboa -which is stacked with sopressata, capicola, mortadella, fresh mozz, roasted red peppers, oil and vinegar.
Surf-Inspired Open Air Dining, Latin Influence, Window Service
Outdoor and Dog Friendly Seating Available
I love hitting up Taco Shack after a morning at the beach. This open air restaurant is located on US 1 and is always poppin'.
Don't be scared off by the long lines as it moves remarkably fast. Just watch the surf videos that are streaming on the outdoor TV's and chill-out to the music while you wait.
Some of our favorite dishes are the Pastelon which is like a Puerto Rican lasagna layered with cheese, plantains and ground beef. We also love the empanadas, the Mexican style chicken tacos, the chimichangas, and the tripleta.
DIY Style Menu, Hawaiian Poke Bowls and More, Fresh and Easy
Outdoor and Dog Friendly Seating Available
If you want food on the fly, this tiny build-your-own DIY poke bowl place is a legit NSB hole in the wall. It's always one of the quick recommendations for where to eat in New Smyrna Beach.
We love how fast, convenient, and insanely tasty it is! To begin, you'll choose from a base of ahi tuna, salmon, pulled pork or tofu over rice or greens. Then choose any and all of their toppings and sauces.
To be honest, I've never had a combo that I didn't like. But for those of you who'd like a little guidance, you can also choose from one of their signature bowls. They also just rolled out a new Caribbean inspired hot dog menu that sounds amazing and we can't wait to try it!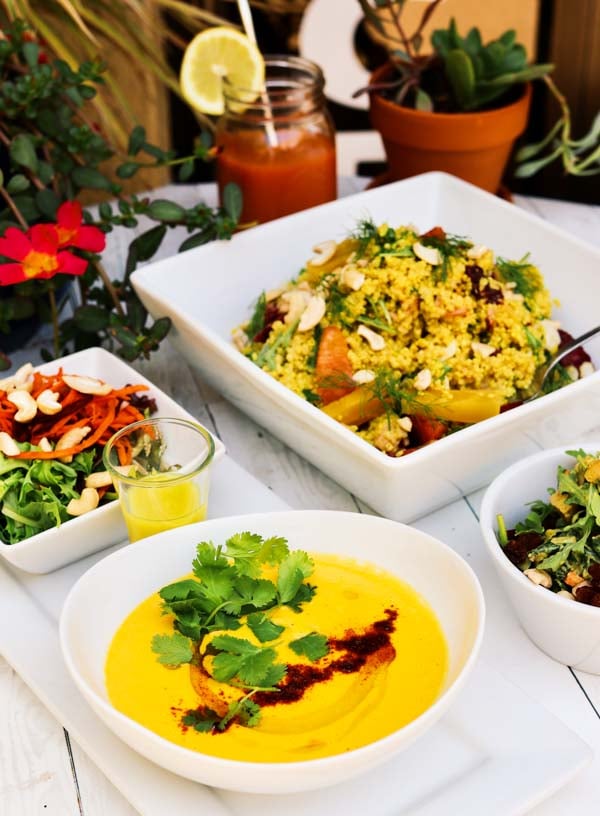 Takeout or Garden Eats, Healthy Bright and Flavorful, Forever Rotating Menu
Outdoor and Dog Friendly Seating Available
The tiny cafe in the Healing Zone is one of the hidden gems in town. Although it's not a traditional restaurant by any means, this little health store/chiropractic office/amazing little cafe bar makes some of the best healthy lunch options in town.
From loaded build your own bowls with creative sauces, to delicious healthy salads and hearty soups, the Healing Zone does it right.
While you're there, be sure to treat yourself to a fresh pressed juice, a fresh fruit smoothie or a strong juice shot that will cure what ails you!

best breakfast restaurants new smyrna beach
Iconic NSB Diner, Comfort Food Classics, Beachy Coastal Vibes
Outdoor and Dog Friendly Seating Available
The Beacon is another one of NSB's namesake restaurants that's been around for over 60 years. This old school diner is known for its insanely cheap prices and perfect comfort food dishes which makes it one of the Best Restaurants in New Smyrna Beach.
You can't go wrong with their delicious cake batter pancakes, humungous omelets, and any of their loaded combos. To be honest, everything on their menu is amazing and even more so when you ask for their secret homemade datil pepper hot sauce!
It's really the only place that Jeremy and I go for breakfast when we both have the morning off.
We even featured The Beacon in one of our Florida Foodie Road trip videos - here! Oh, and you might have read at the beginning of the post - but they also serve lunch and dinner!
Food Truck Feels, Fresh Juices and Bowls, Chill & Tropical Outdoor Seating
Outdoor and Dog Friendly Seating Available
GoJuice is the one and only fresh pressed juice and acai bowl spot on Flagler Avenue. From fruit-topped acai bowls with hand ground peanut butter to their famous banana coffee, GoJuice really does it right.
This colorful little food truck makes everything fresh to order and has a really cool little lush garden area to relax in. Instead of plastic straws, they use the stems of their papaya trees to show their appreciation for sustainability.
We love stopping by for a spicy ginger shot on the daily!
Family Owned Neighborhood Joint, Argentinian Inspired Menu, Cafe Style Atmosphere
Outdoor and Dog Friendly Seating Available
If you want to know where to eat, Wake Up Cafe is definitely one of the most drool-worthy breakfast restaurants in New Smyrna Beach. Their menu is packed full of flavorful Argentinian, Spanish, and traditional American dishes.
There are two different locations - one on the North Causeway and one in the Indian River shopping complex on 3rd Ave.
Although it's hard to pick a favorite, we recommend ordering their famous Lomito Sandwich, Alfajores Pancakes, Eggs Argentine, Spanish Skillet, Eggs Florentine, Eggs Azules, and of course, you can't forget to ask for a side of the aioli sauce which goes perfectly with their deep fried potatoes!
Quick and Easy Counter Service, Crazy Cake Style Donuts, Picnic Table Seating
Outdoor and Dog Friendly Seating Available
Donnie's Donuts is famous for their colorful old-fashioned cake style donuts! From fruity pebbles to s'mores, Donnie's really knows how to create fun and interesting donut combos.
Their menu changes regularly so it's always neat to go back and see what they've come up with next. We recommend choosing one of each and getting an organic cold brew to go!
They have some of the best donuts ever and now they're open til 5 which makes it even better!
Tiny Coffee Bar, Organic In-House Roasted Coffee, Crunchy
Outdoor and Dog Friendly Seating Available
Island Roasters is the only coffee place in New Smyrna that roasts their own organic beans. They also make some insane creations like this Charlotte's Web CBD iced coffee with coffee cubes or their famous honey badger latte with honey and cinnamon.
Although the space itself is super small, they sell a variety of different coffee bends and tasty baked goods. You can find Island Roasters beans all over NSB!
Handmade Using the Highest Quality Ingredients, Juices Bowls Smoothies, Freshest Vibes
Outdoor and Dog Friendly Seating Available
If you're looking for organic juices, tasty smoothies, or perfectly blended acai bowls, you will LOVE Mason Bar! This locally loved health food bar, located right before the North Causeway, is a favorite among joggers and yogis.
And although it's not your traditional beach grub, we definitely think it's one of the best restaurants in New Smyrna Beach. And beyond beverages, be sure to check out their vegan lunch options like their chickpea salad stuffed avocados or their handmade superfood balls.
If you've got a long day ahead of you, you definitely need to treat yourself to their Coffee Crack which is crafted with Island Roasters cold brew, homemade pumpkin seed milk, reishi mushroom extract and maca - I rely on it for long days of catering or video work!