Knowing what to pack for your infant's (toddler or baby's) first Disney trip might seem overwhelming. But as an annual pass holding mama with a 1.5 year old, I can tell you that I've got it all figured out! Obviously some things change seasonally, so be sure keep that in mind!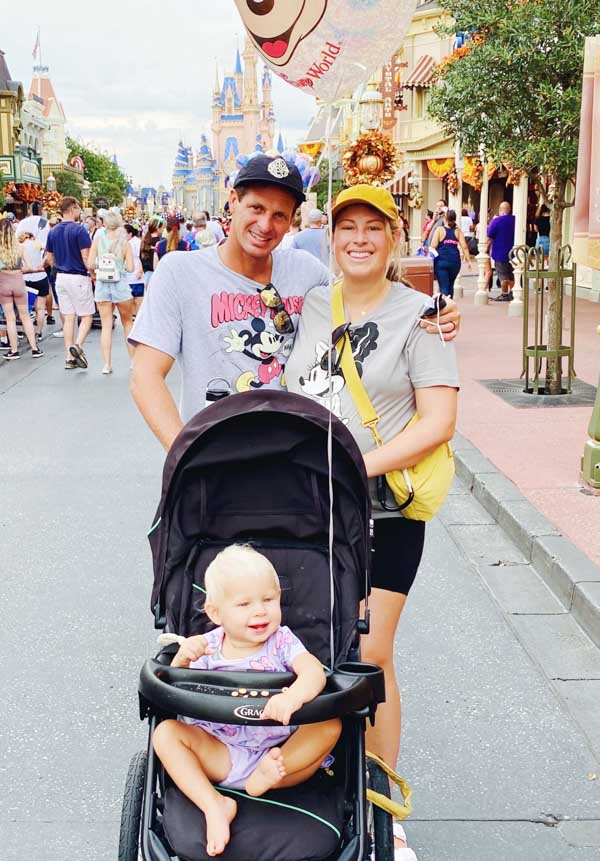 Baby's first trip to Disney World
Not going to lie, the first time we took our daughter, Poppy, to Disney, I was feeling all sorts of emotions!
I was super overwhelmed but I was also super excited. I was legit obsessing over it for weeks ahead of time and I'm so glad I did. All of that researching and planning worked out perfectly because were totally prepared and had the best time ever! ...Minus a few breakdowns but with a toddler, that is expected and OK after a few deep breaths!
If you're a first time reader, I should give you a little of our background. My husband and I are both born and raised Floridians. We live an hour away from the parks and travel to Orlando all the time just for fun... and to grocery shop. Lol.
So when it came to bringing Poppy to Disney for the first time, we decided her first birthday would be the perfect time to plan our first day trip!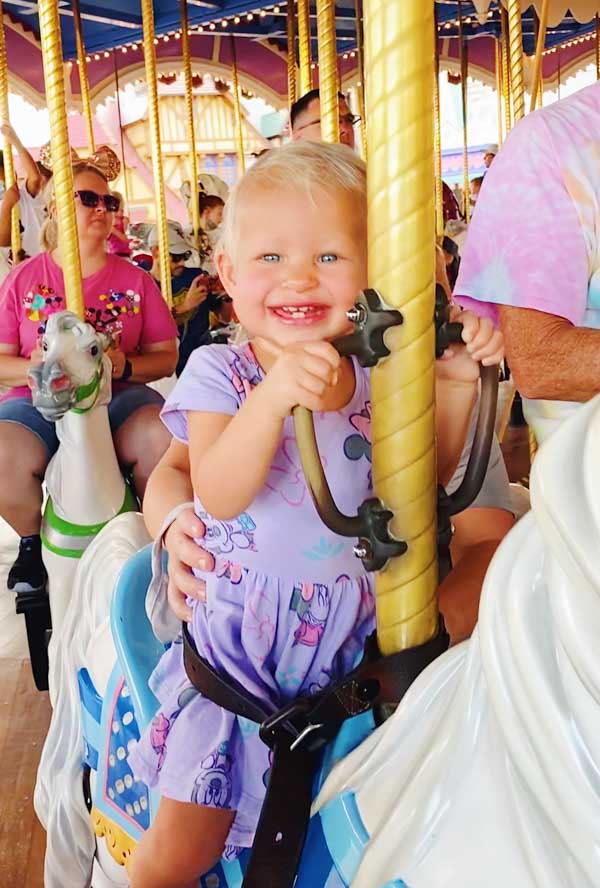 Since I put so much work into packing and planning, I wanted to share my guide so you don't have to!
And since I always get so many requests for exact product links, I figured it was best to use my amazon affiliate links to show you the exact products we use. I do get a small commission if you buy something from one of the links which is always greatly appreciated.
However, these links are just our suggestions - obviously do you!
This list should just be used as a guide and personalized to fit your needs!
And of course, if you have any questions, always feel free to DM me on instagram!
Sun Protection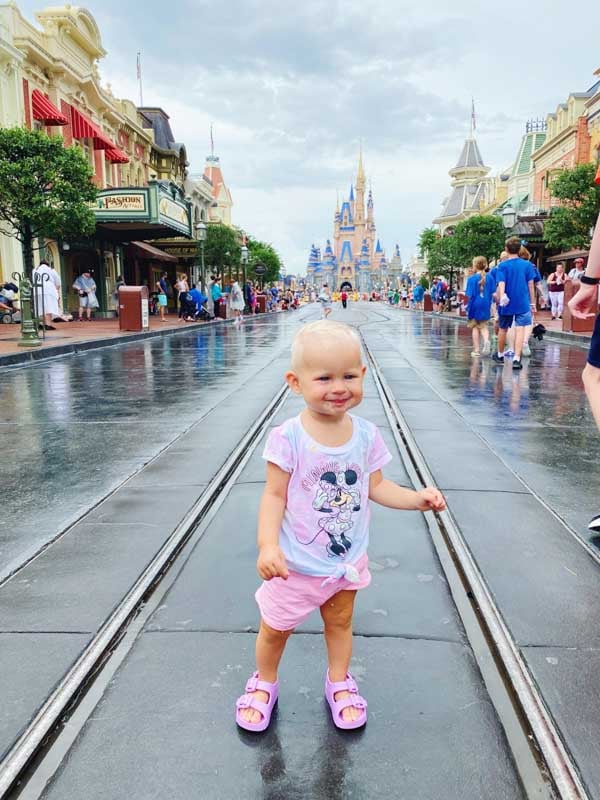 Stroller & Transporation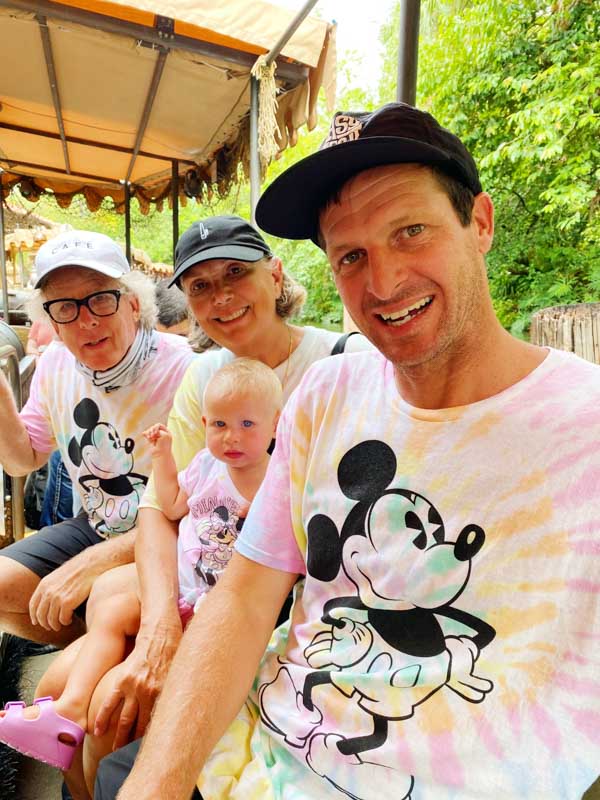 Diaper Bag
Diapers - I always pack 6 diapers for our 1.5 year old! It's always more than we need but it makes me feel secure. We use Pampers Pure these days and love them.
Wipes - Don't forget the wipes. I keep a small pack in the stroller pouch and I keep a larger pack in the diaper bag for emergencies. We also use the Pampers Pure Wipes and love them!
Diaper Rash Cream - Diaper rashes SUCK! But we've been using this SW Basics Diaper Cream since the day Poppy came home from the hospital and she has only had a rash one time (and we think it was because of teething!) Get this stuff if you're in the market. It's seriously a game changer.
Binkies - If your kid is into pacifiers, don't forget them! I always keep one tethered to the stroller then keep two in my diaper bag just in case.
Bottles/Sippy Cups - Water bottles are expensive at Disney but luckily they have plenty of freewater bottle filling stations everywhere! We take advantage of that every single time and save so much money! We got Poppy this baby Yeti Sippy Cup and she loves it because it keeps her drinks super cold.
Reusable Silicon Straws - Because it's always so hot, we always love to enjoy some of the amazing frozen drinks (don't miss the apple marshamallow one!!!). But word to the wise, Disney changed to paper straws a while back and they suck... they literally fall apart in 10 minutes. Luckily we always have these silicon straws with us and they are great... especially if your baby takes a while to finish a drink!
Bibs - I know Poppy makes a mess when she eats so we always have a smock bib on hand. I like these because they cover her whole outfit and they're super thin, lightweight, and they velcro at the neck.
So many snacks - I cannot tell you how many snacks we go through during a Disney day. I always pack a huge ziplock full of smaller liplocks containing: cheerios, graham crackers, frozen smithfield yogurt packs, freeze dried yogurt drops (aka yogis), tangerines and more.
Light Cloth Blanky - Having a light Muslin Cloth Blanket on hand is always a good idea. Whether there's a little bit of a breeze or you want to block the sun light from a napping baby's face, these lightweight muslin cloths can't be beat! Plus, they fold up into practically nothing and are breathable!
2 Changes of Clothes - because you never know when they'll have a blow out, a massive spill or get soaked on a ride!
Comfy Breathable Shoes - Poppy LIVES in these fake baby birkenstocks. They're super lightweight, completely adjustable, totally waterproof, and very comfy! She loves them and so do we. They're made of the same material as crocs!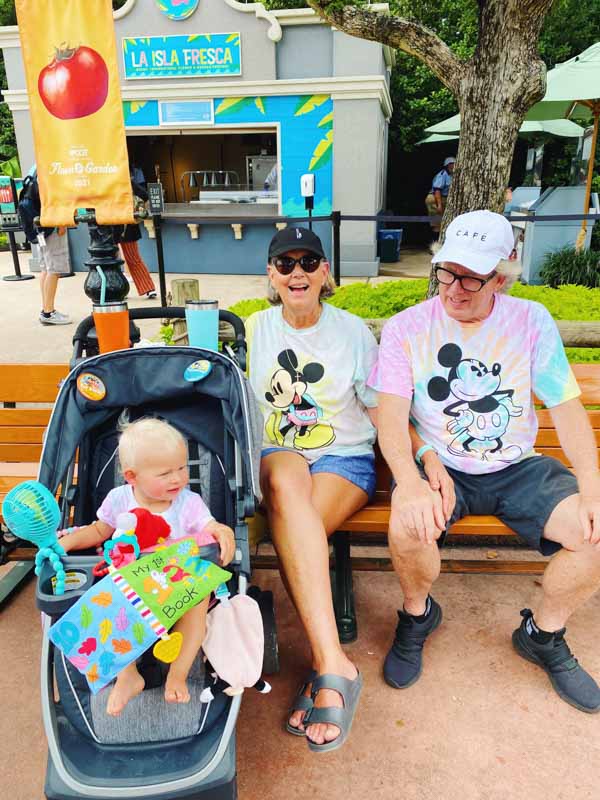 For Mom & Dad
A Positive Mindset - Disney can be stressful... especially after not being around people or in quarantine for the last two years. Just try to go in with a good attitude and realize that you probably won't get to do everything you want to and that's ok! Don't let it stress you out. Your baby has no idea what's going on besides the wonderful magic that's in front of them!
Grandma & Grandpa - if you can bring the Grandparents, do it!! We always invite my parents and are so thankful when they can come. Having an extra set of hands from experienced pros is always a good thing! Plus they get to see the magic in their grandchildren's eyes which is magnificent!
Disney App on phone - Don't go to Disney without downloading their new app first. Whether you need a map, are looking for ride wait times, or need to book reservations for food, the app does it all! It's free, too!
Rechargeable Phone Battery and Cord - They have free charging stations at Disney but who wants to be tied down?! I always just have one of these rechargeable phone batteries and a small cord on hand which I keep in my fanny pack. That way, you're always connected and can document as much as you want without draining your phone battery.
Trips to the Baby Care Centers - Don't skip these!! Each one of Disney's theme parks has a special baby room that is perfect for parents and little ones. It's got great AC, tons of clean changing tables, nursing rooms with comfy chairs, microwaves for forumula/food, sinks, and even a small baby shop in case you need diapers or binkies or anything like that. They're so nice and I'm so glad my insta-following told me about them!!!
Hand Sanitizer - I think we all carry this on us at all times though, right??
Face Masks - Disney requires a face mask if you're indoors so don't forget it! And don't be like my dad and only bring a gator - they don't count those as masks. And the last two times we went, they didn't have free masks and buying one will cost you about $20! So pack extra if you're prone to losing them like we are!
Corkcicle or Yeti - Disney allows you to bring your own water bottles so don't forget to pack them. I've been carrying around this Corkcicle Canteen for months now and I'm so obsessed! Ice will last ALL day long and the straw makes it easy for Poppy to drink out of it too. It also has a metal loop so I can attach it to my fanny pack so I can be hands free while we wait in lines. Jerm always goes with a Yeti Rambler because that's more his style and it fits in the stroller cup holder.
Medical info and insurance cards just in case - God forbid something happen but just to be safe, keep your insurance cards in your wallet. I've never had to use this but my mom always drilled this into my brain so I'm drilling it into yours!
Fanny Pack - I always rock a fanny pack at Disney. It might be dorky but I literally don't care. It makes life so much easier and I stand by this!! I even keep a little clip on it for my water bottle which makes it easy to have free hands during long lines where we're all thirsty and tired.
And that's about it! It may seem like a lot but it's totally doable and customizable. I hope you have so much fun at Disney! Don't forget to tag me in your pics if you use some of my suggestions! <3
If you need other travel guides, check out my latest guide to Charleston, South Carolina or Sarasota, Florida!