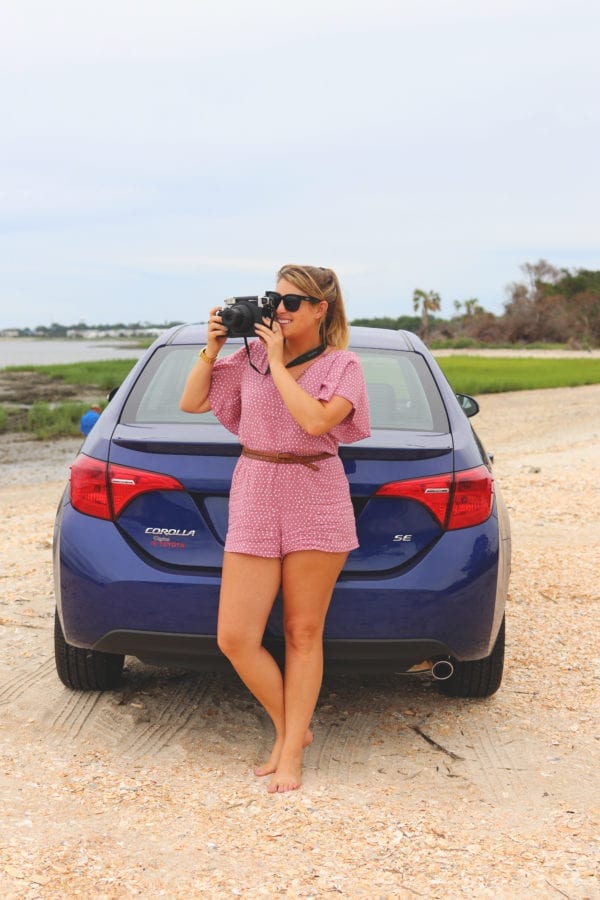 A few weeks ago, Jerm and I partnered up with Southeast Toyota and headed north for a foodie road trip to Savannah, Georgia. Our main mission was to get a taste of the Southern food scene but of course, we made it a point to cruise outside the historic neighborhoods to check out the other hidden gems that lied beyond city lines.
As we drove through the antebellum era streets, we couldn't help but be amazed by the beauty of the canopied roads that were packed full of lush oak trees and ghostly hanging Spanish moss. Once we checked in to our bnb, The Azalea Inn (a Select Registry property just like Black Dolphin), we began to understand the true meaning of southern hospitality as we got to know the charming personalities of the friendly southerners that reside in Georgia's oldest city.
And although you could fill a full week of eating adventures in Savannah, we spent three days hopping around town, eating, shopping, and taking in all the city had to offer. Below, you will find our guide which we think is pretty freakin' rad and of course - delicious! And if you've got any questions or think we missed any places, feel free to comment below!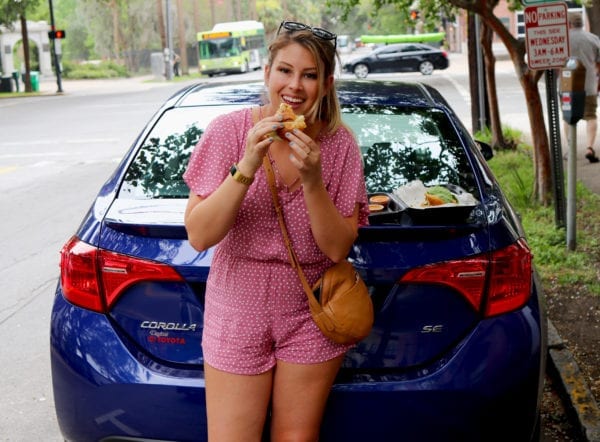 WHERE TO EAT!
Although Charleston is probably the most known foodie city in the South these days, Savannah's growing food scene is not to be underestimated. From infinite piles of perfectly fried chicken to simple and flaky buttermilk biscuits, there's a reason this city is in the middle of a food revolution. Not only do most of the restaurants source their fare from local farms but they also make it a point to stay true to their Southern roots. As they say, The old South is now "The New South" and it's having a comeback.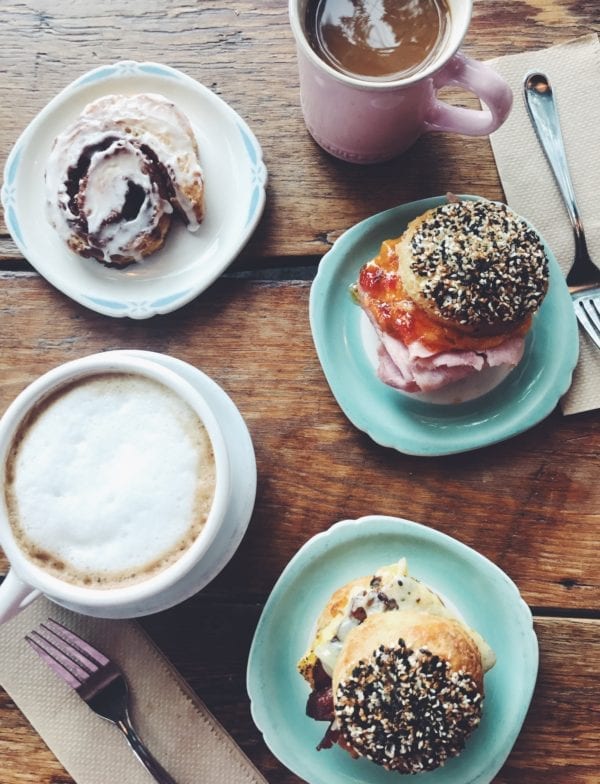 Breakfast
Our #1 Fav: Back in the Day Bakery

This super cute bakery on the outskirts of town specializes in house-made pastries and fresh pulled espresso. The DIY biscuit building menu automatically caught my eye and although I got a little anxious about choosing the right combination, I was beyond impressed by the biscuit sandwich that one of the bakers helped me with. If you go, you must (and I mean must) order an ET biscuit with herby eggs, pimento cheese, honey ham + red pepper jelly with a cinnamon bun on the side. It was the perfect breakfast to start our Savannah adventure and even though we've been back a few weeks now, I still dream about this breakfast sandwich regularly. It was heaven!

Other Recommendations: The Collins Quarter

This haute Australian cafe specializes in specialty coffees and fancy, down-under inspired cuisine. Since I had eaten my weight in fried chicken the night before, I decided to be healthy and order their avocado toast with a lavender latte. Not only was it beautiful and delicious, but it was fresh and fun and provided the perfect sustenance to start my day. Jerm, on the other hand, went all out and got their Swine Time Beni which was absolutely out of control! A heaping pile of brioche french toast topped with tender pulled pork, tomato, poached eggs, hollandaise, and crispy Cheshire Farms bacon was everything you could ever want -- sweet, savory and oh-so-delicious! Be warned though, you might need a nap after this one!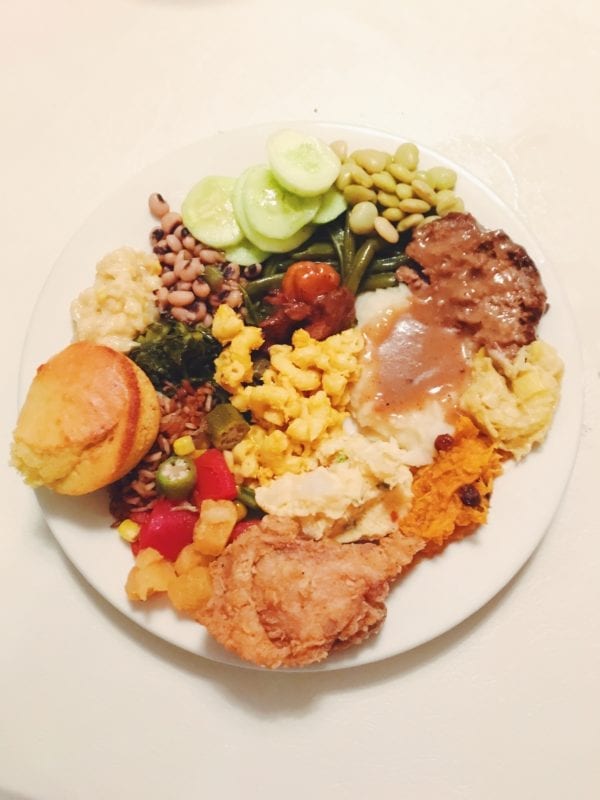 Lunch
Our #1 Fav: Mrs. Wilkes Dining Room

I'm pretty certain that there isn't another restaurant like Mrs. Wilkes in the entire country. The never ending line outside of this no frills restaurant is full of tourists and locals alike and there's a reason for that. The family style dining experience is like none other. Once you reach the front of the line, you're escourted to a table full of hungry strangers that's filled with a million different bowls of southern delicacies. My advice is go right before 2 (which is when they close) to avoid the line. Skip the common stuff like mashed potatoes and stuffing to save room for the fried chicken and uncommon sides like rutabaga and okra. And I have to share -- another reason that this place is close to my heart is that it's exactly like how my meme's dinner spreads were. Pretty special stuff right here.

Other Recommendations:

Zunzi's sandwich - Arguably one of the best sandwiches in the country while also being one of the most recommended places on social media, Zunzi's sandwich shop did not disappoint! The conquistador, a french bread sandwich loaded with baked chicken, lettuce, tomato, and sauce... lots and lots of sauce was totally killer. It almost tasted like a chicken caesar salad sandwich but about 300% better.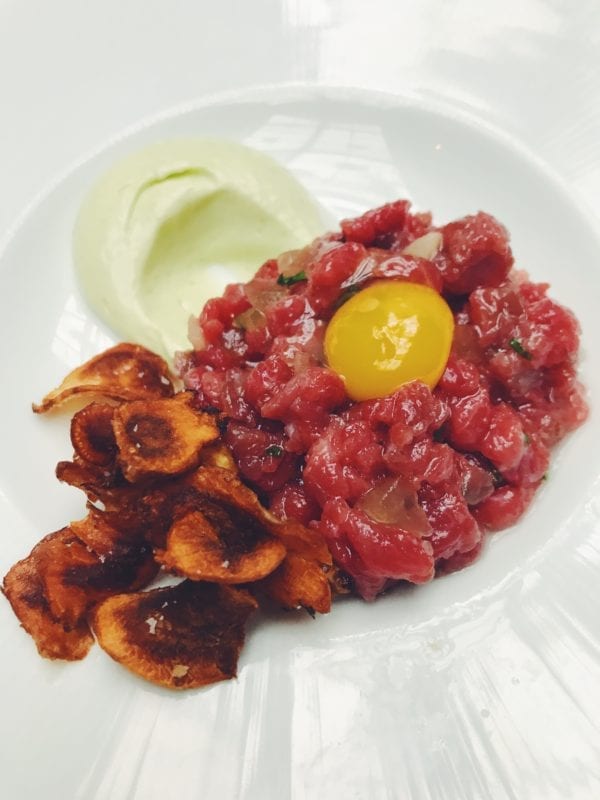 Dinner
Our #1 Fav: The Grey

Set in an ex-Greyhound bus station from the 30s, this recently renovated mid-century modern eatery hits the nail on the head. By combining a mix of Southern staples with global influences, the menu is not only exciting but also absolutely delicious and the presentations are awe-inspiring. Want proof? Just ask the James Beard House, which recently nominated them as one of the best new restaurants in the USA. What to eat? We recommend choosing one dish from each category on their menu and sharing it, family style. We absolutely loved the steak tartare (pictured above), the country pasta (made with pork ragu, fennel and bucatini), and the roasted yard bird which was nestled on top of a beautiful potato puree with chow chow and fresh jalapenos.

Other Recommendations:

Cotton & Rye: Another stand out restaurant in Savannah that locally sources everything on the menu. We started out with a cheese, pickle and charcuterie plate that made my heart skip a beat. After that, the country ham salad cleansed our palettes and primed us for the sticky country ribs and the fried chicken platter which came with luscious baked mac n cheese. The vibe in this restaurant is fun and down to earth while also being sophisticated and smart.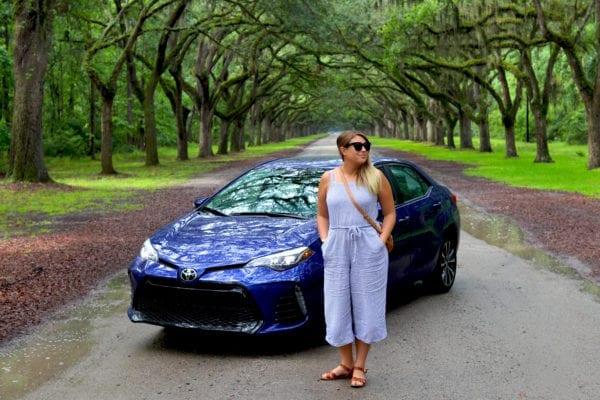 Where to Explore:
Savannah is basically a grid that's full of beautiful green parks, cute shops, art galleries and award winning restaurants. As you walk around town, it's easy to get lost in the beauty of the pre-war row houses that line the city streets and the giant oak trees that have been there for hundreds of years. And although most of the city is gorgeous in and of itself, there are a few places that you must put on your list.
Bull Street - This relaxed street is home to most of the local boutiques and sweet shops in Savannah. Stroll down Bull with an ice coffee in hand and enjoy the quaint charm that this city has to offer.
Jones Street - Considered one of the most beautiful streets in Savannah, Jones street is a residential road full of beautiful, manicured houses with ghostly pasts. If you take a haunted tour of the city, you can be sure that you'll find yourself strolling down Jones street, peering in the windows for ghosts and goblins.
Broughton Street - Probably the most heavily populated street in Savannah, Broughton is perfect for experiencing the hustle and bustle of downtown Savannah. Definitely make it a point to stop into the Savannah Bee Company and the Paris Market as they're two of my favorite places ever!
And although Savannah proper is unequivocally a place best enjoyed by foot, we decided to take our Toyota Corolla for a cruise outside of the city to explore a few cool spots nearby. Luckily for us, there were a few places that were under 30 minutes away that were a nice change of scenery.
Tybee Island - This coastal town about 20 minutes away from Savannah is the shining example of a perfect little beach town. Almost completely unadulterated by chains and the like, Tybee Island's white sand beaches are great for a little escape. Be sure to drive up to the North beach to explore the old lighthouse and see the dolphins romping around in the water.
Wormsloe Historic Site (pictured above) - By far one of my favorite parts of Savannah. We went in the rain and it was totally quiet and tranquil outside. As you pull onto this tree lined avenue that's been owned by the same family since the 1730's, it's like you're peering down a never ending abyss that's lined with giant oak trees that basically grow into one another. It is sooo, so awesome and picturesque.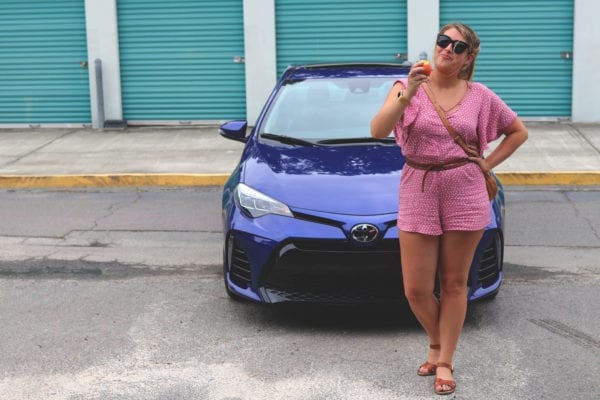 What to Drive!
The 2017 Toyota Corolla - Whether we were cruising through the eerie salt marshes, coasting over cobblestone roads, avoiding traffic on the highway, or driving directly on the sandy beaches, The 2017 Toyota Corolla handled itself flawlessly. And since summertime in the South is almost unbearable because of the heat and humidity, it was no surprise that this car became a lifesaver because of it's amazing and quick air conditioning system.
I could go on and on about what I liked most about this car but here are my favorite parts!
The Bluetooth Technology - This feature is so next level. Instead of getting in the car, digging around for a cable, plugging in your iphone, opening an app, and hittingplay, the Corolla's bluetooth automatically picks up the last thing you were playing and starts from there. It does it all for you which is literally the best thing on earth!
The Safety Sense - Another perfect amenity that I'm pretty sure all cars should come standard with from now on is the safety sense features. As a girl who solely relies on cruise control while on the highway, it was so awesome to experience a car that took it to the next level. After turning the automatic speed function on once, the Corolla would slow down when it came within a couple hundred feet of another car. It also automatically regained speed if you changed lanes which made it super convenient. There was also a lane departure alert which beeped when you were drifting into another lane which made us feel safe and secure... especially since I was driving and instead of Jeremy!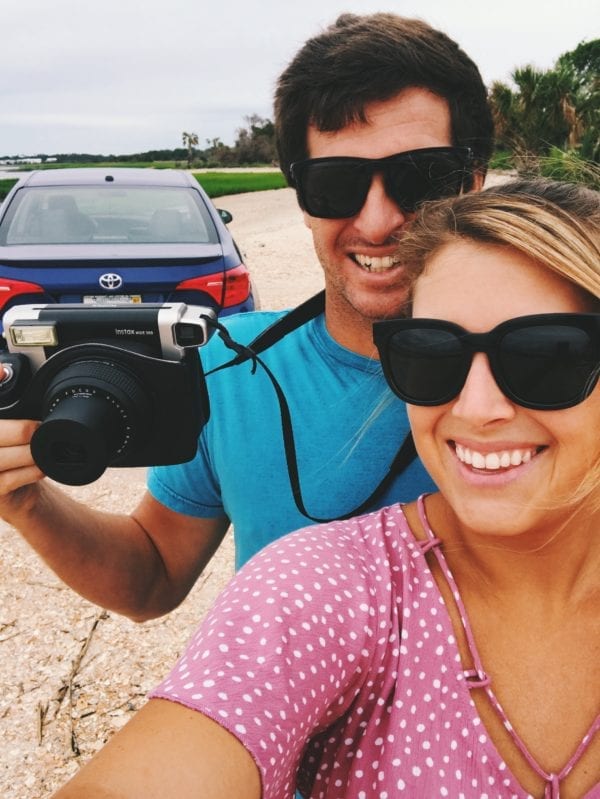 For more tips and travel ideas, be sure to sign up for our email list!
Until next time my friends,
xoxo,
GCS