My Sarasota Travel Guide covers all of our favorite places to eat, hang, explore, and relax in this beautiful coastal city on Florida's west coast! From where to find the best food to free kid friendly activities, we've got it covered!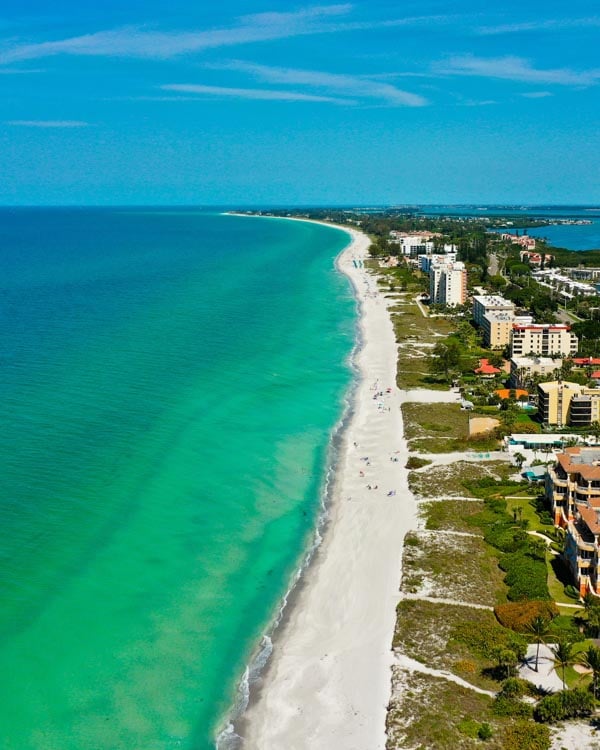 Before this trip, I hadn't been to Sarasota since I was a teen!
I got hired to do some food styling for First Watch restaurant so we decided to make a little getaway out of it.
And since I'm still nursing alllll night long, Poppy and Jerm came over with me and explored while I worked.
Thanks to them this Sarasota Travel Guide is a combo of all the places they went, some spots we went together and of course, the places my instagram community recommended.
All in all, we had a blast in Sarasota and can't wait to go back!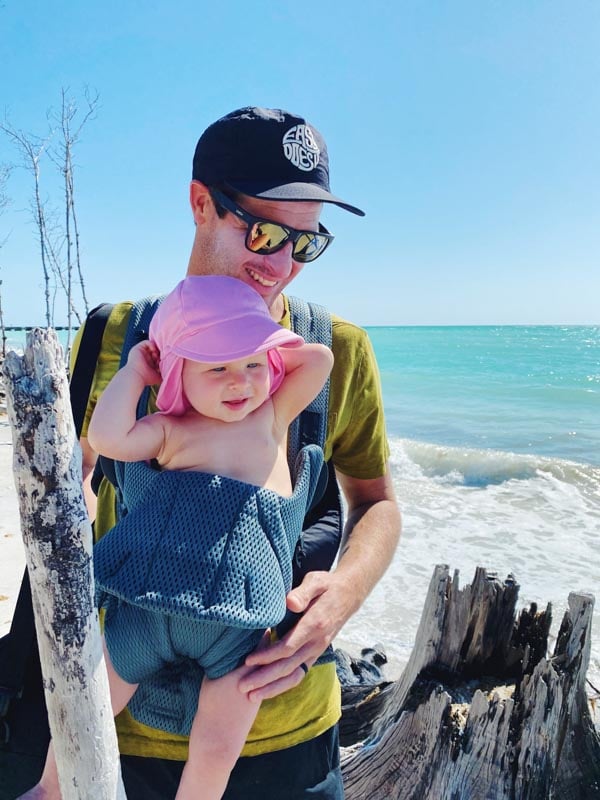 Best things to do in Sarasota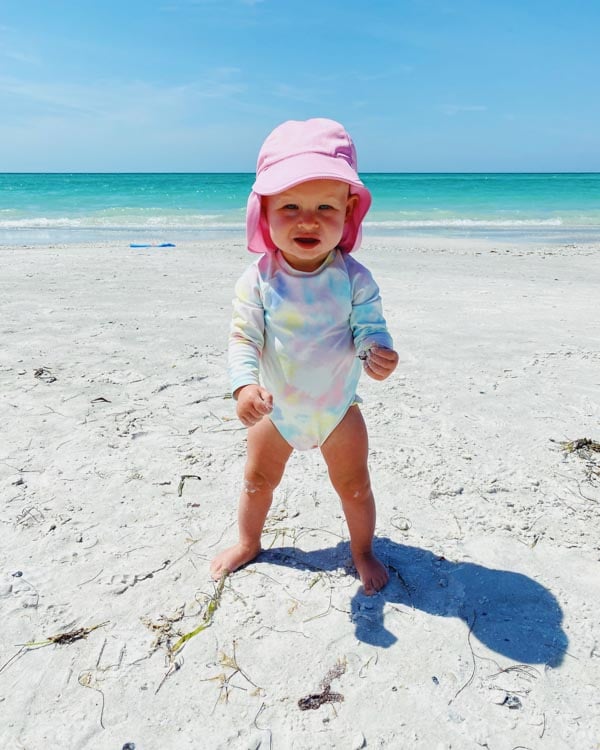 The Beaches - Obviously you're going to Sarasota for the beaches so don't forget to bring your bathing suits and some sun screen! I only got to go the beaches one day since I was working but Jeremy and Poppy had quite the time exploring the coast.
We highly recommend checking out Lido, Longboat Key, Beer Can Island Beach and Whitney Beach.
A lot of people recommend Siesta Key but all of our local friends said to skip it because traffic is insane! Granted, we were there at the height of the season!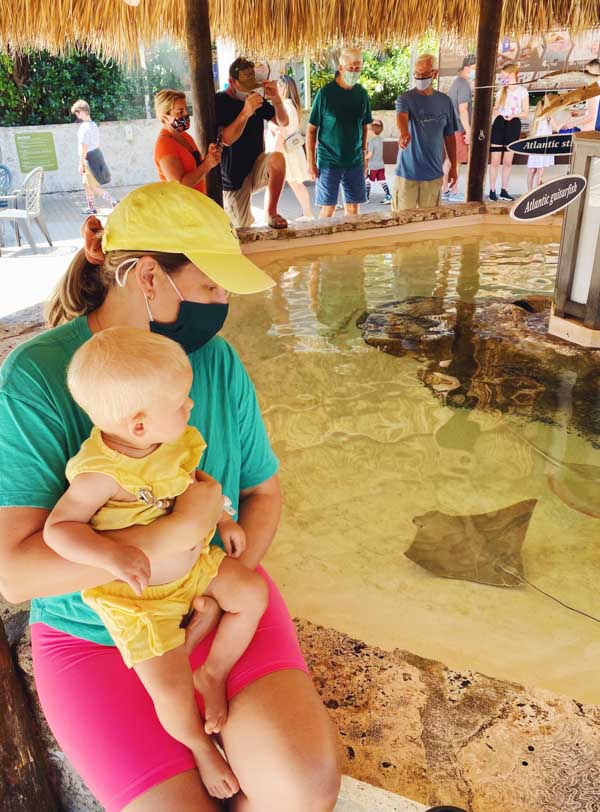 Mote Marine - I have a special place in my heart for Mote Marine. I grew up coming to this research center / aquarium so it was so great to visit again.
The last time I went there I was a kid, so needless to say, a lot has changed!
Mote Marine has so much to do, learn, and look at. From jellyfish to manatees and baby sharks, we loved every second of it!
What's so great is that it's not only an aquarium for kids but it's also one of FL's top oceanic research centers which is super cool!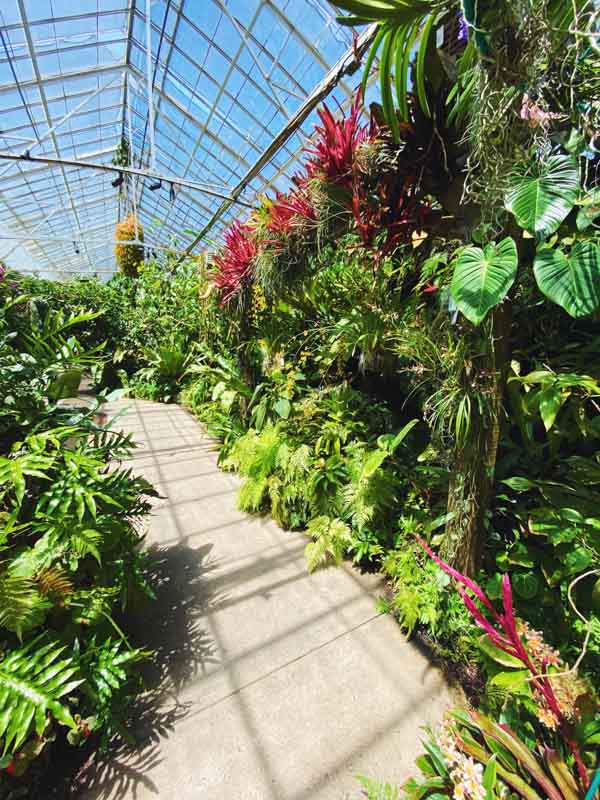 Selby Gardens - Selby Gardens is one of Sarasota's most popular botanical gardens.
It's located right near on the bayfront and has some insanely beautiful plants and scenery.
Plus, there's fun trails to walk and a cool Lichtenstein Pop-up with interactive art pieces all over the place.
Jerm even took Poppy on the boardwalk by the mangroves and it was super cute! She loved being that high up and seeing everything form such a different angle than she's used to!
St. Armands Circle - St. Armands is a beautiful circle that's located before you get to the beaches off of Sarasota.
It's full of tasty restaurants, fancy shops, and beautiful plants so it had to be on our Sarasota Travel Guide!
We strolled around here one morning after breakfast and it was so perfect. We got a big iced lemonade and did a little shopping while Poppy napped in her stroller.
This area is definitely touristy but that's ok! It was a nice area to walk around to kill time before she woke up and headed to the aquarium.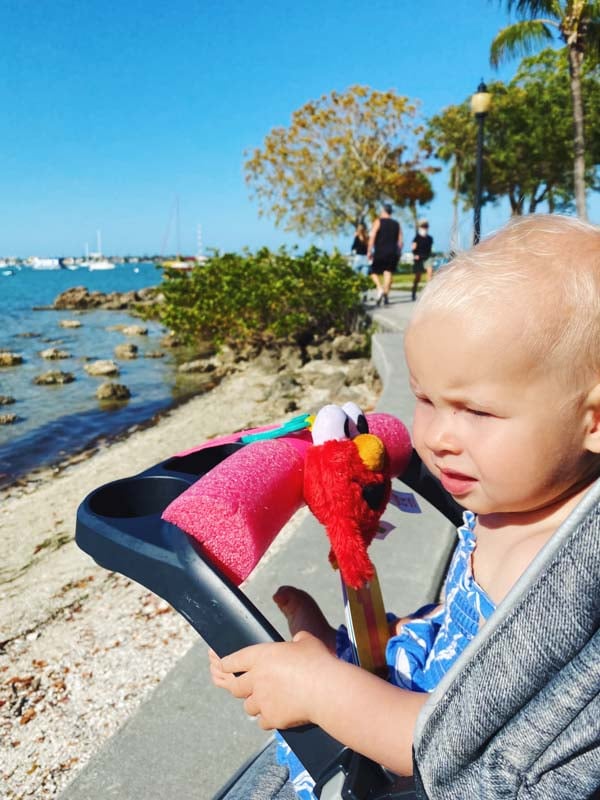 Bayfront Park - This beautiful waterfront park is located right off of main street.
Not only is it a super manicured grassy park but there's also a large paved loop where tons of joggers, boaters, families and more gather.
There were at least 3 different mommy baby workout groups happening which made me really want to work out again.
There was also a large kids play park, a beautiful marina, a cool bar named O'Leary's Tiki Bar & Grill, and a nice little beach for the kiddos to splash around.
Main Street - I love me a good downtown area -- and Sarasota's main street has got it going on!
We must have walked up and down this street at least 20 times and it never got old.
And since our airbnb was right at the tip of it, it was the perfect jump off point for figuring out what we were going to do for the day.
We'd wake up, put Pop's in her stroller and cruise downtown to grab coffee and pastries and make a game plan.
One of the things that we liked most about Sarasota was how many restaurants offered outdoor seating. It felt very European which was great especially since we went before we had our first dose of the vaccine.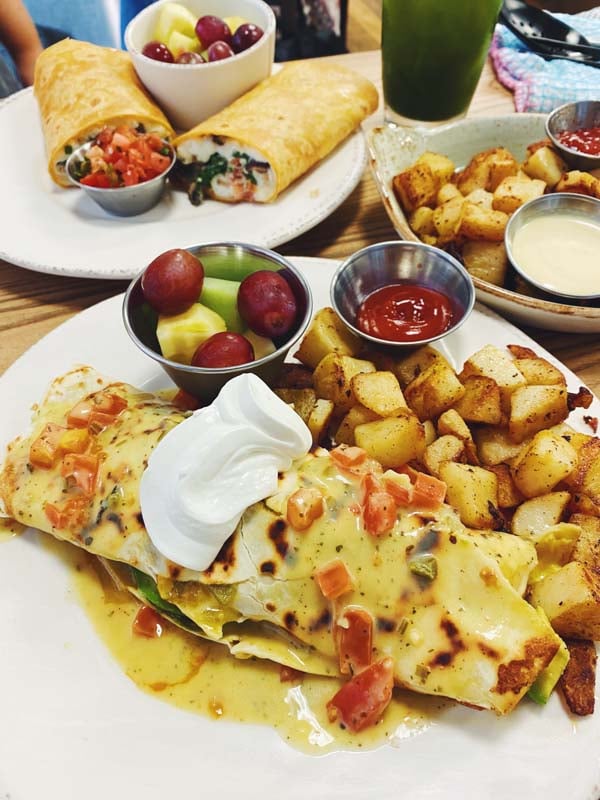 Best restaurants in Sarasota
Since I was working at First Watch most the time, I didn't get to eat at as many restaurants as I would have liked.
I would be lying if I didn't say that I happily ate at First Watch for multiple meals while we were working. It's so good!
But since I try not to eat at chains while I'm traveling, I decided to ask instagram for their recs!
After crowdsourcing from nearly 112,000 followers on instagram, I built this google map list that shares all the top recommend places!
Also, I want to say this because I think it's important. There is a pandemic going on so I don't want to be too harsh on any of the restaurants. I know everyone is doing the best they can and I'm thankful for the opportunity to dine out again!
Check out my saved google maps here!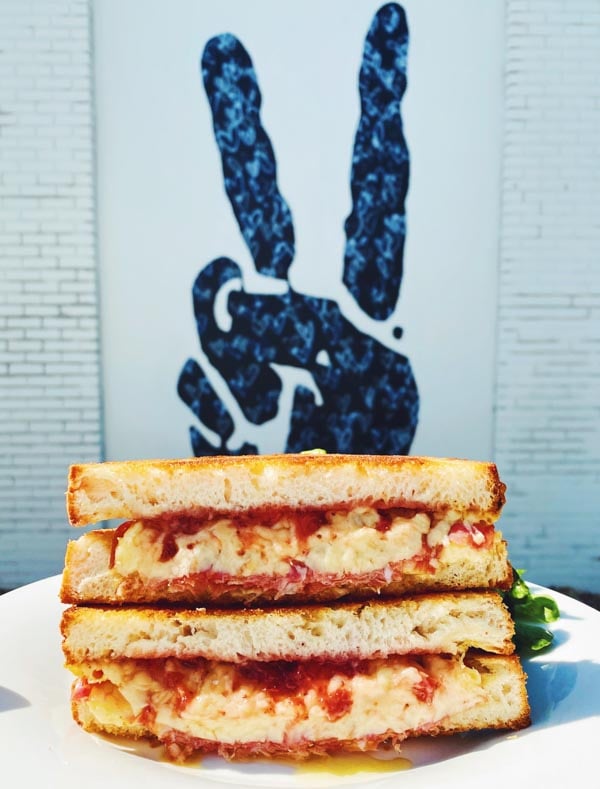 Artisan Cheese Company - I am absolutely obsessed with the Artisan Cheese Co. Not only do they have the best, most cared for cheeses in the state of Florida, but they also have an absolutely amazing menu!
We got a grilled cheese of the day, butter salad, squash soup, and their tacos of the day and were literally blown away! It was def the best meal we had!
I even filled up a cooler to bring stuff home! I can't wait to go back.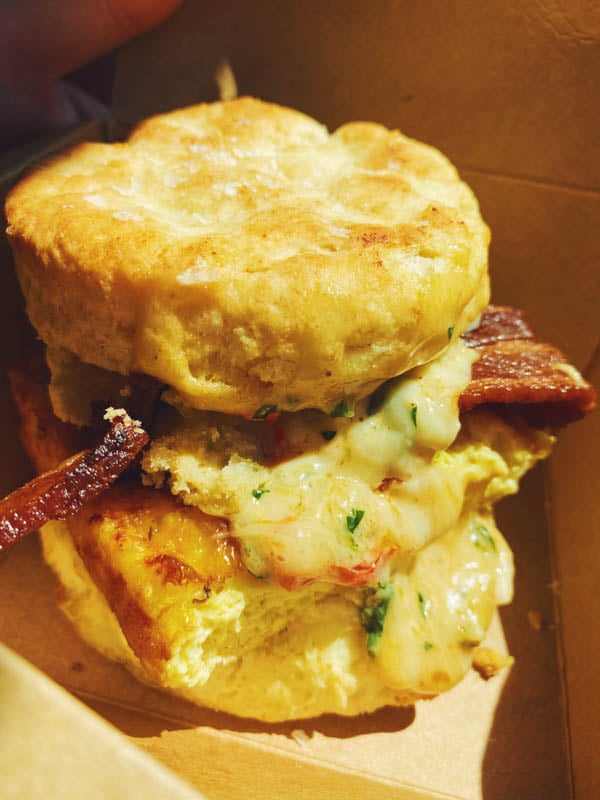 Buttermilk - A lot of people recommended Buttermilk so we had to go! Since it's a little more on the outskirts of Sarasota, we went on our way home and I'm so glad we did.
I came from the fried chicken biscuit which they only do on Fridays but ended up being obsessed with pimento cheese, Benton's bacon and baked egg biscuit. Legit the best pimento cheese I've had all year!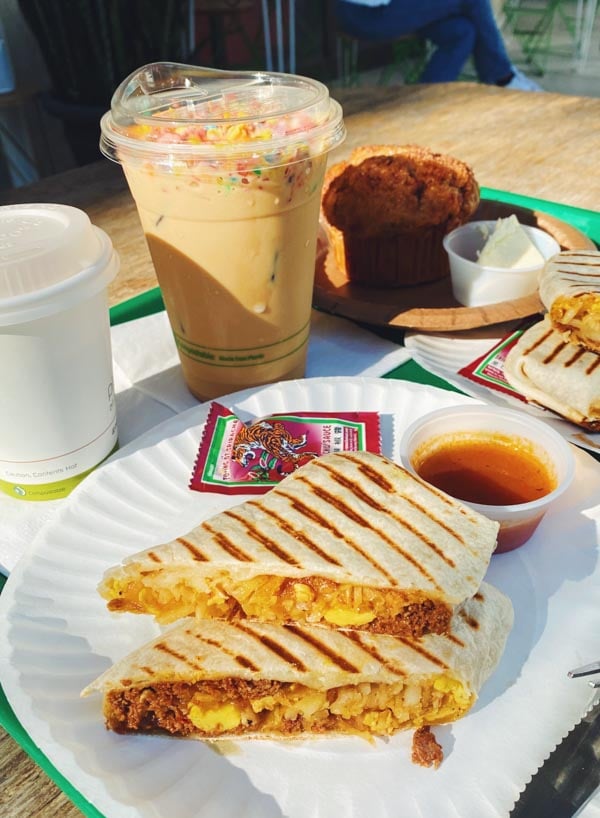 The Overton - I wouldn't necessarily go here for the food but we went there early one morning and had a good time! The space itself is absolutely beautiful and their coffee program is top notch!
We got a cereal milk latte that was amazing, a cortado, and two breakfast burritos which were only $6 each! Def a good deal and a great location to let your little one play while you wake up!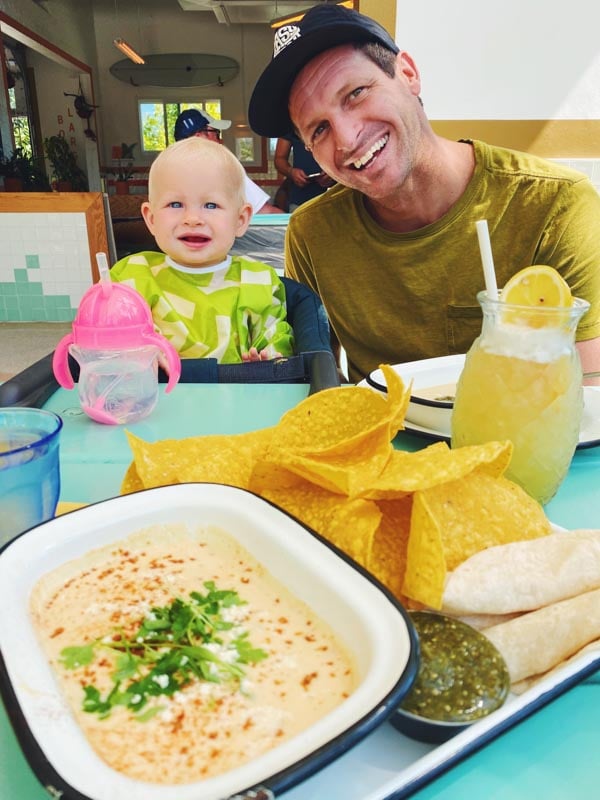 Whitney's LBK - This was definitely the cutest spot we ate at during our trip. It's this big, bright, and beautiful outdoor restaurant that's located right across the street from the beach. From the mid century design, to the vibrant beach food and the tiki cocktails, this place is awesome.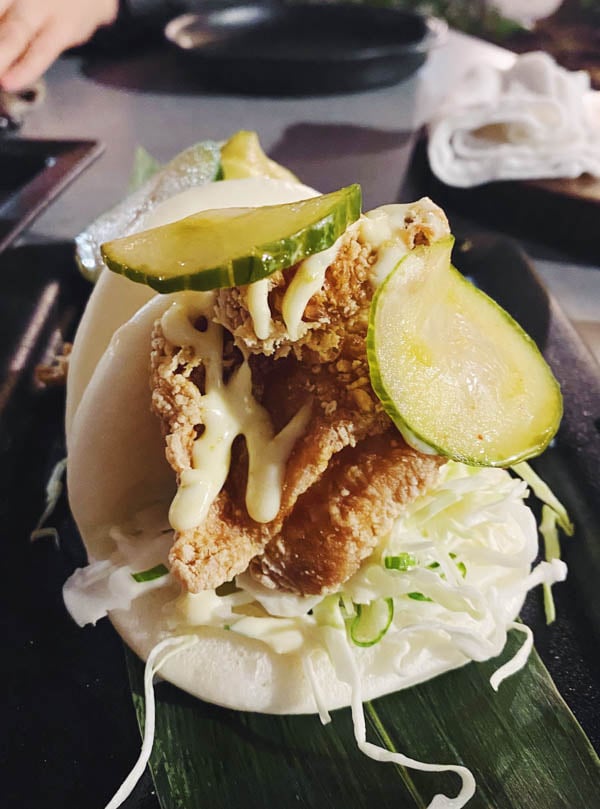 Kojo - We ate at this Asian-inspired fusion restaurant the first night with my friend Aubrey from @thatswhatsheeats! Since each menu item is meant to be shared, we ordered about half the menu.
Some dishes were totally amazing (hello truffle mushroom taco) and some sort of fell flat (the udon carbonara wah wah). If I went here again, I'd probably stick to sushi and small plates!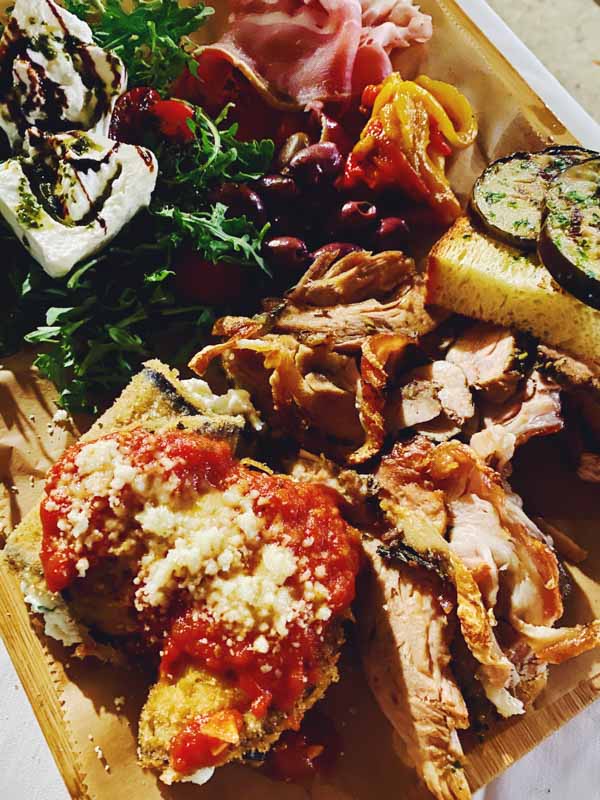 La Mucca - We ate here after I panicked and dropped our reservation from Owens because of the anti-mask thing. It was kind of a last minute decision that ended up being pretty decent!
We started with a bottle of cab and their antipasta plate which was AMAZING! It was filled with so much italian goodness that I was actually suprised it was only $20! The star was the Porchetta which was the special of the night. It was legit the best porchetta I've had in the states!
For dinner, Jerm got the bolognese which was great. I ordered the carbonara which I ended up being super bummed about. On the website, it looked like it was real carbonara made with egg yolk... but what I got was a big bowl of cream sauce with a little bacon in there! The rest was really good... but mine, not so much!
Indigenous - Indigenous was one of those restaurants that I wish we would have planned better for. Because it's so great, you need a reservation to get in and we did not plan ahead. We have heard countless good things about this place and the food and restaurant looked amazing!
Owens Fish Camp - This sweet little family owned fish camp was probably the restaurant that we got recommended to us most. We didn't go because I was getting anxiety about the fact that not one single employee was wearing a mask and it was super crowded. But still, def put it on your list if you can and get there early because they don't do reservations... they just put you on the list!
To see the rest of my recommendations, check out this map!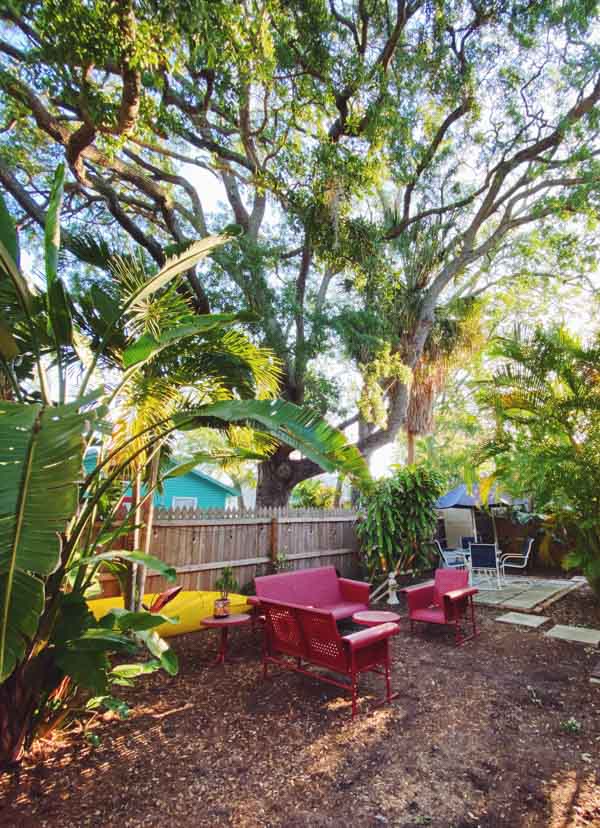 Where to stay in Sarasota
Since I was working downtown, I wanted to stay in a cute, safe neighborhood that was within walking distance.
We found this amazing little airbnb which was about 3 blocks from the main downtown strip.
The house itself was the top floor of another house but it was totally private and completely soundproof.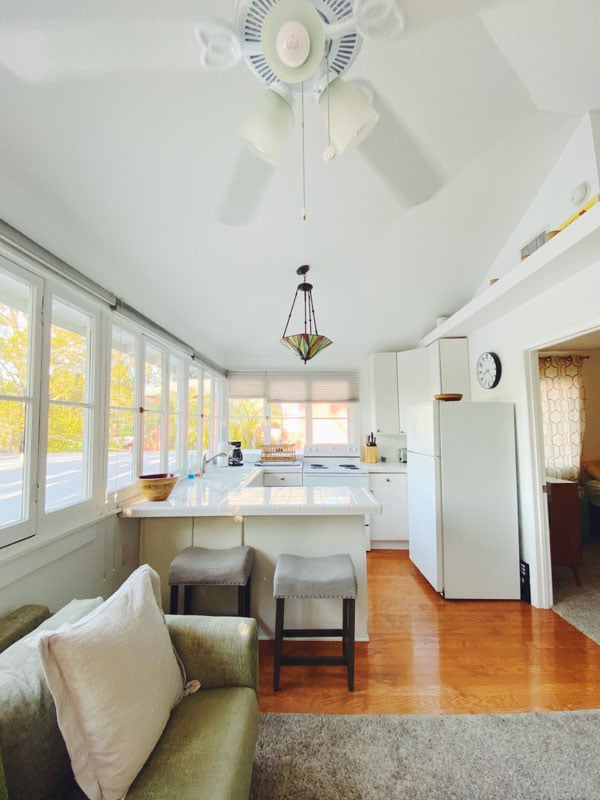 The airbnb host actually lives downstairs so it's great if you ever need anything. We didn't because the house was totally stocked... but we chatted one morning which was nice!
I absolutely loved the area that the house was in. It was right behind the Indigenous restaurant which we really wanted to go to but didn't want to bring Poppy and her stroller there because it was fancy... and we didn't have a reservation.
The neighborhood was full of gorgeous tropical plants and scenic old homes.
I def recommend staying here if you're looking for a house rather than hotel!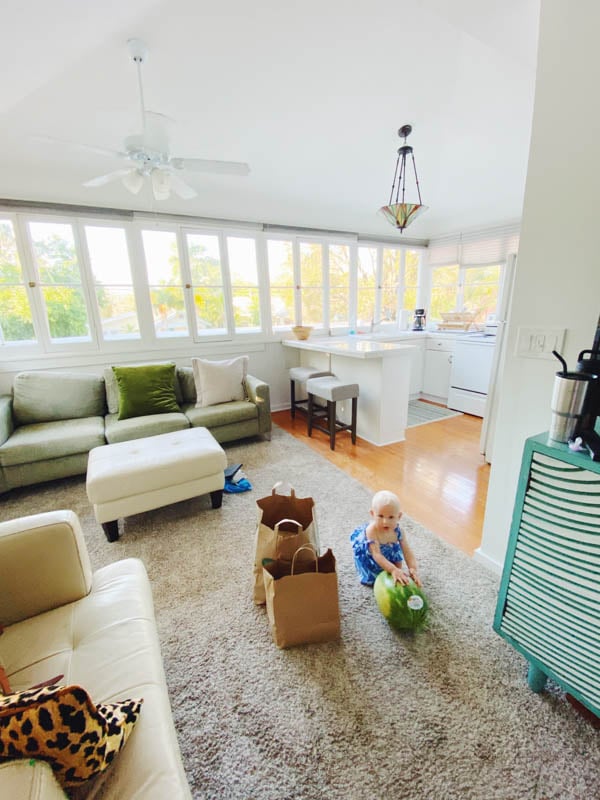 More Travel Guides
If you enjoyed this Sarasota Travel Guide, please check out some of my other travel guides!