If you're headed to Charleston, South Carolina for a quick getaway and want the best, socially-distanced restaurants, things to do, and accommodations, look no more! I've compiled a quick guide that will help you stay safe and comfortable all while supporting businesses that could use our help!



Breakfast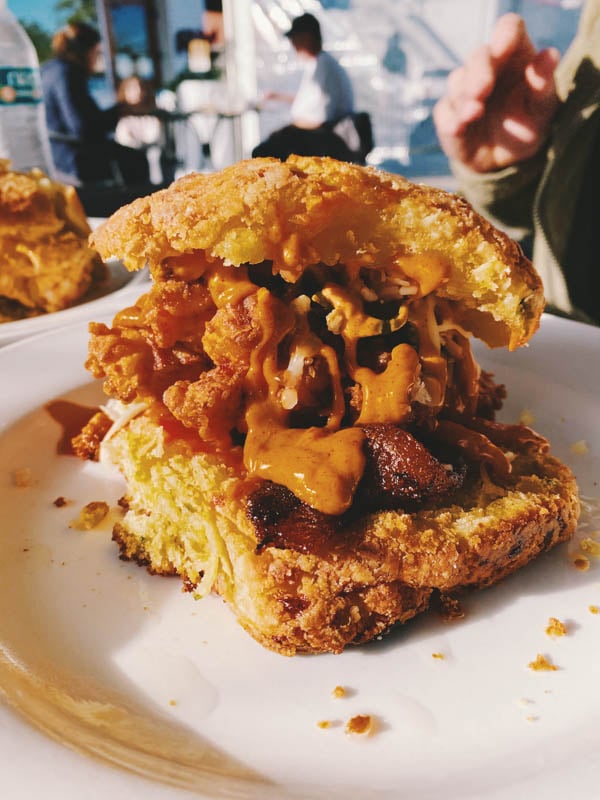 Vicious Biscuit is one of our favorite restaurants in Charleston! This breakfast spot is completely dedicated to... you guessed... biscuits! They even have a jam and flavored butter bar so you know it's going to be the bomb!
Be sure to order the Flame Thrower! It's made with a cheddar and jalapeño biscuit that's stuffed with a crispy fried chicken breast tossed in Frank's Red Hot, with white cheddar, spicy remoulade, candied bacon, and house cowboy candy aka pickled jalapenos! We also got the pimento cheese fried chicken biscuit and the bacon jam and fried green tomato biscuit... Both were SO good!
Oh, and because we wanted to try the jam and butter bar, we also had to get a plain biscuit because that's just how we roll.
As for safety precautions, they have a large tented area that has the tables spaced apart so you can feel safe and secure dining in their parking lot. I highly recommend this spot!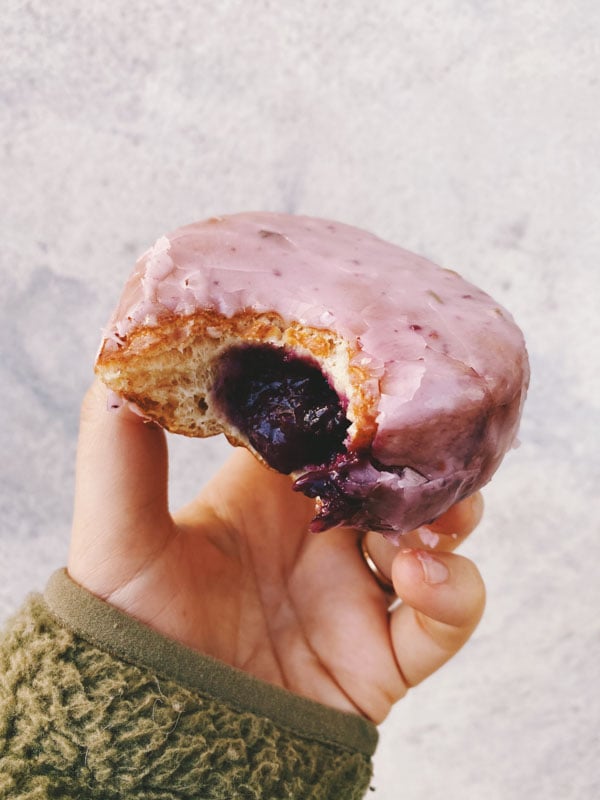 As you know, I'm obsessed with all things cheese. So when I heard that Glazed had an award winning blueberry goat cheese donut, I knew we had to get it!
And ya know what?! It lives up to the hype!! It was AMAZING! Perfectly sweet and tangy yet fluffy and airy. Gahhh my mouth is watering thinking about it! We also got the maple glazed donut but I regret not getting the rosemary cinnamon bun or one of their apple bacon fritters.
Honestly, you should just go to their website and check out their flavors. I've never seen a more creative donut shop then Glazed! As for safety precautions, I just put my mask on and walked in and ordered. There was hand sanitizers and stuff everywhere so you could tell that they were being super safe.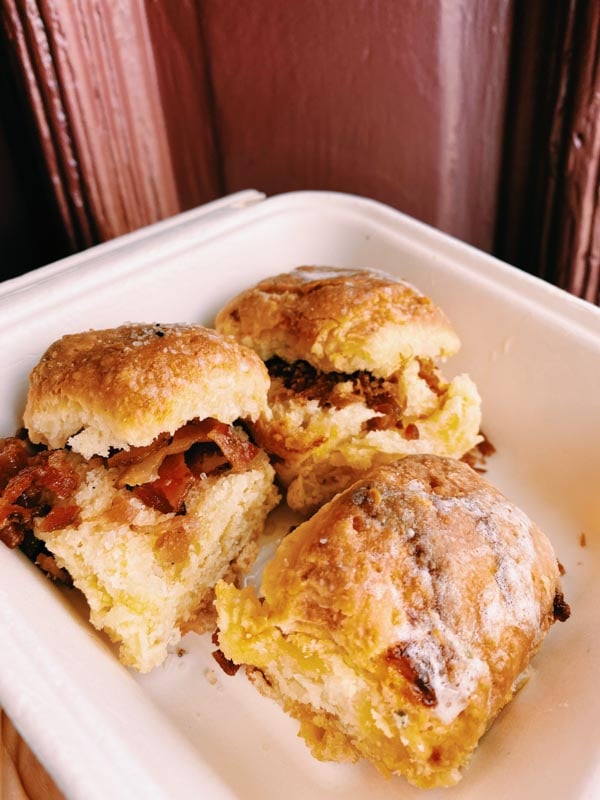 Hello tiny biscuit heaven!!! We got to Callie's in the nick of time. Seriously. I walked into their empty store front and ordered with my mom. After I ordered, we walked outside to wait for our biscuits and within minutes, the block lined up with (socially distanced) patrons who were all waiting.
We ordered the pimento cheese sausage biscuit and the biscuit sampler. The sampler was our favorite because you could pick and choose between 12 different flavors. We got the country ham, the bacon, and the cheddar and chive. They were delicious!
I also got a tiny biscuit cutter and I love it so much! I was also super excited to find out that Callie's sells their biscuits in the freezer section at Publix so you can have their flakey buttery goodness at all times!
Lunch
Bertha's Kitchen was one of the first restaurants we hit when we got into town. It's located in North Charleston in a big old blue building. And although it doesn't look like anything special on the outside, don't judge a book by its cover!
This southern gem is a James Beard awarded restaurant that has some of the best fried chicken around!
We tried pretty much everything on the menu and were obsessed with the fried chicken, the okra soup, the cornbread, the mac and cheese and of course, the sweet tea! Oh, and to be totally honest, we were all prepared to grab it to go and eat in the car but luckily they had a large outdoor area that was completely empty so we felt super safe!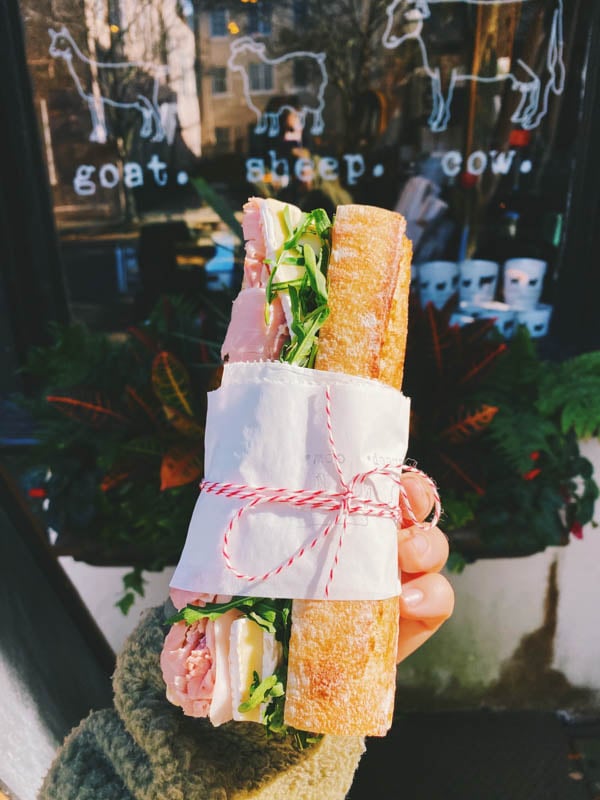 After getting multiple messages about Goat. Cow. Sheep., I knew we had to stop. This quaint little cheese store has two locations in Charleston. We stopped at the one that's downtown which has a daily sandwich that is always to die for!
They only let two people in at a time and you have to be masked so we felt pretty good about this. I walked in, checked out the cheese selection and ordered a package of fresh sliced prosciutto, a jar of caramelized onion jam, and a tiny wheel of La Mur.
As I was checking out, I saw a single sandwich in the case and asked about it. They said they only make a limited batch daily and that this was the last one. So obviously I snagged it! It was loaded with prosciutto, camembert, arugula and fig jam on a perfectly. crunchy baguette. It was so good!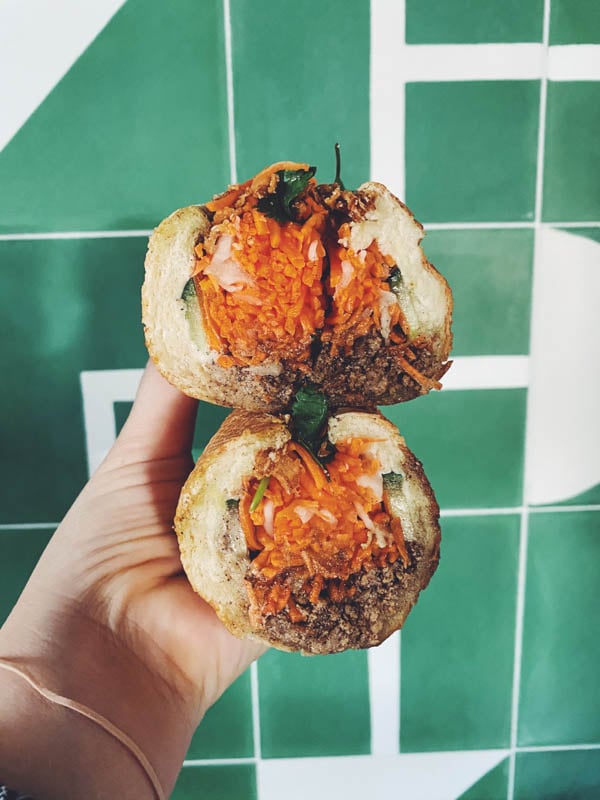 I am constantly on the hunt for bomb banh mis. It's one of my favorite sandwiches in the world so I was super excited to not only receive multiple messages about this place but to also find out that it was right next to our airbnb!
The menu itself is pretty cool. You basically pick your protein which features everything from 5 spice beef to lemongrass chicken. Then you pick your vessel -- either a banh mi, a noodle bowl, tacos, or a salad.
We ordered a little of everything but we were obsessed with the 5 spice beef banh mi and the beef curry tacos. They were so flavorful and so good! And it was super cheap so that was good! As for safety precautions, you can order online and pick it up or you can order in the shop and wait outside until they bring it to you. Super safe and super delicious.
Dinner
Xiao Bao Biscuit was probably the restaurant that was recommended most. And for good reason!
This place was so good! We ordered a ton fo dishes but we were obsessed with the Pad Kra Pow which is Thai style minced beef, green beans, chili, and basil over rice with farm egg. We also go the lamb dumplings which were pretty similar to my favorite ones from Xian's Famous Foods in NYC, and the sour curry duck!
The dishes were super flavorful and the outdoor dining area was perfect. There was plenty of space between the other guests and our table. And there were space heaters so we were perfectly warm and toasty.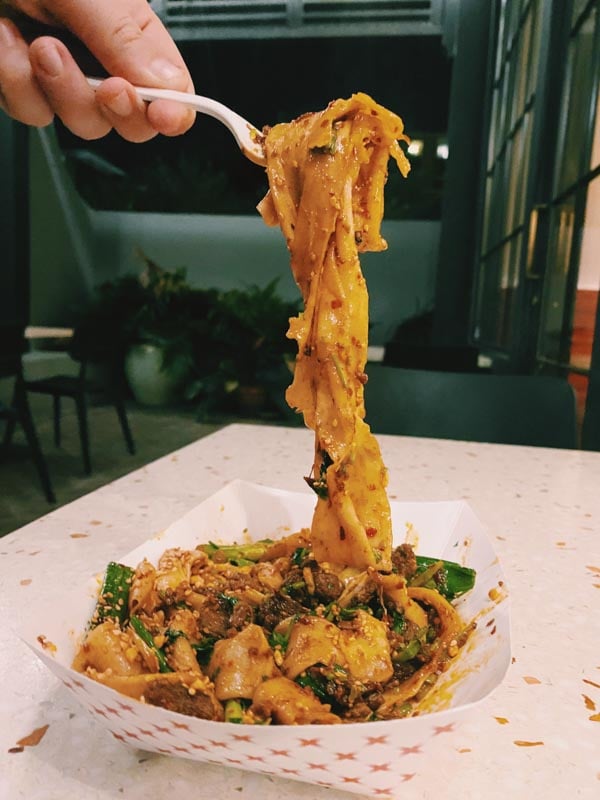 Since we loved Xiao Bao Biscuit, we decided to check out their sister restuarant - Tu! This place ended up being our favorite dinner restaurant of the entire trip.
As per usual, we ordered a little bit of everything but we were absolutely obsessed with the hand pulled chili cumin lamb noodles. We also loved the samosas, the glutenous rice dumplings, and the butter chicken. Everything was fresh, perfectly spiced and aromatic. It was a beautiful location that had plenty of outdoor seating. And omg their cocktails - WHEW! So good!
We can't wait to go back!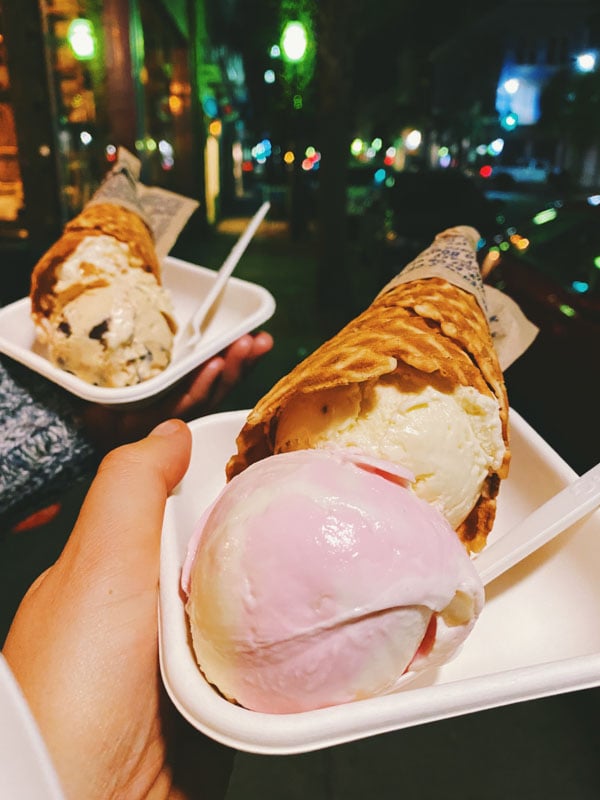 Ok, ok, ok. I know Jeni's isn't a dinner place but to me, it could be!
This ice cream spot originated in Ohio and they're slowly but surely popping up in cities all across the country. And for good reason! They legit make the best, most creative ice cream I've ever had!
I got the fresh popped popcorn ice cream with a scoop of the white chocolate peppermint which tasted like an old fashioned buttermint!!! It was so good!
Jerm got the Brown Butter Almond Brittle with a scoop fo the Salty Peanut Butter. Good lord both were so so so good!
And because of what's going on, you can't taste test but that's ok because everything is perfect!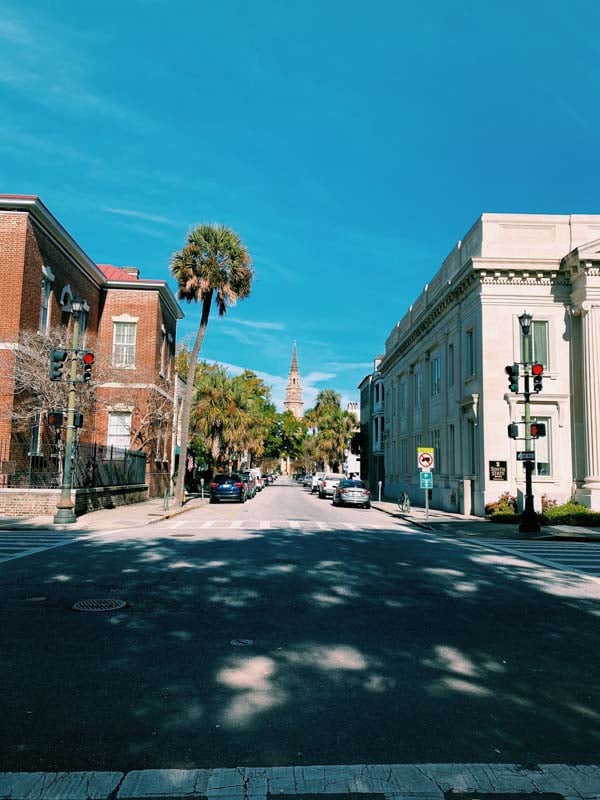 Things to do Outdoors
Walk and shop up and down King Street
Walk around the Historic Downtown and have a picnic in the park
Walk along the waterfront and see the old canons and other historical things
Walk along Rainbow Road and see all the pretty rainbow colored homes
Stalk the Southern Charmed Cast... lol but not in a creepy way! Just check out their go-to spots and Ms Patricia's mansion
Drive out to the beach - Folly Beach and Sullivan's Island are super close by
Hit one of the dozens of awesome breweries
Walk the Charleston City Market which is outdoors. A lot of vendors have left since things have gotten crazy but it was still a nice walk!
Eat, eat, EAT!
Where to Stay
We stayed at THE MOST GLORIOUS Airbnb on Spring Street! And best of all, the company that owns it (Your Pad Charleston), also owns a ton of other super swank spots all around the most desired parts of town! This home is part of the "The Vibe" which is a collection of high end, eclectic spaces situated in Charleston's prime downtown district.
Since we were traveling for our anniversary with Poppy and my mom, I wanted a place that had room for all of us. And lucky for us, I found this amazing renovated house and had to have it!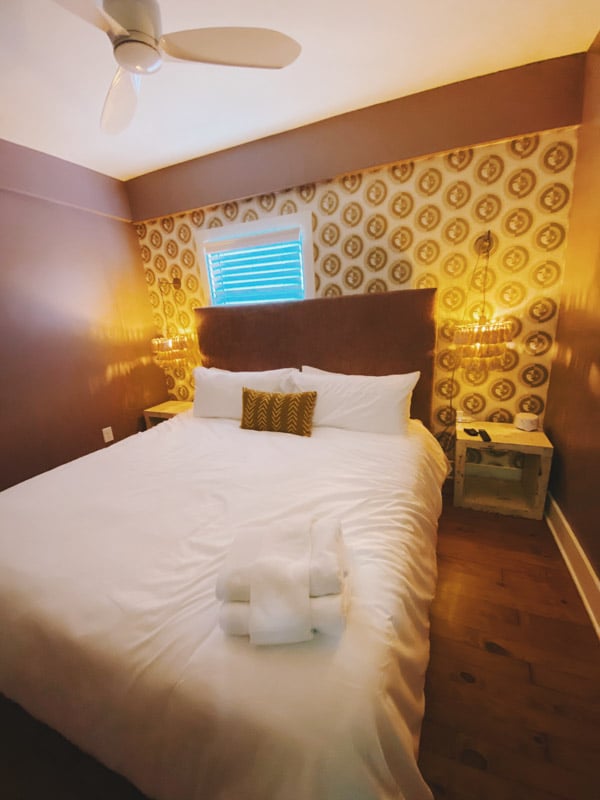 The house itself is absolutely gorgeous in an old meets new fashion. Imagine original hardwood floors with a giant old school stair case, a beautiful open living area with a super cute kitchen and eclectic modern decor. Each room had a different feel that was so stylish and inviting.
Of the three bedrooms, two of them had extra plush king sized beds and the other had three queen sized beds (two of which were part of the most stylish bunk bed I had ever seen). Both bathrooms had waterfalls shower heads and super cool tile. There was also a tiny bathroom downstairs that gave me Harry Potter bedroom-under-the-stairs-vibes and I loved it!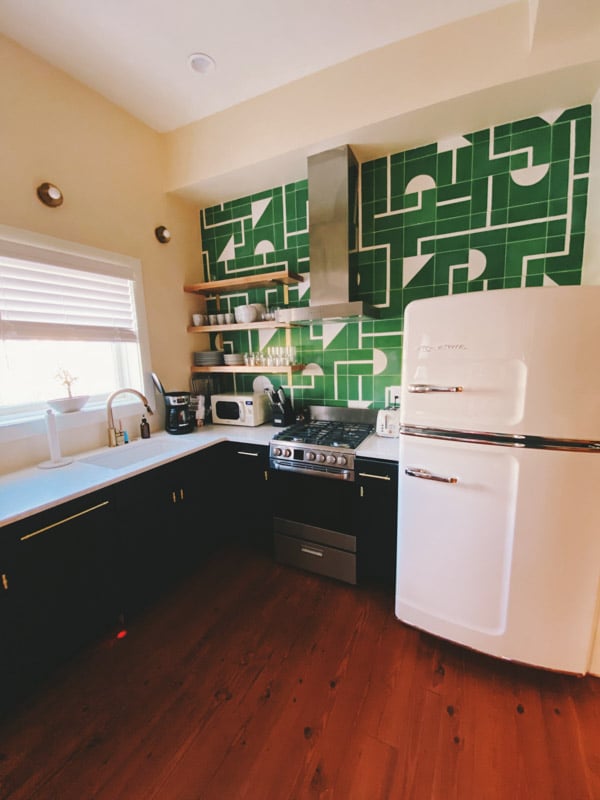 Besides the aesthetics, the remote check-in and extra cleaning precautions made us feel super safe and secure. We will definitely be staying at one of their properties next time we visit and I'm so excited!
If you'd like to see more of our Charleston trip and a tour of the house, check out my instagram highlights! And if you'd like more of my travel guides, you can check them out, too!