You've probably seen Epcot's Cheese Crawl all over the internet lately - and there's good reason! The Fromage Montage at Disney's 2019 Food and Wine Festival is just as it sounds! An incredible cheese tasting from various parts of the world with a special cheesy reward!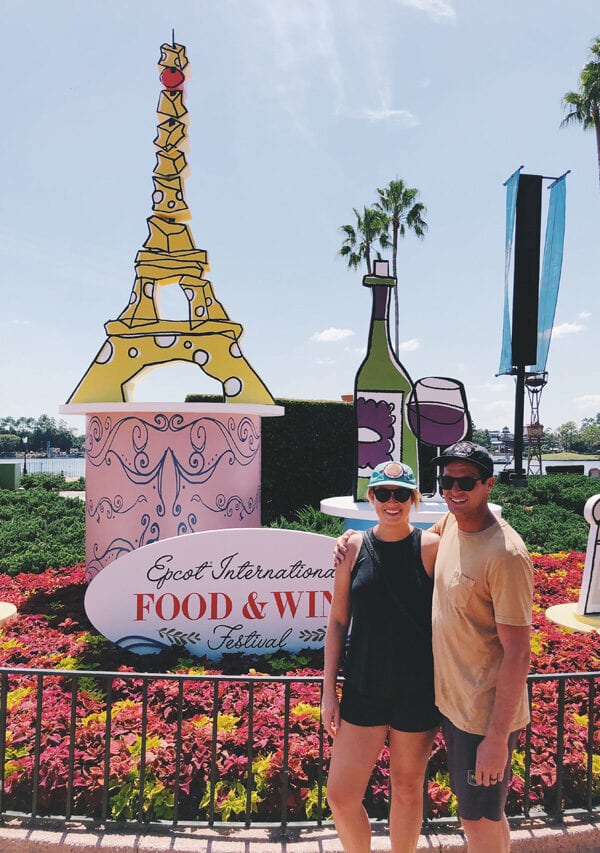 So what is the Fromage Montage Cheese Crawl?
At Disney'sFood and Wine Festival, they've created a new Epcot Cheese Crawl - aptly named the Fromage Montage.
Unlike the regular food festival, this one is all about the cheese!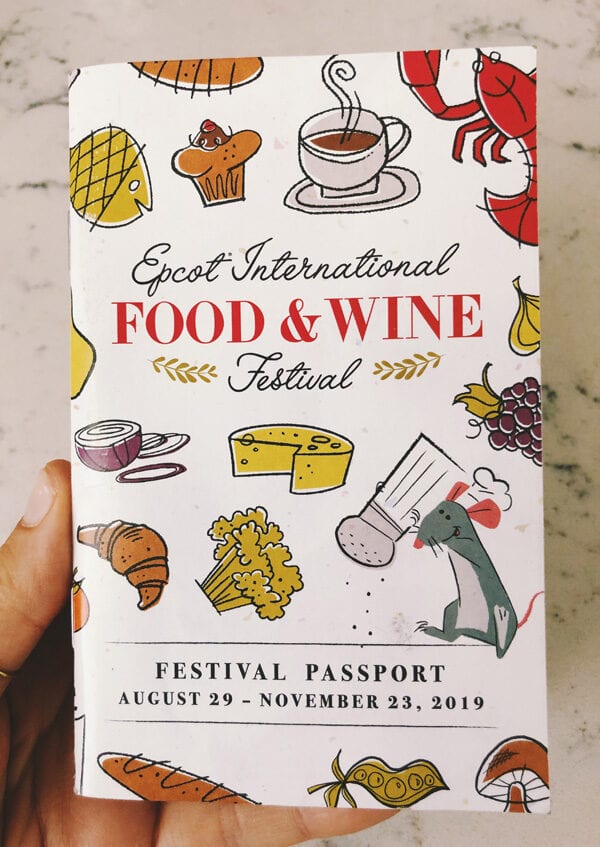 It features five different cheesy dishes from 5 different lands throughout Disney's Epcot. When you order one of the dishes at each location, you get a stamp in your passport. And once you get your passport filled, you get a free cheesecake!
Truth be told, I had so much fun doing the cheese crawl but in all honesty, I thought there were way better cheesy dishes that should have been a part of the fromage montage!
But I'll get to that later, let's begin by talking about each one of the five cheesy dishes that you need to try to get the free cheesecake!
I should also share that I wrote a cheese lovers guide to Epcot's Food and Wine Festival 3 years ago... So I feel very partial to this new component!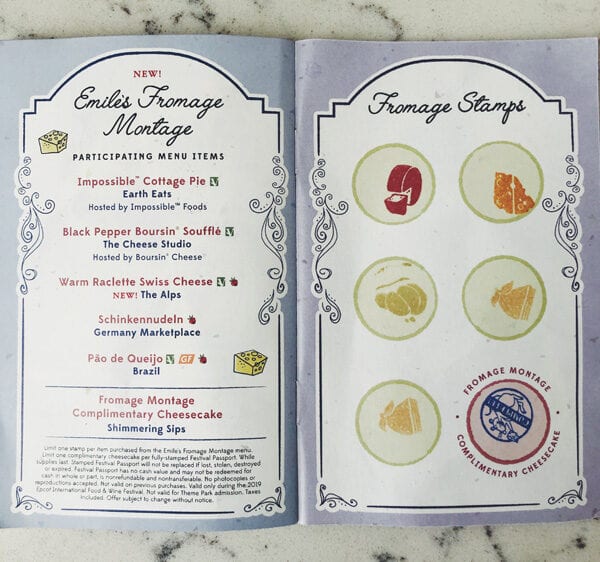 Best Dishes from Emile's Fromage Montage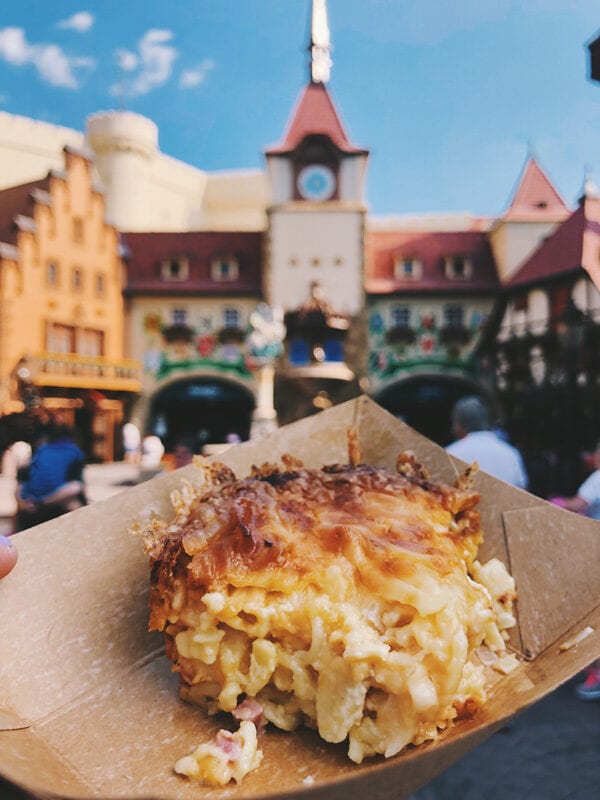 Schinkennudeln - Germany
Although it was about 100 degrees when we went, the schinkennudeln was my favorite dish of the cheese crawl! It was essentially a ham and cheese pasta bake that was seasoned perfectly!
This spaetzel based dish was baked in so much cheese that it definitely stole the show from the rest of the other cheesy dishes!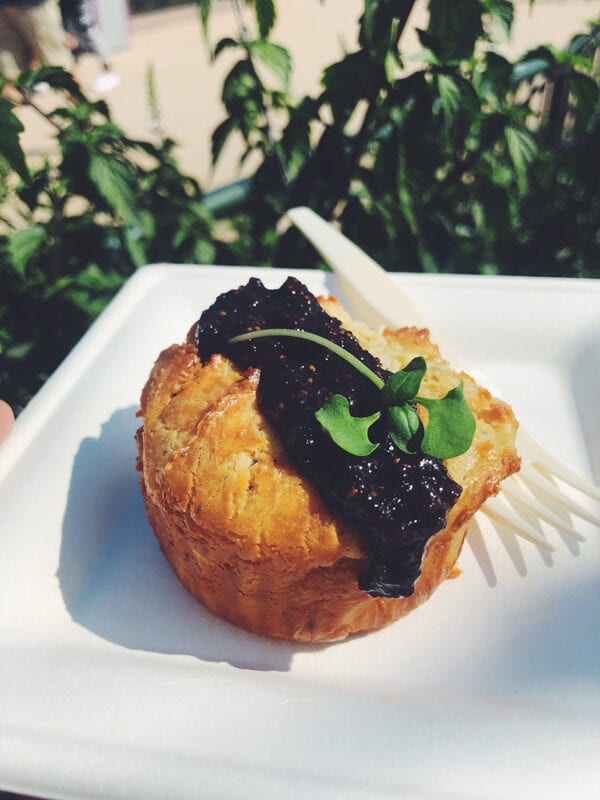 Black Pepper Boursin Souffle - Cheese Studio
The Black Pepper Boursin Souffle was like a cheesy cupcake filled with creamy boursin cheese with flecks of fresh cracked pepper. On top, there was a beautiful fig maramalade that balanced out the savoriness of the souffle.
It was sweet and salty and tasty!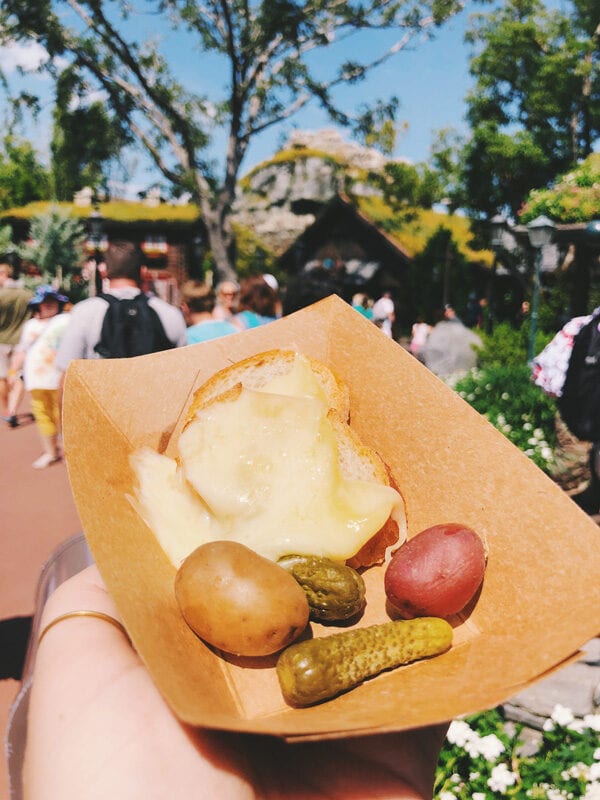 Warm Raclette Swiss Cheese - The Alps
Raclette is one of my favorite cheeses and I was a little bummed to not have been able to put this at the top of my list. The plate had cornichons, pickles and toast and was covered in melty raclette cheese.
The only problem was the raclette wasn't properly melted so you really missed out on that cheesy gooey goodness! The toast was a little stale too but I would have been fine with that if there was more cheese! lol Come on Disney, melt that cheese right!!

Pao de Queijo - Brazil
The Pao de Queijo is always a favorite at Epcot's Food and Wine Festival. This year, it was even better! Pao de Queijo is a Brazillian cheesy bread that's light, airy and totally delicious! I felt like they even put more cheese in it than the last few years so I was super pumped on it!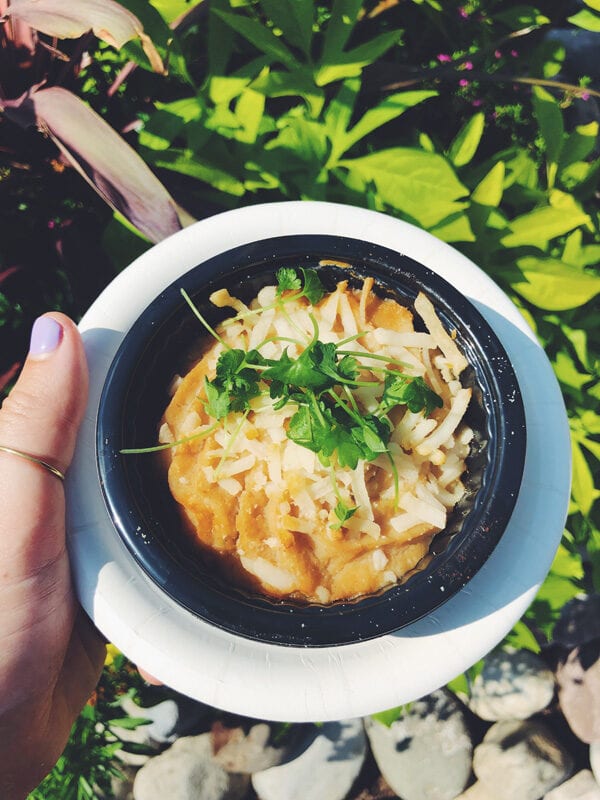 Impossible Cottage Pie - Earth Eats
The Impossible Cottage Pie was basically like a shepherds pie but with Meat-less Impossible "meat". I'm all for veggie alternatives but this one wasn't very cheesy! It tasted really good but honestly I wanted more cheese!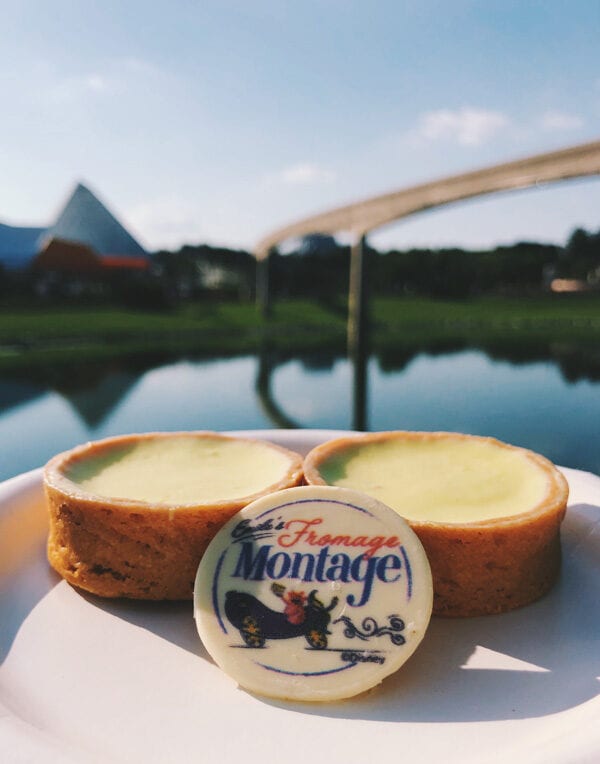 Fromage Montage Complimentary Cheesecake - Shimmering Sips
These bite sized cheese cakes were soooo good! And although it was more like a white chocolate key lime pie than a cheesecake - it was still really delicious! Especially considering it was a free gift if you completed the cheese passport!
More Cheesy Dishes That Should Have Been on the Epcot Fromage Montage List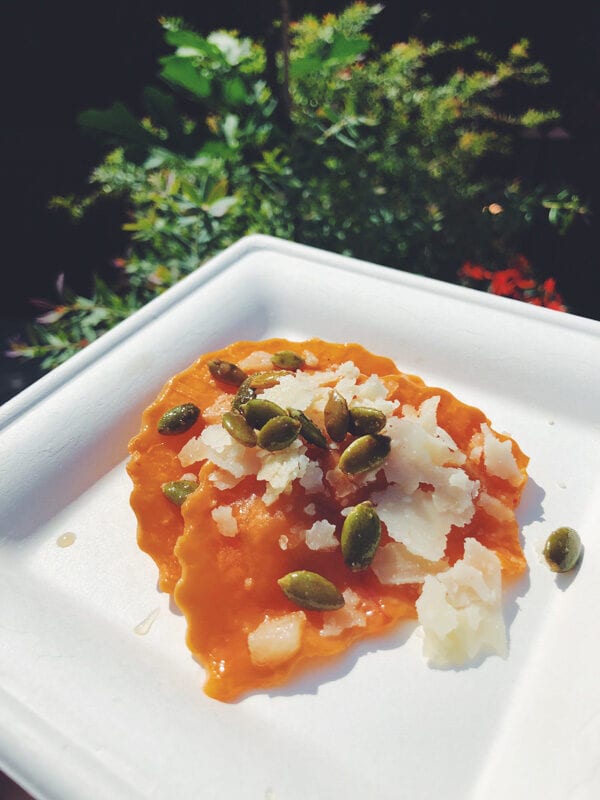 Butternut Squash Ravioli with Brown Butter Vinaigrette, Parmesan Cheese and Pumpkin Seeds
This was by far my favorite dish at the Disney Food and Wine Festival! These sweet and savory butternut squash ravioli were perfectly seasoned and they hit the spot!
The filling was cheesy and the fresh shaved cheese on top added the perfect salty punch that this dish needed. I wish I would have eaten four more plates but I needed to save room!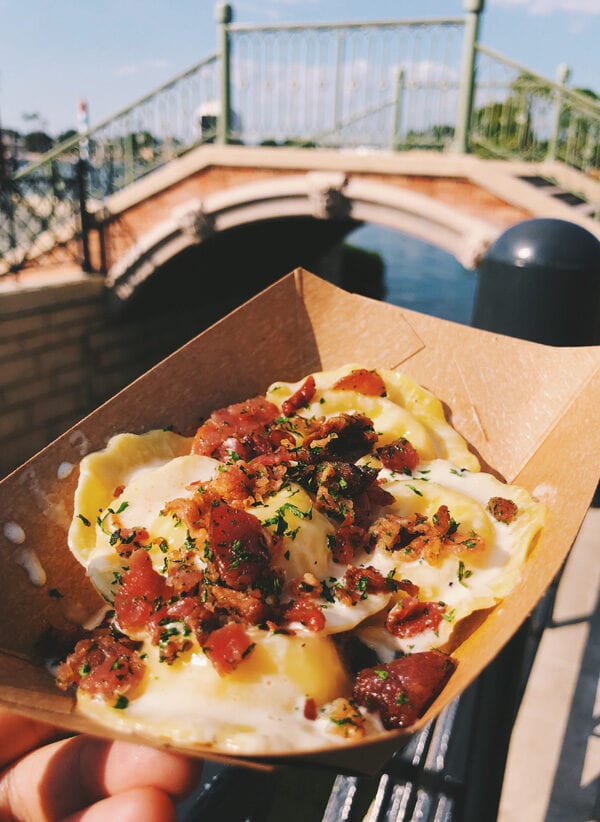 Ravioli Carbonara with Parmesan and Pecorino Ravioli, Egg yolk, Cream and Bacon
Real Carbonara enthusiasts will be mad because the sauce was creamed based but I could care less because this was delicious!
It was rich, creamy and sooo cheesy! And the crispy bacon and fresh herbs added even more awesomeness!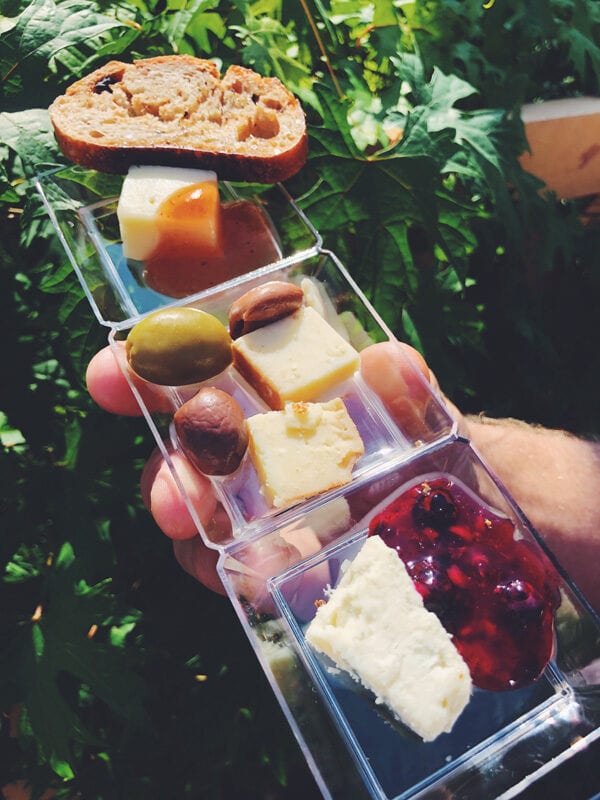 Trio of Artisan Cheeses
This cheese plate was loaded with gorgonzola and cherries, balsamic and onion artigiano with quince and italico cheese with olives. If you ask me, you can't go wrong with a cheese plate! Especially this one that cost less than $6.
They gave you a good assortment of cheeses and each one was paired with a nice accoutrement. They also had recommended wine pairings which was a genius idea!
Oh and if you want to make yourself a cheese plate at home, check out my ultimate cheap yet attractive cheese board guide!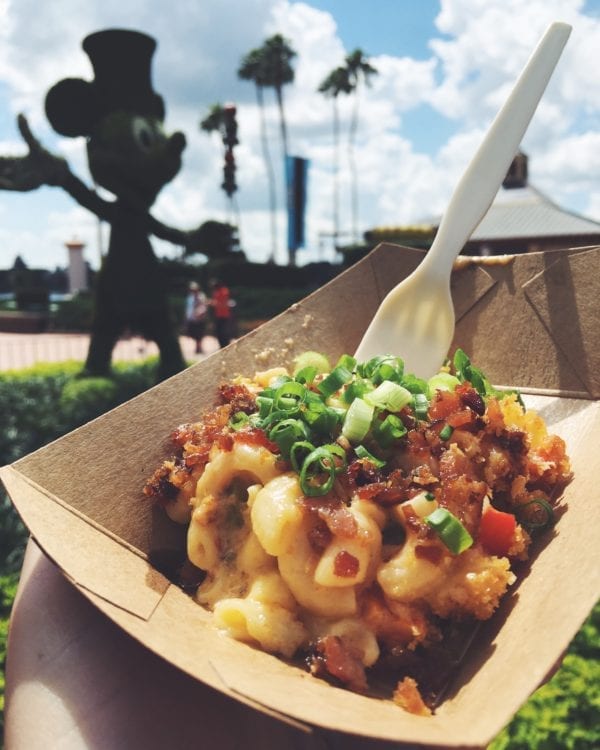 Loaded Macaroni and Cheese with Nueske's Pepper Bacon, Cheddar, and Leeks
Although I didn't get the famous Disney mac and cheese this year, I've had it at the past two Food and Wine festivals and it's always so good! It's rich and creamy and has everything you want in a mac and cheese... mainly Nueske's bacon!
Check out my unofficial Epcot Cheese Crawl from the 2016 Food and Wine Festival!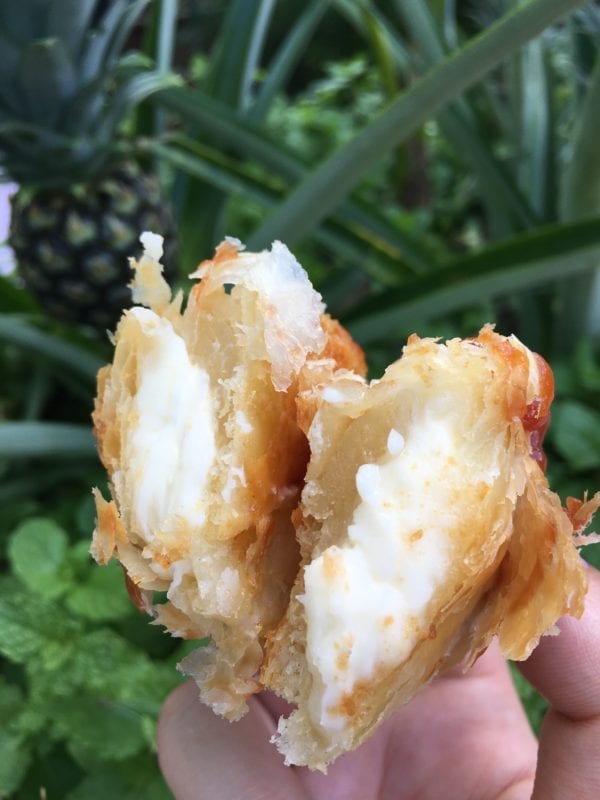 Quesito Puff Pastry with Sweetened Cream Cheese and Guava Sauce
I'm always a fan of cheese paired with guava cheese so it's no surprise that we all loved this dish!
Crispy flaky puff pastry wrapped around cream cheese with a drizzle of guava sauce. It's sweet and savory and flaky! Basically a perfect little pastry bite!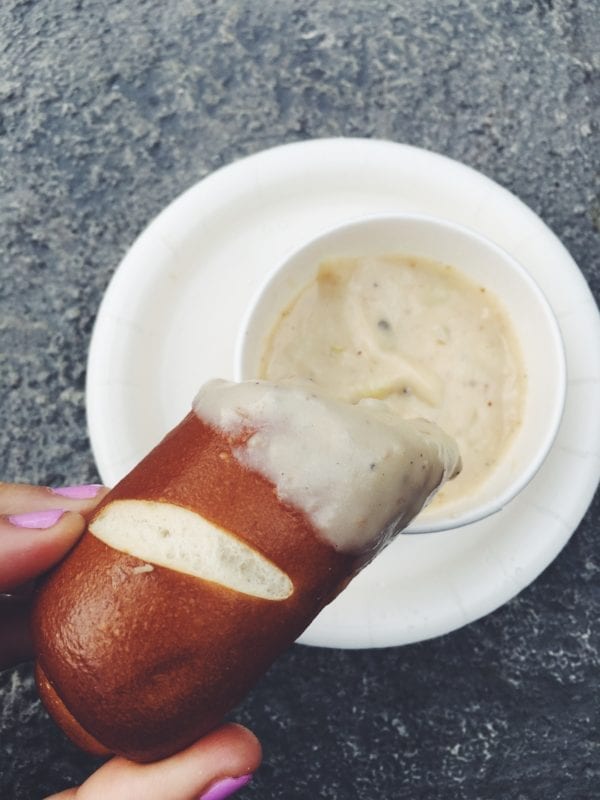 Canadian Cheddar and Bacon Soup with a Pretzel Roll
This picture was also from a few years ago but it's back again because how could you not love cheddar and bacon soup?
And when you get to plunge a pretzel roll in there -- I'll make that a double order of yes please!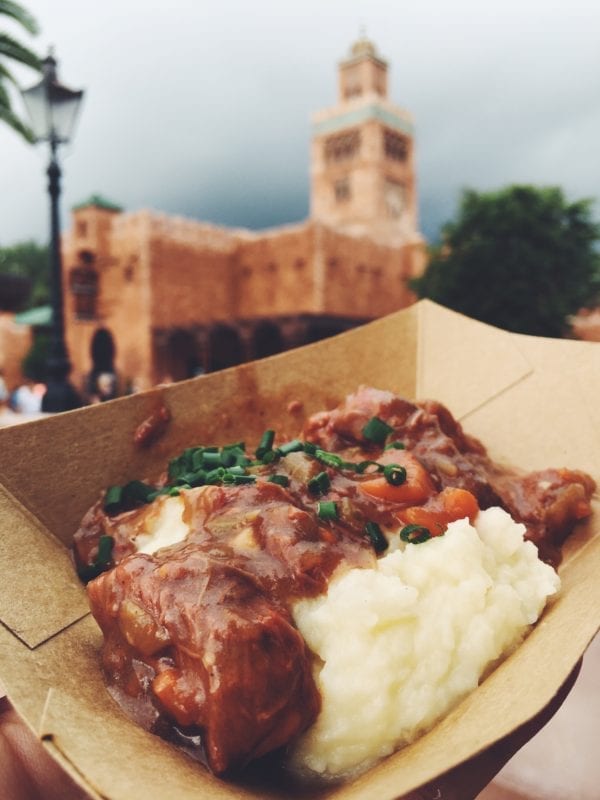 Beer Braised Beef with Smoked Gouda Mashed Potatoes
Smoked gouda mashed potatoes are legit one of my favorite things. I even shared a twice baked stuffed potato with smoked gouda recipe because I loved it so much! And this dish is the perfect comfort food while walking around Disney.
More New Cheesy Dishes Worth Trying at the Epcot Cheese Crawl
Warm Irish Cheddar Cheese and Stout Dip with Irish Brown Bread
Duck Confit Poutine with Fig Demi Sauce and Brie Cheese Fondue
Fondue Savoyarde with imported cheeses and chardonnay served with croutons
Charcuterie Cone with imported Spanish meats, cheeses and olives with herb vinaigrette
Braised Beef Stroganoff with boursin garlic and fine herbs cheese sauce
The Steakhouse Blended Burger with brie cheese fondue with truffle and blue cheese potato chips
Smoked Corned Beef with beer cheese fondue
And if you'd like to save this Disney Guide for later, pin it below!