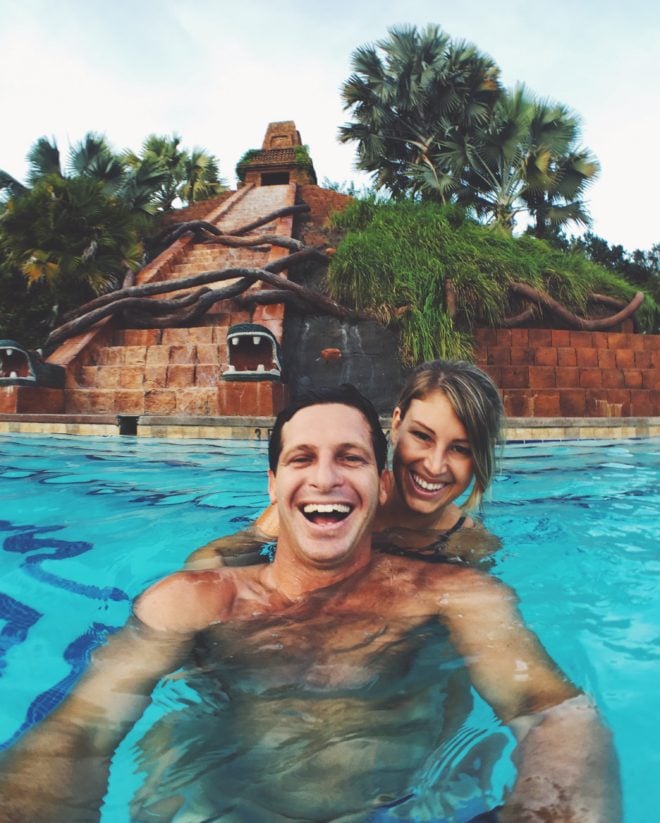 I've always dreamt of going to Epcot's Food and Wine Festival... And guess what guys? This was the first year we finally got to go! My darling boyfriend, Jeremy Johnston, surprised me with the idea for my birthday and we teamed up with our pals at VISIT FLORIDA to help share our experience with all of you.
Since Orlando is a centrally located international airport, a trip to Disney's theme parks can be unimaginably easy. We decided to stay at Disney's Coronado Springs because they have this really cool waterslide and, hey, I'm a sucker for really cool water slides! The property itself was an absolutely beautiful lush paradise that showed off all of the beautiful flora that Florida has to offer and since we were staying on the Disney "campus," everything was super accessible.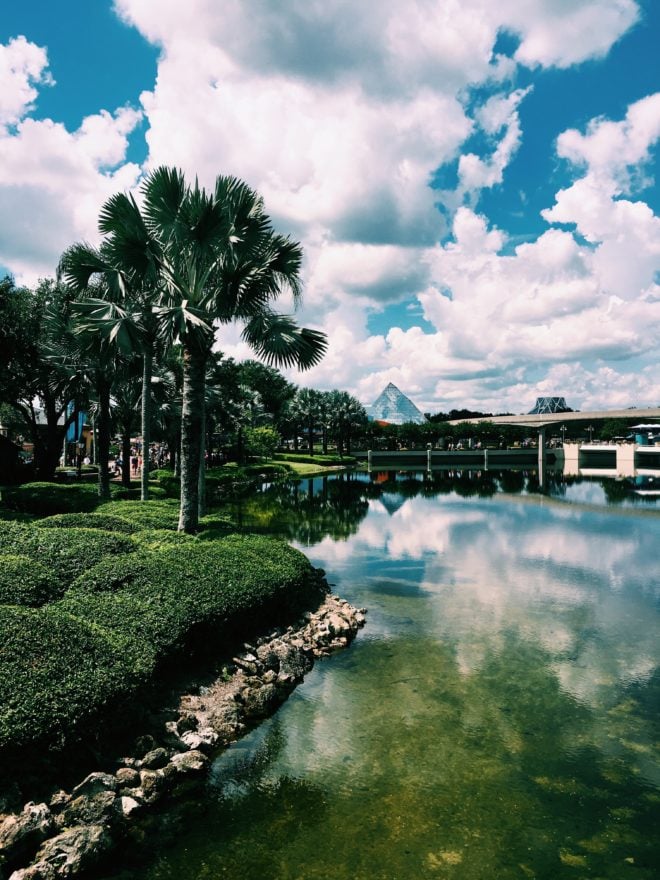 If you're unfamiliar with Epcot's Food and Wine Festival, let me give you a brief synopsis of what goes on during this awesome month-long event. Epcot is essentially made up of two parks. One is Future World, in the front of the park; the other is the World Showcase, in the back. Future World is more about space and technology whereas the World Showcase is more about culture and worldly traditions. Most of The Food and Wine Festival takes place in the back half of the park but there are also exhibits and attractions in the front as well.  So you'll definitely want to explore Epcot in its entirety.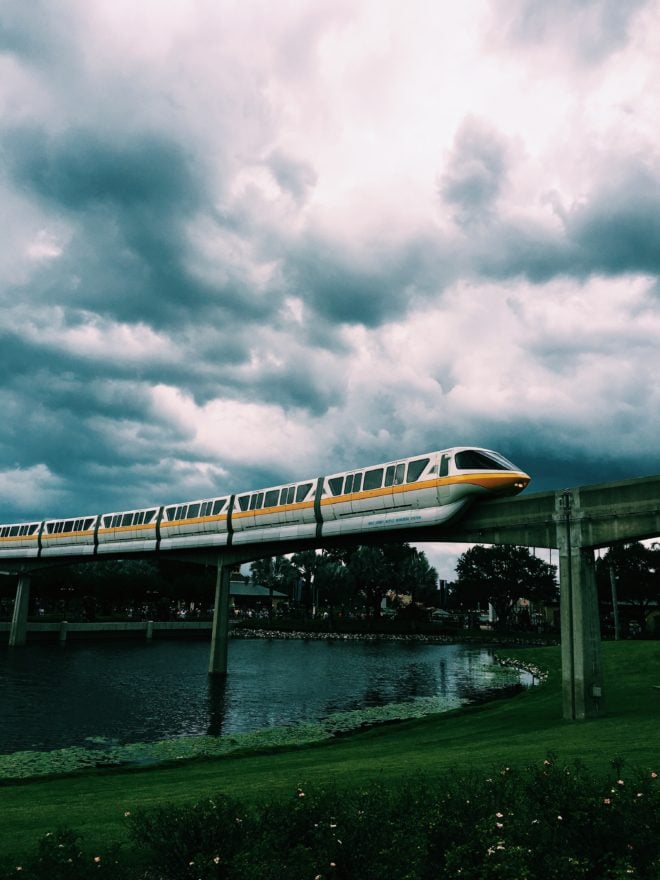 During the Food and Wine Festival, Epcot's best chefs come together to create individual menus that showcase the cuisine and beverages of different countries. It all adds up to the perfect learning environment for tasting and experiencing different cultures all -- without leaving the country. As you walk into the park, you're handed a passport book that guides your eating and drinking adventure. From then on, you can explore the park, and pick and choose what you'd like to try. Most dishes and drinks are below $8, which makes trying a little bit of everything quite possible.
So here's part 1 of insider's guide the Epcot Food and Wine Festival! We'll begin by telling you our favorite cheesy dishes, then in the next post, we'll explore the amazing, non-cheese-centric dishes, and finish with our favorite drinks.
If you have any questions or need suggestions, comment at the end of the post and I'll do my best to answer.
Top 10 Cheesiest Dishes You Must Try at Epcot's Food and Wine Festival!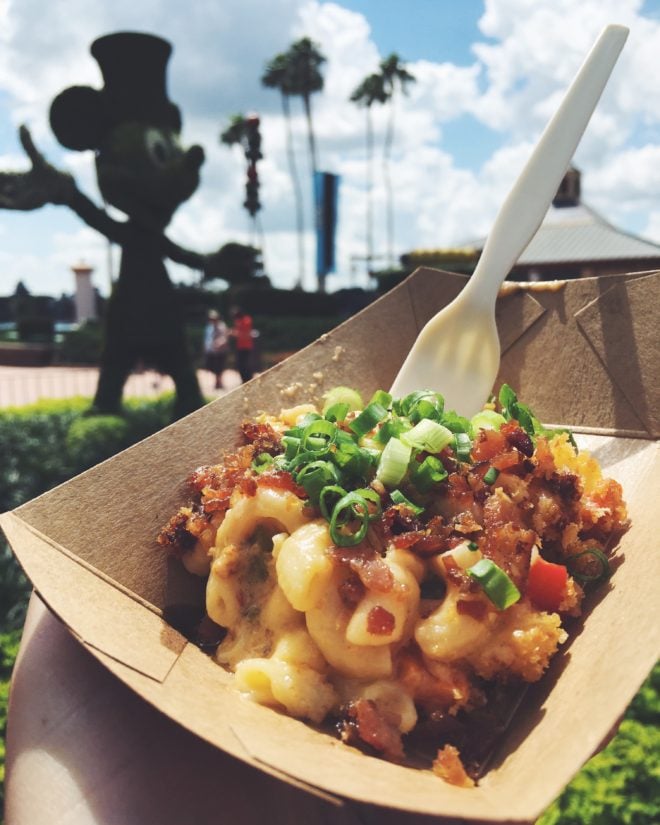 1. Loaded Mac n Cheese with Nueske's Pepper Bacon, Cheddar Cheese, Pimento Peppers and Green Onion
WHERE: Farm Fresh near Showcase Plaza
WHY: If you know anything about me, then you know how much mac n cheese means to me. This cheesy concoction is the epitome of comfort food and the wonderful chefs at Disney's Epcot pulled it off perfectly. Farm Fresh's al dente macaroni noodles are coated in a delicious creamy cheddar cheese sauce and topped with my Nueske's bacon (which just so happens to be my favorite bacon in the world), along with sweet nuggets of pimento pepper and a burst of freshness from the green onions. It basically encapsulates everything that is right in the world, and for that, it gets an A+.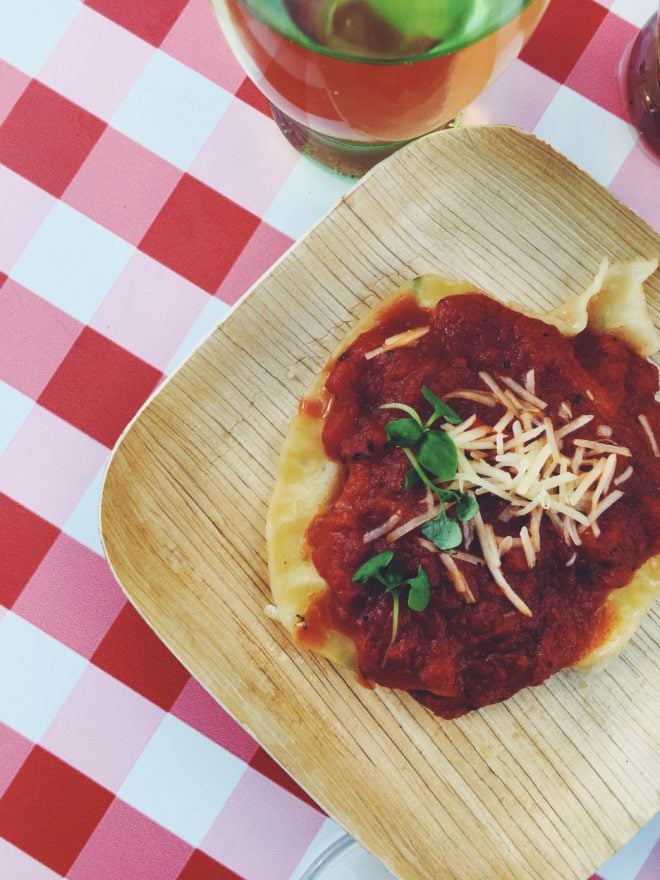 2. Ricotta and Zucchini Ravioli with Rustic Tomato Sauce
WHERE: The Chew Collective in Future World West
WHY: Although ravioli might seem like a heavy dish to eat in the Florida heat, this cheese and vegetable filled dumpling was absolutely perfect. Crisp shreds of zucchini and fresh whipped ricotta were woven together, then packed into handmade ravioli dough and topped with a rustic, chunky tomato sauce. The whole dish was light, airy, and flavorful, which made it nearly impossible to not get right back in line to get another.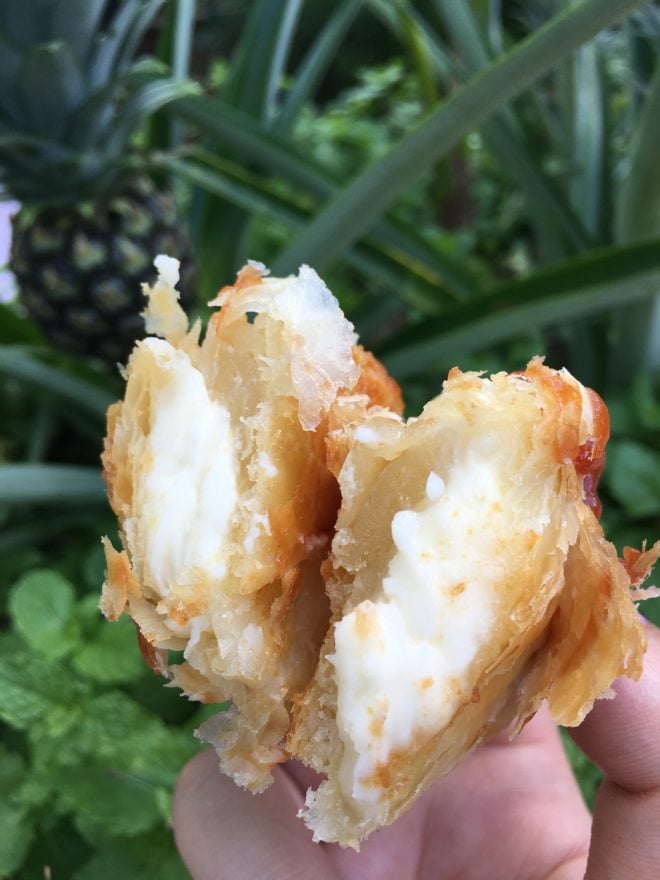 3. Quesito Puff Pastry Filled with Sweetened Cream Cheese and Guava Sauce
WHERE: Island of the Caribbean in Showcase Plaza
WHY: Whenever I talk about pairing cheese with fruits, or jams, I always include guava paste as my go-to condiment. This creamy and crispy puff pastry did an excellent job of combining a tropical sweet, fragrant guava sauce with the sweetened yet still tart cream cheese. The puff pastry was undeniably crisp and flaky and the flavorful balance couldn't have been executed better.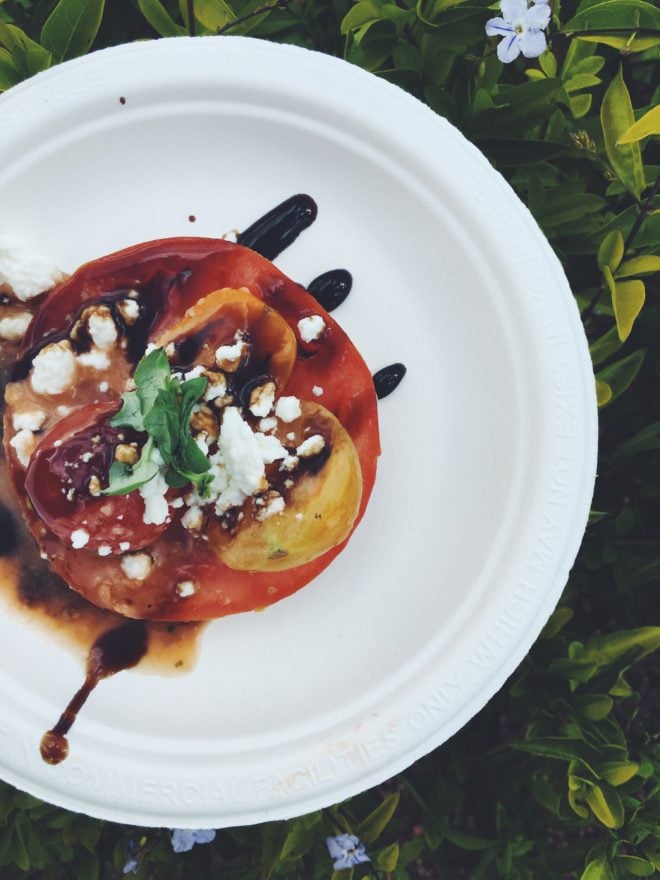 4. Heirloom Tomato Salad with Goat Cheese, Aged Balsamic Vinegar and Micro Basil
WHERE: Greenhouse Guru in Future World West
WHY: Although most of the dishes we had at Epcot were on the heavier, richer side, this bright and refreshing tomato salad instantly made you feel hydrated and healthy. The tomatoes, which were grown hydroponically in Epcot, were so flavorful that we almost thought we were biting into one from Italy or Greece. The crumbled goat cheese gave it just the right amount of tang and the aged balsamic vinegar balanced everything with a sweet note, while the micro basil provided a fun and beautiful flash of herby goodness.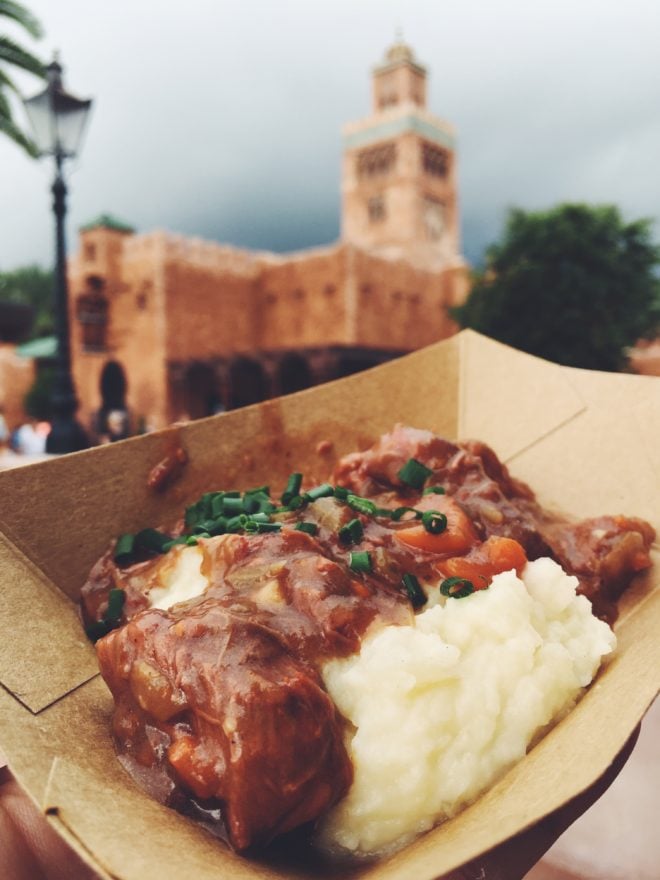 5. Beer-Braised Beef over Smoked Gouda Mashed Potatoes
WHERE: Belgium near Morocco
WHY: Even though the star of this dish was probably supposed to be the beer-braised beef, this rich and meaty dish melted our hearts because of the delicious smoked gouda mashed potatoes hidden underneath. Smoky, creamy, and laced with cheesy goodness, these mashed potatoes would put a tear of joy in any cheese lover's eyes.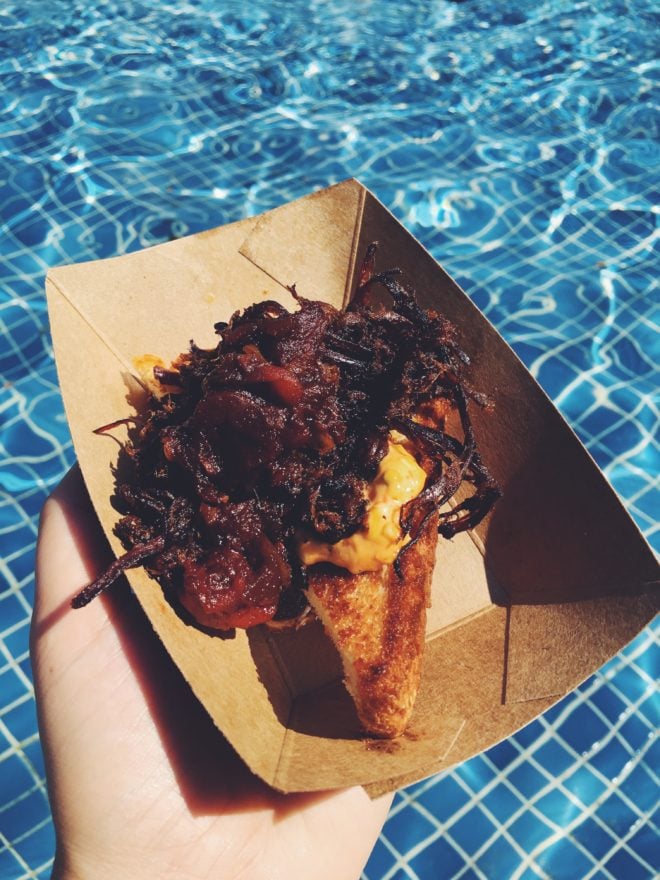 6. Smoked Beef Brisket and Pimento Cheese served on Griddled Garlic Toast
WHERE: Hops & Barley near The American Adventure
WHY: Of course the most buttery, utterly cheesy dish came from the American section of Epcot's Food and Wine Festival. This crispy buttery piece of garlic bread is topped with rich and gooey pimento cheese, shreds of braised beef brisket, and sweet compote on top. To us, it almost tasted like a piece of Sonny's famous garlic bread topped with any Southern grandma's pimento cheese, beef from an authentic barbecue joint, and some sort of fancy fruit compote from a four-star restaurant. It was great, in a total low brow/high brow way, and for that we loved it.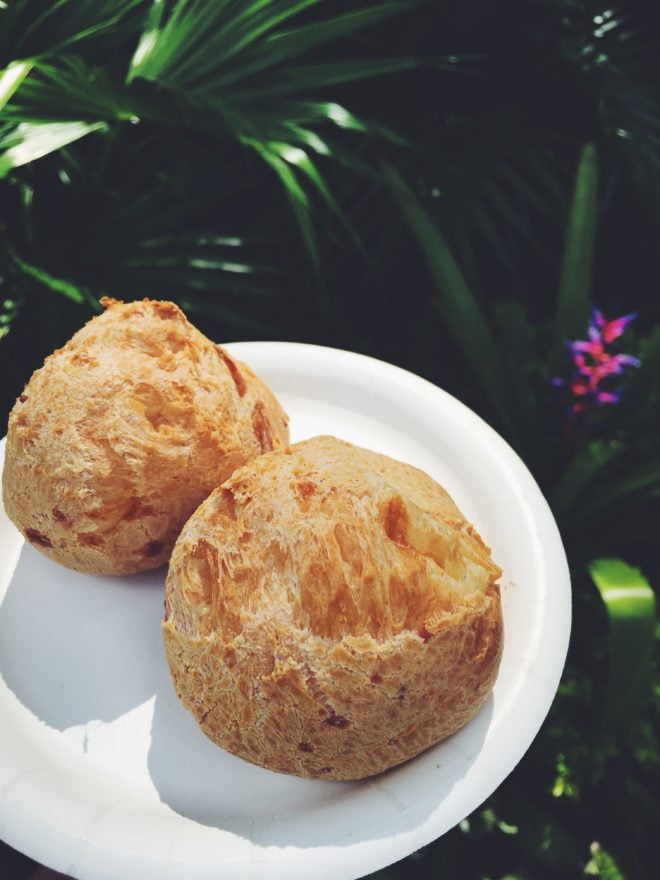 7. Pao de Queijo: Brazilian Cheese Bread
WHERE: Brazil near Morocco and France
WHY: Back when I used to live in Brooklyn, we'd sometimes brunch at this Brazilian place down the street. This tiny hole-in-the-wall restaurant was the first place I'd ever tried these fluffy crispy airy balls of cheesy goodness. When we saw that the Brazil booth was offering them, we had to order them. To our surprise, they were monstrous! Unlike the little tiny ones I was used to, Epcot's version were almost as big as my hand - which meant that instead of eating 500 of them, I only needed to eat one. The flavor profile was definitely legit and the mouth feel couldn't have been better.
8. Canadian Cheddar Cheese Soup with a Pretzel Roll
WHERE: Canada near France
WHY: If you remember my last post for VISIT FLORIDA, you know I'm a little obsessed with dipping things in other things! The ratio of dip to dipping vessel is a very important thing in my life, so I was thrilled that Epcot Canada pulled this off so flawlessly. Although they label the dish Canadian Cheddar Cheese Soup, Jeremy and I both agreed that it was more a dip. A dip that was perfect for their classically dense and chewy pretzel baguette.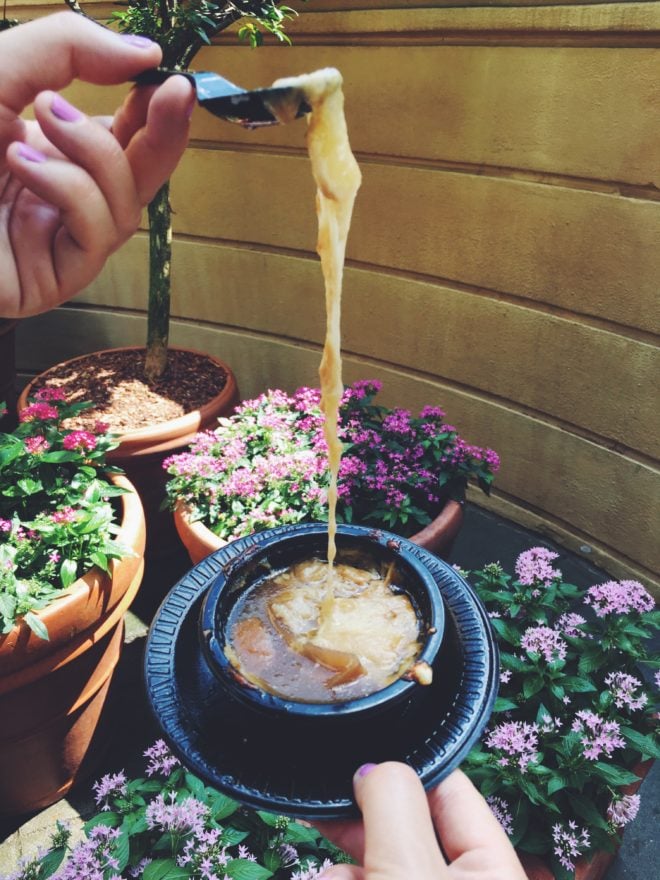 9. Soup a l'oignon au Gruyere et Cognac
WHERE: France near Canada
WHY: Before we begin, can we just take a minute to appreciate this gorgeous cheese pull? There's nothing quite like digging your spoon into a hot bowl of French onion soup and pulling out a 1- inch cheese drip... especially when that cheese drip is made with one of my all-time favorite cheeses - nutty gruyere! TBH, Jerm thought the soup was "too buttery" but I think the more buttery, the better! This cheese and onion soup was rich, creamy, and had everything you want in this French dish.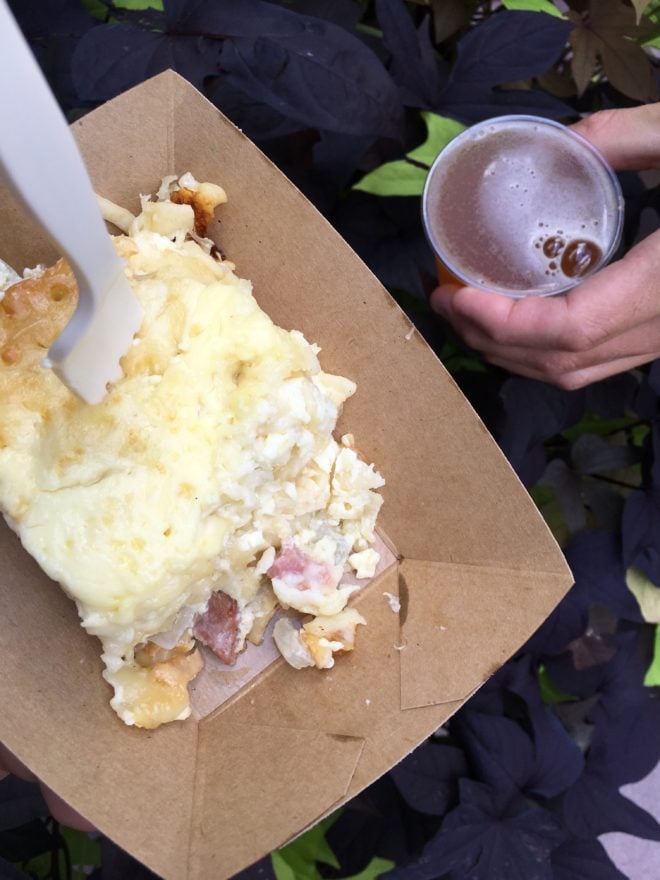 10. Schinkennudeln: Pasta Gratin with Ham and Cheese
WHERE: Germany near Italy and China
WHY: This creamy, cheesy, pasta bake was flecked with delicious chunks of smoky ham and with just a bit more salt and seasoning could have been Number One.
For more on our Epcot trip, check back tomorrow for part 2!
xoxo,
GCS
This is a sponsored conversation written by me on behalf of VISIT FLORIDA. The opinions and text are all mine.