Thanksgiving is right around the corner and I can't stop obsessing over the cheesy, starchy, carby goodness that I'm about to stuff inside my body! Since I'm the designated carb girl in my fam, I am going with a little nontraditional potato-play to make things more interesting.
These twice baked cheesy stuffed potatoes with smoked gouda, pancetta and sage are ABSOLUTELY PERFECT! You can get all the legwork done days ahead of time so that when it's the final countdown, you can spend your time lounging around the cheese plate with a glass of wine in hand instead of sweating over the stove in a crowded kitchen.
I mean, don't get me wrong, I will still be wandering around the kitchen, stealing little bites when no one is looking. But hey, i'm 31 now and i'm finally realizing the perks of not procrastinating. More free time equals more fun time, and I'm ALL about that!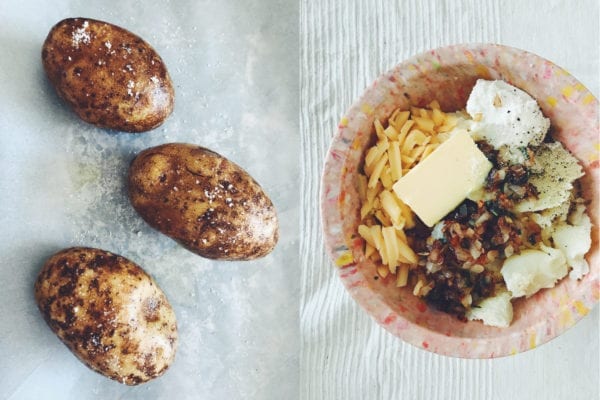 And I need to address this because I can just hear some of my dear readers saying "WHAT?! no mashed potatoes?! THAT IS A CARDINAL SIN!" But hey, these are basically mashed potatoes! Except they're like the most flavorful mashed potatoes in the world but way, way, way easier and mindless to make!
All you have to do is rub some short and squat potatoes with olive oil and sea salt and bake them until soft. The olive oil crisps up the skin and the salt makes them a super flavorful vessel to serve in. After that, scoop out the potatoes and add fry up some pancetta, shallots and sage. Add a bunch of cheeses, mix it all together, then stuff it back in the skins and bake. Top with more cheese and more pancetta. It's like the perfect no-fail recipe that are also super cute, too!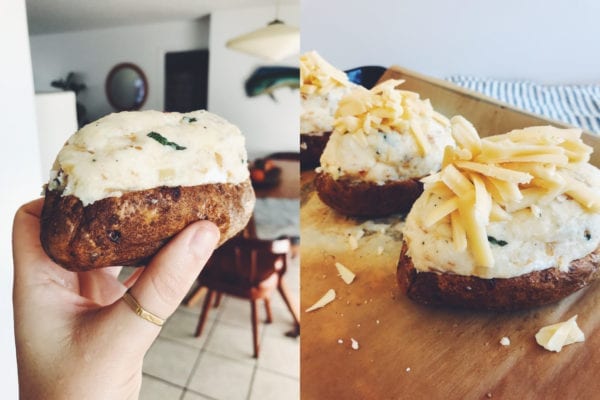 So let's get to it, shall we?
RECIPE: Twice Baked Stuffed Potatoes with Smoked Gouda, Sage + Crispy Pancetta
INGREDIENTS
3 medium sized potatoes (short and squat is best)

1 tbsp olive oil

3 large pinches coarse kosher salt

4 ounces panchetta

2 large shallots, finely chopped

10 sage leves, julienned

½ cup ricotta

6 oz shredded smoked gouda (divided) (I used Red Apple Cheese)

2 tbsp butter

¼ cup buttermilk or heavy cream
INSTRUCTIONS
Preheat oven to 350 degrees. Drizzle olive oil and add salt to the potatoes and massage it into the potato skin. Place on a baking sheet and bake for about an hour or until you can easily pierce the potato with a knife. Remove potatoes from the oven and set aside.

Meanwhile, fry pancetta over medium heat until the little bits are crispy - be sure to keep the leftover grease in the pan. Remove pancetta bits and add chopped shallots, salt and a little olive oil if it's too dry. Cook down until they soften up and add sage leaves and half the pancetta back into the mixture. Stir and cook for another 2 minutes. Season with salt and pepper to taste and remove from heat.

So here's where you can take this recipe two days - you can either cut the top ⅓ off of the potatoes which will result in 3 overstuffed twice baked potatoes like the ones pictured -- OR -- you can cut them directly in half and stuff each half which will result in 6 medium sized servings. UP TO YOU!
No matter how you slice it (lol), take a spoon and carefully scoop out the center of the potatoes - being careful not to break the skin. Add the potatoes to a large mixing bowl along with the pancetta, shallot and sage mixture. Add the ricotta, 4 oz of the smoked gouda, milk and heavy cream and mix. Mix it together and season with salt and pepper. Do not be afraid of salt - it is your friend in this dish!
Place the emptied out potato skins back on a baking sheet and fill with the cheesy potato mixture. If you're only doing 3, fill 'em super high. If you're doing 6 halves, then they won't be as high but they will still be delicious! Add more cheese on top and bake on 400 for 20 more minutes or until the cheese has melted and the center of the potato is warm.
Add the rest of the reserved pancetta on top and bake for a few more minutes until crispy! Serve!
IF YOU'RE MAKING THE TWICE BAKED STUFFED POTATOES AHEAD OF TIME:
Follow the instructions up to step 4. Instead of preparing right away, simply refrigerate the mixture, potato skins, and the reserved pancetta until you're ready to serve. This can be done up to two days ahead of time. Once you're ready to serve, scoop the potato mixture back into the skin and bake at 350 for about 45 minutes or until the potato is heated through. Add cheese and remaining pancetta back on top and place back in the oven until the cheese has melted and the pancetta has crisped up.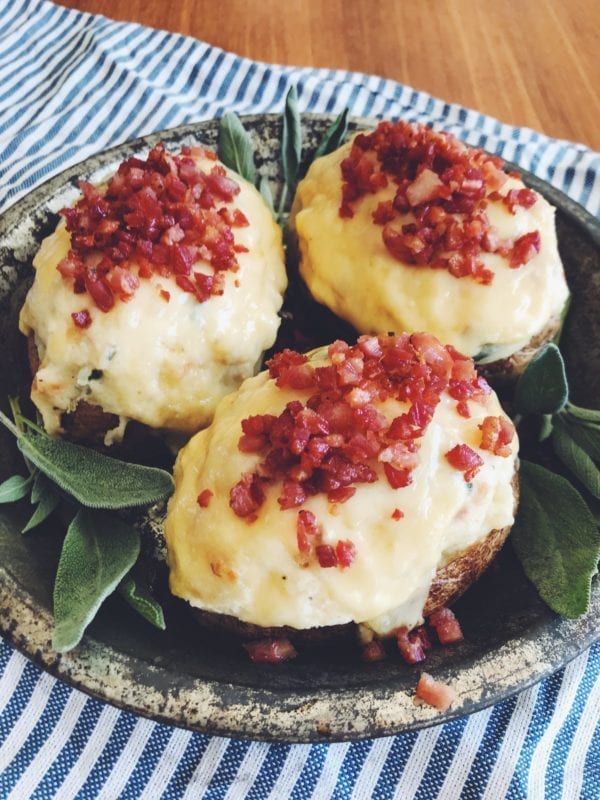 Got questions?! Comment below and I'll do my best to answer!
xoxo,
GCS!