Building a cheap cheese plate for under $30 is super easy and totally doable. It's a great way to entertain without spending a lot of money. And best of all, cheese and charcuterie pairs perfectly with wine and cheese. Below I'll build one out plus give you some helpful tips to make yours even cheaper.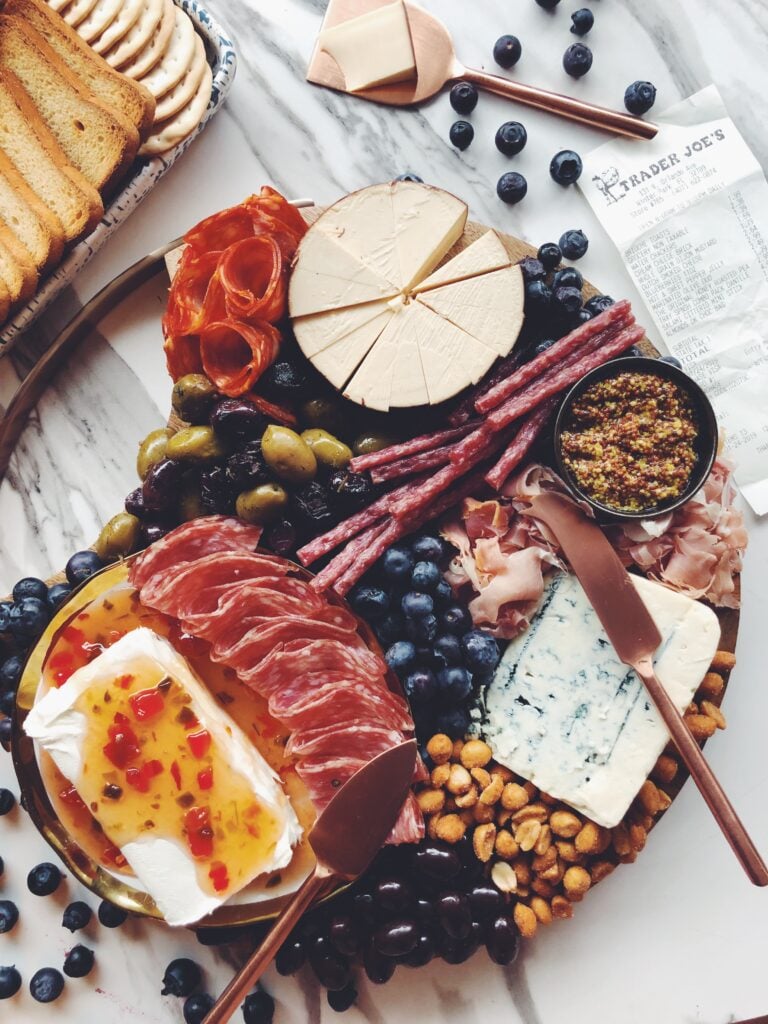 HOW TO BUILD A CHEAP CHEESE PLATE
Building a beautiful yet cheap cheese plate is way easier than you think. You can either follow my exact lead and make this same cheese board from Trader Joes or you could follow my guide and build your own. Either way, you've got this!
METHODS TO BUILDING A CHEAP CHEESE PLATE
When I build a cheese plate for parties, I always start with at least three different cheeses. You can choose your cheeses based off of milk, texture or taste. I think taste is easiest for most people so I went with that on this board. I chose one stinky, one smokey, and one tangy. As for meats, the sample packs are a great way to get a lot of variety for cheap. The one I got at Trader Joe's had plenty of salami, chorizo and prosciutto all for under $5. I also found little salami sticks for under $2 so I grabbed those, too!
For condiments, you can either scour your own kitchen to make it a little cheaper or you can follow my lead. I recommend using one sweet and one savory condiment. A good grainy mustard is always a great choice because it pairs perfectly with cheese and most pickles/olives. I picked a pepper jelly for my sweet because it's an awesome way to dress up cheap cream cheese. And, of course, it's beautiful! Honey is another great sweet condiment that most everyone has on hand.
Finally, you will need to add your accoutrements. I like to use one crunchy ingredient, one fresh, one pickle-y and one sweet treat. For this one, I chose candied peanuts because they were super cheap yet still delicious and complex compared to most nuts. As for the fresh ingredient, I chose blueberries because they were the cheapest berry AND they provide a great pop of color. For the pickle-y item, I found bagged olives at Trader Joes for under $2 so that was a no brainer. And finally, for the sweet treat, I used a $.99 bag of chocolate covered almonds that was in the checkout aisle.
TIPS TO MAKING A CHEAP CHEESE PLATE
One of my first tips on how to make a cheap cheese plate is to first check your own kitchen! Starting from scratch can leave you spending much more than necessary. Chances are, you probably already have a lot of ingredients on hand. Check your fridge for pickles, olives, mustards, jams etc. And check your pantry for dried fruits, nuts and crackers.
To be honest, when I clean out my fridge and notice that I've got a bunch of half empty jars of pickled goods, I always get excited because that means I have an excuse to make a platter! And depending on what I have, I buy cheeses that I know will taste perfectly with them.
When it comes to shopping for the cheeses themselves – I have tons of experience! I ALWAYS find the best prices at ALDI and Trader Joes… but my one piece of advice for this is to be flexible. Because these stores always have such good deals, you never really know what you're going to get. So just go with the flow and don't get stuck on one idea!
As for arranging, I always say to start with cheese and then move onto the meats. Next, add little bowls for the condiments and then start filling in the gaps with your accoutrements. Try to arrange ingredients next to the other flavors that you think go together. I try to keep the savory ingredients on one side of the board and the sweets on the other. This just makes creating the perfect bite much easier for your guests! And you'd also be surprised on how aesthetically pleasing this method is, too!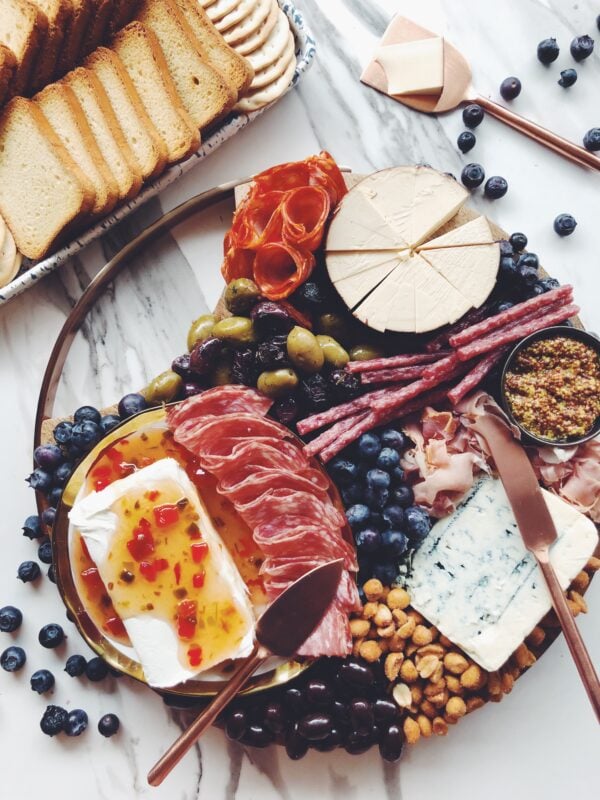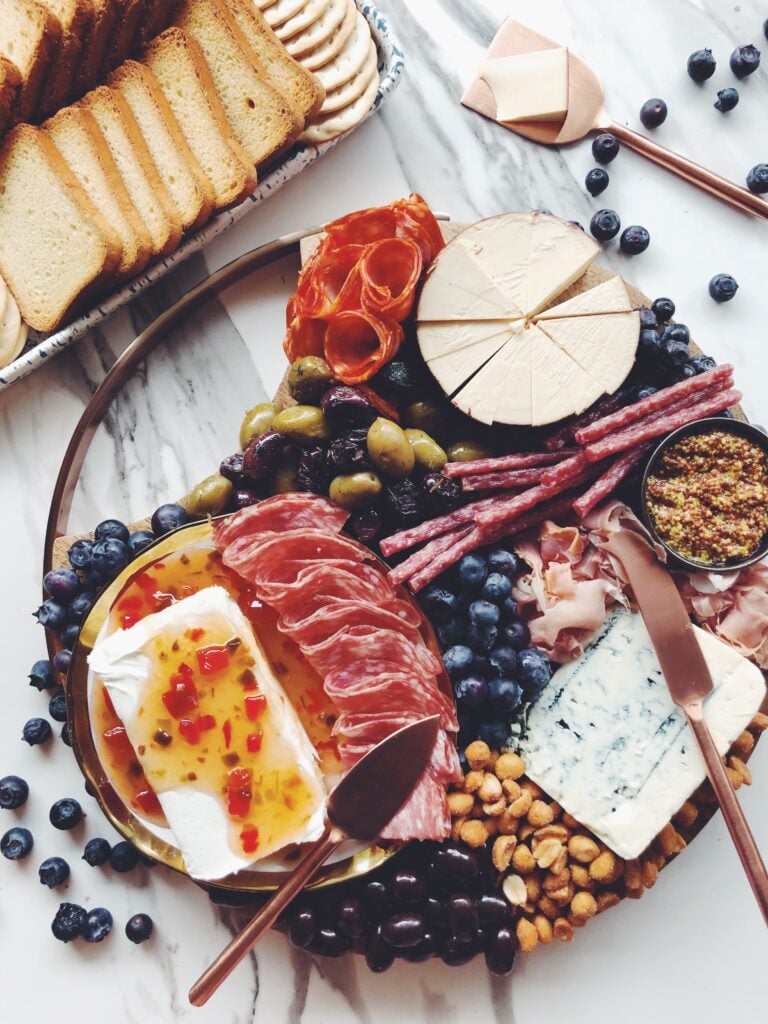 INGREDIENTS FOR A CHEAP CHEESE PLATE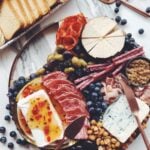 Print Recipe
CHEAP CHEESE PLATE INGREDIENTS
Here's what you need to make this cheap cheese plate sourced from Trader Joes
Ingredients
3 cheeses
Smoked gouda - $2.64

Blue Cheese Cheese - $2.38

Cream Cheese - $1.69
3 meats
Meat Combo Pack - $4.99

Mini Salami Sticks - $1.79
2 condiment Condiments
1

Sweet - Pepper Jelly - $2.49

1

Savory - Dijon Mustard - $1.79
Accoutrements
1

crunchy ingredient - Candied Peanuts - $2.99

1

fresh ingredient - Blueberries - $2.99

1

pickly ingredient - Olives - $1.79

1

treat ingredient - Chocolate Covered Almonds - $.99
Crackers
Brioche Crackers - $1.99

Water Crackers - $1.39
Instructions
Begin by placing your cheeses on the board and space them equally apart. Use a small plate under the cream cheese and add another small bowl for condiments.

Lay on the meats next to the cheeses that they go best with. Fold the chorizo salami, roll the pepper salami and clump the prosciutto.

Next, add the mustard to the small bowl and add the pepper jelly on top of the cream cheese.

Now add the accoutrements and place them next to the other ingredients with complimentary flavor profiles. Be sure to fill in any gaps so that everything looks full and lush. Add the remaining salami sticks to give the board flow.

Place the crackers on a small plate and add the cheese knives before serving.
Notes
Before serving, let the cheese "bloom" for at least one hour before serving. Bringing the platter to room temperature will help amplify tastiness of your cheese board!
LOOKING FOR OTHER PARTY STARTERS AND APPETIZERS? YOU MIGHT LIKE THESE RECIPES:
GORGONZOLA JALAPENO CHEESY BREAD: This ridiculously addicting oven baked cheesy garlic bread is loaded with jalapenos and gorgonzola. And best of all, it's ready in under 15 minutes!
BAKED NAAN NACHOS: These flavorful Mediterranean inspired nachos are made with naan and a creamy feta cheese sauce. Add roasted tomatoes, crispy chick peas and fresh herbs for an even more fun spin on this classic app!
PHO DEVILED EGGS: These Vietnamese Inspired Deviled Eggs will forever be one of my favorite appetizers. They're sweet, spicy, herby and full of flavor! And they're super quick to make, too!
UPSIDE DOWN PINEAPPLE BAKED BRIE: This baked brie recipe is like none other! Inspired by my favorite retro dessert, pineapple upside down cake and my favorite baked brie – this variation is loved by all!
And if you'd like even more cheese and charcuterie board inspiration, check out my pinterest board!
Have fun tonight!!!
xoxo,
Kenz aka GCS