Thanks for checking out our Lagos, Portugal Travel Guide! Here, we talk about the best beaches, restaurants, and things to do in Lagos and along the Algarve Coast! We also have a 24 hour guide for Lisbon if you're going there, too!
Lagos Portugal
After we spent 24 hours in Lisbon, we rented a car and drove south to Lagos Portugal.
Unlike Lisbon, Lagos is a relatively small town that's nestled along the southern Algarve coast.
We stayed in the Old Town of Lagos which I high recommend! The buildings are insanely beautiful and historic. There are tons of things to do. You can walk everywhere at any hour. There are amazing restaurants on every single block... seriously like Michelin star reviewed places everywhere! And the nightlife party scene is comparable to Barcelona! The Algarve is the bomb!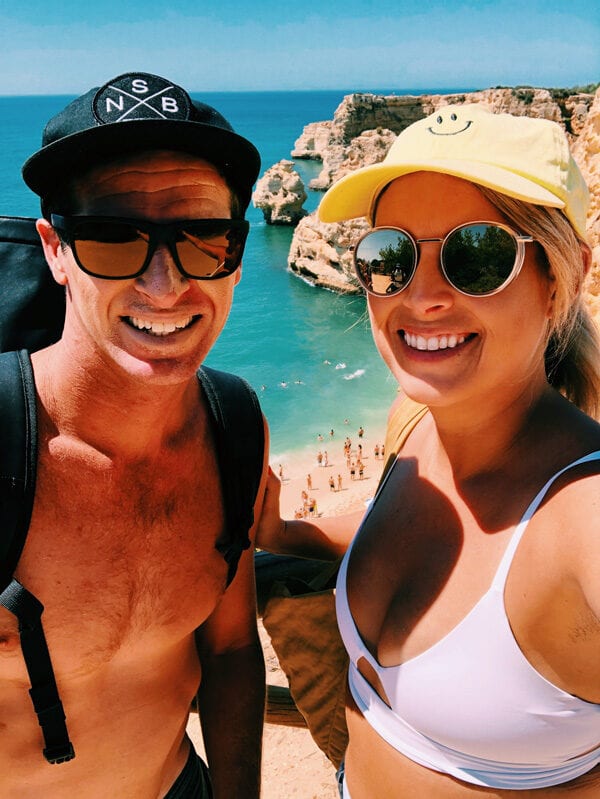 We were only there four days but I would recommend being there at least a week. And if you're going, we recommend renting a car so you can drive around to all the amazing destinations nearby!
Other than exploring Lagos and eating everything in site, we also explored the rest of the Algarve.
In this city guide, I'll go over our favorite beaches (for relaxing and for surfing!), our favorite restaurants and other fun things to do in this beautiful town! Let's get to it, shall we?
Oh and if you're traveling to other parts of Portugal, check out our guide for 24 hours in Lisbon! Or if you're headed to other parts of Europe, check out some of our other guides in the travel tab above! There, you can find the best restaurants in Sorrento, our Amalfi coast guide, and 24 hours in Rome guides, too!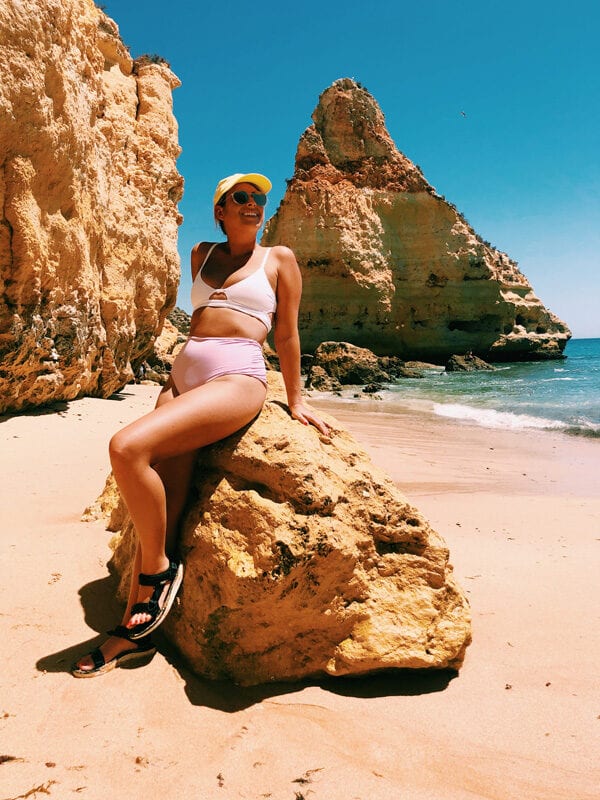 Things to do in Lagos and the Algarve
There's a reason that Lagos and the Algarve Coast are some of the most sought after vacation destinations in Portugal and even Europe. Between the beautiful beaches, amazing hiking trails, colorful nightlife, and historic city centers, there is culture and so many things to do.
First, and foremost, let's talk about the beaches... or "Praias" as they say in Portuguese.
Up and down the Algarve coast, there are endless beaches to choose from. With that being said, it's kind of hard to know where to go! Luckily, my husband did a ton of research which made our trip a total success. And now I'll share that with you!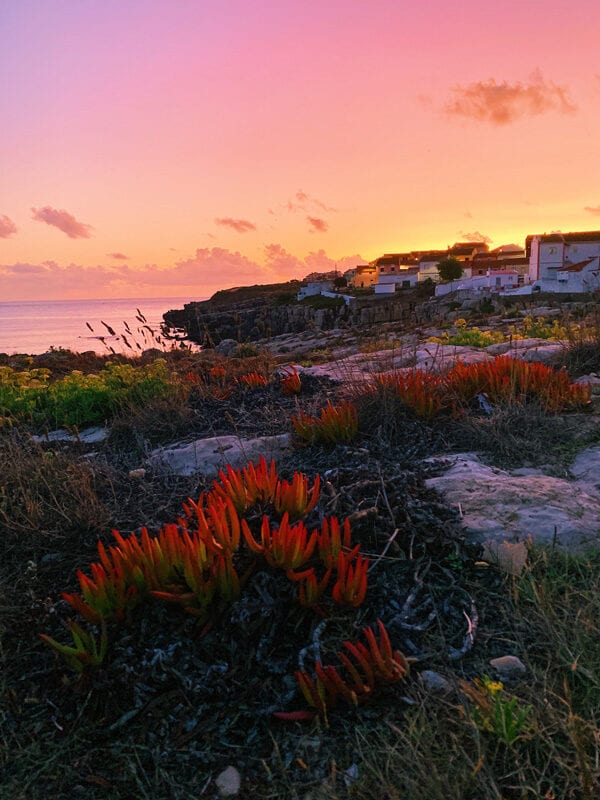 Ponta da Piedade
If you're looking for the perfect spot to catch the sunset, this is it! We started by walking to Praia de Porto de Mos. From there, we were told about an off-the-beaten-path hiking trail that would eventually lead us to the Ponta da Piedade lighthouse for the sunset.
To be truthful, we honestly had no idea what we were getting into. I had on a dress and those lightweight plastic Birkenstocks and did not think that we would be embarking on a three hour hike up and down the steep, sandy cliffs.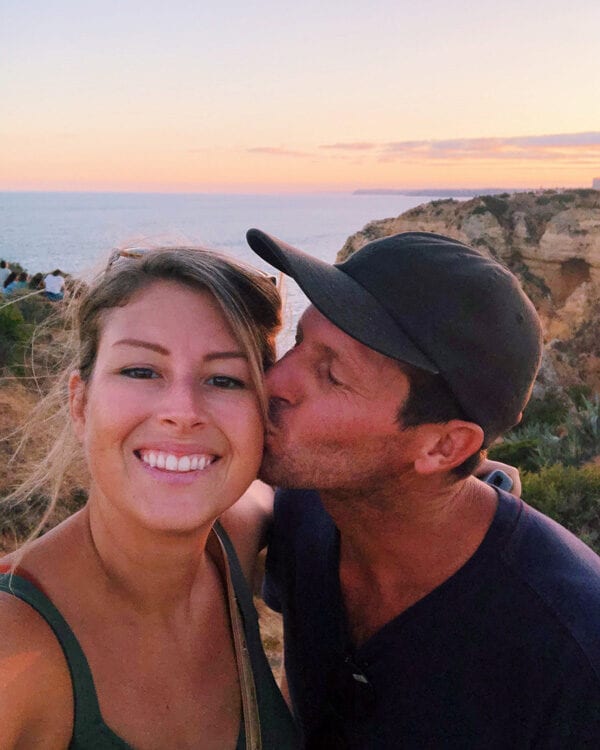 But since the views were so insane (and I didn't want to walk back alone), I went with it! To my surprise, the path was actually quite interesting. Imagine it as a mix of narrow staircases, sandy hills, overgrown bamboo pathways, and beautiful dessert-esque flower patch gardens that intersect with tiny foot trails.
We got to the top right at sunset which couldn't have been more perfect.
We picked a safe place to sit, pulled out some wine and cheese and enjoyed watching the sun set over "the end of the world". It was one of the most romantic things we did on this trip and I still get butterflies thinking about it. Ahhh le sighhhh....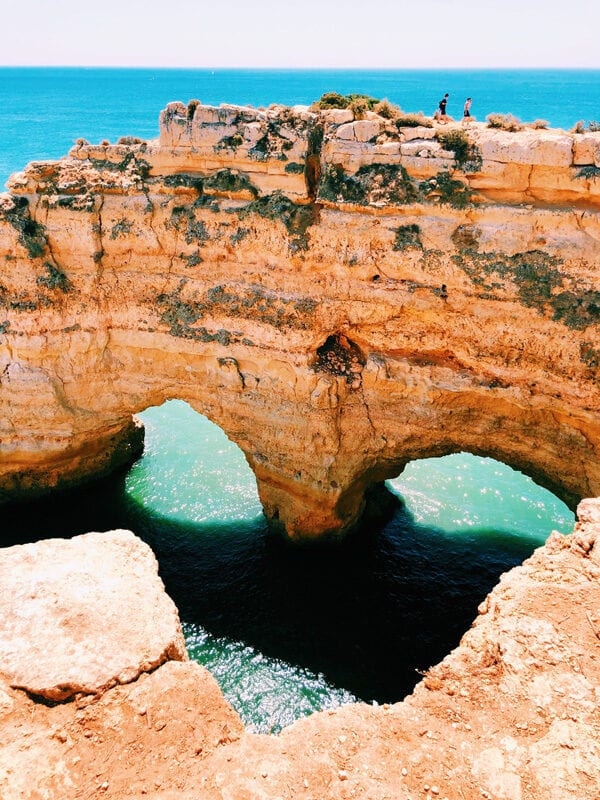 Praia da Marinha
Another uber romantic spot to check out is Praia da Marinha. This place is famous because of the natural heart-shaped cliffs that line the beach.
When you get there, try to park as soon as you see the cars on the side of the road. We made the mistake of driving all the way up and barely had enough room to back up and reverse.
After you've parked and walked down to the boardwalk you can either go left down towards the beach or head right to hike the cliffs. We went right and headed straight for the heart shaped rocks. It was just as beautiful and awe-inspiring as all the pictures we had seen online.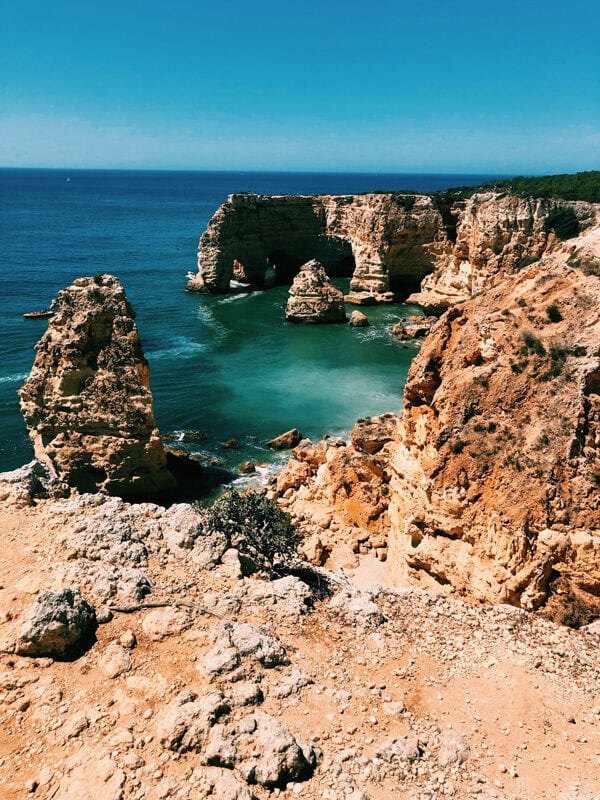 After walking around the cliffs for a bit, we were super hot so we headed down the stairs to the beach.
Since the beach was so crowded, we followed a few locals over some rocks to another beach. This only required climbing over two sets of rocks but luckily I had my favorite tevas which are great for stuff like this! Jerm's half amphibian so he just leapt over the whole thing like a damn frog.
Once we got to the more remote beach, we laid out and relaxed in the shade. Jerm flew his drone and captured all the beautiful footage that you'll see if you watch my video at the end of this post.
And although the water was bluer than blue and so clean looking, I didn't get in because it was a little too cold for me. But there were plenty of people swimming and splashing around so definitely do it if you want!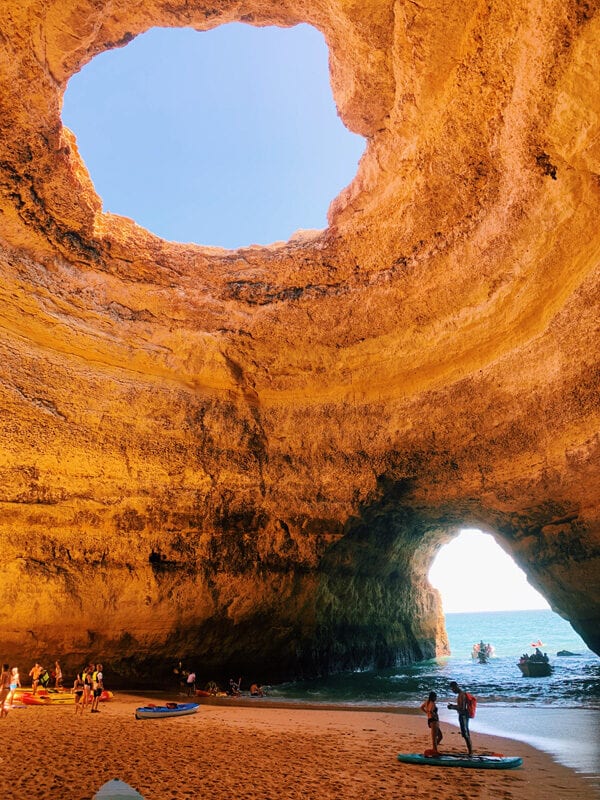 Benagil Caves
When researching Benagil Caves, we watched countless youtube videos and talked to a lot of people. No one ever mentioned the word danger.
Now don't get me wrong, they were amazing! Truly stunning and unimaginably cool.
But getting there, on the other hand, was a CRAY!
After parking in the lot at the top of the cave, we walked down the cliff to the launch point. Along the way, we found a paddle board and kayak rental place so we got rented one for $25/hour. We both do water sports so this part was no big deal.
After we launched into the freezing cold water and started paddling out, we got worked by the waves. And these waves weren't just from nature, these were choppy huge waves from the giant speed boats that bring the tourists in and out of the cave.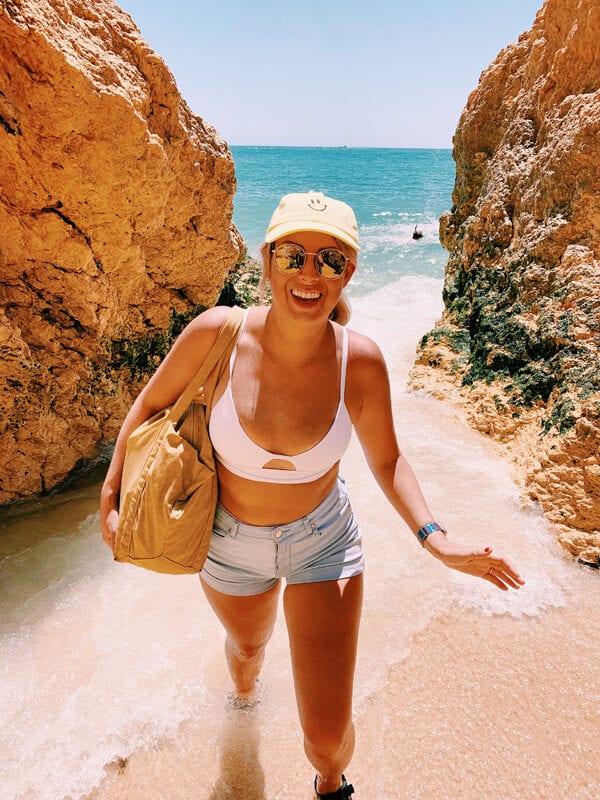 I didn't video any of this because I was too freaked out. But upon pulling into the cave, we saw about 4 people get crushed into the sand after a giant boat threw waves up against the sides of the cave.
One of the girls got rescued by an emergency boat and I was seriously contemplating a fake injury so that we didn't have to paddle back. That didn't happen though, I was brave AF.
As we were standing there admiring the caves, we saw countless people almost get run over by boats and/or get slammed into the sand. And not one security person or safety person was there to regulate any of this which was insane! Also, yes, I am turning into my mother.
Luckily, my husband paddled us back to safety and I ate a bunch of amazing Portuguese food to help deal with all the emotions that were flowing through me!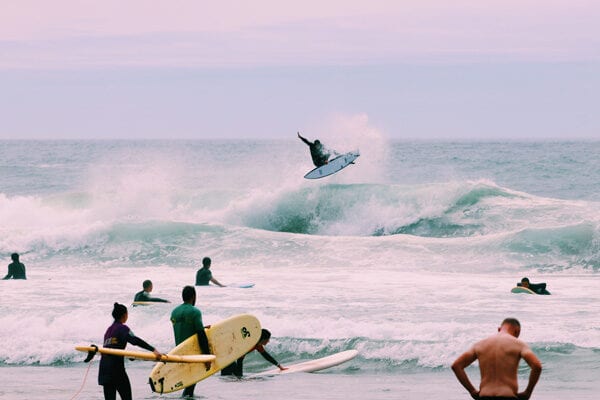 Praia do Tonel
This Sagres beach is known for surfing! Although it was super foggy when we arrived early in the morning, it eventually burned off and exposed the beautiful beach.
Like most of the beaches, it's surrounded by breath taking cliffs, insane rock formations and lots of hot Portuguese people. Lol. The water wasn't as clear because of the waves but we loved how intimate and remote it was compared to the other spots we went to. Definitely a gem in the Algarve.
Oh, and it was one of Jerm's favorite things to do in the Algarve!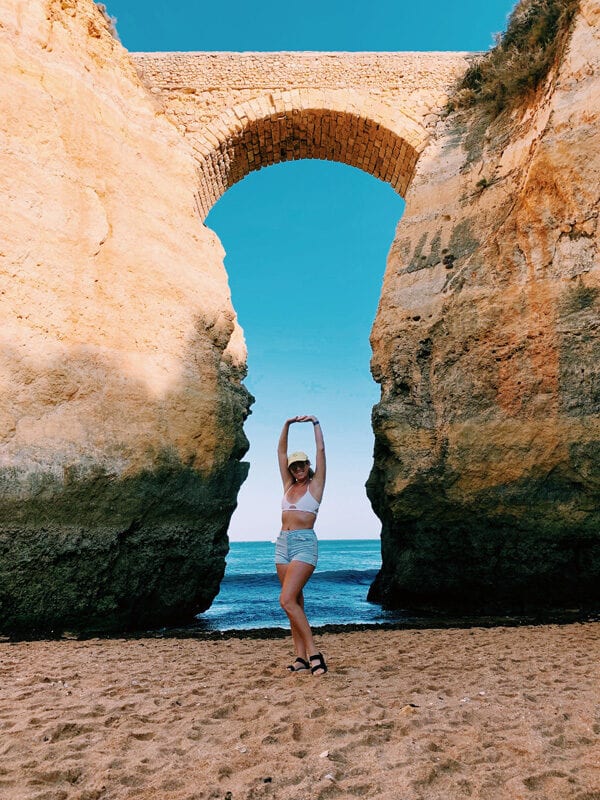 Praia de Estudiantes
This was one of the beaches that was super close to our airbnb. It also had this amazing little bridge that went over the cliffs, connecting two giant rock formations. It's basically an instagram dream! If you're looking for things to do close by the old part of town, definitely go here!
We had big dreams of building a cheese plate here while relaxing... but the wind picked up and that didn't happen.
We did walk around the area though because there were all these neat little caves that connected a bunch of beaches together!
Definitely a great place to check out while you're in Lagos!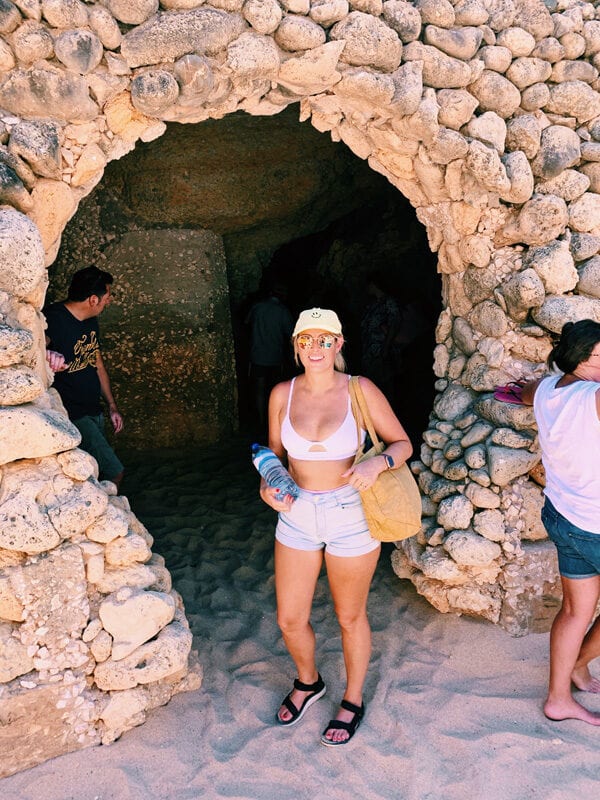 Best Restaurants in Lagos Portugal
Casinha do Petisco
As with most of the restaurants I'll be talking about, Casinha do Petisco! was located in the historic Old Town.
Casinha do Petisco is a super small restaurant with one chef and 2 waitresses. As soon as we walked up, we could see the line of people waiting for tables so we put our name in and headed to the bar next door.
We ended up having to wait about 2 hours to eat there so I highly recommend making a reservation before you go.
But even with the wait, We LOVED and I mean LOVED this restaurant!
Like my kitchen at the Black Dolphin Inn, this place has an open kitchen so you can watch the chef work. And since there's only one chef, you can really get to know his style. It almost felt like watching a live action cooking show because of how fast and elegant he was.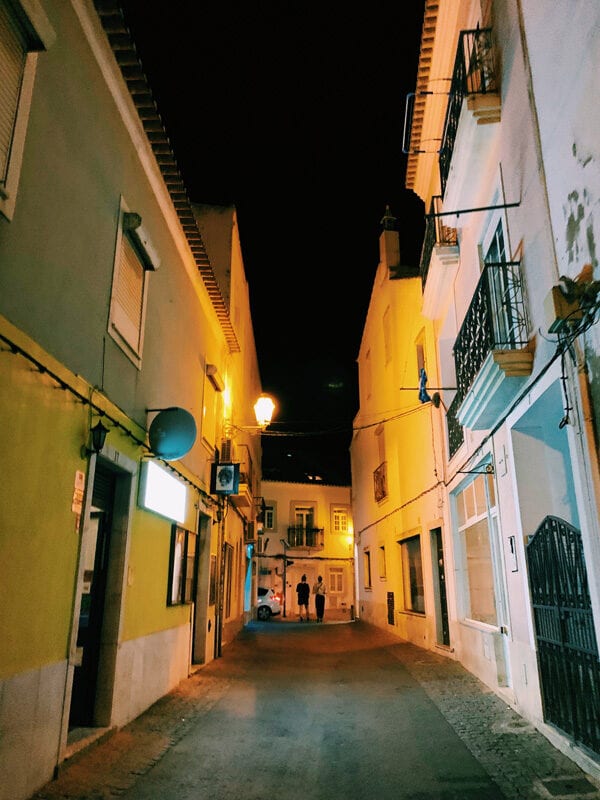 I chose the grilled sea bass and cried because the flavors were so beautiful. It was served with crispy potato wedges, a fresh salad and lots of lemon and garlic. Honestly I can't stop thinking about those potatoes and wish I had snuck back into the kitchen to watch the chef!
Jerm ordered the Seafood Cataplana which is their most popular dish. It was essentially a curry seafood stew that's loaded with tons of fresh shellfish and spicy broth. Since I'm allergic to shellfish, I couldn't take a bite but I did see everyone around us savoring every last bite so I assume it was amazing!
Everything we had here was so memorable. We both agreed that it was one of the top meals that we had in all of Portugal. If you take one recommendation from this post, please go here!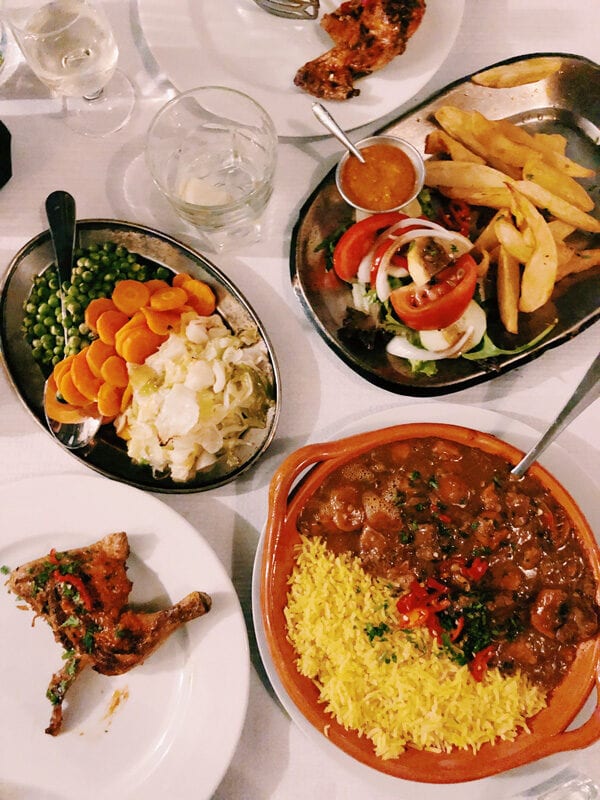 Mullens
Mullens has been a Lagos Portugal staple for over 25 years. And because of that, it has a cult like following. The building itself is a dark, almost cave-like pub that has a lush little backyard where they grill the piri piri chicken.
We were sat at a group table. It was actually really fun because we ended up making new friends and partied with them all night.
For dinner, we started with a bottle of Vinho Verde. Then we ordered the Beef Mozambique which is almost like an African/Portuguese curry beef stew. It was served with a bunch of fresh cooked vegetables and yellow rice.
We also got the Piri Piri Chicken which was amazing! It was super moist inside yet crisp on the outside with the perfect amount of spice. It was served with crunchy fries and I just have to say again I don't know what it is about Portuguese french fries but omgggg they're so good!
Both dishes were amazing and we can't wait to go back!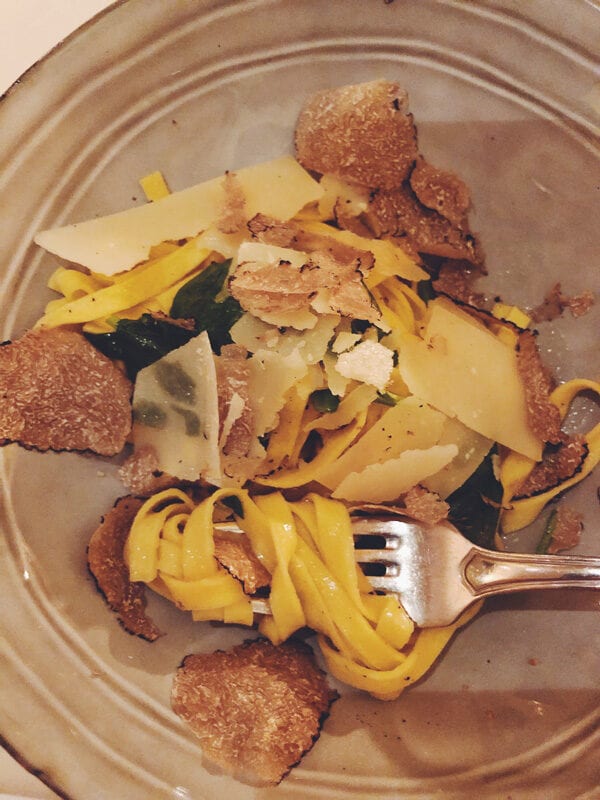 Restaurant don Artistos
Since there were so many Michelin recommended restaurants in Lagos, we thought it would be fun to splurge one night. So after our hike, without a reservation, we walked into Restaurant don Artistos. I thought we'd just put our name down but they said they'd take us now. So we sat down and got ready to eat!
They greeted us with a Portuguese soup amuse-bouche. After that, we got the fancy butter plate. It consisted of three different butters and artisan bread. Which I was all about! We then got sweet potato and cheese falafels and beef and fish carpaccio as appetizers.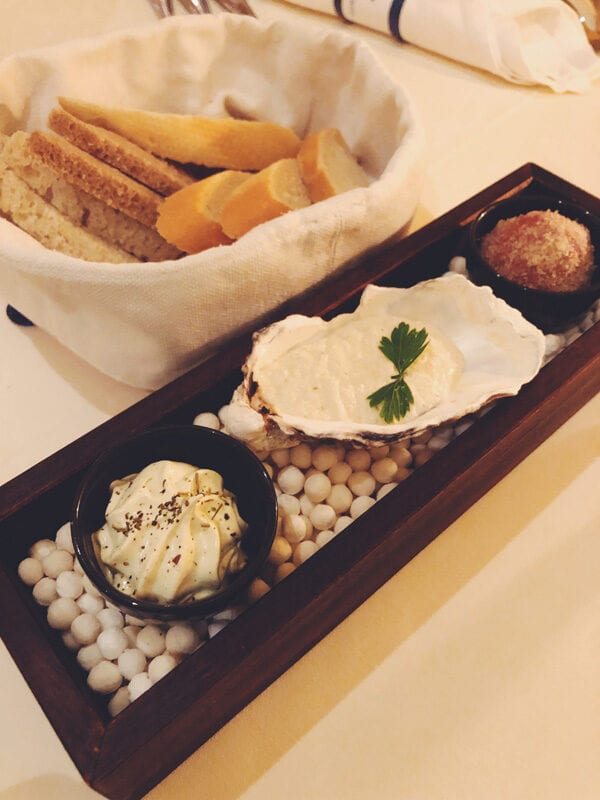 For our mains, I got the housemade truffle pasta and Jerm got the Sea Bass which came with roasted vegetables.
Both were really quite good! But honestly, the service and attention to detail was the best part. It was definitely more on the bougie side of all the restaurants in Lagos, Portugal. But it's always good to have at least one night like that... especially in the Algarve!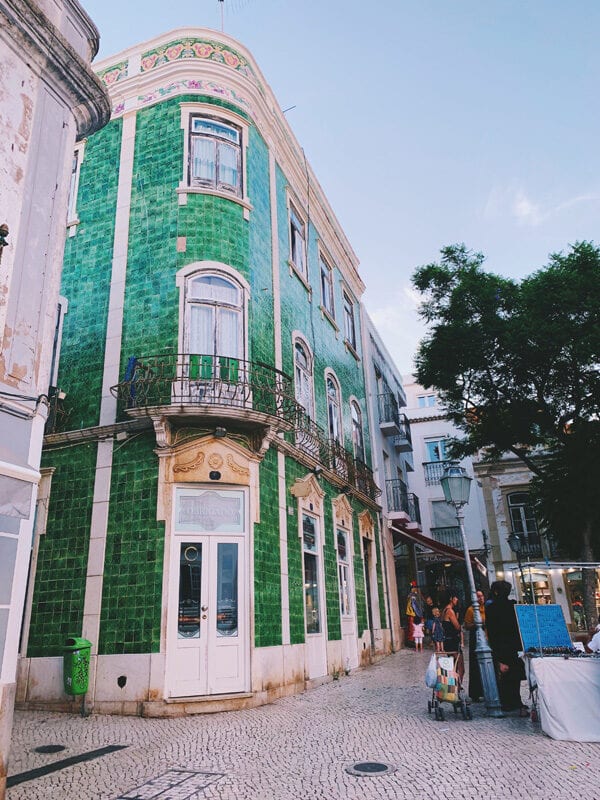 Lagos Portugal // Algarve Travel Vlog
Oh and because I got a few messages wondering how we shot this. This video is a mix of footage shot form my handheld DJI OSMO Pocket and our DJI OSMO Action which is waterproof!
[embedyt] https://www.youtube.com/watch?v=-GrQVFR3mQg[/embedyt]