If you're heading to Lisbon, Portugal, check out our 24 hours in Lisbon city guide! We talk about the best area to stay in, the lisbon food scene, and what to do when wandering the city! Don't miss our travel vlog video at the bottom of this post!
And if you're headed to Lagos and the Algarve, check out our guide and vlog!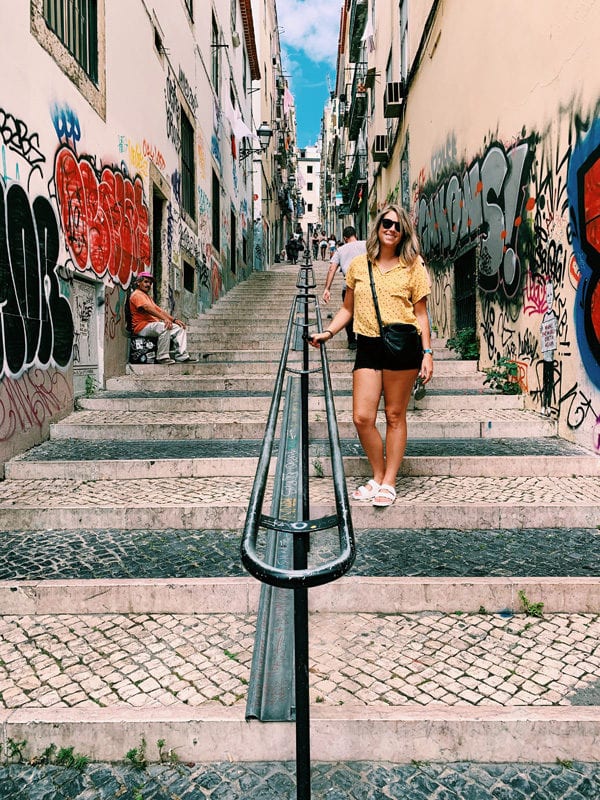 24 Hours in Lisbon
As you might know from following us on instagram and youtube, we just got back from our honeymoon in Europe!
We started our our trip in Portugal where we had just a quick 24 hours in Lisbon. After that, we rented a car and headed South to Lagos. From there, we drove north along the coastline and visited Peniche, Nazare and Porto. After that, we ended our trip with a visit to San Sebasitan, Spain and hit Paris, France before flying home.
After spending two weeks in Portugal, it is safe to say that this country is by far our new favorite place! The food is amazing, the scenery is drop dead gorgeous, it's super budget-friendly, and the Portuguese people are AMAZING!
Some of the reasons we chose these destinations were because Jerm loves to surf, and I of course, love to eat, and we both live to explore unknown places! And since we have heard amazing things about this country, we knew we had to check it out!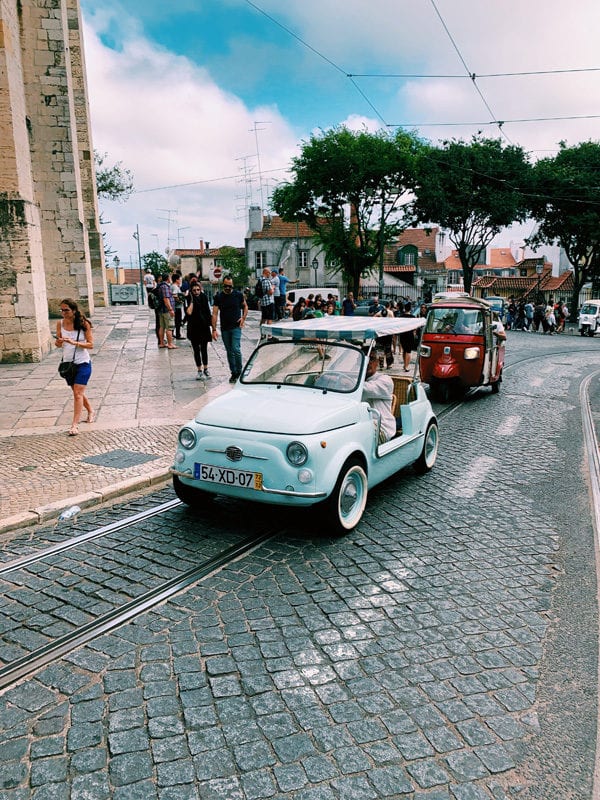 That being said, the surf in Portugal is outrageous. There were tons of incredible surf breaks up and down the entire coast and it had Jerm frothing for more the whole time!
The Lisbon food scene (which you can read more about below) is insanely delicious and freakishly cheap! You'll enjoy tons of fresh seafood, lots of grilled meats, and of course - an absurd amount of deliciously spicy pork concoctions and amazing cheeses. And wine. Lots and lots of wine! Let me reiterate PORTUGAL IS SO CHEAP!
It was an awe-inspiring trip that we will never forget!!
And if you're headed to Europe and would like to check out some of my other city guides, you can find my the best restaurants in Sorrento, our Amalfi coast guide, and 24 hours in Rome guides here. Or you can click the travel tab at the top!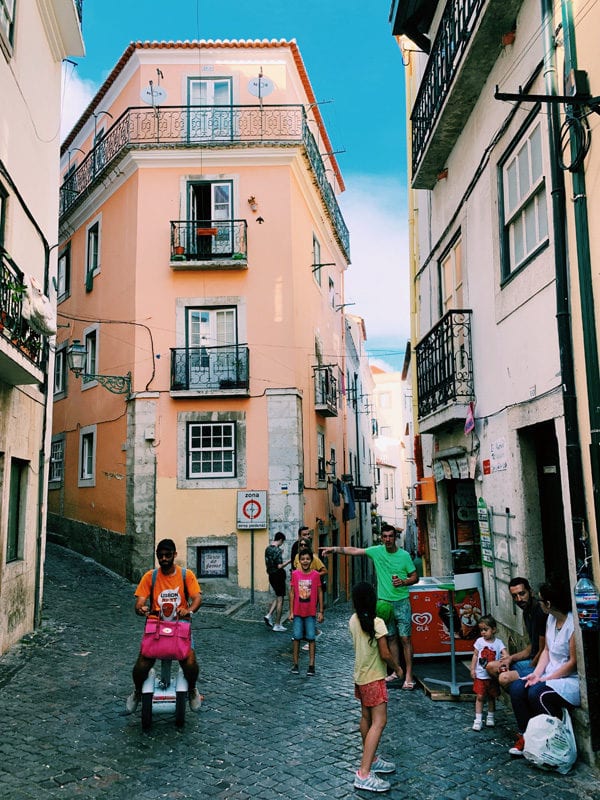 Best Area to Stay in Lisbon // Portugal
If you're wondering where to stay in Lisbon, you're probably a little confused! But after staring at maps for hours, and doing tons of research... and well, actually staying there... we think we found the answer.
We both agree that the Chiado district is the best area/neighborhood to stay in Lisbon!
Not only is Chiado a super central area, but you can also find cheap hotels that are actually pretty great. I also loved how it was lively during the day but super quiet at night. It reminded us of the Spanish Steps in Rome with all the cute boutiques and restaurants lining the streets.
We highly recommend staying in this neighborhood especially if you're only there for a short time like we were!
We stayed at Behotelisboa which we would highly recommend. Although the rooms were relatively small, it didn't really matter since we were out exploring the whole time.
We also loved how clean and completely soundproof our room was from the bustling streets below. Having a sweet little balcony and surprisingly large bathrooms were pretty great, too!
Oh, and it also didn't hurt to be offered Port Wine and Pasteis de Nata upon arrival... especially after flying all night!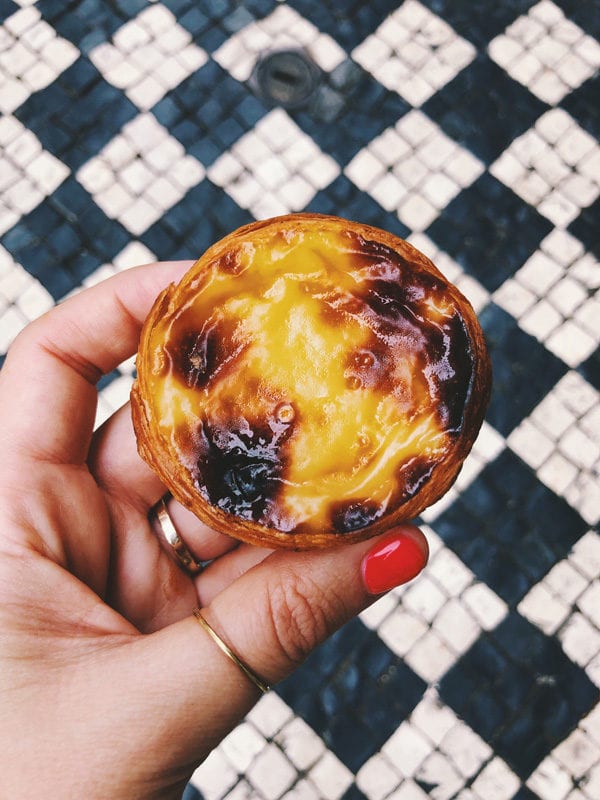 Lisbon Food Scene // Portugal
Now it's time to get to the good stuff! Not going to lie, the Lisbon food scene is a little overwhelming! There are so many great restaurants to choose from that it's actually pretty tough to decide on something! **says the most indecisive girl in the world**
Luckily, we're here to help!
Day 1
Since we arrived a little after lunch, the first thing we recommend is hitting up the Time Out Market.
Time Out Magazine has taken over this historic hall and transformed it into the one-stop shop for all the best food and restaurants in Lisbon. They've curated each spot so that you can find the city's best grub all under one roof.
You can find literally EVERYTHING here! But just try to avoid going during the typically rush hours as the lines get INSANE!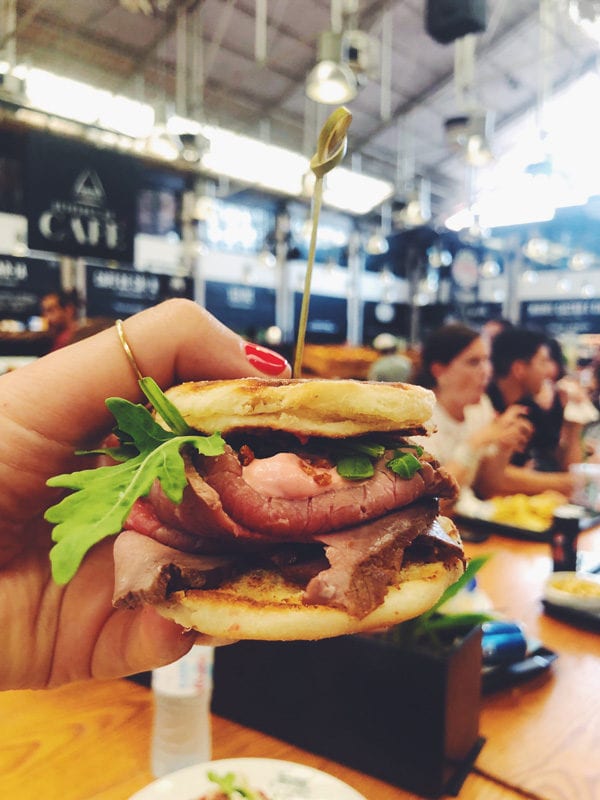 After we hit up Time Out Market, we stopped to get some street meat (aka durham kebab) while walking around the Alfama at a place called Kebab de Lisbao and it was awesome!
After that, we headed to Sabores do Chiado for a Portuguese cheese plate and local wine! This was definitely my favorite place in Lisbon. The vibe was relaxed and chill. The wine was amazing and they had about 15 different cheese plate variations to choose form. If you're into cheese, this is a must!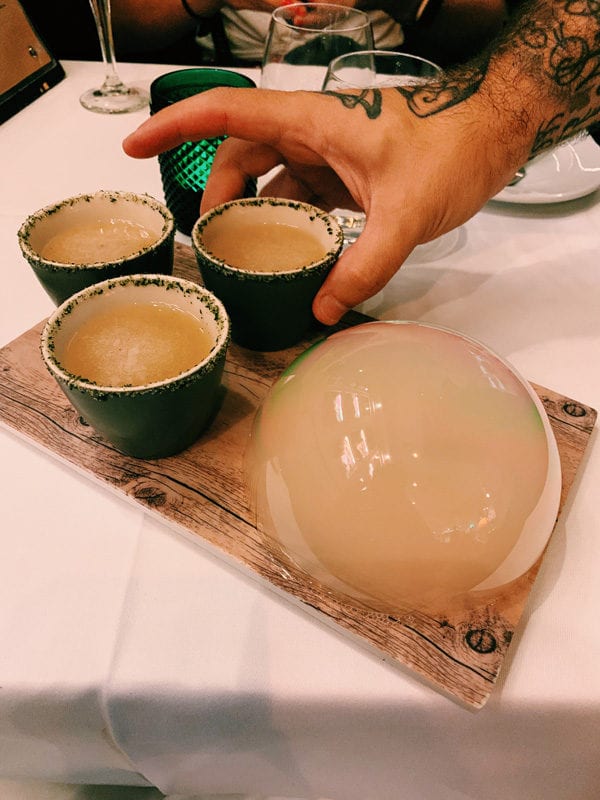 For dinner, we headed to one of the places that we read about on Eater - Bistro 100 Maneiras. We picked this place because it was supposed to be a great date night spot with a super sexy atmosphere (hellooooo honeymoon!! lol) while also being a great place to try modern Portuguese food.
It was great, but I think we both agreed that we would have rather tried traditional Portuguese food our first night! The overly creative drinks were probably our favorite part to be honest!
After that, we explored the Barrio Alto region for a nightcap. This area is famous for its lively bar scene and nightlife!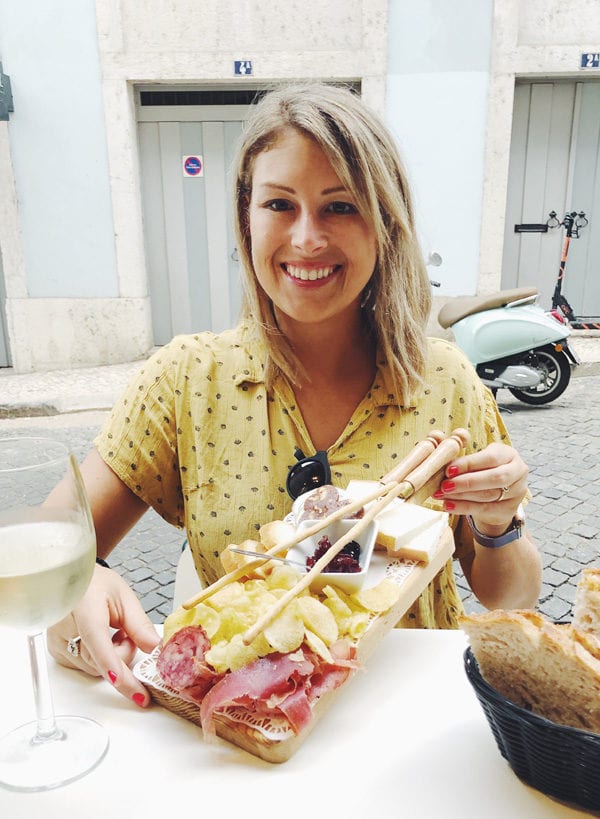 Day 2
The next morning, we woke up and headed to Manteigaria which is probably the second most famous place to get your Pasteis de Nata. Needless to say, it was SO FREAKIN GOOD!!!
The most famous place, Pastéis de Belém, was an hour walk from our neighborhood so we skipped it since we had to pick up our rental car. But you should totally check it out and bring me one back!
Since my husband, Jeremy, would never be satiated from a breakfast pastry, we walked a few more blocks to The Mill.
The Mill is an Australian-Portuguese breakfast spot that's super popular. And for good reason. The food was awesome and just what we needed before we headed back to the airport to scoop our rental car.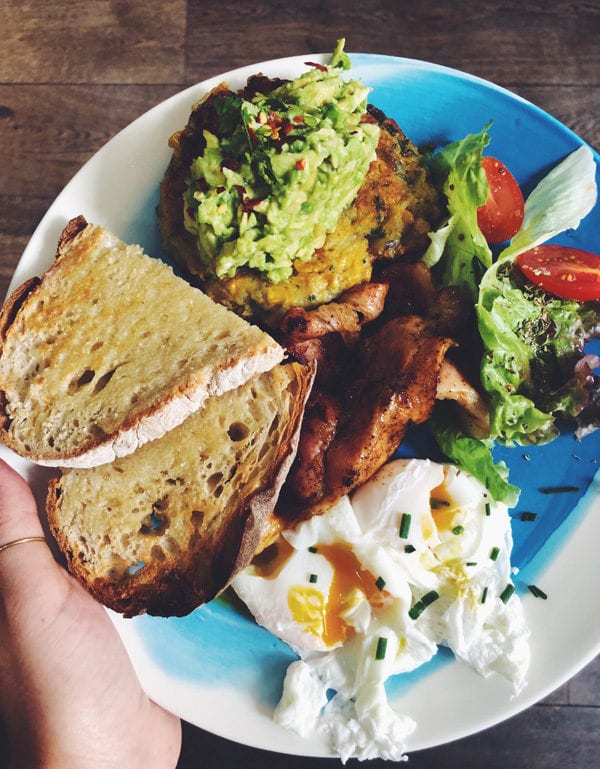 Lisbon Food Map
Since we were only there 24 hours, I can confidently say that I'm not the best restaurant authority for Lisbon food. But that's why I compiled this map below based on Eater's Best Lisbon Restaurants post! You can save this to your google maps app and use it while you're abroad if you'd like!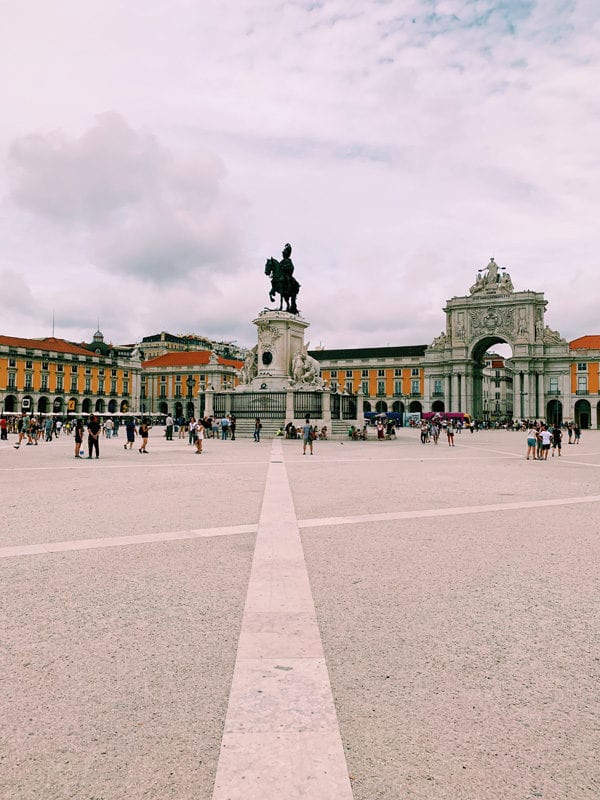 What to do in Lisbon
Chiado
Chiado is the district between the barrio alto and alfama. And it's the area that we think is best to stay in! This neighborhood is lined with cute boutiques, awesome shops, and bustling restaurants. There are tons of gorgeous squares with magnificent statues that pay homage to the history of this iconic city.
It's definitely more touristy because it's so central, but there's nothing wrong with that! I'm sure there are some really great restaurants in the area, but we chose to eat in other areas that were more off the beaten path.
Be sure to stop by the Elevador de Santa Justa, Praça do Comércio, The Arco da Rua Augusta, and the Rossio square!
Alfama
OH MY GOD can we talk about how cute this place is?! And by cute, I mean bubbling with history, amazing architecture, and life. The narrow maze-like streets jolt up and down and all around. I had no idea where we were most of the time but that was definitely part of the charm.
At one point, we just decided to walk upwards. And to our surprise, that also included a lot of walking downwards as well! hahah. But seriously, once we finally found our way to the top, it boasted the most beautiful views I have ever seen!
Be sure to check out Miradouro das Portas do Sol, The Fado Mueseum, The National Tile Mueseum, and of course the Miradouro da Senhora do Monte for even more stunning views!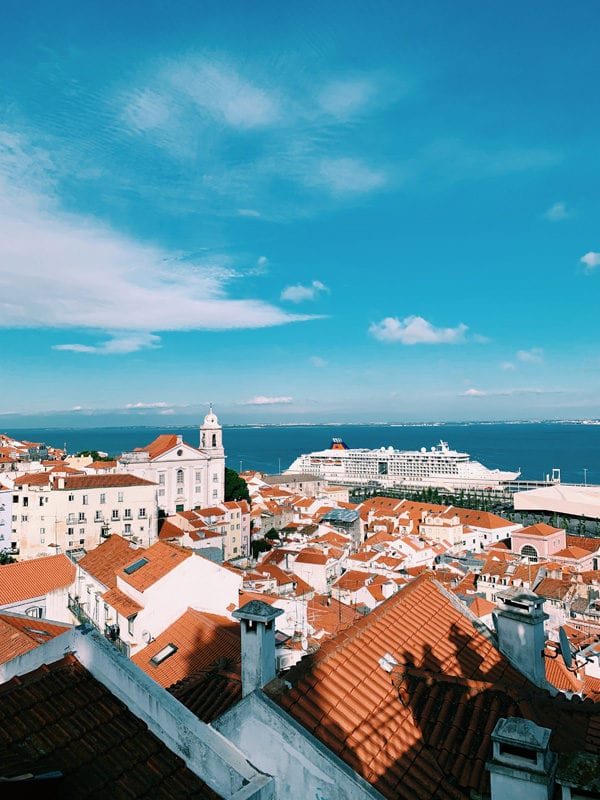 Barrio Alto
I'm not much of a partier these days but for Barrio Alto, I'm all about it! This cobblestoned neighborhood sitting above the Chiado is know for its nightlife.
After dinner, the streets fill up with tons of people who are looking to have some fun! The energy here is amazing! And there's so many bars that it's kind of hard to choose... especially if you've only got 24 hours in Lisbon.
Since I'm a one-and-done drinker, we didn't really try out too many places but we walked around until 1am which is late for me! If anything, just go during the night for a great people watching experience. From young college kids to elderly folks, the scene is quite interesting!
Be sure to check out all the bars, the Miradouro de Santa Catarina, and Ruins of Convento do Carmo.
24 Hours in Lisbon // Portugal Travel Vlog
[embedyt] https://www.youtube.com/watch?v=ykrLhhciA34[/embedyt]
xoxo,
GCS aka Kenz