If you're a foodie looking for the best restaurants in Rome or how to spend 24 hours eating and exploring, then this guide is for you! You can also read about our trip to Positano and Sorrento here. Or you can read about our trip to the town of Amalfi and how I got engaged here!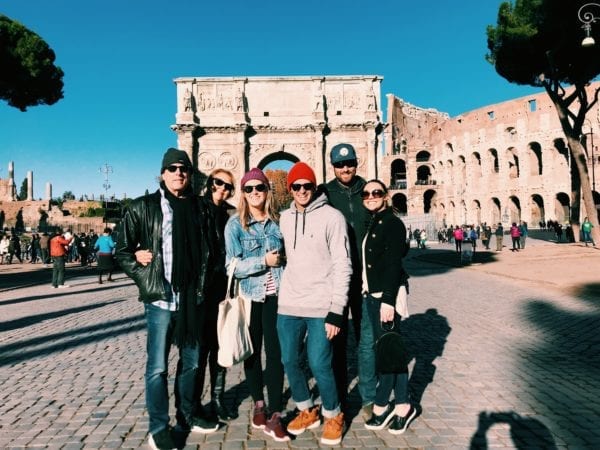 Rome, Italy
Omg soooo much has happened since my last post! Most importantly, we finally took our first family vacation since literally forever and ummm I GOT ENGAGED!!!
This trip was a pretty big deal. First of all, we haven't taken a family trip since we started construction on Black Dolphin Inn nearly 7 years ago. Secondly, it was my mom and brother's gf, Andrea's, first trip to Europe! Third, it was all possible because of CHEESE!! And fourth, I NOW GET TO MARRY MY BEST FRIEND!!!
If you saw me compete on Guy's Grocery Games this past summer, you probably saw that I was playing so that I could take my family on a super sweet no-stress vacation in one of my favorite foodie countries in the world - Italy! And luckily, it freakin' worked!!
So where exactly did we go on this awesome vacation of a lifetime?! Check out the first installment of the quickest part of our delicious family foodie tour -- Rome, Italy!
24 hours in Rome, Italy!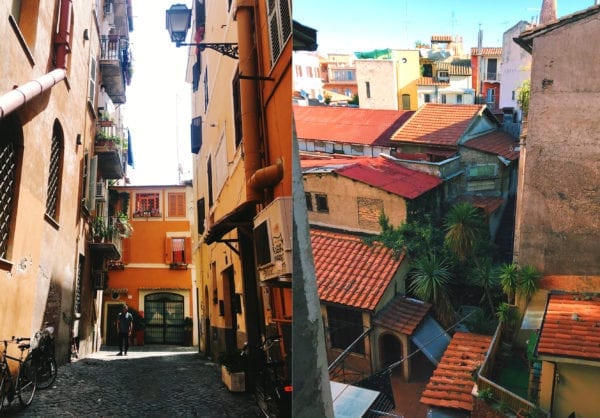 WHERE DID WE STAY:
We were only in Rome for a short time, but we made sure to every single moment of it. We stayed In the cutest, hippest, dang neighborhood in Roma - Trastevere! Best of all, our spacious 3 bedroom airbnb was super affordable and located in the middle of a super central piazza. There are tons of delicious restaurants, bars, bakeries, gelato places and boutiques in this lively neighborhood and we highly recommend staying here! And if you're traveling with just two people, we recommend this sweet loft that we stayed at last year.
WHERE DID WE EAT:
We landed super late but found this amazing restaurant, Tonnarello, which doesn't close until like 3 in the morning. It's not at all late-night drunk people food, it's actually really fresh high quality cuisine with a fun vibe and friendly waitstaff. It was so funny because they kept bringing us free shots and free apps because, turns out, they thought Jeremy was a famous movie star!
After that, we got some super swank cocktails at this little speakeasy called Nija Cafe. We liked this artsy little spot about 100 times better than the #1 ranked speakeasy in Rome, The Jerry Thomas Project. As a nightcap, we finished by getting some amazing ricotta and pomegranate gelato from Gelateria Alla Scala which is below our airbnb. Then we passed the fuck out.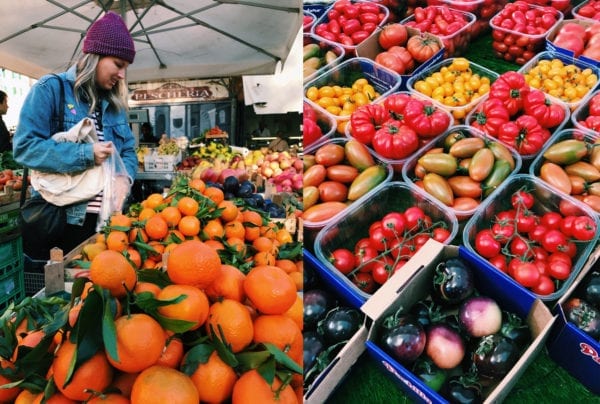 For our first breakfast, Jerm and I headed over to the Trastevere farmers market in the Piazza di S. Cosimato and picked up some fresh fruit. Then we stopped and got some cappuccinos and pastries from the coffee shop next door. The rest of the family was still sleeping, so we brought everything up, created a big beautiful spread of fresh oranges, plums, pistachio croissants etc, and let everyone feast while they were getting ready/recovering from our red eye flight.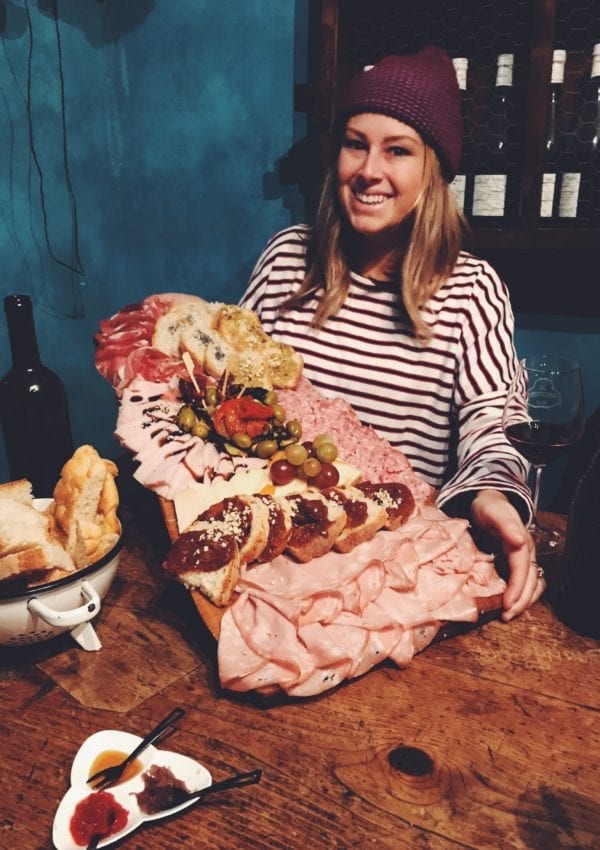 After that, we explored a bit, grabbed a little pre-lunch porchetta sandwich at La Salameria. Then we headed to one of the coolest places I've ever been to in my entire life - La Prosciutteria! Now if you know me or follow me on insta, you know my life revolves around cheese plates! I mean, just look at that spread above!! This place should be crowned cheese queen!!! And best of all, 4 super cute cheese plating babes made us this insane spread which was paired with local wine. It was super affordable, too! I seriously dream about this place and cannot wait to come back!
After a bit more exploring, we headed over to one of Jerm's favorite spots for a little pre-dinner snack -- Dar Poeta for a squash blossom pizza and their signature ''zah loaded with buffalo mozz, spicy salami and zucchini. Then stopped by Bar Latteria for our favorite suppli (risotto balls filled mozz and chicken gizzards) in the world.
After drinking a few more bottles of wine in our flat, we headed to our ALL TIME FAVORITE SPOT in Trastevere - Da Enzo! We literally ordered everything on the menu, drank a million carafes of wine, and filled our bodies full of the best Roman food we could have ever imagined... and best of all, it was only like 130 euros for the 6 of us which was totally insane. Word to the wise, this place fills up so be sure to get there early to avoid the wait, or don't and enjoy the free wine they give you while you wait!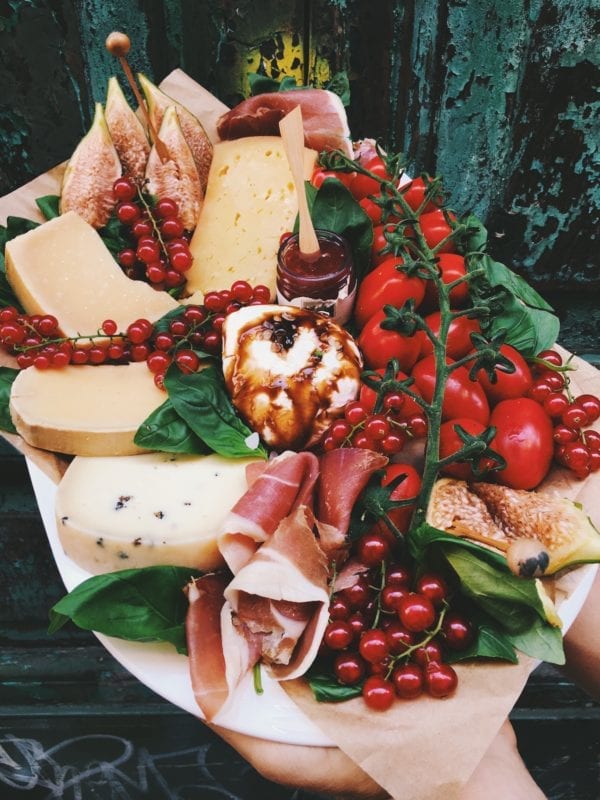 WHAT DID WE DO?
Beyond eating, we made the most of our full day in Rome by hitting all the historical spots in the limited time we had. This was a total self-made free walking tour that we created and I totally recommend this to anyone who's never been here before.
My fitbit recorded almost 30,000 steps that day which was insane but also makes perfect sense bc I didn't gain a pound even though i ate every single thing I could without hesitation! I owe it to all the steps and stairs which kept all the pasta, wine, and cheese off my hips. V into how that worked out!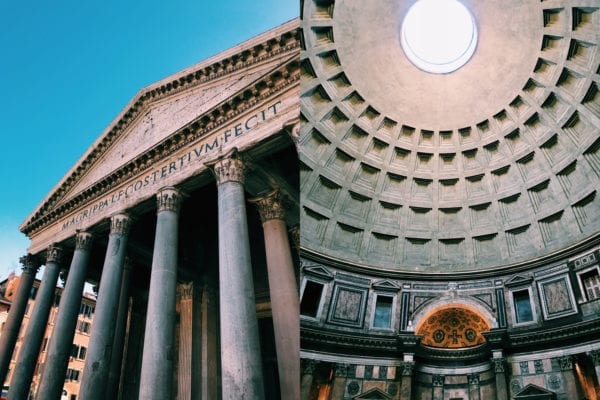 First we headed over to the fast-paced market, Campo Di Fiori, (where I made that beautiful cheese plate, last year, above) to see local food purveyors slang their provisions. From truffles, to cheeses, to fruits and veg, this place really had it all but with a slight-touristy vibe that we didn't mind at all.
After that, we walked a few blocks to Piazza Della Rotonda to see the awe-inspiring Pantheon! There is totally something spiritual about this place. My mom started bawling the second we walked in and when I looked around, I noticed that we all had chill bumps. It was so cool!!!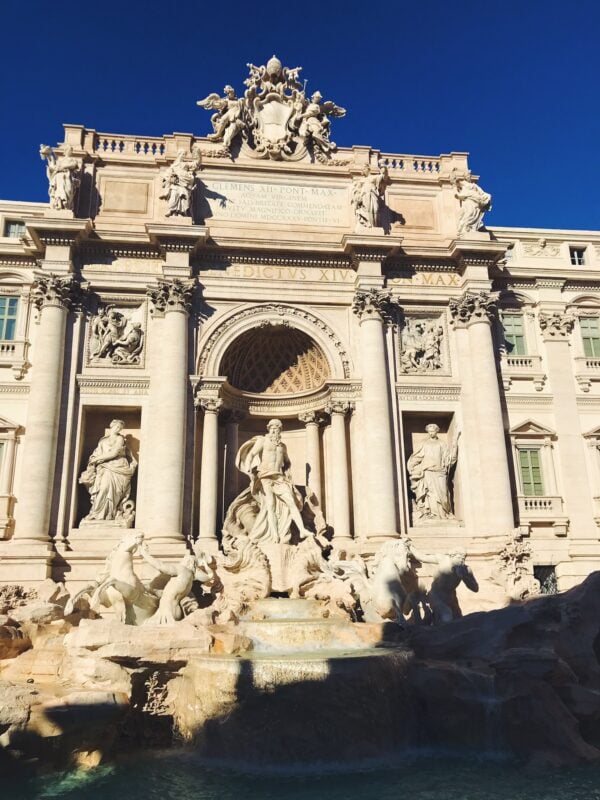 After that, we walked a few more blocks to The Trevi Fountain and tossed some coins into the water with hopes of returning to this mythical place. The fountain is grand AF and although it's full of people with selfie sticks, you definitely have to see this fountain. You'll love it, promise.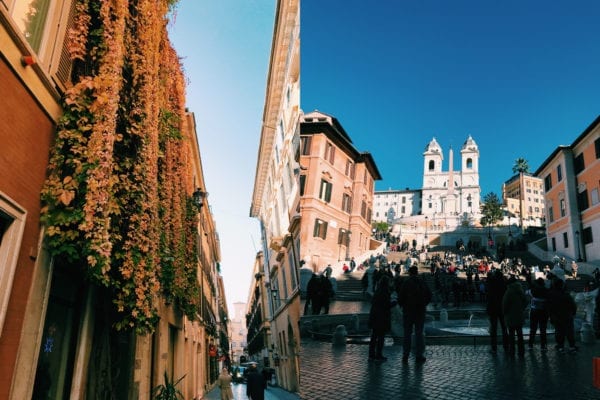 15 minutes of walking later, we made it to the fanciest of fancy shopping areas - The Spanish Steps! The steps themselves are beautiful and historical and all that great stuff but it didn't hurt that the streets surrounding it were loaded with high end shops. Not that I could afford any of it nor did I want to, but it was super cool to walk around and see all the fashionistas doing their thing on the cutest little ivy laced streets.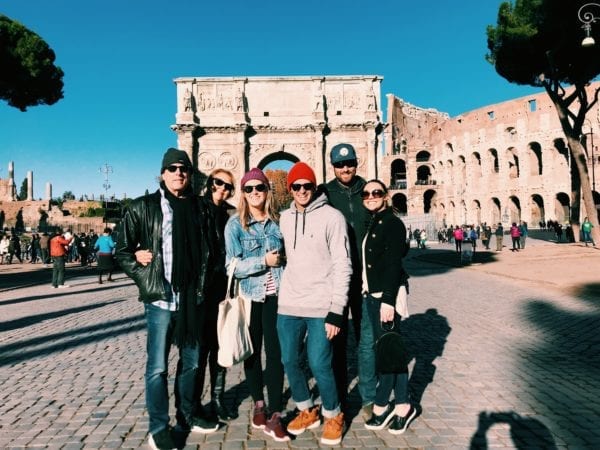 After that, we headed back to our 'hood to eat lunch at La Proscuitteria and then headed north to The Colosseum. Most of us had been there before so we didn't feel like waiting in line. We simply walked around the structure, visited the ruins, and viewed everything from afar. It was perfect and it didn't take up too much time. After that, it was time to head back to our airbnb, get ready for dinner, and pack up for our trip. We were heading to The Amalfi coast at 6am the next morning.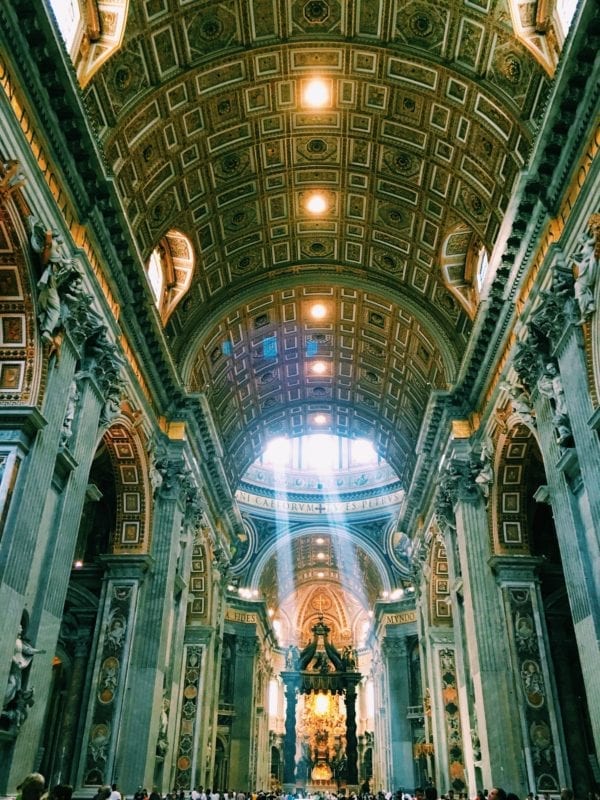 Oh, and of course you should see the Vatican when you visit Rome. Since most of us had done that before, we just drove past it on our way to Amalfi. You could totally have fit this into your schedule just make sure to do it early! Priorities, right?
Tune back in next week for the second installment of our Family Trip to the Amalfi Coast which features Positano and Sorrento. Or you can read about the third installment which covers the town of Amalfi and my engagement story!
Oh! You can also read all about our Amalfi Coast Inspired Surprise Wedding here!
xoxo,
GCS