If you're a foodie looking for the best restaurants in the Amalfi Coast, then you need to read my guide! It covers what to do on the off season, as well! You can also read about how we spent 24 hours eating in Rome. Or you can catch up on part 2 which is all about Positano, Sorrento, and the Path of the Gods Hike.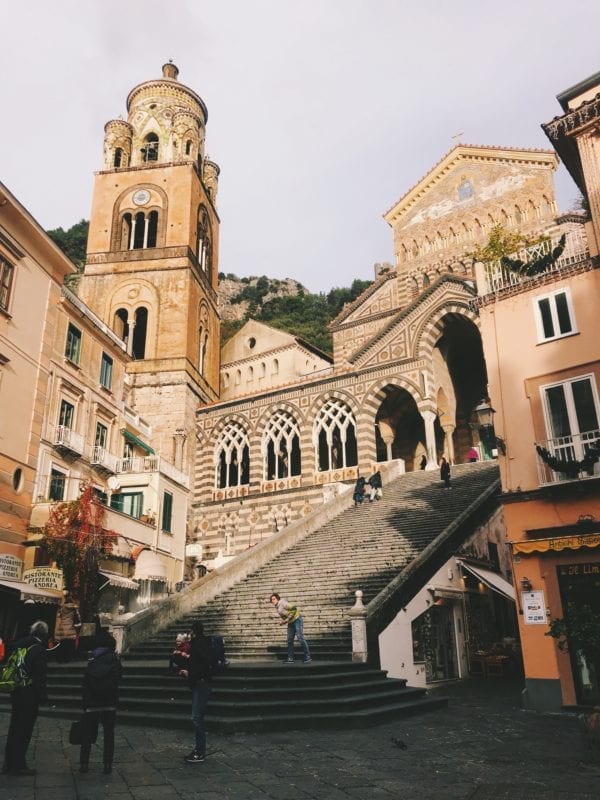 Amalfi, Italy
After our big hiking adventure from Positano to Priano (read about it here if you missed it!), we headed west to the little cutie pie town of Amalfi. This was probably the quaintest of all the places we visited and for that I absolutely adored it.
The bus ride on the other hand, was more than nauseating. Since there's only one major road that links all the towns along the coast, it's quite a crazy drive even during the off season.
The buses zoom along the steepest cliffs that you've ever seen while the cars are whizzing by. Each one narrowly missing the oncoming traffic. It's kind of stressful but if you drink a bottle of wine before the ride and/or don't look down, you'll be good to go!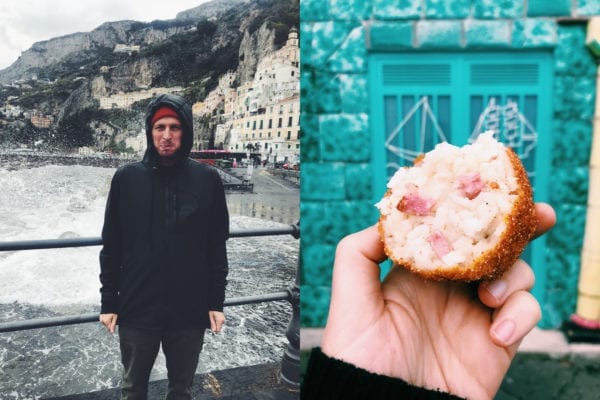 Poor Jerm got super car sick but luckily it was alleviated as soon as we stepped off the bus and were greeted by a little shop that sold alllllllllllll the fried things.
From arancini to croquettes, this little corner store fried up all the good stuff! In the picture above, Jerm was mid action - trying to swallow a big ball of arancini filled with rice, ham and cheese.
Nothing like fried cheesy food to cure an upset tummy, right?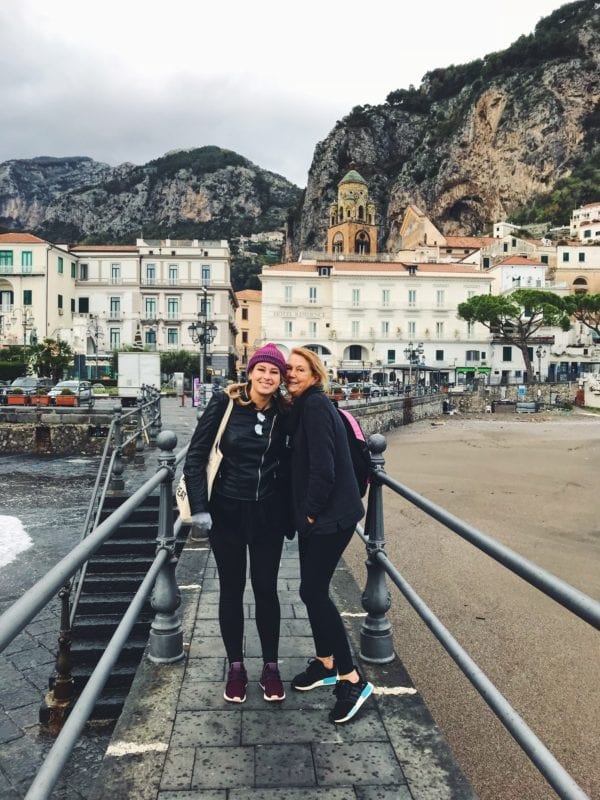 After exploring the little pier area with the fried food stalls, we walked through the town and did some touristy shopping.
Amalfi happened to be the cheapest of all the towns so we made sure to buy all our souvenirs and Amalfi Coast swag there.
My mom and Andrea, my brother's gf, got the cutest little Amalfi sweatshirt and a hat, I unfortunately was too busy trying to choose a restaurant which isn't surprising. It's how I roll.
But for those of you traveling to the Amalfi Coast, I'd recommend saving your money for Amalfi because it goes a lot further than Positano or Sorrento.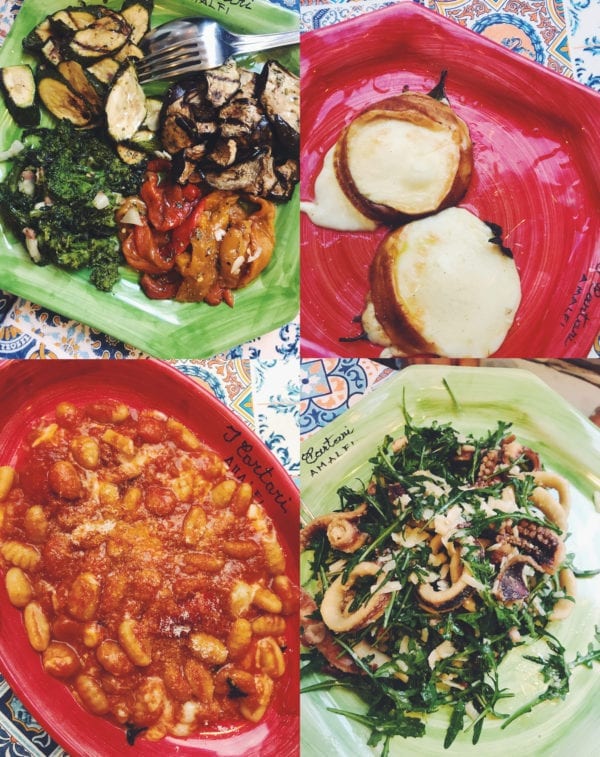 Where to eat in Amalfi
We had the best lunch at Trattoria Dei Cartari which was ABSOLUTELY AMAZING and probably one of my favorite meals of the entire trip.
We started with smoked mozzarella grilled on lemon leaves (a heavenly appetizer that's a staple in the area), then some fresh bruschetta and all the grilled vegetables you could ever want.
Then came the calamari salad (for everyone but me, wah), the cheesiest gnocchi, and lemon spaghetti (which I somehow don't have a picture of) which was so insanely delicious!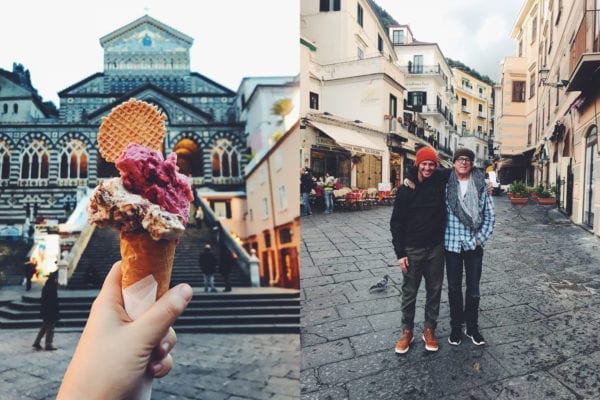 After that, we hit a wine store and got a case for 2 euros a bottle and did a little more shopping.
After that, I was on the hunt for gelato and was pleasantly surprised when we found Pasticceria Savoia where I got one scoop of kinder bueno bar gelato, and one scoop of young (yes teeny tiny baby strawberry studded) strawberry gelato.
Also, FUN FACT! While I was inside getting gelato, Jerm and my dad were plotting out how he was going to ask me to marry him later that night!
Little did I know when I saw them standing together like this - I just thought "aww cute!" when I snapped the picture. Lolzzz.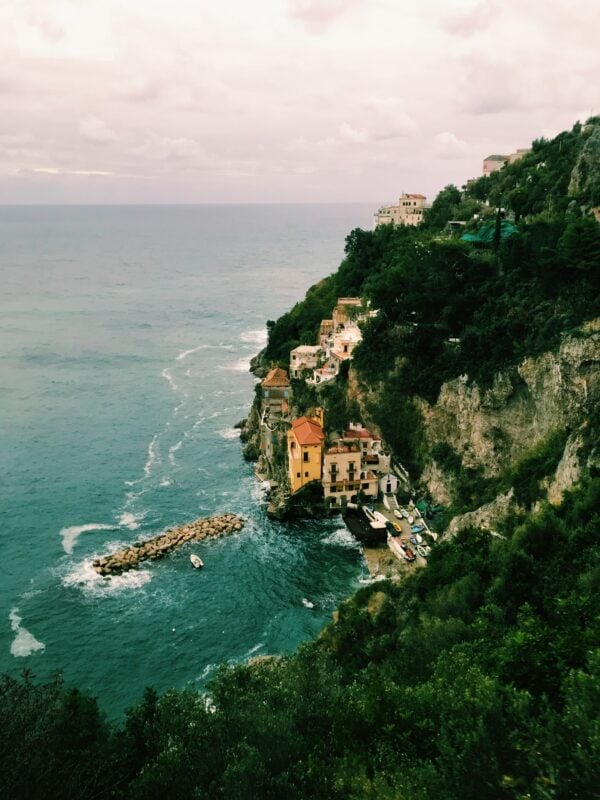 Getting engaged at the Amalfi Coast
Later that night, we took the bus back to Positano to have one last dinner at Ritrovo, which was the super fancy place that everyone had been talking about.
To get there, the restaurant sent a bus to pick you up and off you went, up, up, up and more up the mountain until we got all the way to the top.
When we walked in, they automatically handed us glasses of prosecco and put a small plate of Italian cheeses in front of each of us.
I automatically had a good feeling about this restaurant because of how perfect the first two minutes were! After that, we sat down and Jeremy started acting super weird. He kept hugging me and kissing me and telling me he loved me... but not in a normal way.
He was like smothering me while shaking uncontrollably and whispering in my ear. I honestly thought he was feeling a little off from the car ride or something.
Then it got even more weird. He kept cheers-ing to me and announcing how much he loved me... only to keep getting interrupted by the servers.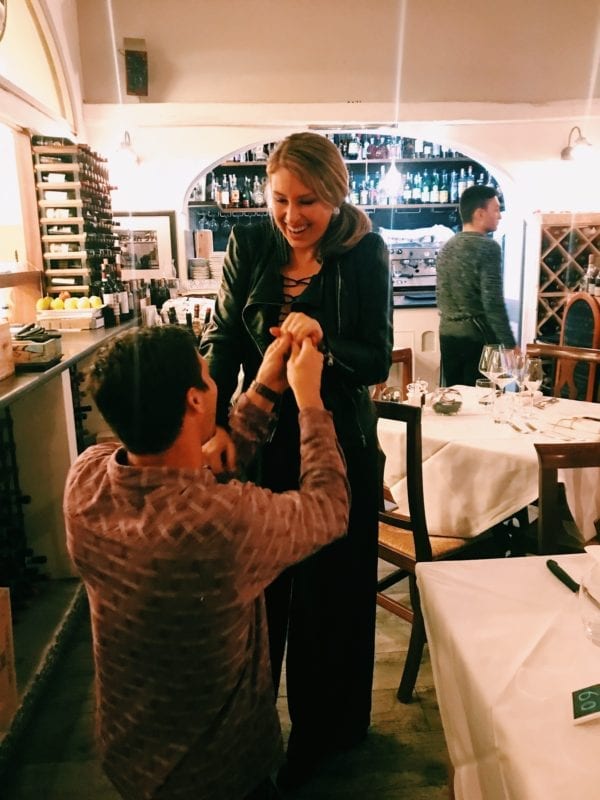 At one point, he stood up told me he loved me and said something in Italian.
Since neither of us speak Italian, I had no idea what he was trying to say.
As soon as I said "what" out loud, Jerm had his iphone to his ear, listening to something, and I was like WTF IS HAPPENING.
Apparently my dad told him he had to propose in Italian but he was so nervous that he kept forgetting how to say it.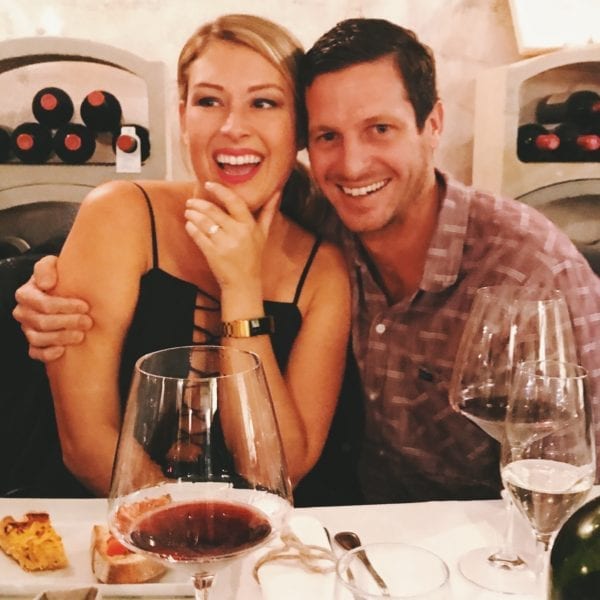 ...But the second time he tried to say it, all the Italians in the restaurant turned around and started smiling, cheersing and clapping.
At this point, I think I blacked out because I don't remember much... Until, he finally got down on one knee and said 'WILL YOU MARRY ME"... in English! I said "OMG YES DUH!!!" and the rest was history!
I had some truffle pasta for dinner and a bunch of yummy gooey chocolate things for dessert.
They also gave us a bottle of their house wine with the date on it so we could never forget that night. It was such a special end to the trip and I feel so lucky to have had my whole family there while eating all of my favorite foods with the love of my life.
This was the first picture we got as an engaged couple the next day which makes my heart all warm and melty. And if you'd like to see how and why this entire trip happened, be sure to watch the Cheesier episode of Guy's Grocery Games.
It could have not have happened without everyone on that show and for that, I AM SO FREAKIN GRATEFUL!! Thank you so much Food Network!!
I love you and I love love! And I friggin' love my ring!!
If you'd like to read more about our trip, you can check out the first 24 hours in Rome. Or click here to read about Part 2 which is all about Positano, Sorrento and The Path of the Gods hike!
And you can also read all about our Amalfi Coast Inspired Surprise Wedding here!
xoxo,
GCS