Jump to Recipe
This Easy Cake Mix Banana Bread is perfect if you're looking for as simple yet delicious recipe. All you need is a box of vanilla cake mix, some over ripe bananas, and some pantry staples. It's so easy, even I can do it and (full disclosure) I'm terrible at baking! Oh, and when you add the honey butter with smoked sea salt, you'll love it even more!
Upgrading My Mom's Easy Banana Bread Recipe
If you've been following me for a while, you know i'm no bueno at baking. Sure, I love to eat literally ALL the baked goods (especially these blueberry lemon ricotta bars) but when it comes to measuring, I immediately black out and mess everything up.... Which is why I'm sharing this easy banana bread recipe that my mom uses all the time!
Which makes me think... Maybe I should start a series featuring baked goods recipes for people who suck at baking? What do you think?
Rather than measuring out a bunch of ingredients, all you have to do is mix some store-bought cake mix with overripe bananas and a few other ingredients that you most likely already have on hand. The results are literally fail-proof and out of control delicious.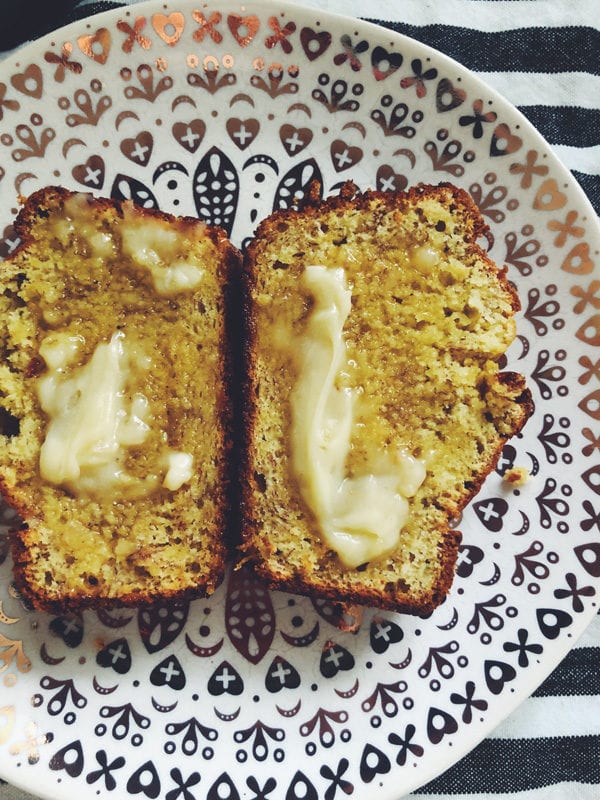 So what makes my banana bread different than my moms? As a kid, I was obsessed with the chewy crunchy crust of monkey bread so I wanted to infuse that textural element into this recipe!
By adding a little bit of butter, brown sugar and cinnamon to the bottom of the loaf pans before they bake, the crust will develop into that familiar monkey bread toffee-like shell. It's a simple trick that led to some of the best banana bread I've ever made! One of my neighbors even said it was the best he's ever had!
I recommend serving it for brucnh along with these asparagus and prosciutto puff pastries and these konbi-inspired egg salad sandwiches!
How to Make Banana Bread using Cake Mix
Making quick banana bread is super easy if you use the cake-mix method. Instead of measuring out flour, sugar, baking soda, etc, just use a box of your favorite yellow cake mix!
To begin, you'll want to preheat your oven to 350F. Then, mash 3 to 4 over ripe bananas and mix them with 2 eggs and a little bit of bourbon extract. I recently bought Trader Joe's bourbon vanilla extract and I love it - it adds so much flavor!
But if you don't have it, don't you can easy skip it since the cake-mix will have plenty of flavoring.
After that, simply whisk in the cake mix and continue stirring for about 2 minutes. It will still be slightly chunky from the bananas. However, you don't want there to be clumps from the cake mix.
Now that the mix is ready, grease 2 loaf pans and then add 2 tablespoon of chopped up butter to each one. Then, sprinkle each pan evenly with the cinnamon and brown sugar.
Pour the banana cake mixture into each baking pan about half way so it has room to spread. Bake for 40-45 minutes or until the cake is cooked through when you stick a toothpick in it.
How to make Honey Butter with Smoked Sea Salt
If you want a super tasty spread to go with this moist banana bread recipe, then you need to make this smoked sea salt honey butter!
I love how this creamy sweet butter spread has tiny flecks of smokey salt crystals. It's the perfect contrast to the sweet, crunchy, chewy crust on this banana bread. This stuff is so good you could even smear it on this french toast with caramelized bananas!
Simply add high quality tupelo honey (or any honey you love!) to some room temp butter then add a sprinkle of Maldon's Smoked Sea Salt Flakes. Mix it up with a fork then spread it on for a delightful snack!
Easy Banana Bread Recipe
Recipe
Cake Mix Easy Banana Bread with Brown Sugar Crust
This delicious and easy banana bread recipe with honey butter uses store bought cake-mix and has monkey bread style crust made with brown sugar & cinnamon!
Print
Pin
Ingredients
FOR THE BANANA BREAD
3-4

large

over ripe bananas

½

teaspoon

vanilla extract

2

large

eggs

1

box

yellow cake mix

4

tablespoon

cold butter

¼

teaspoon

cinnamon

4

tablespoon

light brown sugar
FOR THE SMOKED SALT HONEY BUTTER
3

tablespoon

butter

2

tablespoon

tupelo honey

2

pinches

smoked sea salt
Instructions
FOR THE BANANA BREAD
Preheat oven to 350F.

Combine over ripe bananas, eggs and vanilla extract in a large bowl and mash until slightly chunky yet mostly smooth. Whisk in the cake mix for about 2 minutes. The batter should be pretty smooth but with a little bit of chunkiness because of the bananas.

Chop butter into tiny cubes and grease 2 loaf pans. Sprinkle each pan evenly with butter cubes, cinnamon and brown sugar. Pour in the banana bread mixture half way and bake for 40-45 minutes or until the bread is cooked through. Test by using a toothpick.

Remove banana bread from the loaf pans immediately and let it cool for 10-15 minutes before smothering it with honey butter.
FOR THE SMOKED SALT HONEY BUTTER
Mix together butter, tupelo honey and smoked sea salt the serve.
And if you'd like to save this easy banana bread recipe for later, pin it below!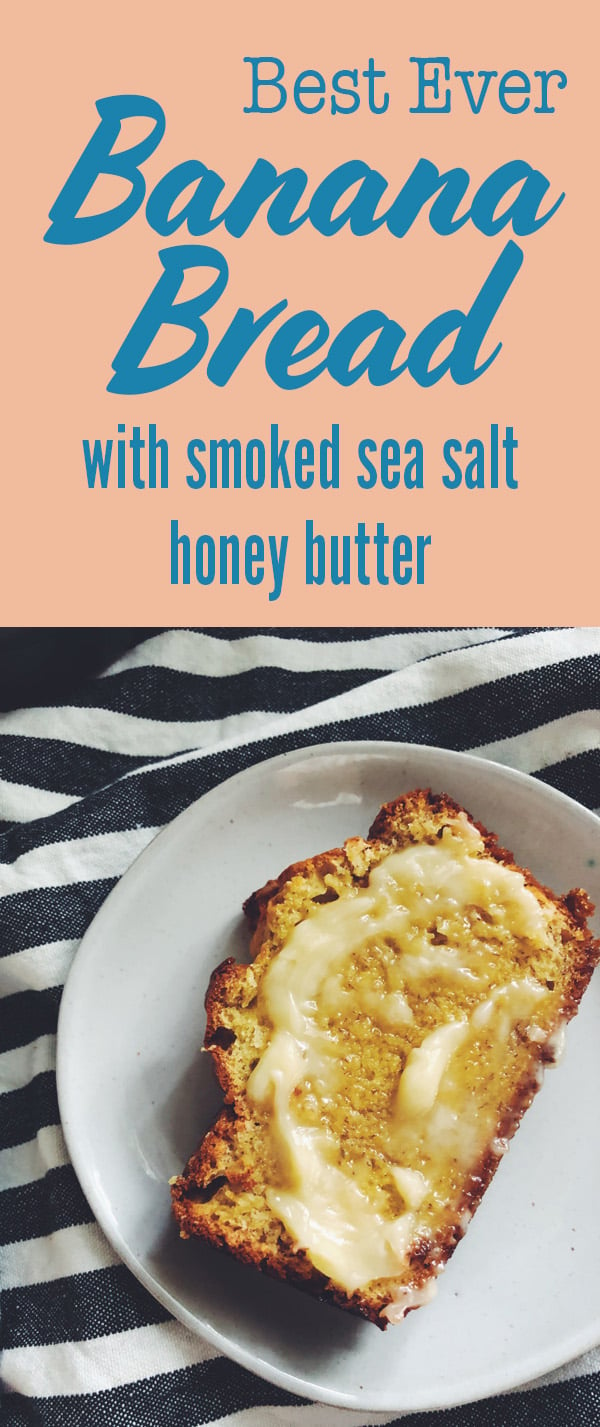 xoxo,
GCS