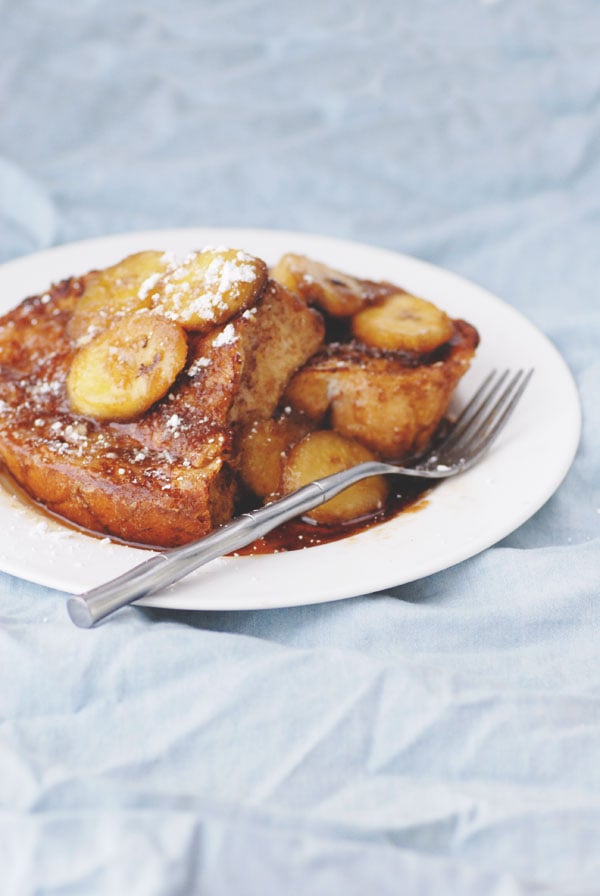 I'm not normally a French Toast kind of gal, but the other night something super magical happened. My friend and I had just got done catering an event and decided that we needed to go out and shake our booties and take a few tequila shots. But to our dismay, nothing was going on. We trotted around the Bedford stop, only to realize "Shit, what happened to this area? It sucks now." We kept walking, spirits still high, eyes set on the prize, desperately trying to find somewhere - anywhere with some good music and hot dudes.
To escape the douchetown that was once formally known as Bedford Avenue, we stumbled past McCarren Park and into Greenpoint - stopping at Manhattan Inn. This dimly lit piano bar is normally a super fun place to dance but it was so dead that we almost became skeletons. After that, we decided to make our way toward Enid's, a notorious dance spot that also serves a non-wait-list-brunch featuring a good veggie burger with bacon and blue cheese for brunch. Funny, right? It's one of those places that make you feel like "Hmm, maybe I shouldn't eat a huge breakfast right here, I think I saw someone fucking in this same spot last night" type of thing. Anyways, on the way to Enids, we passed Warsaw Bakery, a neighborhood landmark that constantly pumps out starchy sweet fumes in the middle of the night that just make you want to curl up in a little ball and eat bread for the rest of your life.
Every single time I pass by, I try to steal a loaf stick my head in and see if someone will pass me a freshly baked nugget of bread-y goodness... Which of course never works. But this time I got lucky. There was a tall, skinny man in there, all alone, just waiting for my friend and I to flash him hahah jk, we didn't flash him... but we did beg and plead for him to toss us a hot loaf. To our surprise, he did! This is the second time in history that I've been lucky enough to receive the Warsaw Bakery Drunk Girl Award. And as I was holding the steaming carb baby, I started to feel like I had won the ultimate prize and I didn't even care about trying to find someone to go home with.
No matter where we went for the rest of the night, I never let my bread baby out of sight. I hid it behind chairs, behind tables, and under newspapers - anywhere to keep my little angel safe. I even carried it home on a 20 minute walk, delicately cradling it in its ripped up brown paper bag blanket. The next morning, as I was getting up to get an advil and a glass of water, a smile grew across my face like a proud mother as i saw the disgusting brown paper bag that had been aggressively ripped open by a really hungry man-boy that tried to come home with me and my bread. The torn up bag was still protecting the half eaten remainders or whatever type of bread it was and from that moment on, I knew I had to use the remaining bits for breakfast. And since I was craving sugar and didn't have another body to feed, I decided to pig-out on a super dank breakfast of French Toast with Salty Caramelized Bananas. I didn't even care that I never made it home with a boy, I had my bread and my breakfast and that's all that mattered.
French Toast + Salty Caramel Bananas
Ingredients
2 thick slices of semi-stale bread
⅓ cup of whole milk
1 Farm Egg
1 tsp cinnamon
splash of vanilla
⅛ tsp nutmeg
splash of bourbon
2 tbsp salty butter
2 tbsp brown sugar
banana, chopped
sea salt flakes
powdered sugar
Instructions
1. In a shallow bowl, whisk together egg, milk, cinnamon, nutmeg, vanilla, and .5 tbsp brown sugar. Set aside.
2. Place stale bread slices in the wet mixture and let them sit for about a minute until each side has had a chance to soak up a bunch of the custard-y sauce.
3. In a frying pan, turn the heat to medium and melt a pat of butter. As soon as it heats up, gently remove the bread from the wet mixture and place it in the frying pan, Allowing it to cook on each side for a few minutes until it's all golden brown and beautiful. When it's done on all sides, remove from heat and put on your serving plate.
4. In a small saucepan over medium-high heat, add the remaining butter, whiskey, and brown sugar and let it cook for a few minutes until it begins to bubble. Add in bananas and toss to coat with the caramel. After the bananas heat up and begin to take on some of the color from the sauce, pour the banana and caramel mixture over the french toast. Finish with a few sprinkles of maldon sea salt and a dusting of powdered sugar. Serve immediately with no regrets. Yolo.