These Blueberry Lemon Ricotta Bars with Lavender Shortbread are the perfect dessert. Not only are the lemon squares relatively easy to make, but they're out of control delicious, too! Sweet and tart yet creamy and rich, these easy lemon blueberry bars are unlike anything you've ever had before!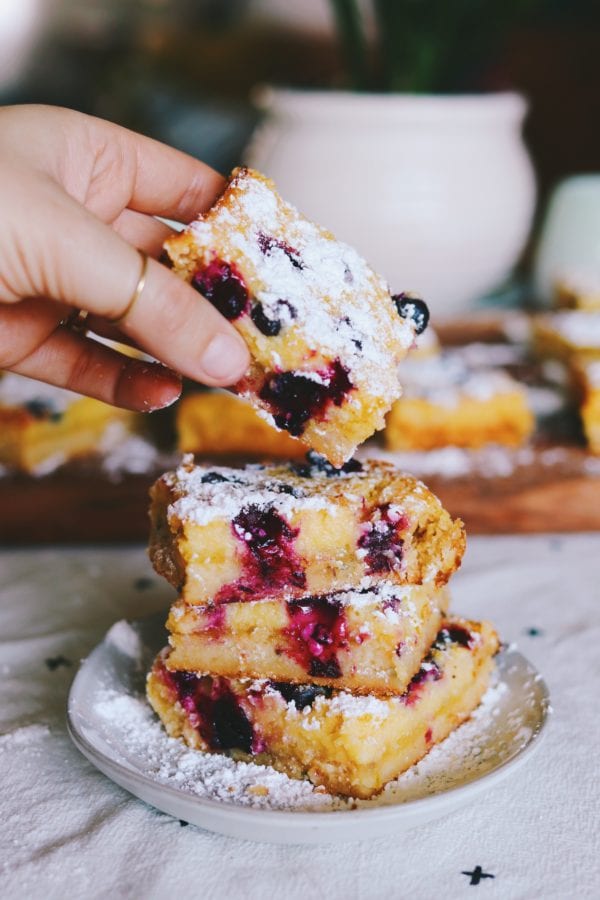 Blueberry Lemon Ricotta Bars with Lavender Shortbread
To say I'm not a baker is an understatement. Not only am I terrible at it, but I also dread doing so because I always mess things up.
That's why I'm beyond excited to share one of my first baked dessert recipes ever!
Say hello to my blueberry lemon ricotta bars with lavender shortbread! They're super easy to make, completely foolproof, and insanely delicious.
So let's talk about the flavors in these tasty babes! Unlike regular lemon squares, most of the flour is swapped out for ricotta which creates a less gummy, much creamier mouthfeel.
The blueberries add the perfect bit of sweetness to the tart lemon juice. And the faint lavender essence in the shortbread isn't overpowering at all.
It just gives the bars the perfect little hint of flavor. I prefer them served cold with powdered sugar on top but you could enjoy them warm, too!
How to make Lemon Squares with Ricotta
If I can make these easy lemon bars with ricotta, you can too!
To begin, you will need to make a shortbread batter in your mixer. When mixing the crust, you can add a variety of flavors like lavender, thyme or rosemary.
Once the crust is ready, pat it into a greased parchment paper lined baking dish. Then chill them for 10-15 minutes, at the most, in the freezer.
Now it's time to par-bake the shortbread crust. Bake it at 350F for 15 minutes then remove it from the oven. Set aside.
Now that the crust is partially baked, it's time to let it sit.
This is a vital part of the process as it gives the crust time to de-poof and settle. If you pour the filling in too soon, you can mess up the crust... which I have done before!
So while you're waiting for it to cool a bit, create your lemon bar mix filling.
Unlike regular lemon bars, these lemon ricotta bars swap out most of the flour for fresh ricotta. Just be sure that the ricotta is not too watery or this will effect the texture.
Once you mix up the filling, carefully pour it on top. You can also add fruit like blueberries, raspberries or blackberries at this time.
Once it's ready to go in the oven, drop the heat down to 325 and place the baking dish in. Bake for 30-35 minutes or until the filling is slightly firm to the touch.
Before dusting with powdered sugar, put the bars in the fridge and allow them to cool for two hours. Personally, I think they're better cold but you could enjoy them warm, too!

Recipe: Blueberry Lemon Ricotta Bars with Lavender Shortbread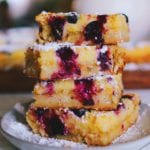 Print Recipe
Blueberry Lemon Ricotta Bars with Lavender Shortbread
Sweet and tart yet creamy and rich, these lavender blueberry lemon ricotta bars are unlike anything you've ever had before! Not only are they relatively easy to make, but they're out of control delicious. This recipe is a
dapted from Food52 and Barefoot Contessa.
Ingredients
For the Lavender Shortbread
2 sticks salted butter

room temp

½ cup granulated sugar

¼ cup packed light brown sugar

1 tbsp dried lavender

2 cups all-purpose flour
For the Lemon Ricotta Bars
1 cup ricotta

4 large eggs

whisked

1 ⅓ cup granulated sugar

3 tbsp all-purpose flour

2 tbsp lemon zest

⅔ cup lemon juice

seeds removed

¼ tsp salt

½ cup fresh blueberries
Instructions
For the Lavender Shortbread
Preheat oven to 350F. Add a piece of parchment paper to a 13x9-inch baking dish and spray with nonstick.

In an electric mixer, cream the butter, sugar, brown sugar, and lavender together using the paddle attachment until light and fluffy. Slowly add in the flour, little by little, until it's just mixed. Place the dough ball on a floured cutting board and pack into a ball.

Flatten the dough with floured hands and press it into the parchment lined baking dish, building up a ½-inch edge on all sides. Pop the whole thing in the freezer for 10-15 minutes or until chilled.

Bake the crust for 15 minutes, or until very lightly browned. Remove from the oven and set aside until filling is ready. Leave the oven on.
For the Lemon Ricotta Bars
Once the par-baked shortbread crust is out of the oven, then begin the filling for the Lemon Ricotta Bars. You'll need this time for the shortbread to cool off and flatten.

In a large bowl, whisk together ricotta, eggs, sugar, and flour. Next, stir in lemon zest, lemon juice, and salt until smooth and creamy. Mix one last time before slowly and carefully pouring over the shortbread mixture. Carefully sprinkle blueberries on top and bake for 30 minutes or until slightly firm.

Remove from the oven and let cool for at least 2 hours. Cut into squares or triangles and refrigerate until chilled. Dust with powdered sugar before serving.
Notes
Be careful when adding the lemon ricotta filling to the crust. Since it is a delicate crust, you don't want the liquid to tear the crust apart. To avoid this, pour low and slow.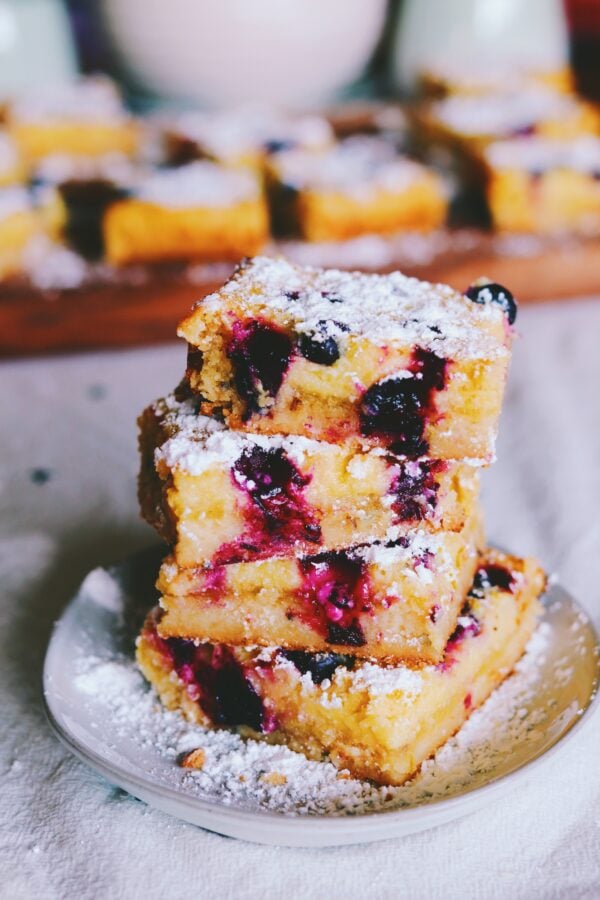 If you like this easy lemon squares recipe, you might like one of these, too!

Blistered Blueberry Grilled Cheese with Brie and Basil - Creamy brie, luscious mascarpone, sweet and tart blistered blueberries, and fresh earthy basil come together between a crispy buttery bagel. I think it's the perfect dessert grilled cheese!
Brown Butter Churro Rice Krispies Treats - These treats are not only ridiculously addicting, but they're super easy to make! A quick dusting of cinnamon sugar adds so much flavor to these childhood treats and when you use infused cannabutter, I can guarantee that the adults-only version is even better!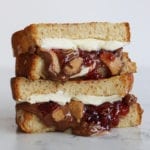 Chocolate Peanut Butter Grilled Cheese - Melt down Chocolate peanut butter candy with mascarpone, brie and raspberry jam. The result will be a sweet tart utterly irresistable treat!
Oh, and of you haven't checked out my new cook book, you totes should!
And if you'd like to save this recipe for later, pin it below!
xoxo,