You've probably seen Konbi's iconic Japanese Egg Salad Sandwich all over instagram lately. This sandwich has a medium boiled egg exposed in the middle which not only makes it look super cool, but ultra delicious, too! My version of Konbi's Egg Salad Sandwich has fresh herbs + sriracha -- Making it the perfect egg-centric appetizer recipe for Easter!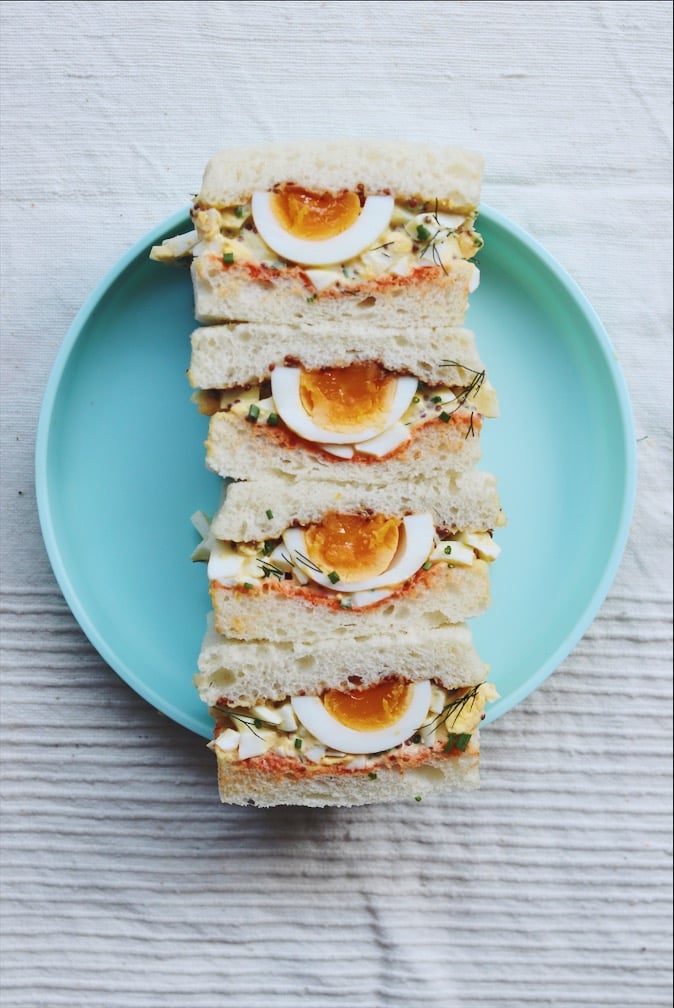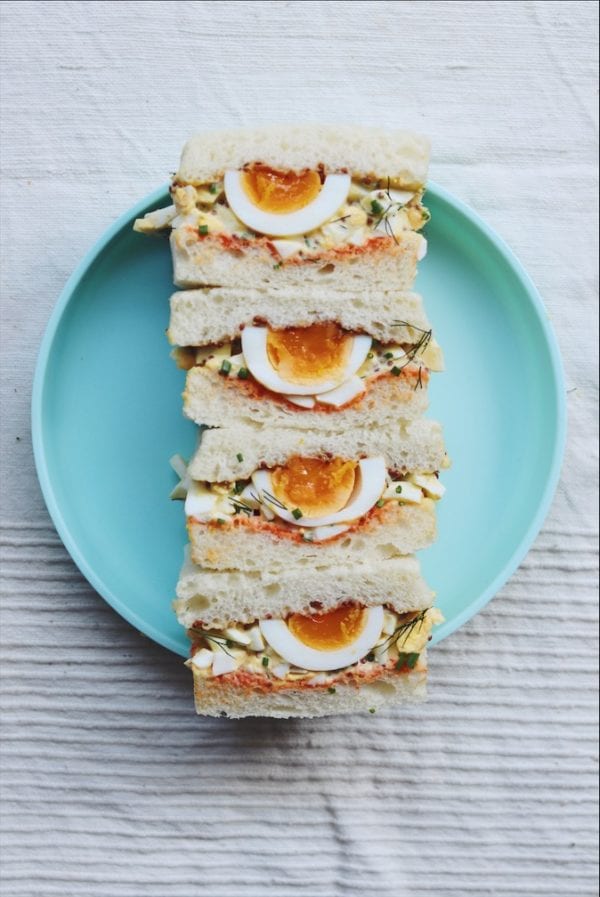 Jump to:
Konbi Egg Salad Sandwich
With Easter fast approaching, I've been scouring the internet for the perfect egg salad sandwich recipe.
Without even realizing, I noticed that I had been seeing Konbi's instagram-famous egg salad sandwich all over my feed.
And since I don't live in LA, I figured I should probably read all about it so that I could recreate my own version to share with y'all!
You can find the original recipe on NYTimes but my version is modified to be a little more colorful and flavorful.
My adaptation of Konbi's Japanese egg salad sandwich has fresh herbs, sriracha and grainy mustard.
It's rich, creamy, and so so sooo dreamy! And best of all, they make a gorgeous artistic centerpiece when lined up down a table.
These cute little egg salad sandwiches were a huge hit with my family... even for my friend Adina who hates sriracha. That being said, I would highly recommend bringing these to any Easter or Springtime get-together!
They look like they're fancy but they're honestly super easy to make! And if you've never made medium boiled eggs before, it might be a good idea to add a few more eggs into the boiling water in case you mess some up!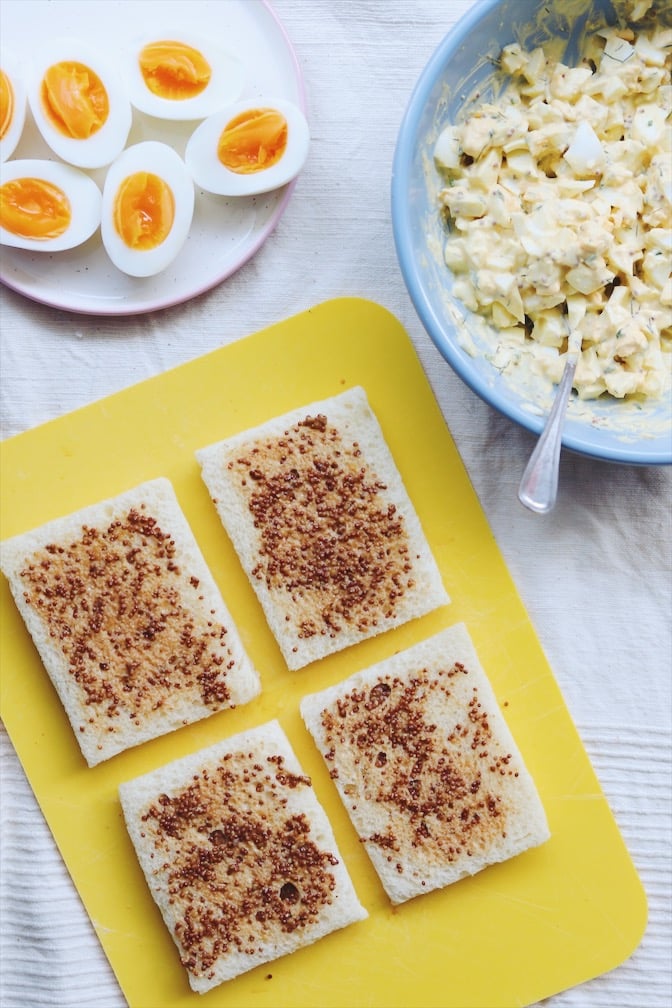 How to make a Konbi Inspired Egg Salad Sandwich with Fresh Herbs + Sriracha
Making this Japanese Egg Salad Sandwich is super easy! To begin, you'll want to get a pot of water boiling. Add 8 eggs, then let the water return to a boil before setting a timer for 8 minutes.
If you've never made medium boiled eggs, then add a few more eggs in there in case you mess it up.
Once the buzzer goes off, remove two of the eggs from the boiling water and shock them in ice cold water. This will help keep them at their perfectly jammy consistency.
This will be the centerpiece of the sandwich so it's important to not over or undercook them.
Continue boiling the remaining eggs for four more minutes.

In the meantime, mix kewpie mayonnaise, rice wine vinegar, grainy mustard, dill and chives in a small bowl and set aside.
When the other eggs are done, remove them from the boiling water, peel them, and roughly chop them. Add the chopped eggs to the sauce and mix then set aside.
Next, cut the crusts off of eight slices of white bread. Smear four slices with grainy mustard.
Then, take the two medium boiled eggs from step 1 and peel them. Cut them in half, lengthwise and place them yolk-side-down on top of the mustard-smeared bread.
Check out the image above if you're confused. Now, pile on the remaining egg salad from the bowl to surround the halved medium boiled eggs.
Lastly, smear sriracha on the remaining four slices of bread and put them on top, sriracha-side down.
Using a serrated knife, cut the sandwiches down the width to expose the beautifully cooked egg in the middle. You can also check out my instagram story highlights for step-by-step photos.
Oh, and if you think they look ugly when you cut them, just flip the sandwich over and cut them from the other side. Sometimes the grainy mustard gets smeared into the yellow egg yolk and it doesn't look to appetizing. This won't happen if you cut it from the sriracha side!

RECIPE: Konbi Inspired Egg Salad Sandwich with Fresh Herbs + Sriracha
Recipe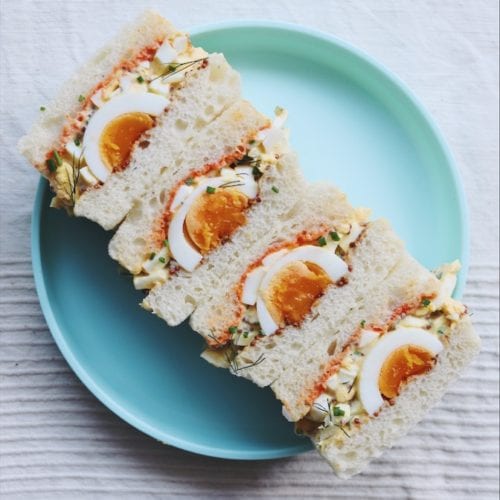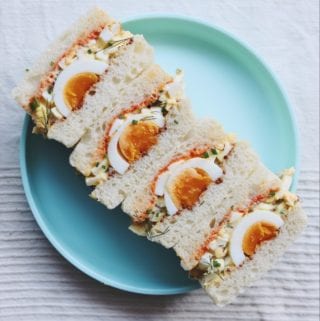 Konbi Inspired Japanese Egg Salad Sandwich with Fresh Herbs + Sriracha
This Japanese egg salad sandwich is inspired by Konbi's insta-famous egg salad sandwich. What makes it so different? The medium boiled egg in the center is what makes this sandwich so fun!
Print
Pin
Ingredients
8

eggs

2

tablespoon

kewpie mayo

2

teaspoon

rice wine vinegar

1.5

teaspoon

grainy mustard

plus more for the bread

1

tablespoon

dill

roughly chopped

1

tablespoon

chives

finely diced

8

slices

white bread

crusts cut off

1

tablespoon

sriracha

salt and pepper
Instructions
Bring a large pot of water to a rolling boil. Carefully add in eggs, one by one. When the water returns to a slight boil, set your timer for 8 minutes. In the meantime, fill a small bowl full of ice water.

Meanwhile, in a small mixing bowl, add kewpie mayo, rice wine vinegar, grainy mustard, dill, chives, and salt together. Mix until incorporated and set aside.

When the timer goes off, remove only two of eggs and place them in the ice bath. These will be your medium boiled eggs. Set another timer for 4 minutes and let the remaining eggs cook until timer goes off.

Crack and peel the skin off of the 6 hard boiled eggs but keep the medium boiled ones that you pulled out earlier to the side. Roughly chop the hardboiled eggs and place them in a bowl. Add the sauce mixture and season with salt and pepper and set aside.

Line up four pieces of white bread with the crust removed and smear some grainy mustard onto each one. Crack and peel the two medium boiled eggs and slice them down the middle lengthwise. Place each half of the egg on the mustard-smeared toast so that the narrow tips of the eggs are parallell to the longest side of the bread. (see picture above). Pile the egg salad all around the medium boiled egg so that it covers it.

Smear sriracha on the other slices of crustless bread and place them on top, sriracha-side down. Use a super sharp serrated knife and cut the sandwiches in half to show off the medium boiled egg in the center.
Notes
If you cut into the sandwiches and they look ugly, simply flip the sandwich before cutting so that the brown mustard doesn't smear into the egg yolk and make it unappetizing.
If you don't have kewpie mayo, you could use another variety like Duke's!
If you like these Japanese egg salad sandwiches and want even more fun Easter recipes, check these out!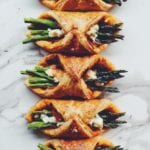 Asparagus and Goat Cheese Puff Pastries - These baked asparagus puff pastries are filled with goat cheese, prosciutto, and sun dried tomato spread. They're the perfect flavorful little appetizer bundles for brunches, dinners, and special occasions. I love them served warm but they're pretty great at room temperature, too!
Fancy Italian Finger Sandwiches aka Tramezzini -Tramezzini are Italian finger sandwiches that are filled with combinations. These tasty sandwiches come with a variety of fillings, and I've created quite a few! To make them authentic, you'll need to start with soft white bread and my homemade Italian Mayonnaise recipe below!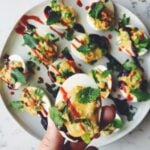 Pho-Inspired Deviled Eggs- These Vietnamese pho-inspired deviled eggs are the freakin' bomb. They're spicy, sweet, funky, sour + super aromatic – basically all the good things in the world!
I think you might also be love my new cook book, too!
xoxo,
MacKenzie aka GCS