If you love margaritas and avocados, then you will love this Avocado Margarita from Disney! Until recently, this famous cocktail was only found at La Cava in Epcot's Mexico Pavilion. But now, it's available at Frontera Cocina in Disney Springs, too! I spoke with Disney's Tequila Ambassador, Hilda Castillo to get the authentic recipe!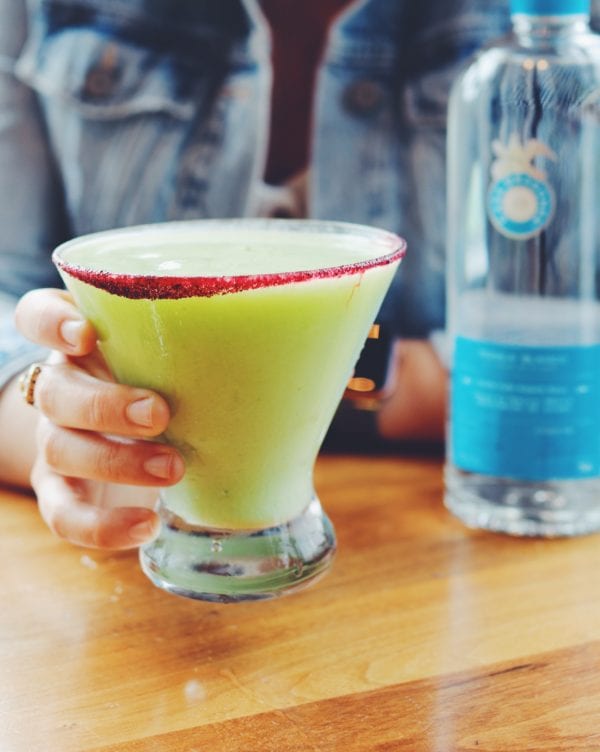 La Cava's Avocado Margarita
I've been obsessed with La Cava's Avocado Margarita since I visited Epcot a few years ago. Since then, I've been endlessly trying to recreate this creamy margarita myself!
Every recipe that I found on the internet tasted great but something was missing.
That's why I'm excited to announce that I've finally got the REAL recipe straight from Disney's Tequila Ambassador, Hilda Castillo, at La Cava del Tequila!
Yesterday, I went live on instagram at Disney Spring's Frontera Cocina where I interviewed Hilda for National Margarita Day. She's Disney's head tequila ambassador and all around expert!
Trust me on this one, all of La Cava's margaritas are perfect! And although I have a special place in my heart for the avocado margarita, I recommend trying a few different varieties or even a tequila flight!
Check out the interview at the end of this post to hear what else she has to say!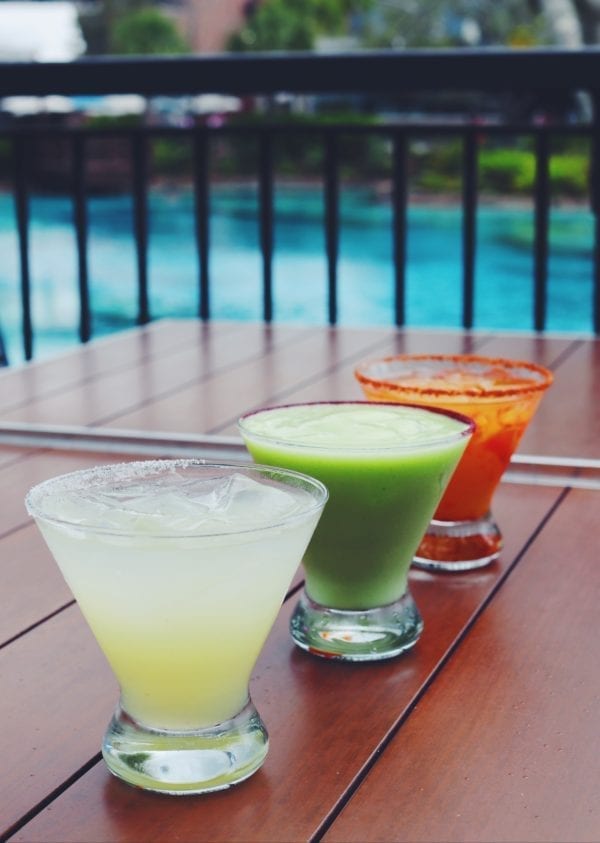 How to Make Epcot's Avocado Margarita
Making Epcot's Avocado Margarita is super easy! First, gather all the ingredients and set up your work station.
You will need a blender and clear tequila, fresh avocado, melon liqueur, orange liqueur, agave nectar, lime, ice and hibiscus salt.
First, add ice, avocado, lime juice, clear tequila, melon liqueur, orange liqueur and agave in a blender.
Pulse it on high until the ice is broken up and the margarita is smooth and creamy.
Run a wedge of lime around the rim of the cup and then dip it in hibiscus salt.
If you don't have hibiscus salt, you could use regular salt as well. Pour the margarita into the cup and serve immediately.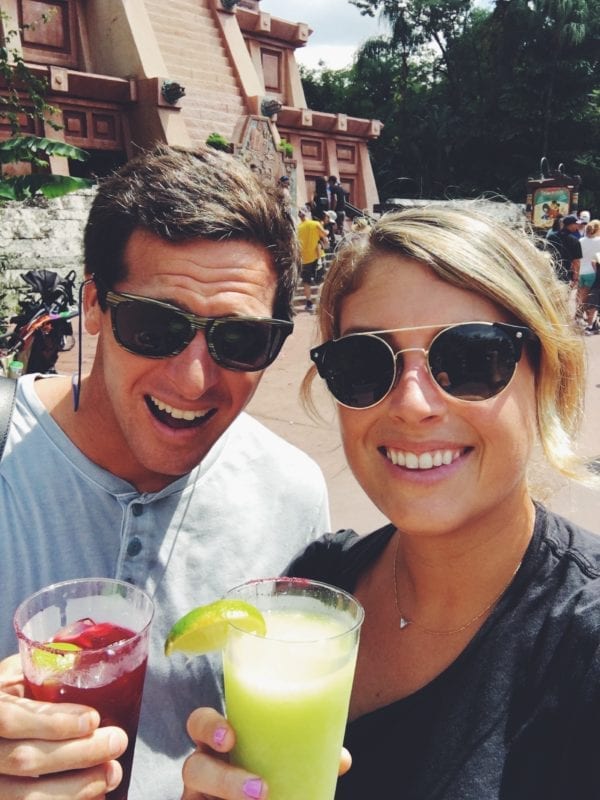 La Cava Tequila Bar
If you're visiting Epcot, you must set some time aside to spend at La Cava!
La Cava is a tequila bar found at the Mexican pavilion in the back of the park. It's one of my favorite places to escape the heat.
As you walk into the giant Mayan temple, you'll be blown away by the night market that is hidden inside.
Cold air, market lights, and street vendors all come together to create the feel of an authentic Mexican night market experience.
As you walk in, you'll see a restaurant in front and you'll probably see a line of people on the right. Although this hidden gem is unassuming, get in the line and get ready for some amazing drinks!
They have quite a few options but we recommend that you start with the avocado margarita because it's what they're most famous for!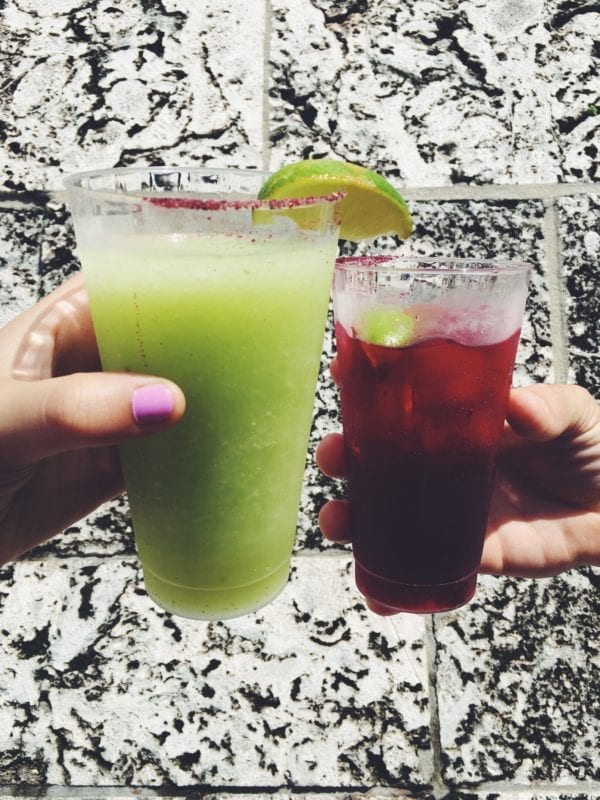 Recipe: Epcot's La Cava Avocado Margarita
Recipe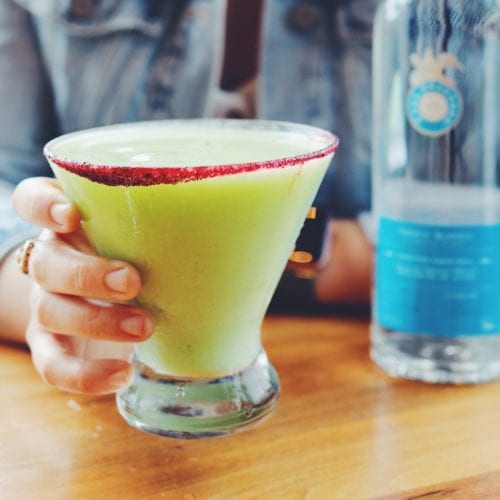 Epcot's Famous Avocado Margarita
This avocado margarita is one of Disney's most popular cocktails and I've got the REAL recipe straight from Disney's Tequila Ambassador!
Print
Pin
Ingredients
2

oz

tequila blanco

1.5

oz

melon liquor

1

oz

orange liquor

1.5

oz

agave nectar

¼

avocado

1

oz

fresh lime juice

1

tablespoon

hibiscus salt
Instructions
Mix all the ingredients in a blender with ¾ cup of ice and blend until smooth. Serve in a margarita glass lined with hibiscus salt.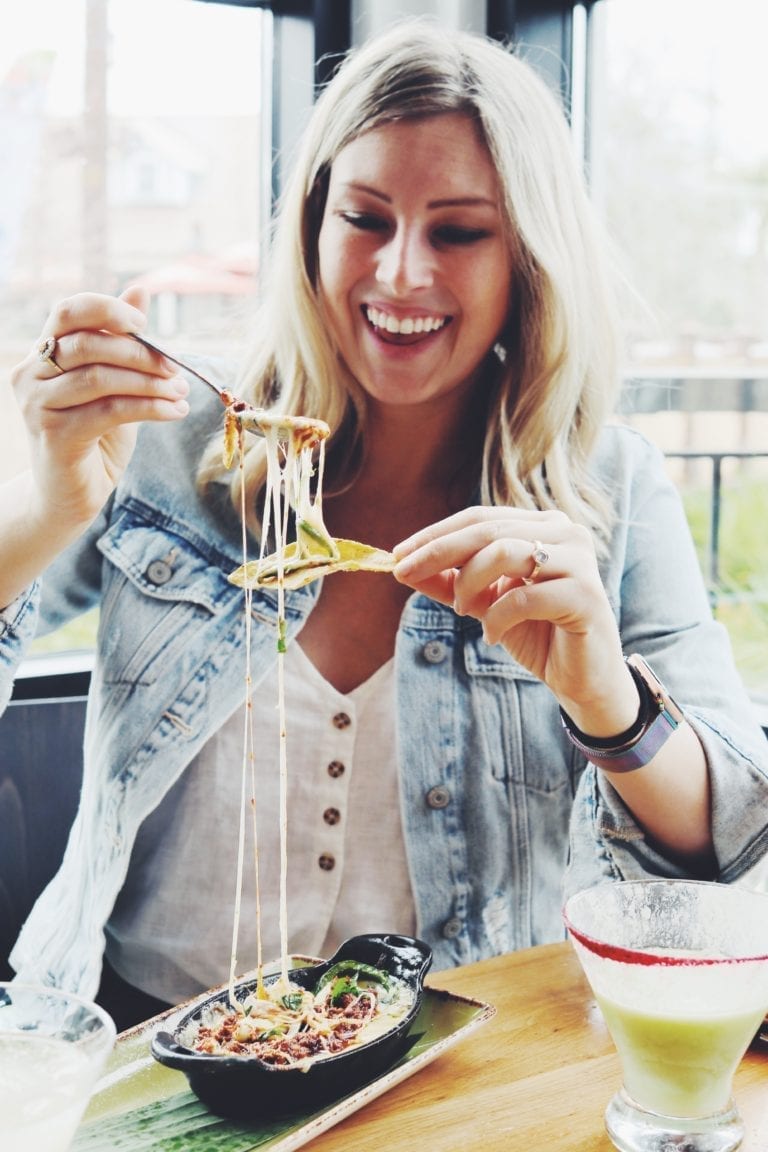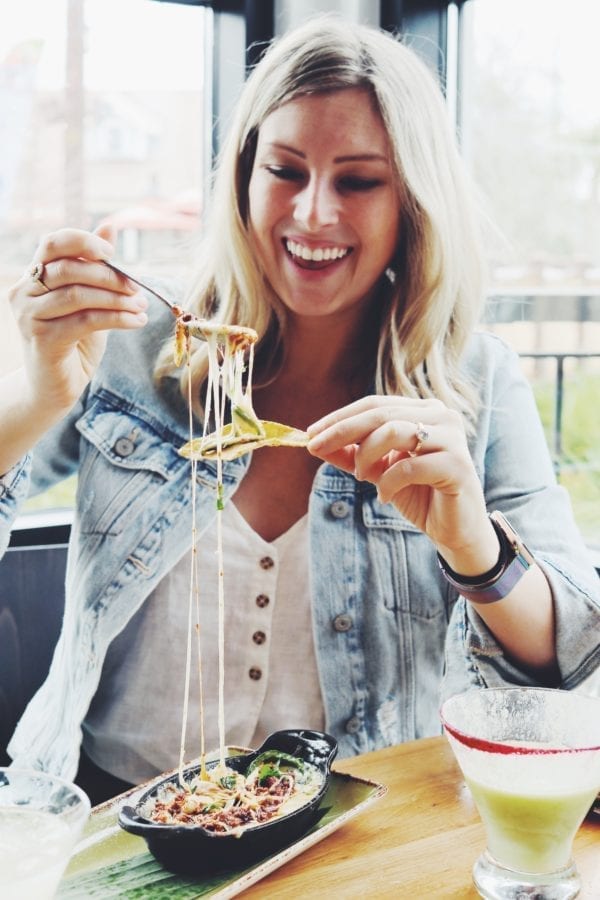 If you'd like to pair this avocado margarita with another one of my dishes, I recommend one of these!
Queso Fundido Grilled Cheese Sandwich - If you need an excuse to pour hot cheesy goodness all over a grilled cheese... filled with even more hot cheesy goodness, then this recipe has your name all over it! Meet the queso fundido smothered grilled cheese!!
Chicken Tinga - Inspired by Rick Bayless of Frontera Cocina, my Chicken Tinga recipe is quick and easy! It's super flavorful and it gets better the next day which makes it perfect for tacos, salad bowls, and quesadillas.
Honey Tequila Street Corn - Hey, if you're drinking a tequila for National Margarita Day, then you should eat some, too! This tasty spin on Elote, Mexican Street Corn, is awesome thanks to a quick glaze of tequila and honey. It's so good!! Serve it with all of the above for a perfect fiesta!
xoxo,
Kenz aka GCS