These cutie pie Espresso Martinis are served in hollow chocolate easter bunnies! They're super festive and cute, but trust me when I say they're strong AF! They're the perfect Easter cocktail for springtime brunches and afternoon get-togethers.
Easter Bunny Espresso Martini
These Easter Bunny Espresso Martinis might just be the cutest things on earth. They're filled with Espresso, Coffee Liquer, Vodka and Cinnamon. And although they look sweet and unassuming, trust me when I say they'll sneak up on ya and get ya!
My girlfriend, Kristine, shared this recipe last weekend in NYC and I can't stop thinking about them! I'm so not an espresso-martini-type-gal but she showed me the light and now I'm obsessed! And with Easter right around the corner, I figured it was the perfect time to share them with you!
If you're having people over for brunch, this caffeinated Easter cocktail is such a fun way to surprise them. And best of all, they're super simple to make! I'll be pairing these with some of my other Easter recipes like this tasty summer squash and and caramelized oinion frittata, these blueberry lemon ricotta bars and these eye catching egg salad sandwiches.
Oh, and if you're having kids or non-drinkers over too, you can simply fill the bunnies with chocolate milk for a non-alchoholic version that's just as fun!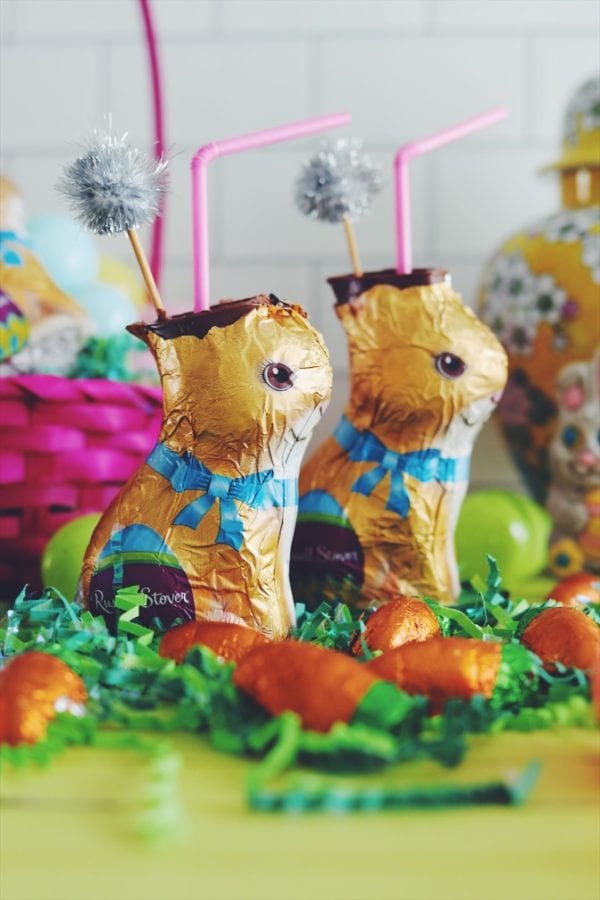 How to Make an Espresso Martini in a Chocolate Easter Bunny
Making Chocolate Easter Bunny Espresso Martinis are super easy! To begin, peel the wrapper off of the bunnies ears. Next, turn a stovetop burner on medium heat. Carefully place the blade of a metal knife on the burner for a few seconds until it gets hot. The heat will help cut through the chocolate without breaking it. Then, carefully cut the ears off of the bunny to reveal its hollow center. You can either eat the ears or discard them.
Next, make the cocktail. Fill a shaker full of ice then top with kahlua, coffee liqueur, vodka, and a dash of cinnamon. Vigorously shake the cocktail for 30 seconds or until the shaker is ice cold. Strain the drink into a measuring cup that has a pouring lip. Then, carefully pour the espresso martini into the hollowed out bunny. And lastly, top with a straw and any festive garnishes you might have.

RECIPE: Easter Bunny Espresso Martinis
Print Recipe
Chocolate Easter Bunny Espresso Martinis
These chocolate easter bunny espresso martinis might be cute, but trust me when i say they're strong AF!
Ingredients
1.5

oz

vodka

1

oz

coffee liqueur

such as kahlua

1

shot

espresso

1

dash

cinnamon

1

hollow chocolate easter bunny
Instructions
To begin, place your knife blade on a hot surface such as an oven burner or a small flame and heat the knife just slightly. Peel back foil on chocolate easter bunny and carefully cut the ears off and discard.

Next, combine vodka, coffee liqueur, espresso, cinnamon and ice in a cocktail shaker. Shake vigorously for 30 seconds until the shaker feels ice cold. Strain into a measuring glass with a pouring lip, then carefully pour into the chocolate bunny. Serve with a colorful straw and any festive garnishes you have.
And if you're looking for something to serve with these Easter Bunny Espresso Martinis, try one of these tasty dishes!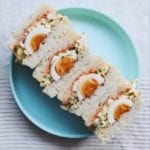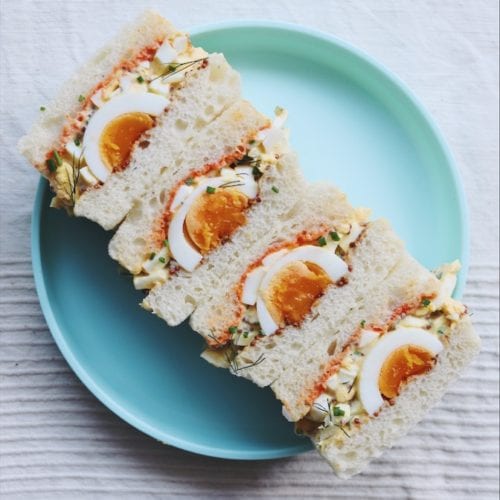 Konbi-Inspired Egg Salad Sandwiches – You've probably seen Konbi's iconic Egg Salad Sandwich all over instagram lately. This Japanese sandwich has a medium boiled egg exposed in the middle which not only makes it look super cool, but ultra delicious, too!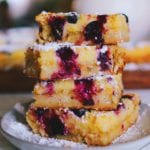 Blueberry Lemon Ricotta Bars with Lavender Shortbread – These Blueberry Lemon Ricotta Bars with Lavender Shortbread are the perfect dessert. Not only are the lemon squares relatively easy to make, but they're out of control delicious, too!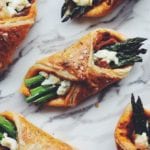 Baked Asparagus & Goat Cheese Puff Pastries – These baked asparagus puff pastries are filled with goat cheese, prosciutto, and sun dried tomato spread. They're the perfect flavorful little appetizer bundles for brunches, dinners, and special occasions.
You might also want to tell the easter bunny about my new cook book, too! It's perfect for baskets! lol
xoxo,
GCS