Hello again! If you read yesterday's post featuring all of the amazing cheesy dishes from this year's 2016 Epcot Food and Wine Festival but you're still curious about all of the other delicious dishes, then get excited because this post is for you! Keep reading to see our top 10 most loved non-cheese-centric dishes, our top three favorite drinks, and some helpful insider tips to help your trip become the best it can be!
So before I ramble on any longer, let's begin!
10 Non-Cheesy Dishes You Must Try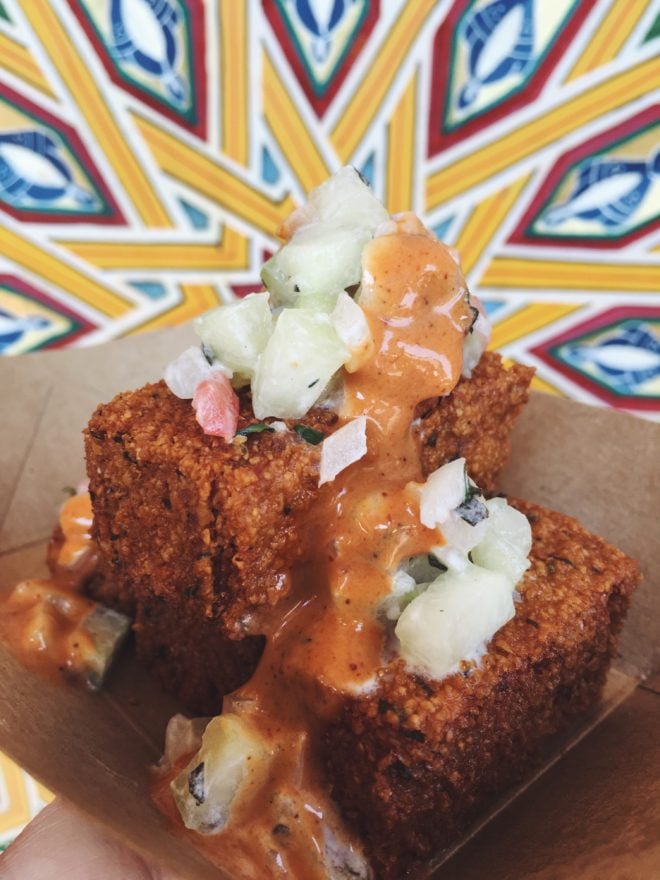 1. Spicy Hummus Fries with Cucumber, Tomato, Onions and Tzatziki Sauce
WHERE: Morocco near France and Japan
WHY: OMG guys, guess what? This dish was rated NUMERO UNO overall by both Jeremy and me. I'd describe this dish as the most delicious deep fried logs of a falafel-hummus hybrid topped with shepherd's salad, fresh herbs including mint and parsley, and the most ridiculous sweet and spicy orange yogurt sauce we'd ever had. And TBH, this was the only dish we decided to buckle down and get seconds of. Seriously, if you take one word of advice from me, take this - "You cannot leave Epcot without trying this dish!"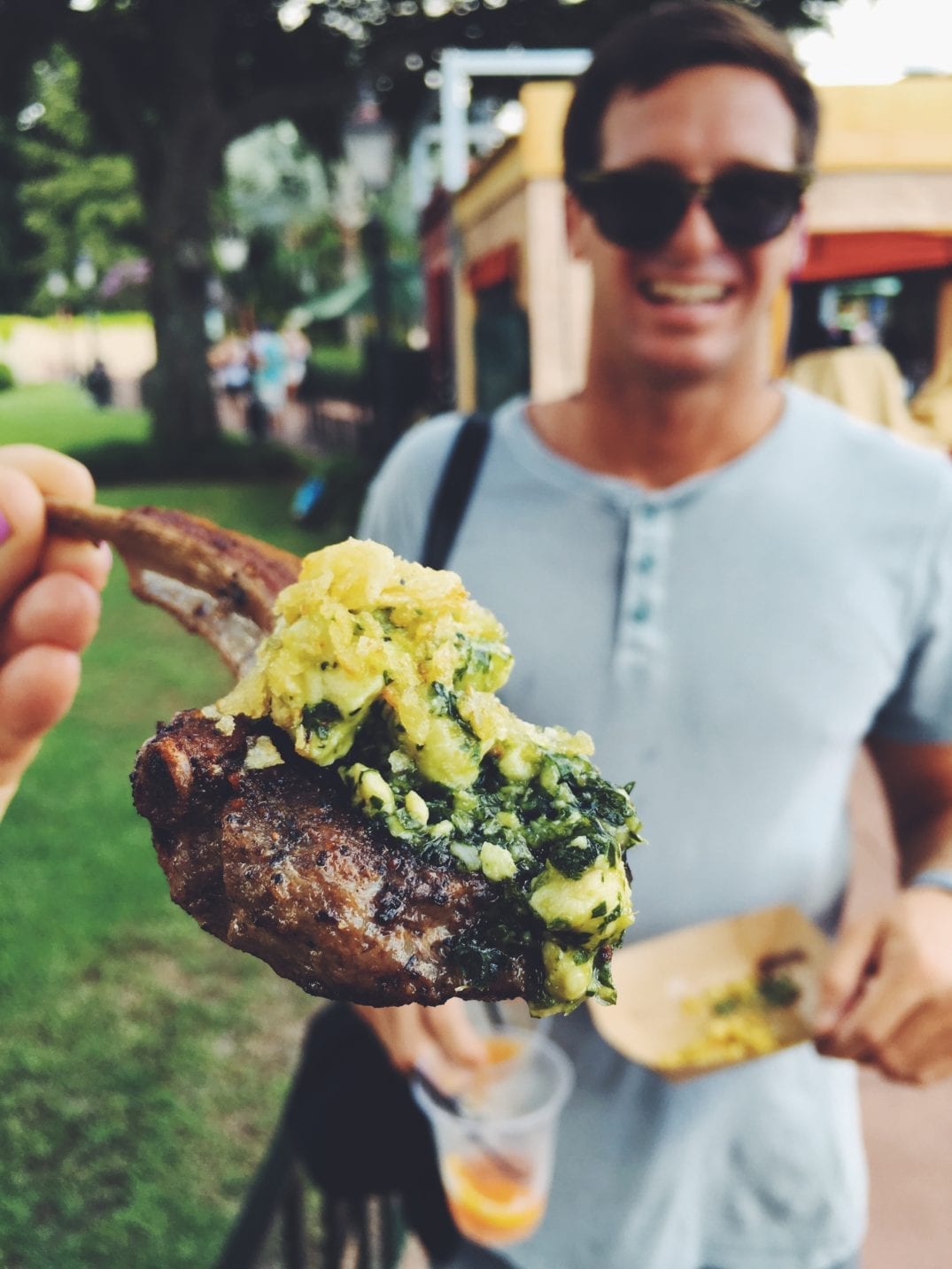 2. Grilled Lamb Chop with Mint Pesto and Potato Crunchies
WHERE: Australia by Showcase Plaza
WHY: Oh my gosh, where to begin? This grilled lamb chop was like heaven in my mouth. The charred crust from the grill left the interior perfectly moist and flavorful. The mint pesto was unlike anything I've ever tasted before and the potato crunchies were an added bonus. I had to pry this thing away from Jerm because after the first bite, his eyes glazed over with pure ecstasy, and he didn't even realize that I needed to try it, too. Gahh, this dish was good! I wish I could have some more right now.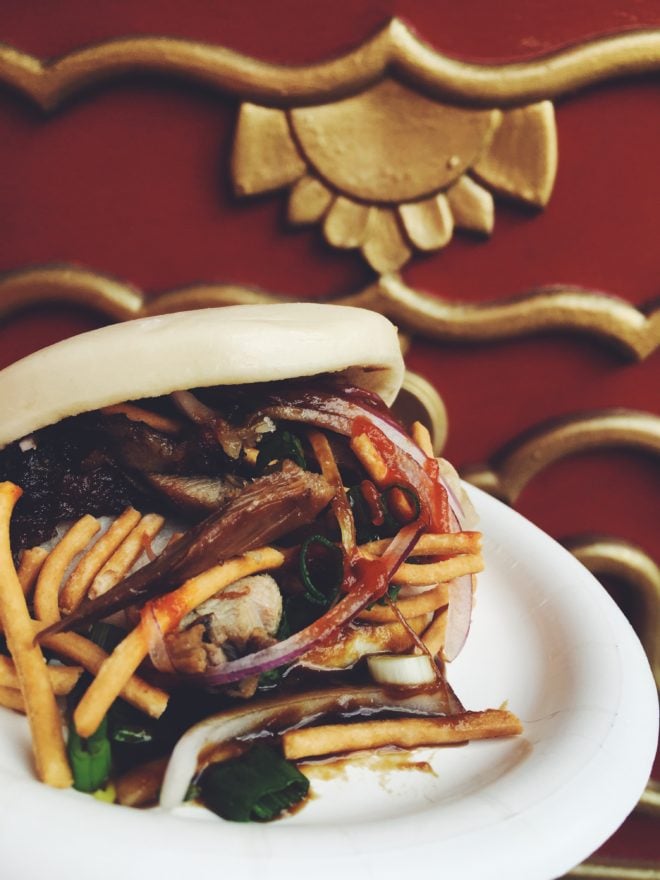 3. Beijing Roasted Duck in a Steamed Bun with Hoisin Sauce
WHERE: China near Norway
WHY: A few months ago I worked long and hard on a collection of steamed bun recipes. After trying out dozens of variations and testing different methods, I felt as if I'd became an unauthorized bao expert. So what made this one so special? The bun itself was moist, dense, and just the right amount of chewy. The roasted duck was perfectly tender and melted in our mouths like warm butter. Then there were the crispy fried wonton strips and the red onion slices, which provided a nice crunch. And to round it all out, fresh cilantro, hoisin sauce and self-added sriracha came together to make all the flavors pop.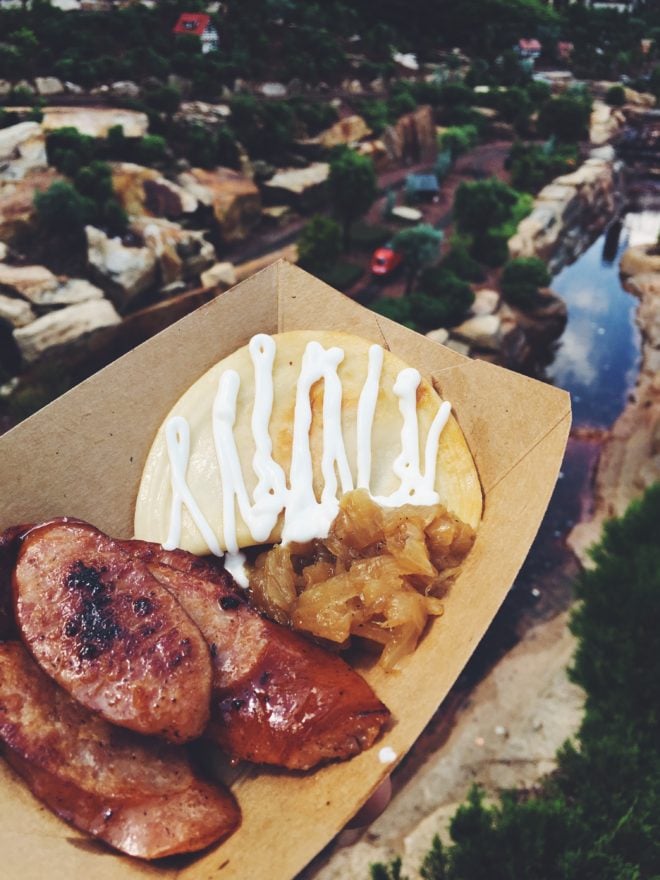 4. Kielbasa and Potato Pierogi with Caramelized Onions and Sour Cream
WHERE: Poland between Germany and Italy
WHY: I'm such a sucker for anything dumpling related. Fill said dumplings with delicious mashed potatoes, then top with tangy sour cream, sweet caramelized onions, and crispy, salty chunks of kielbasa and my mouth and heart basically explode with happiness. I wish they'd added another pierogi and less meat... but that's probably because I had to share with boyfriend.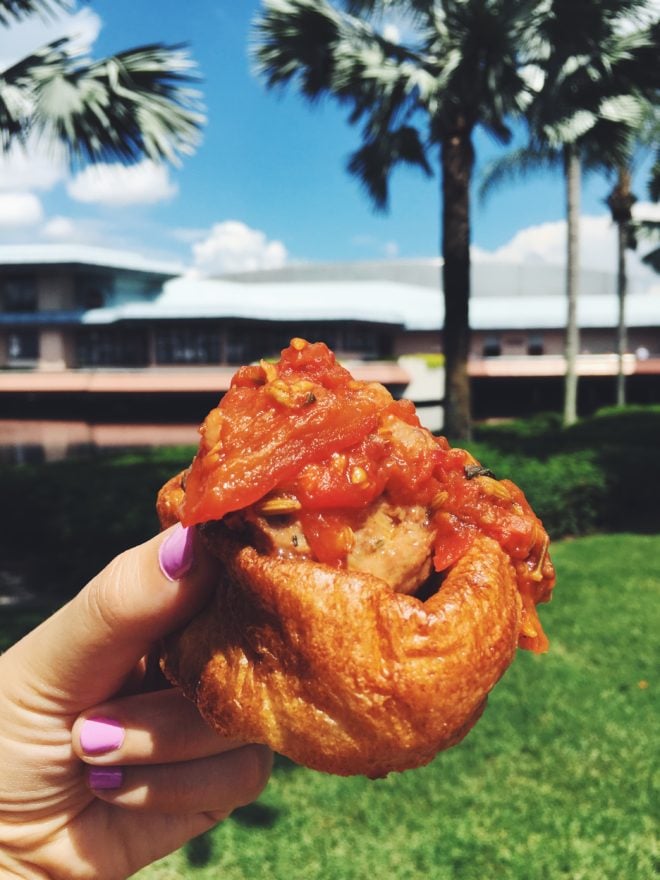 5. Lamb Meatball with Spicy Tomato Chutney
WHERE: New Zealand near Showcase Plaza
WHY: First, this was a luscious lamb meatball. Second, why aren't all meatballs baked in a delicious flaky breadbasket and topped with a sweet and spicy tomato chutney? I don't know, but the New Zealanders really hit the mark with this dish. I actually had to fight Jeremy for the last bite.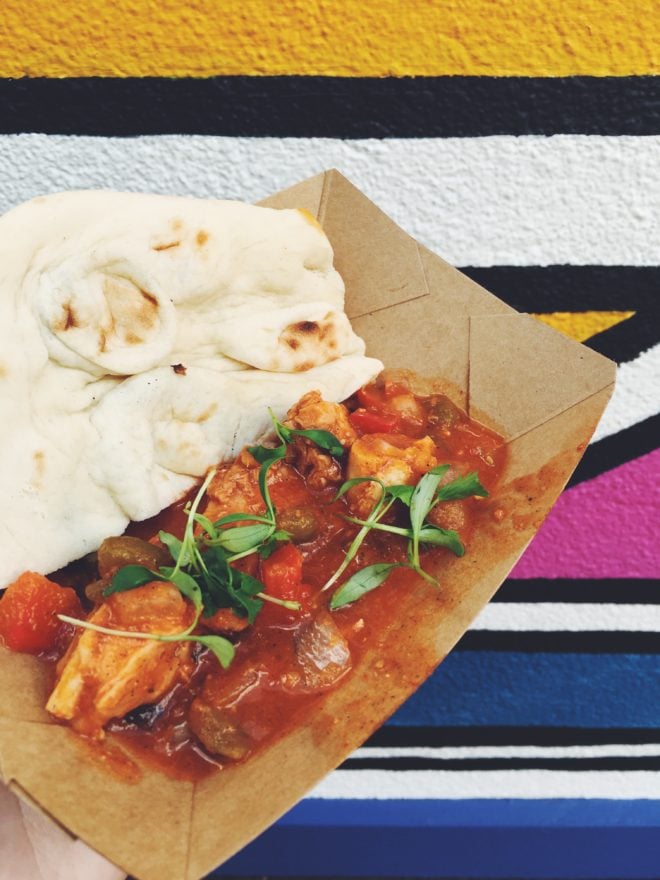 6. Butter Chicken with Micro Cilantro and Naan Bread
WHERE: Africa near Outpost
WHY: This butter chicken dish might look, and sound, like a hearty stew, but it was so light and fragrant that I think I actually got healthier after eating it. The chunks of chicken were tender and the overall flavor profile was right on. Perfectly salty, spicy, sweet, and aromatic, I could have been tricked into thinking I was actually in Africa while enjoying it.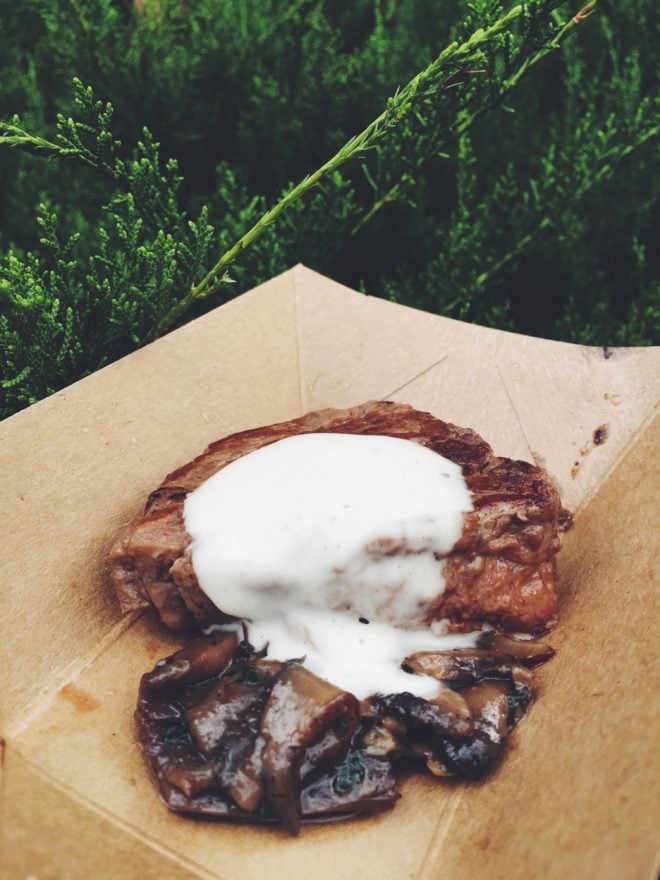 7. "Le Cellier" Wild Mushroom Beef Filet Mignon with Truffle Butter
WHERE: Canada near United Kingdom
WHY: It's not often I crave red meat, but when I do, it's on. This tender morsel of steak was cooked medium rare just the way I like it. The umami from the mushrooms played up the meatiness of the dish while the rich and creamy truffle butter sauce made it hard not to lick the plate. And even though this wasn't the prettiest of dishes, it was totally delicious.
8. Roasted Berlasso Salmon with Quinoa Salad and Arugula Chimichurri
WHERE: Patagonia near Showcase Plaza
WHY: I loved watching the Patagonia Episode of Chef's Table on Netflix and since I've never been there, nor tried any of their cuisine, I was super excited to finally get a taste. The fish was cooked perfectly, the quinoa was great, and I could have drank an entire cup of the arugula chimichurri.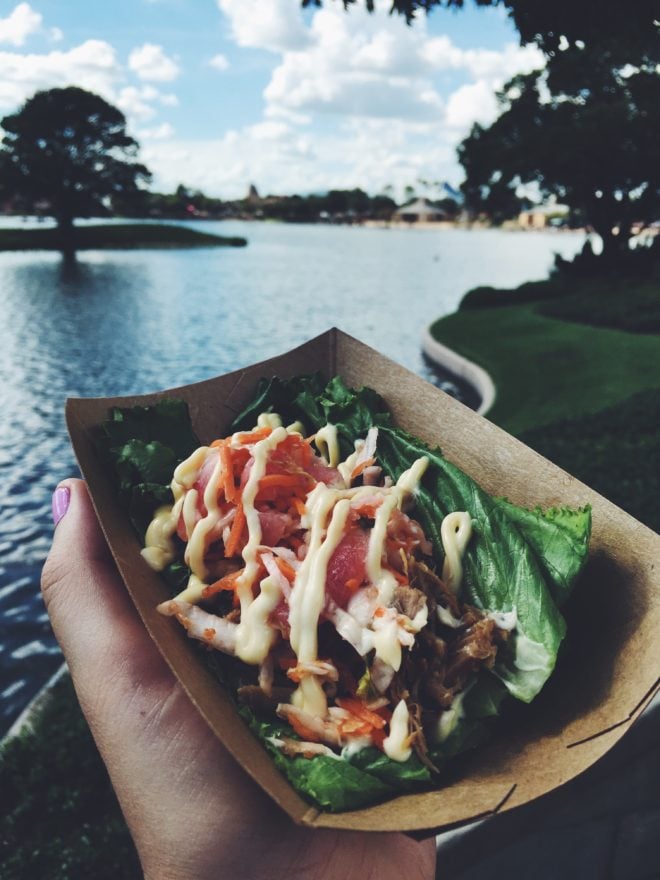 9. Roasted Pork Lettuce Wrap with Kimchi
WHERE: South Korea near China
WHY: This dish was definitely on the healthier end of the Food and Wine options spectrum. This dish was composed of tender chunks or roasted pork, topped with a kimchi, that more-so resembled an Asian slaw, and drizzled with a bunch of Kewpie mayo laid atop of sprig of lettuce. I could definitely see myself enjoying this again on a beautiful beach somewhere while wearing a bikini and not feeling bad about my choice one bit.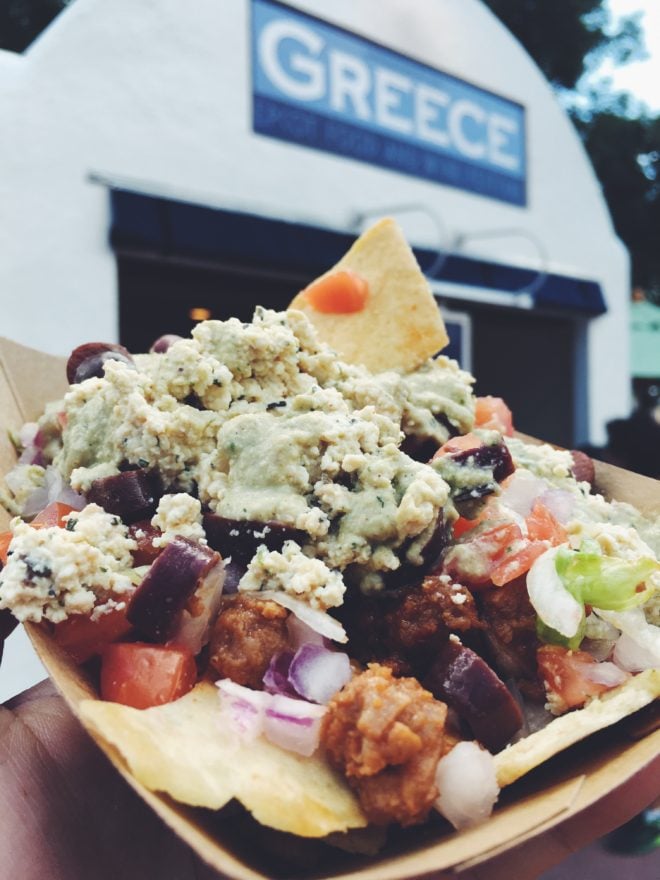 10. Loaded Vegan Greek Nachos with Pita Chips, Meatless Sausage Crumbles and Vegan Tzatziki
WHERE: Greece near Showcase Plaza
WHY: Since I have to realize that not everyone eats everything under the sun as Jerm and I do, I wanted to include one of the vegan options at Epcot's latest Food and Wine Festival. These loaded "nachos" were flavorful and texturally pleasing even though they didn't contain any meat, cheese or butter. We enjoyed them but would have preferred them to swap out the soy crumbles for some of that delicious lamb from Australia! Hee hee.
3 Cocktails You Must Try!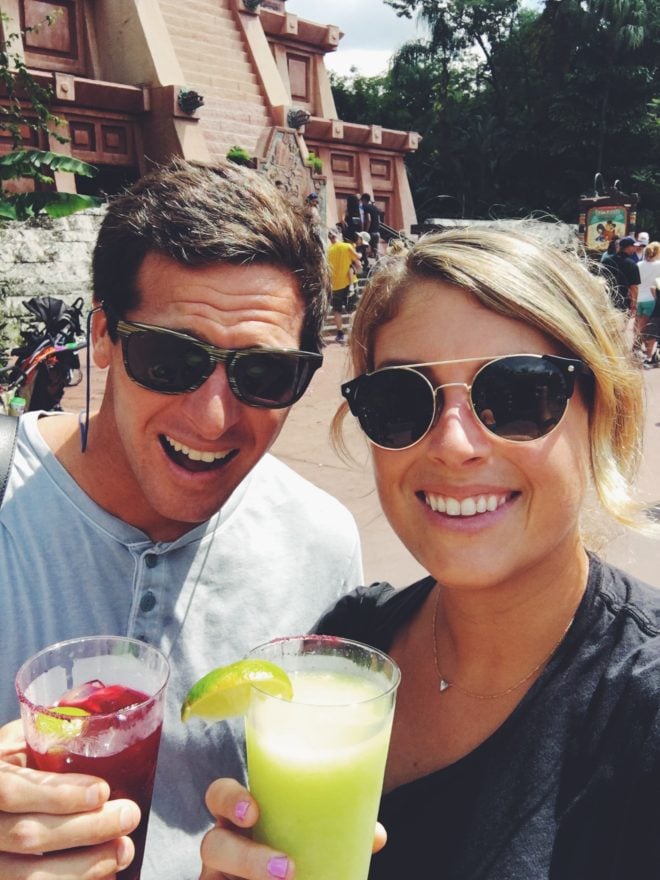 Ever since I was old enough to (legally) drink, I'd always wanted to participate in Epcot's Unofficial Drinking Around The World Game. I'd heard stories of traveling the "world" while trying a different drink from each country but since I spent most of my 20s in New York, I never got the opportunity.
So, when Jerm surprised me with the idea of going to Epcot's Food and Wine Festival I knew I'd finally get to fulfill one of my favorite Florida dreams.
And TBH, I don't really drink much, so participating in this as a 30 year old seemed sort of scary at first. Luckily, I had my partner in crime help me try all the drinks so we didn't get slammed. The decision to share the drinks and food is something I highly recommend. Not only will you not want to die from eating too much, but sharing the drinks helps you actually remember everything you tried. Isn't it fun to get smarter as you get older? Lol.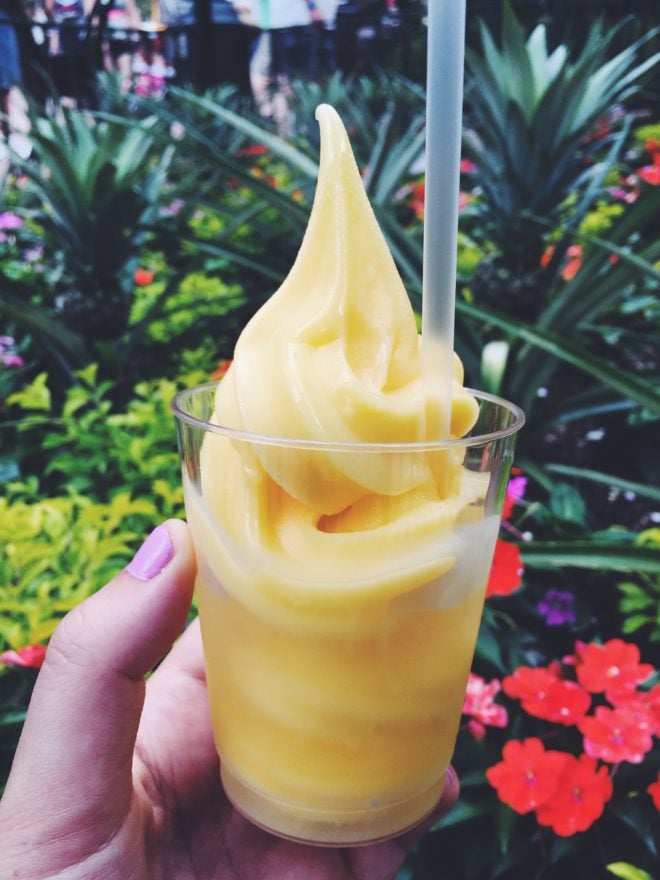 1. Pineapple Dole Whip Soft-Serve Ice Cream with Bacardi Coconut Rum
WHERE: Refreshment Port near Showcase Plaza
WHY: I don't even know where to begin about this amazing creation. I had heard about the cult following behind the Pineapple Dole Whip at Epcot but I had never tried it for myself. After one lick, I automatically knew what the hype was about. I'd never tasted anything more tropical, luscious and creamy in my entire life. Jerm and I slurped this baby down in no time, and to our surprise we never even got a brain freeze! The mouthfeel was almost like a silky ice cream similar to gelato but creamy like a Mr. Frosty soft serve. The coconut rum sinker made this treat even more fun and it actually helped cure Jerm's queasy tummy after our not-so-chill ride on Mission: Space! Final thought: They need to make this available outside of Epcot!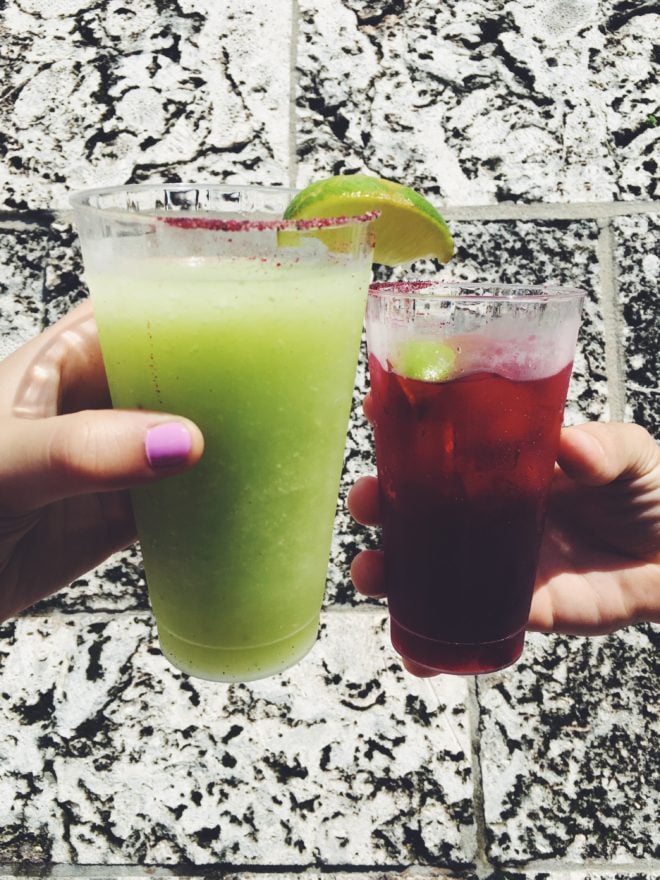 2. Avocado and Hibiscus Margarita
WHERE: La Cava del Tequila
WHY: If you go to Epcot while it's still hot out, you definitely need to seek refuge inside the Mexico attraction at the beginning of the World Showcase. As you walk into a mock Mayan temple, a wave of cold air makes all the sweat drops on your body freeze up and instantly cools you down. The interior of the temple tricks your senses into thinking you're at a midnight fiesta in Mexico City. There are tiny twinkle lights in the sky, a bustling night market full of carts selling piñatas and candy skulls, and most important, an-almost-hidden tequila bar that most people overlook. Their avocado margarita was amazingly rich and creamy and tasted almost like a boozy smoothie. Jerm got the Hibiscus margarita and I have to admit it was just as delicioso!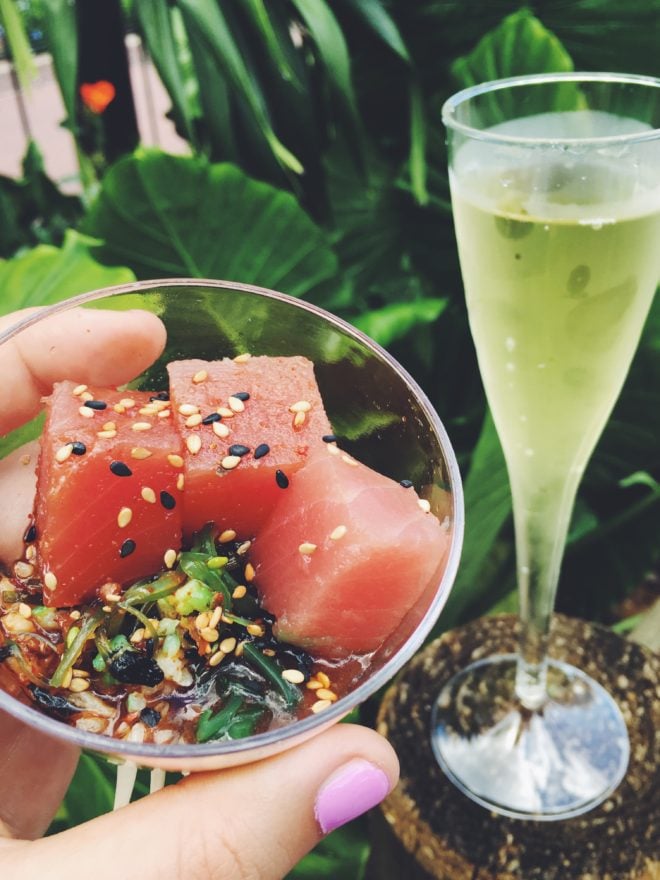 3. Florida Orange Groves Sparkling Pineapple Wine
WHERE: Hawaii near Showcase Plaza
WHY: Pineapple is one of my favorite fruits, so it's no surprise I would fall in love with a pineapple sparkling wine. I bet if Beyoncé said something about sparkling pineapple wine in one of her songs, it would become so popular that girls would totally forget about rosé and drink this stuff by the bottle. I also plan to start selling this at Black Dolphin, which is super exciting.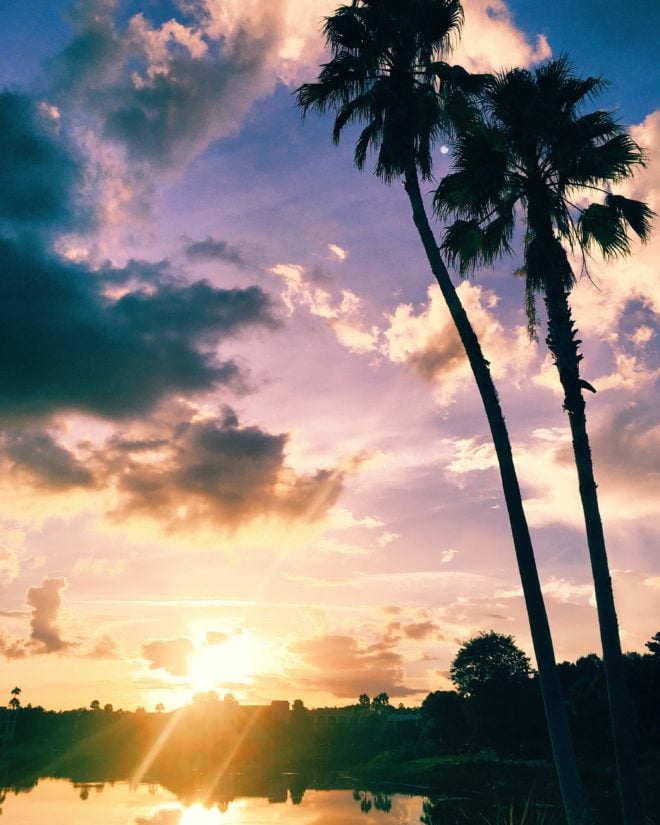 More Information
One thing to take into consideration before heading into the Food and Wine Festival is the weather. Florida can be toasty during this time of year so you'll definitely want to keep that in mind while you're picking out your outfit. Dress light and remember that summer showers are for real and they will probably happen. Luckily, they roll through Orlando pretty quickly so you'll likely only have to endure the weather for 30 minutes or less but you'll still want to come prepared. Jerm and I got stuck in a German Beer Garden during a rainstorm, which worked out perfectly but it might be worth your while to pack a light poncho or rain jacket so you can keep enjoying the park throughout your entire trip!
See below.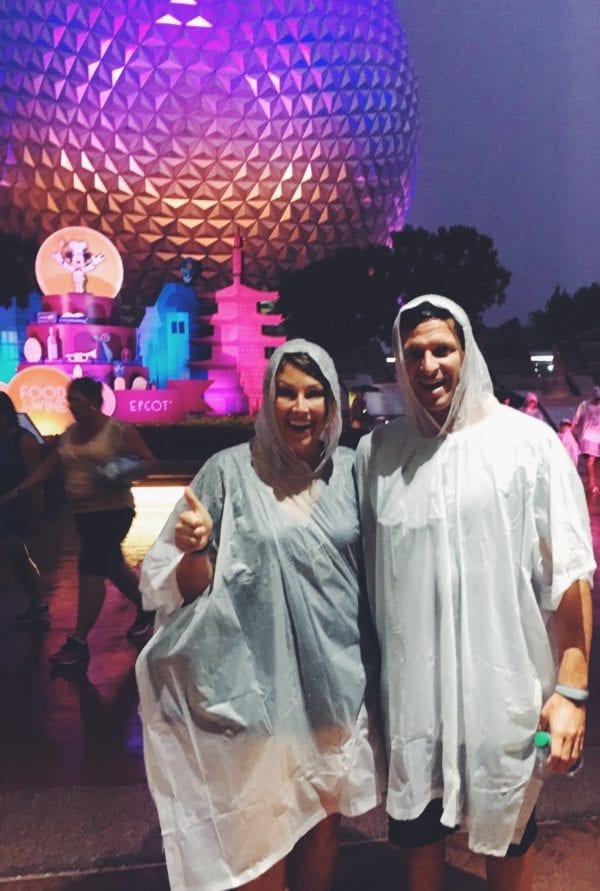 Thanks for reading the long post I've ever written!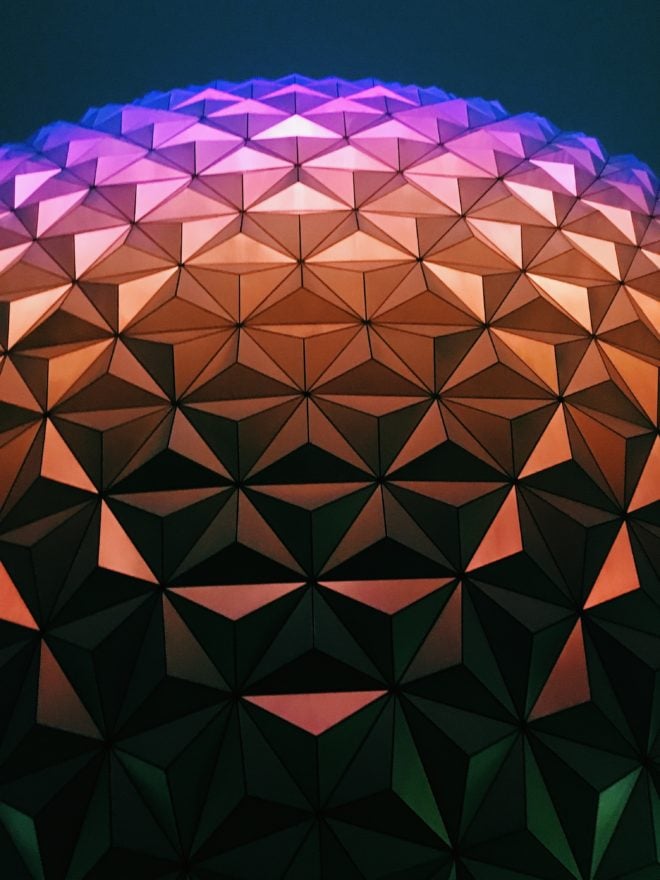 xoxo,
GCS
This is a sponsored conversation written by me on behalf of VISIT FLORIDA. The opinions and text are all mine.