Chicken Tinga is an authentic spicy, zesty Mexican shredded chicken recipe that is super easy to make! We make this about once a week in our house and use it to top tacos, tostados, salads and even quesadillas! Get this quick and easy recipe at the bottom of this post!

It's no joke that Jerm and I live off Mexican food. Most of our date nights involve kissing over queso and getting mushy over margaritas. A few weeks ago, after one of our ~*very romantic*~ day dates to Epcot, we headed to Disney Springs to people watch and get down on some dinner.
As with most summer day in Florida, the storm clouds started rolling in and the weather started to get pretty gnarly. Since we're pros at dealing with this predicament, we knew we had to make a split decision on where we were going to eat.
Unsurprisingly, we sprinted up to the to-go window at Rick Bayless's new Frontera restaurant because, well, TACOS and GUAC. And since I am maybe the most indecisive person in the world… and since Jeremy has the biggest appetite known to modern men, we ordered every single taco they offered.
After we got our food, we found a little picnic table that was hidden away from the rain. It was the perfect spot to watch all of the soaking wet tourists run from the lightning and thunder without getting a drop of rain on us.
Not gonna lie, almost every taco I've ever had has been a delicious taco… besides that one time I ordered a veggie taco in Bushwick and got a spoonful of canned corn, carrots, and green beans with shredded cheddar… but that's another story for another day…. But the chicken tinga was, hands down, our ultimate favorite! I, of course, wondered why I had never made it before and went ham on googling the recipe during our hour drive home.
Turns out, chicken tinga is actually a pretty easy recipe to make, and since I've learned how, we've made it about once a week since then. And best of all, this recipe gets better over time, so it's wise to make a bunch and keep some in the fridge for the next few days. Oh, and it's relatively healthy which is important to me right now! Weird, right? I know!!! I'm adulting!
Alright, so let's get to the basics and then I'll share all of the ways that we've been enjoying it!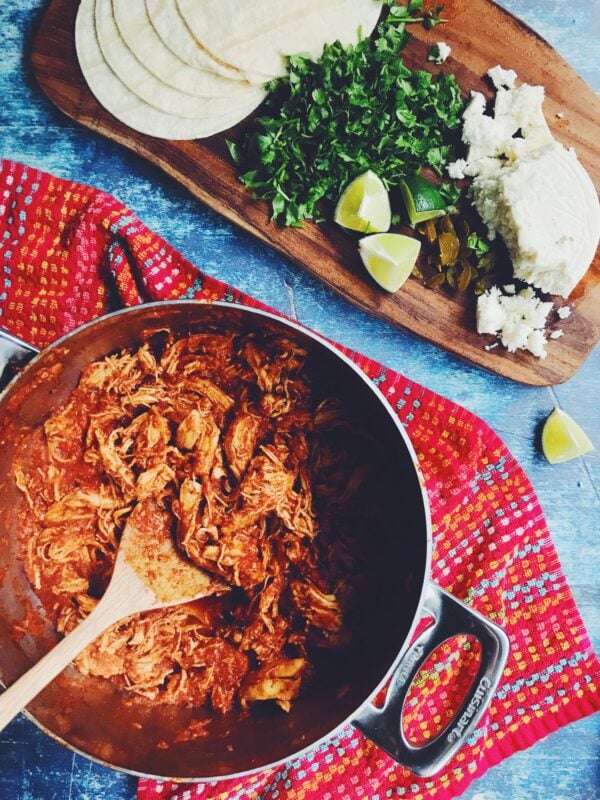 RECIPE: Spicy Shredded Chicken Tinga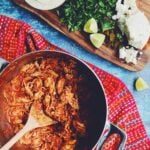 Print Recipe
Spicy Shredded Chicken Tinga
This spicy chipotle Mexican shredded chicken is perfect for tacos, quesadillas, and salads.
Ingredients
2

tablespoons

olive oil

1

yellow onion

diced

4

garlic cloves

roughly chopped

1

teaspoon

oregano

the mexican variety is best if you can!

1

teaspoon

cumin

1

can of chipotle sauce

or if just 3 chipotles in adobo sauce if you can't find that

1

can fire roasted tomatoes

1/2

cup

chicken broth

1

tablespoon

apple cider vinegar

2

quarts

loosely packed shredded chicken

or about 3-4 large boneless chicken breasts, boiled and shredded

salt to taste!
FOR CHICKEN TINGA TACOS
Put 1/4 cup of the chicken tinga into a toasted corn tortilla and top with 1 tbsp chopped cilantro and 1 tbsp salty mexican cheese like queso cotija or queso fresco. Serve with fresh limes, black beans (these are literally our favorite in the whole world!!!), yellow rice, and plenty of hot sauce.
RECIPE: Chicken Tinga Salad Bowl
INGREDIENTS
2 cups iceberg lettuce, roughly chopped
1/3 cup chicken tinga (recipe above!)
2 tablespoons yellow rice
1 tbsp salty mexican cheese (cotija or fresco work best)
2 tablespoons cilantro
1 tablespoon Amy's Refried Black Beans
1 tablespoon pickled jalapenos
a few dashes of green chili cholula and/or chipotle cholula
2 tablespoon 0% greek yogurt (or sour cream if you aren't making skinny choices)
1/2 lime
INSTRUCTIONS
Add lettuce to a big bowl and top with chicken tinga, yellow rice, cilantro, mexican cheese, black beans, pickled jalapenos, greek yogurt, and a few dashes of your favorite hot sauce salsa. Garnish with a half a lime.
As for dressing, you don't need any at all! Simply mix toss this salad together and see how the greek yogurt, lime juice, and the other flavors binds everything together! So fresh and so clean, clean!
RECIPE: Spicy Cheesy Chicken Tinga Quesadillas
INGREDIENTS
2 large burrito-size tortilla shells
1/3 cup chicken tinga
1 cup shredded monterey jack cheese
2 tablespoons queso fresco
1 tablespoon fresh cilantro, chopped
a few dashes green chili cholula hot sauce
2 tbsp neutral oil
salt
INSTRUCTIONS
Lay one tortilla down on a cutting board and evenly distribute half of the monterey jack cheese.  Next add the chicken tinga, queso fresco, and cilantro evenly on top. Then add a few dashes of hot sauce and add the remaining cheese equally across the top. Finally, place the other tortilla on top and set aside.
Heat a large nonstick fry pan or griddle over medium heat, add half the oil and move the pan around so that it's spread even. Next, place the quesadilla on top and cook for about 5 minutes until the cheese starts to melt and the tortilla begins to turn golden brown. Now carefully flip the quesadilla and add the rest of the oil underneath it. Then, add a pinch of salt to the top and cook for another 5 minutes until all the cheese has melted and the remaining side is golden brown. Finally, remove from heat and serve immediately.
So now that you've got the basics, feel free to go wild with this recipe! OH, oh oh!! Be sure to tag me on instagram so I can see all of your magic and I'll be sure to repost!! For those of you who voted on my instagram story today — this one's for you!! And for those of you who wanted the rice crispy treats — they'll be up next week! Thanks bebs!!
xoxo,
GCS