This Avocado and Key Lime Colada is essentially a Malibu Pina Colada on steroids! This tasty drink is made with pineapple juice, coconut rum, creme de coco (coco lopez), key lime juice, avocado and ice! The results are sweet and tart yet fresh and earthy! And best of all, after one sip, these key lime and coconut rum drinks will transport you to tropical paradise!
Jump to:
Avocado Key Lime Colada
With the heat of summer in full force, I'm constantly looking for a new refreshing frozen boozy drink. Cue this insanely delicious avocado and key lime colada!
It's super simple to make but tastes ahhhh-mazing!
Just blend together key lime juice, coconut rum, pineapple juice (I used Dole Packaged Foods), cream of coconut (coco lopez), avocados and ice.
And voila! You've got yourself the most tropical, over the top coconut rum drink there is!
And if you're looking for some tasty dishes to serve it with, I recommend making my favorite Chicken Tinga recipe which is great for tacos, quesadillas, salads and so much more!
Then for dessert, I've got you covered with my churro rice krispies treats. These cinnamon sugar dusted treats always a huge hit especially when you serve them with dulce de leche!
And if you'd like to try another avocado cocktail recipe, you should totally try Epcot's Famous Avocado Margarita. I got the recipe straight form Disney's Tequila Ambassador herself!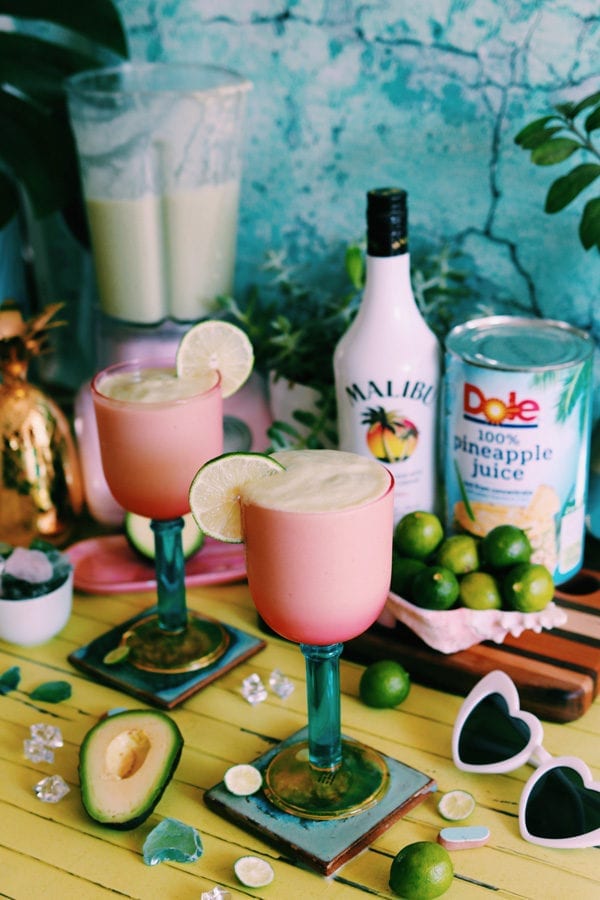 Coconut Rum Drinks
There's a reason the "Malibu Pina Colada" is one of the most googled recipes for this tasty coconut rum drink.
That being said, I essentially transformed that popular classic recipe into my own!
By adding avocado and key lime juice, the flavor profile develops into something completely different!
I love how all of the ingredients work perfectly together. It's not too cloyingly sweet yet still tastes like a tropical dessert that you can get drunk from.
Also, full disclosure, i made this recipe for a sponsored instagram post for Malibu Rum but loved the recipe so much I figured I should share it on here, too!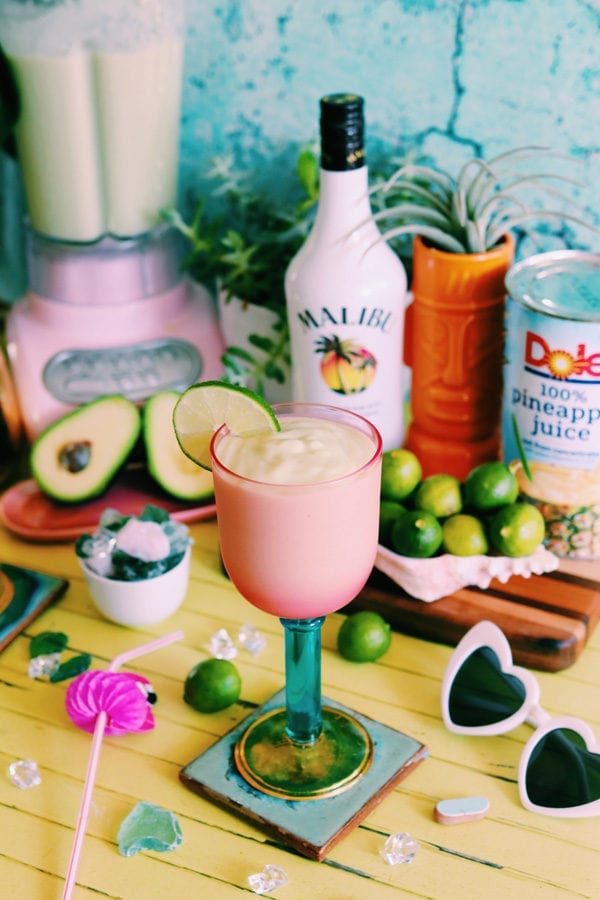 Which Coconut Cream for Pina Coladas
You might have noticed that there are quite a few variations of coconut cream on the market.
And to be truthful, I had to do a ton of research to figure out which one works best for pina coladas... or in this case, a key lime colada!
The most popular one is Coco Lopez which is canned cream of coconut. I highly recommend this one because it's sweet but not too sweet and blends like a charm! It also has the most real coconut taste and for that, I love it!
Then there's also Coco Real which is another brand of cream of coconut. This one's convenient because it comes in a squeeze bottle rather than a can. But to me, the flavor is kind of artificial.
And lastly, Goya also makes a really delicious Cream of Coconut however I find that it doesn't blend as well as the others. Everytime i've used it, I always find little chunks of the coconut cream. Don't get me wrong, it tastes amazing but it definiltey messes with the texture of the cocktail.
And if you're looking where to buy coconut cream, you can either click the links above or check out the hispanic (or cocktail) section of your local grocery store!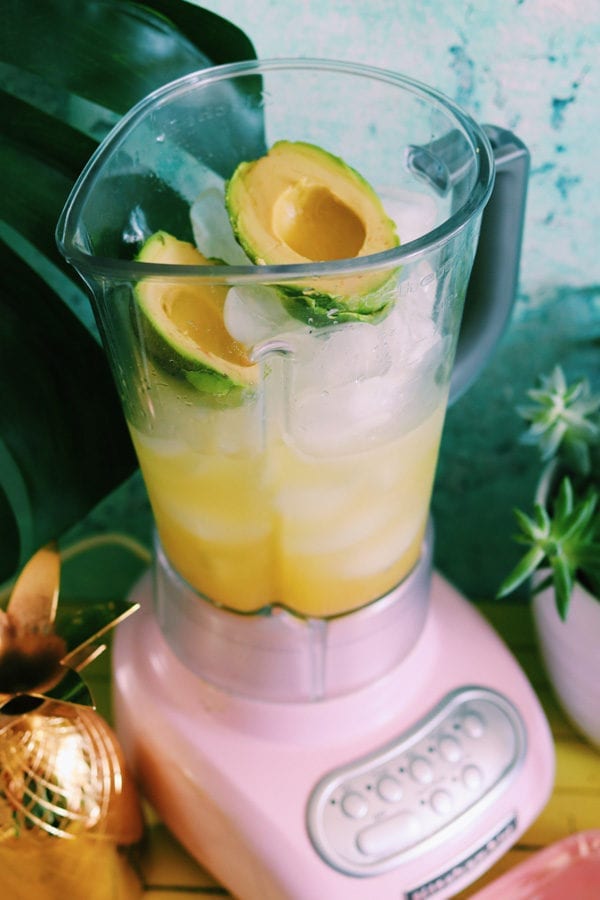 How to make a Key Lime Colada
Making an avocado key lime colada is super easy!
To begin, simply fill up your blender with ice.
Next, add Dole Packaged Foods pineapple juice, Malibu Rum coconut rum, coco lopez creme de coco, and key lime juice. Press puree on your blender then let it work its magic.
Once it looks mostly smooth, go ahead and add two avocados. Press puree again and watch as your coconut rum drink turns into a creamy, smooth, and rich cocktail.
**Note** If you don't have access to key limes, you can definitely just use regular limes. Not only will it taste pretty similar but they're much easier to juice, too! Or you could buy this bottled key lime juice which actually works pretty well!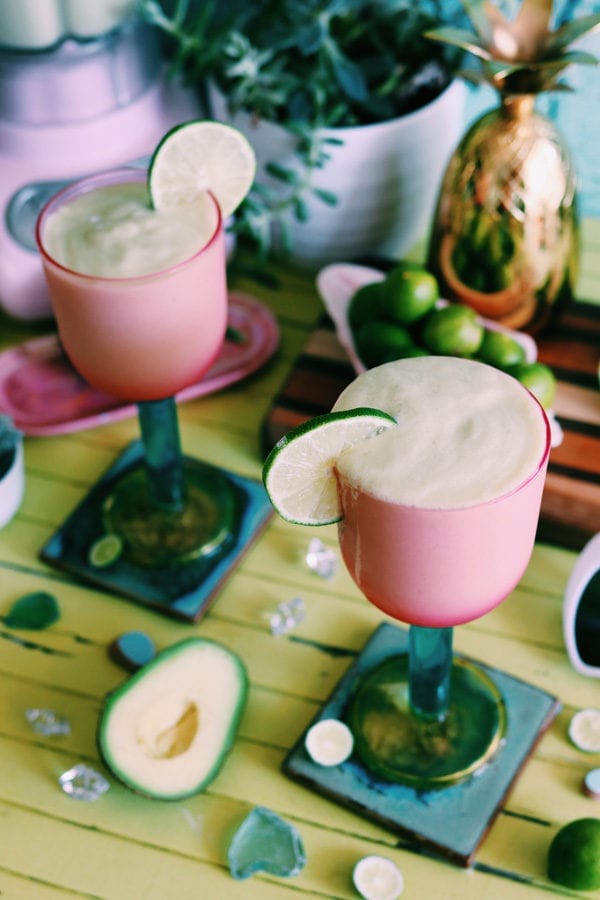 Recipe:
Recipe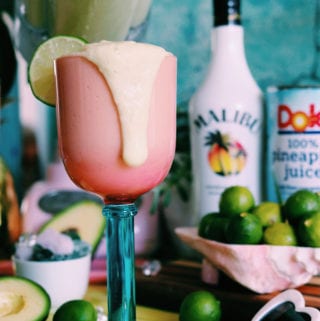 Avocado Key Lime Colada
This avocado key lime colada is super similar to a Malibu Pina Colada, except it's about 100 times better!
Print
Pin
Ingredients
7

cups

ice

3

oz

key lime juice

or about 20 juiced key limes

1

cup

creme de coco

1

cup

pineappple juice

such as Dole Packaged Foods

1

cup

coconut rum

such as Malibu Rum

2

avocados

pitted and skin removed
Instructions
Add ice to blender then pour in the lime juice, coco lopez, pineapple juice and coconut rum. Press puree and wait until the mixture looks smooth and creamy.

Add in avocados and blend for another minute until it's silky and smooth looking!

Serve with a wedge of lime and whipped cream if you're feeling extra fancy.
And if you'd like to save this upgraded malibu pina colada for later, pin it below!

xoxo,
Kenz aka GCS