MacKenzie Smith and Jeremy Johnston's Surprise Wedding at The Black Dolphin Inn in New Smyrna Beach, Florida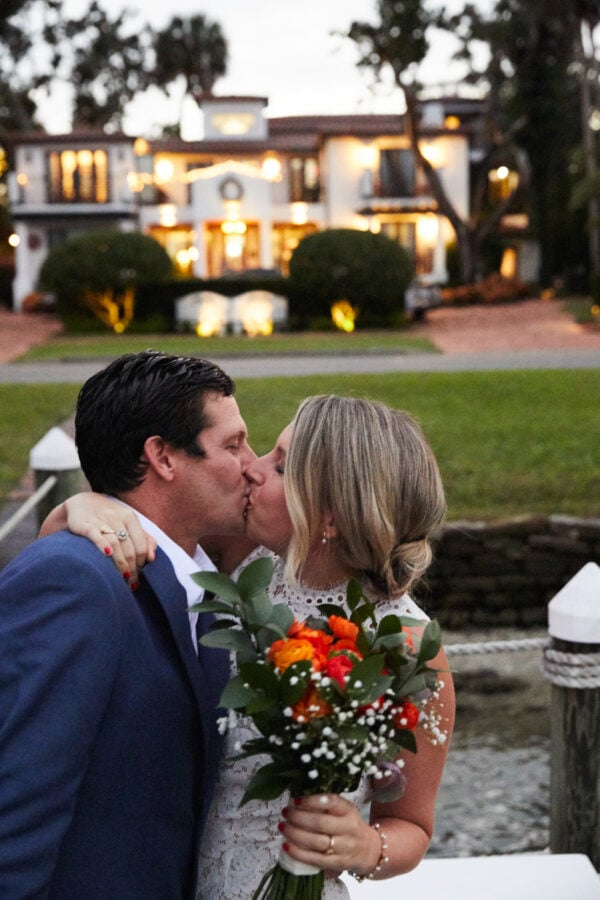 Well, well, well... 2018 has come and gone in what feels like a millisecond. Sure, we all know this year felt insane with everything that was happening in the world, but in my little world, a lot of really cool stuff also took place! I wrote my first cookbook, bought a house, won another Food Network show, traveled all over the world, adopted another dachshund and, of course, got married to my best friend at our surprise wedding!
The first question that everyone asks me is - why a surprise? Well, ever since I was a little girl, the idea of a big wedding and all the things leading up to it gave me so much anxiety. So to combat that, we thought about doing a destination wedding in Costa Rica but then discovered that my grandparents wouldn't be able to travel that far which became a deal breaker. Then when we wrote out a guest list, which included our best friends and closest family, we were at 250 people. YIKES! After I started working on the budget and realized that we'd probably spend somewhere between 30k-40k AT LEAST, and I almost died.
That much money for one night?! A night that I'm most likely going to be too drunk and overly emotional to really remember!? Oh hell no. I'm way too economical of a human to spend that much money on a single night... especially since we've been dying to do a kitchen renovation since our microwave and cabinets caught on fire earlier this summer. And luckily, Jeremy was right there with me, so we decided to swtich it up and do it our own way.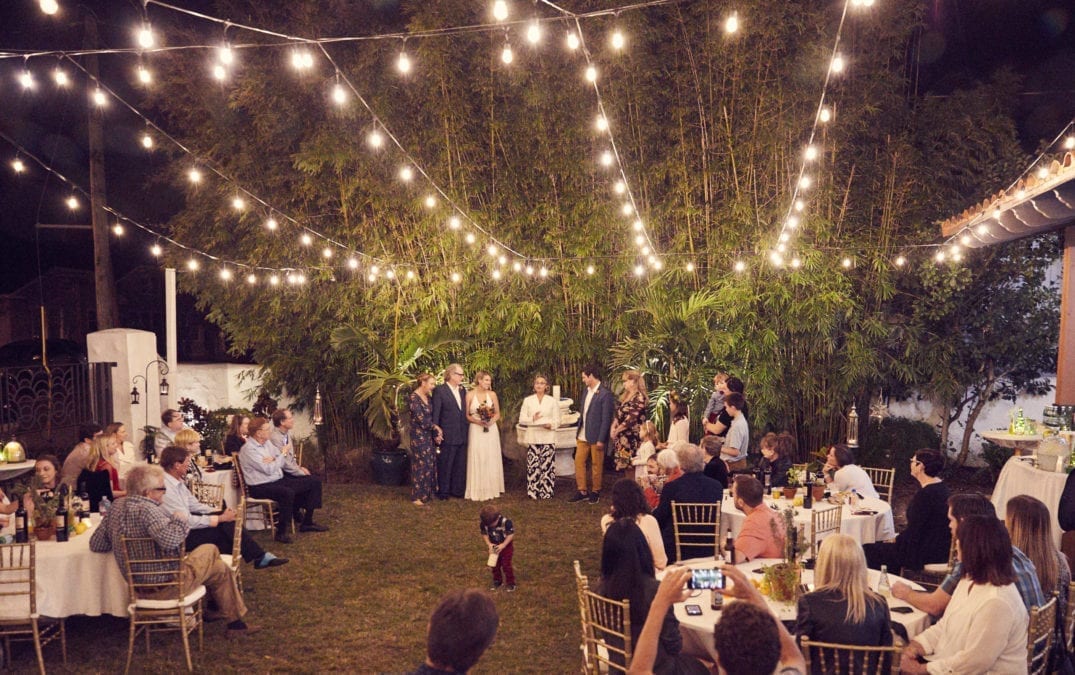 So rather than having a big huge event at some random venue, we figured let's do it in the courtyard of my family's hotel, The Black Dolphin Inn. We invited ONLY our immediate family, our best man, and maid of honor along with their dates. It ended up being around 50 people which was perfect. And best of all, my maid of honor, Kristine, surprised me brought one of my other best girlfriends, Sarah, as her date which literally made my heart explode. Surprises on top of surprises are awesome!!!
And in case you're wondering -- yes, a few people did know what was about to happen... but for the most part everyone was surprised!
Since we had gotten engaged in Positano, our favorite town along the Amalfi Coast, we thought that the beautiful coastal beach town itself would be a perfect theme. So to bring in that breezy laid-back Italian feel, we ran string lights down the courtyard which illuminated big white tables and golden chairs. On top of the tables, we had tons of fresh lemons, Italian herbs in terracotta pots, lots of yellow and green glass vases and candle holders, and of course, gold accents galore. It was beautiful and fresh and when the wind blew, it even smelled like Positano!

As for food, which Jeremy totally thought I could cater myself ~~HAH!~~ we thankfully did not go that route, but instead ordered most of it from two local restaurants. One was Prima, who supplied all of these amazing Brooklyn style pizzas and Italian sandwiches that were to die for. And the other was That's Amore who crushed it with their pear and gorgonzola tortellini in a pancetta cream sauce along with their penne bolognese with fresh ricotta and meatballs.
And since I'm such a control freak when it comes to cheese, my Uncle Lenny and I pumped out a huge cheese board the size of a banquet-table that even featured a prosciutto cake. I was very proud of it as you can see above! For drinks, we had "his and hers" cocktails along with beer and wine. My cocktail was an aperol spritz and Jerm's was a mezcal mule which were batched out and free flowing.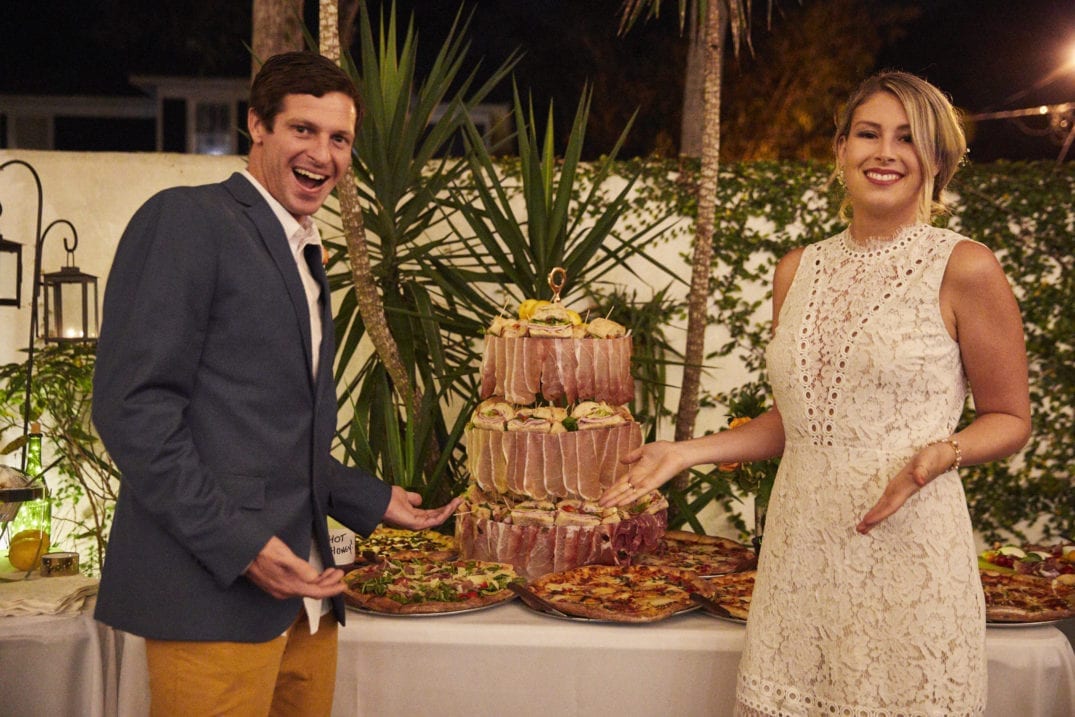 Since we live in New Smyrna Beach, a tiny little beach town with about zero bridal store options, I decided to do the majority of my shopping online. I must have ordered and returned about $3k worth of dresses from every single website that exists. It was tough because I wanted a pretty white dress that wouldn't shout "bride" when everyone walked - in hopes of maintaining the surprise factor.
And because finding the perfect dress that fit that criteria was so hard, I ended up doing a dress change right before the surprise was announced. Both of my dresses were from Free People and I'M OBSESSED with them! The first was more cocktail-ish but still fancy and cute. The second dress was more boho-chic which was awesome because it was perfectly fitted yet flowy, and I did not give one fuck about my stomach popping out if I ate a singular grape and/or fifteen pounds of cheese.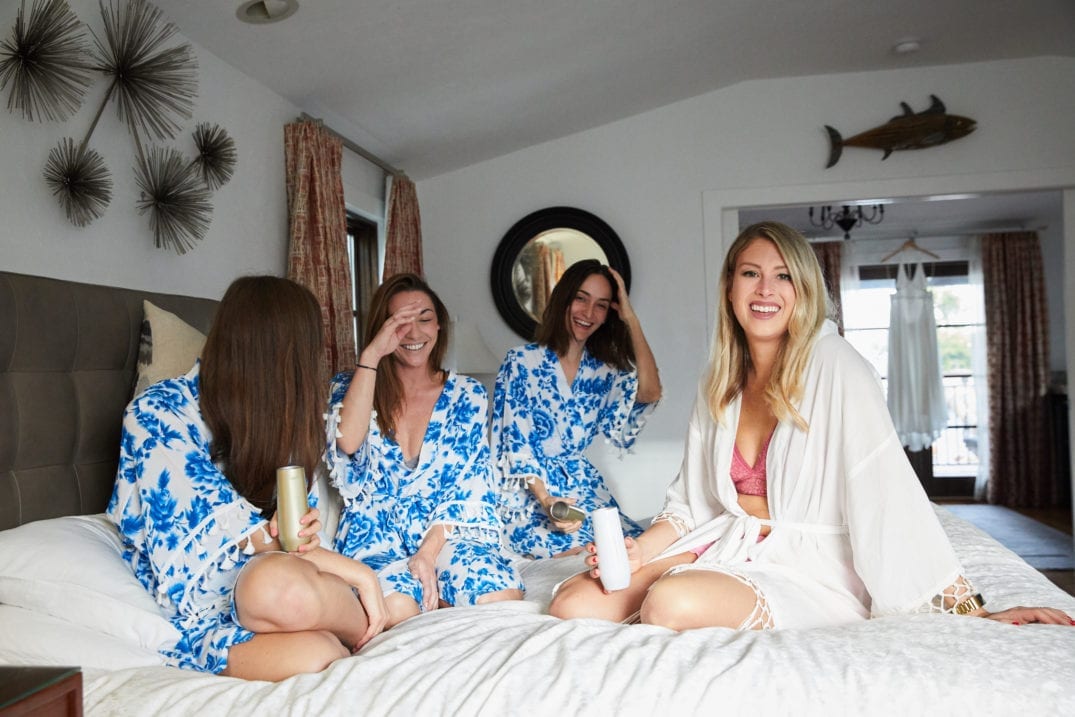 My shoes were Betsey Johnson and they were SO FUN! When the light caught them, they sparkled like a disco ball and I'm honestly pissed I can't wear them everyday. My hair was done by my girlfriends and my makeup was too. I have to say that the red Stila lip stain that i wore lasted the ENTIRE ceremony without fading or smudging. It was actually a miracle and I highly recommend it!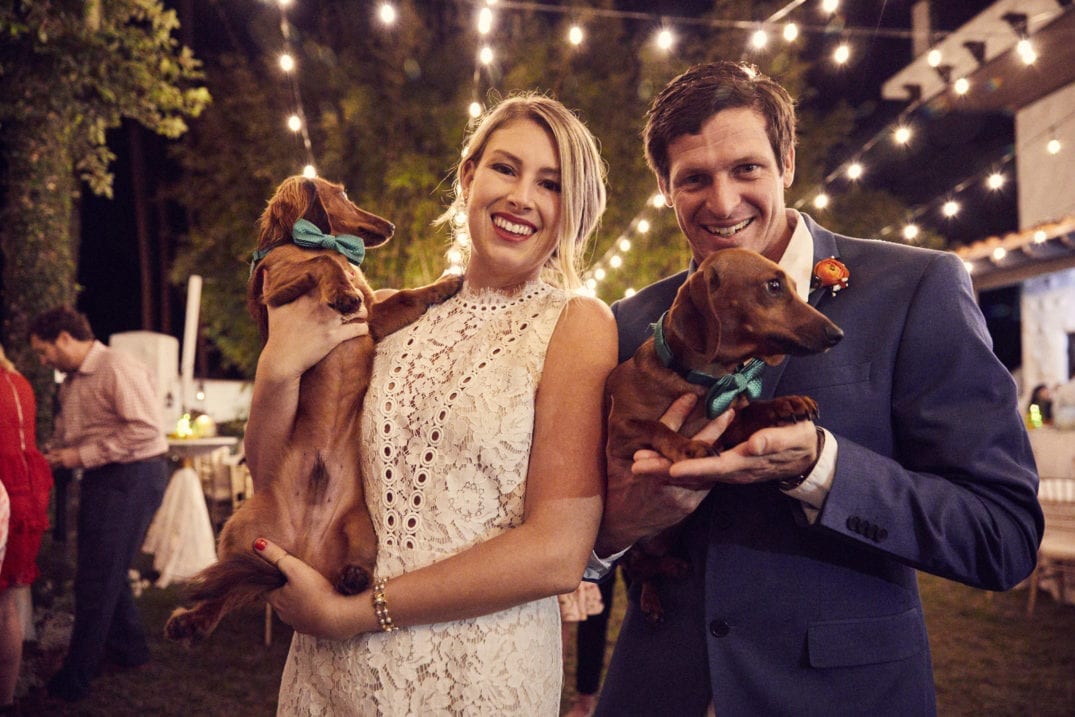 When it came time to find a wedding photographer, my mom had the bright idea to fly down two of our NYC photog friends, Christian Torres and Ashley Dudek, (who are also some of our best friends!) to document the event - which couldn't have been more perfect. Not only did I feel comfortable around them but they also knew our family which kept things intimate, easy, and natural.
I got insanely lucky in the flower department. The Bouqs Co, an amazing sustainable small farm flower delivery service, sent us the most beautiful blossoms ever - a mixture of orange, yellow and red ranunculus flowers with baby kale sprouts. Gahh i loved these flowers so much... don't you wish they could stay alive forever?!
Since the flowers come unarranged, my mom's bestie/unofficial aunt, Vicki, made them into a bouquet and even made little head pieces and bouquets for our flower girls. And with flower girls, comes my most favorite part - THE SURPRISE!!!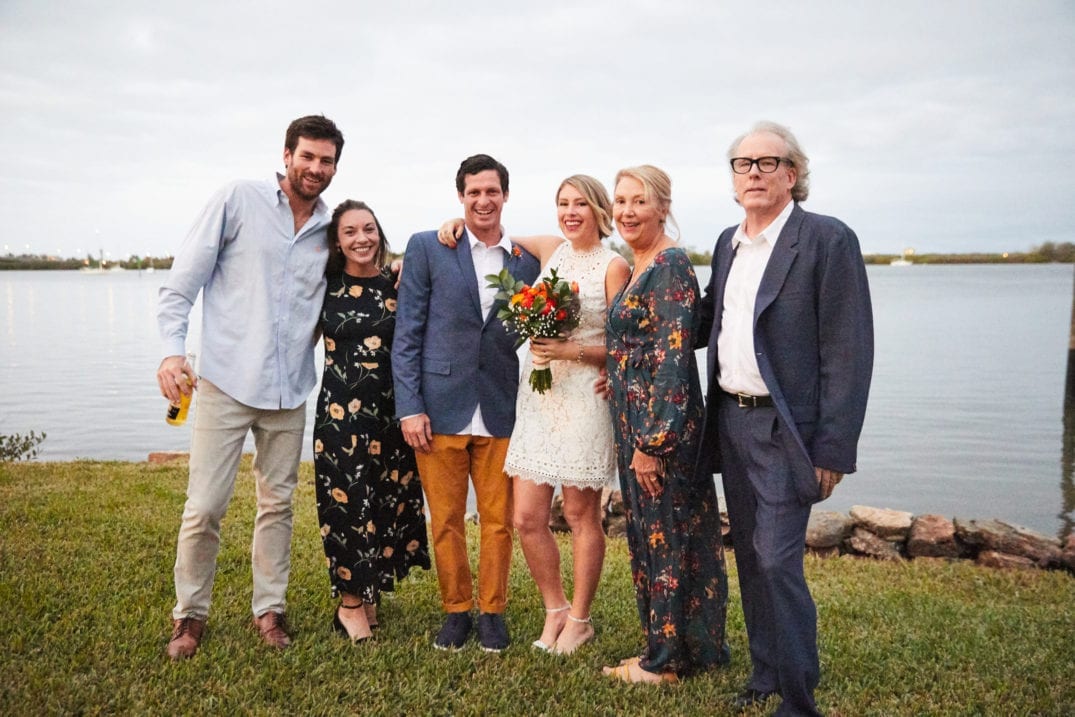 So how did it all go down?
Patricia, one of my spiritual mentors and best friends, was our officiator and was the one that MC'd the event. Once everyone got there and were enjoying cocktails and apps, Patricia made the announcement. She said something along the lines of "Thank you all for coming tonight to celebrate MacKenzie and Jeremy's Love! We have a special surprise for you (at which time a few people shouted - MacKenzie's pregnant! lol spoiler alert --I'm not) - it's not JUST an engagement party but it's ALSO a wedding. So without further adieu, please welcome the bride and groom!"
Before we walked out, Mark Mothersbaugh's song "Let me Tell you About my Boat" started playing (please listen as you read this paragraph so you can feel the realness!!!). Jeremy's two youngest nephews walked out with parmesan shakers and started shaking grated parm everywhere. Jeremy's other older nephew, Duke, walked out our dogs Saydi, Elo and Fin in their little green bowties. And then both of our wonderful nieces walked out as our flower girls. It was the most magic I've ever felt. And most importantly the parmesan boys stole the show!!!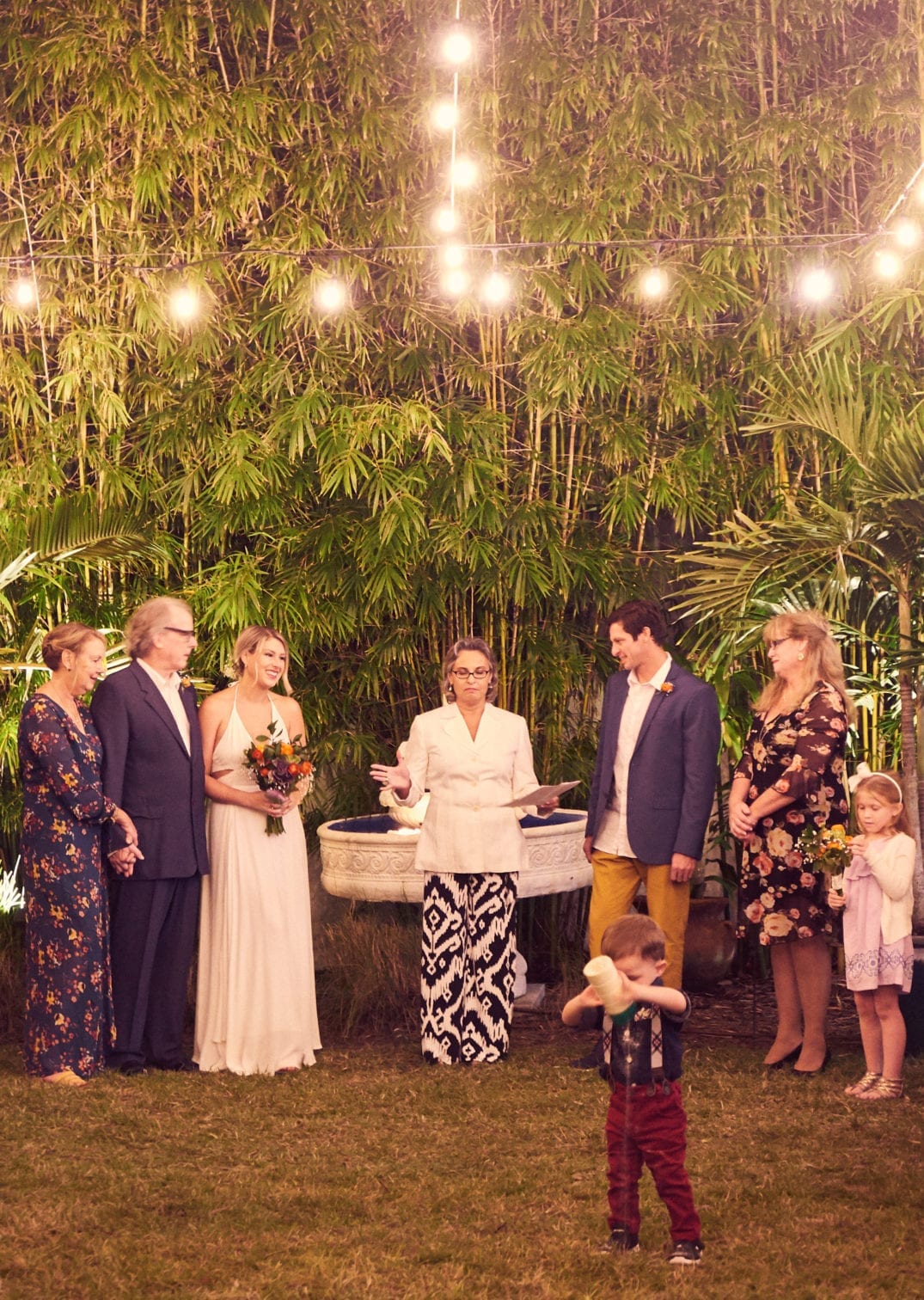 The ceremony lasted about 10 minutes and was perfectly written for us. All about love and human kindness and eternal oneness. Very sweet and real. I cried the entire time and so did all the moms of course! We read our vows off of our phones because what type of millenial wedding would it be without that?! Lol. After we kissed, the music started playing and everyone was cheering and clapping. After that it just became an awesome party that we'll never forget.
If you'd like to listen to our playlist, I still have them saved on spotify. This one was for the beginning when everyone was arriving and getting settled. The next one was for late night when we needed some dance music!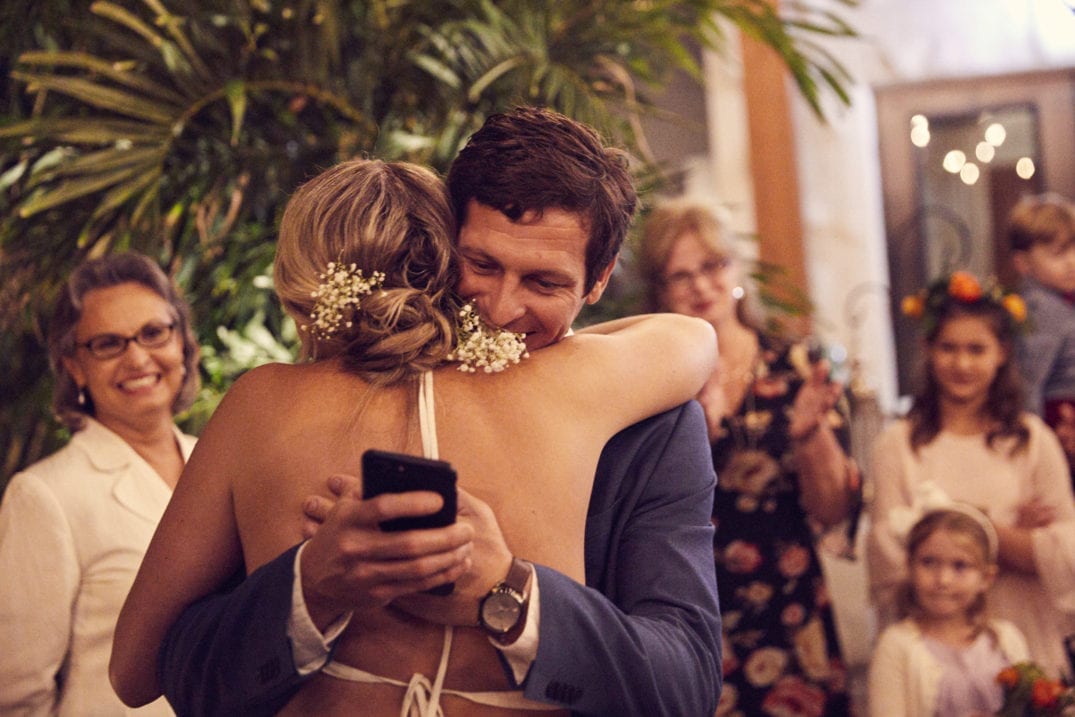 All in all, our surprise wedding was about 300% less stressful than having a big huge wedding with all the BS. We spent around $4,000 and it was worth every penny. And because I'm all about the realness, I should mention that it was nonstop pouring the entire day. I was so stressed and sad since I demanded no tent. About halfway through the day it stopped raining and the sun came out. I also forgot to write my vows until an hour before the party started which was a huge mistake because I cried all of my makeup off instantly! Lol. But regardless of all the blood, sweat, and tears (mostly mine) that went into it -- I couldn't have been more happy with how everything turned out!
Huge thank you both of our families for being so amazing, helpful, and supportive. This wedding felt perfect and it's all because of their love. #blessed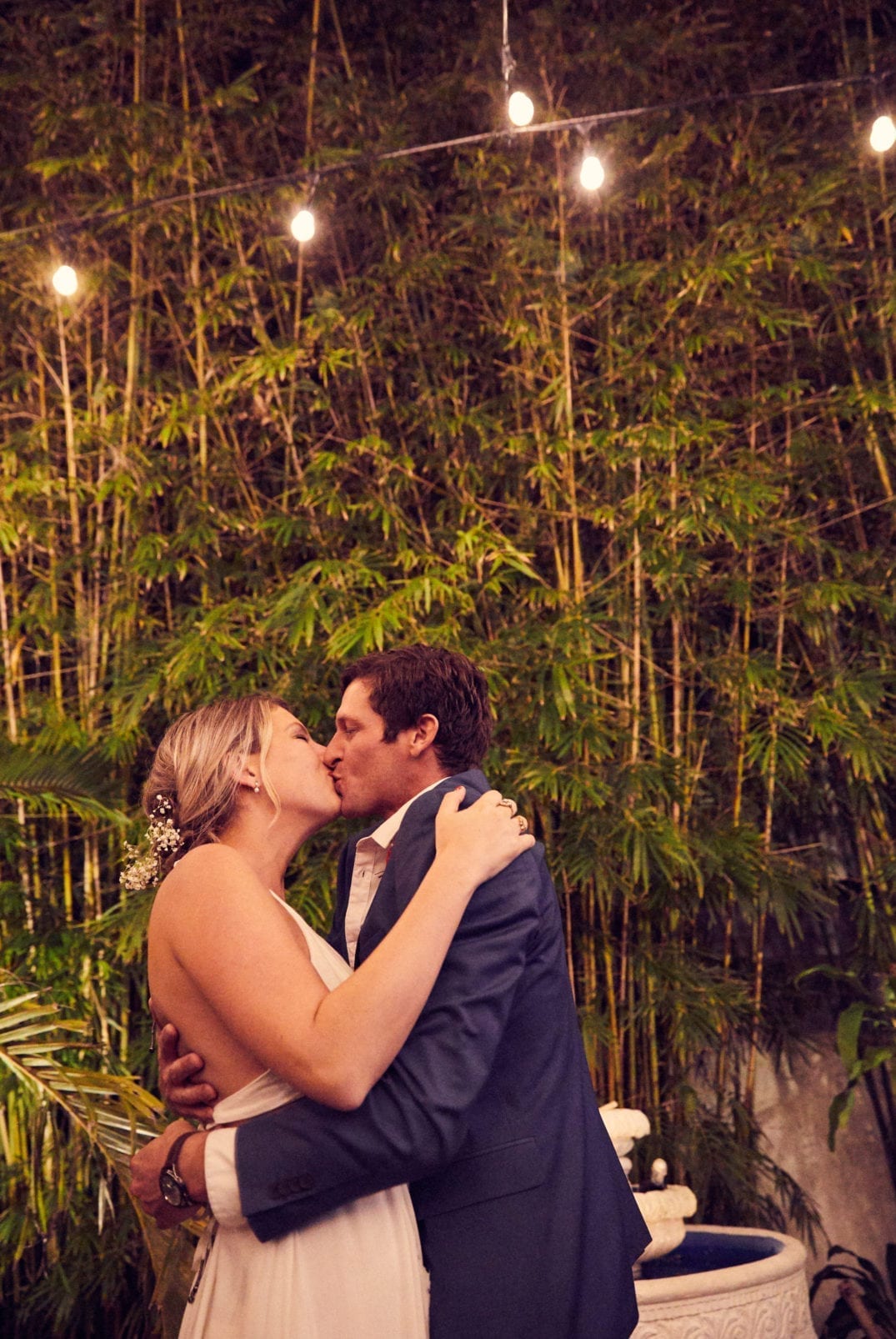 Next week, I'll be back with our Deer Valley honeymoon story and hopefully shortly after that, there will be our reverse bachelor/bachelorette friendship trip soon - so stay tuned! Lots of recipes in between though!
xoxo,
GCS