This is a sponsored post written by me on behalf of Altos Tequila. All opinions are 100% mine.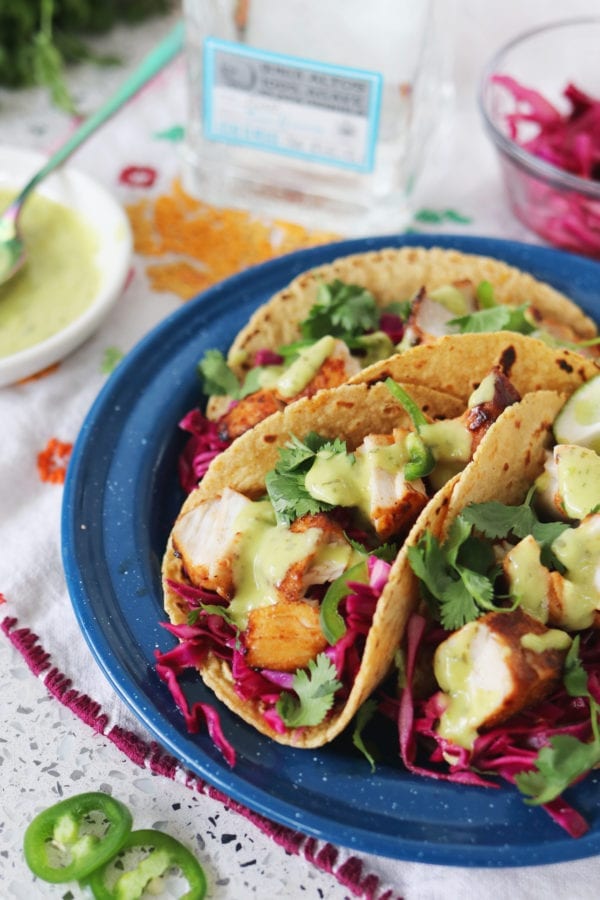 My boyfriend, Jeremy, and I have been planning a trip to Mexico for what seems like an eternity. The idea of spending our vacation in tropical paradise surrounded by beautiful blue water, big waves, and most importantly — tacos and tequila — seems like heaven.
I mean who doesn't love ALL of those things?? And as you might know, since Jeremy grew up as a professional surfer, he spent a lot of time down there and has an unmatched affinity for Mexican culture. I, on the other hand, have sadly only been to Mexico once. And I don't really even count that time because I was only 13 and on a cruise ship to the touristy destinations. I feel embarrassed sharing this, but we didn't' even eat outside of the cruise ship! Unbelievable, right?? Tell me about it.
But hey, now that we're all grown up, we will be doing this trip a little differently.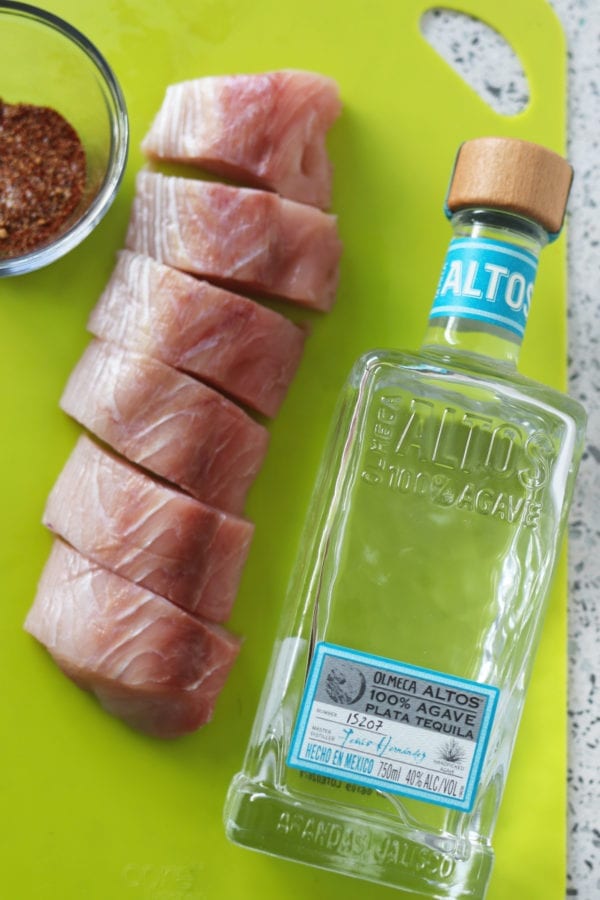 There will be no mouthfuls of cheap, harsh tequila filled from a squirt gun. No ridiculous days full of binge drinking that leave us suffering from a wild hangover, unable to enjoy everything that Mexico has to offer. None of that. At all. We're almost 31 and have no interest in low quality tequila, we will definitely be sipping on the good stuff like Altos Tequila made with 100% agave. We're extra into their product because they double distill their small-batches in 100% copper stills. It's totally quality over quantity with them, and for that, we're grateful.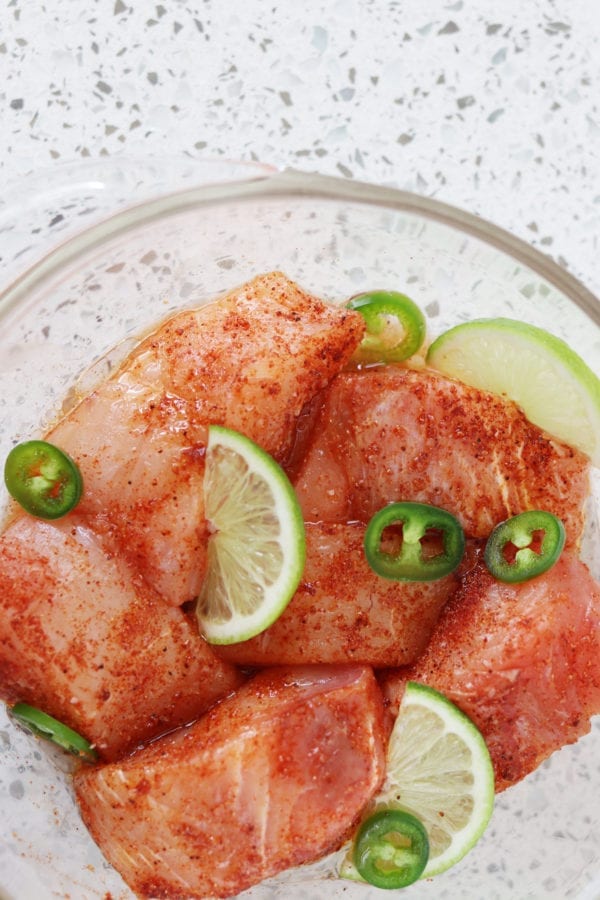 And now that I've spent most of my morning googling exactly where we want to go while obsessing over the food and drinks that lie in our near future, I couldn't help but want to make a delicious lunch inspired by our potential imaginary trip. Even though we don't even have our dates picked out, there's one thing that I can guarantee — I will be taking full advantage of drinking all the GOOD tequila and eating all the delicious food there is.
And to be honest, ever since I got a taste of Altos Tequila when I worked with them last year to bring you these tasty recipes, I've been hooked. I was super excited when they asked me to develop some more recipes so I came up with these ultra-delicious, tropically-inspired coconut tequila lime fish tacos that we will be binge eating until we get down there and indulge in the real thing.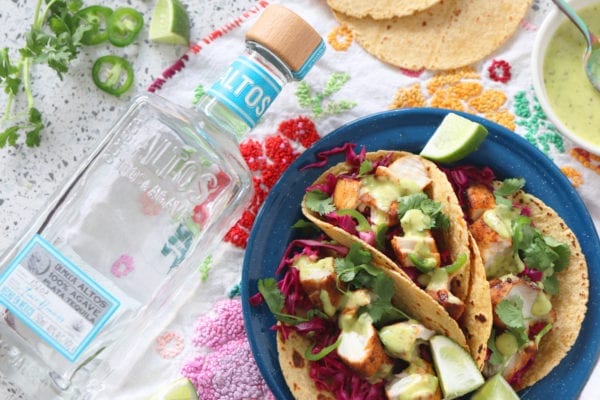 Coconut Tequila Lime Fish Tacos
–FOR THE TACOS–
2 tomatillos
1/2 clove garlic
1/2 jalapeno pepper (remove seeds if you don't want it too spicy)
1 bunch cilantro, divided
2 avocados
the juice from 2 limes, divided
salt to taste
1/2 head of purple cabbage, roughly chopped
1/2 tbsp raw sugar
corn tortillas
cooked fish (from below)
–FOR THE FISH–
1 tsp garlic powder
1 tsp chili powder
1/4 tsp cumin
1/4 tsp salt
1 lb fresh mahi, cut into 2.5″ fillets
1/3 cup Altos Tequila Plata
1/2 fresh jalapeno, seeds removed
the juice of half a lime
1 tbsp coconut oil
INSTRUCTIONS
–FOR THE FISH TACOS COMPONENTS–
Bring a pot of water to a boil and add tomatillos, garlic, jalapeno pepper and salt. Cook until soft. Strain and reserve a half cup cooking liquid. Add those ingredients to a blender along with the meat from two avocados, the juice from 1 lime and a handful of cilantro. Add cooking liquid until creamy consistency is reached. Salt to taste.
Meanwhile, add chopped purple cabbage to a bowl and toss with lime juice, sugar and salt. Let sit you cook the fish component of the tacos below.
–FOR THE FISH–
Combine garlic powder, chili powder, cumin, salt, lime, jalapeno and Altos Tequila Plata in a small bowl and whisk until combined. Add the mahi and let sit for 5-10 minutes. Add coconut oil to a pan and turn the heat to medium-high. When it's hot, add the fish with the liquid that it is marinated in. Let the fish cook on one side until golden brown and then flip and sauté until the fish is fully cooked through.
–FOR THE FINAL ASSEMBLY–
For serving, toast corn tortillas until blistered, add two spoonfuls of marinated cabbage, top with the coconut tequila lime mahi and drizzle with the creamy avocado salsa. Add more cilantro for garnish.