The Paloma is one of my all time favorite cocktails. It's essentially a salty grapefruit margarita that's made with grapefruit soda, Tequila, Fresh Lime Juice and Salt. It's super simple and can be made right in the glass! I also share the best grapefruit sodas for making a paloma!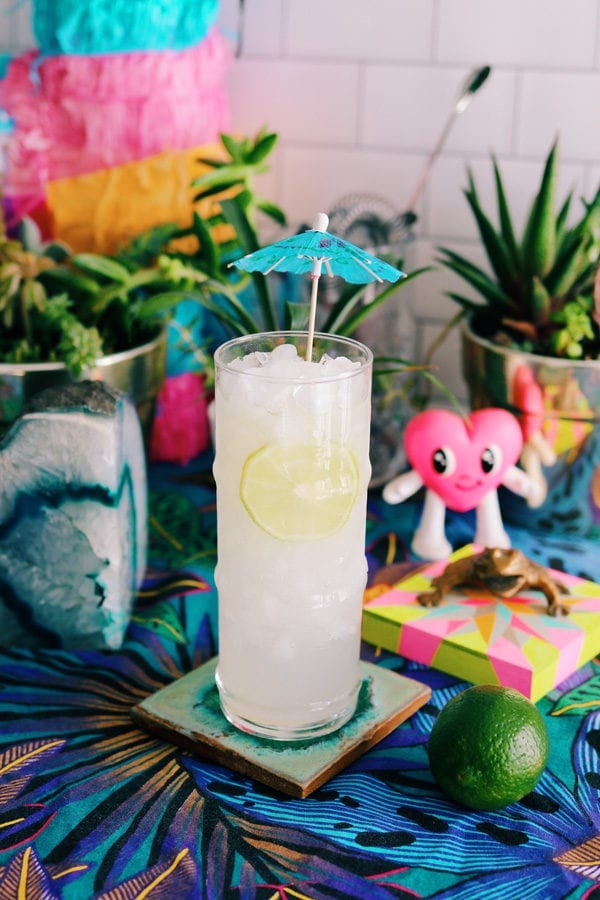 The Paloma
Similar to a grapefruit margarita, a Paloma is made with tequila, grapefruit soda, lime and salt. It's made in its own glass which makes it refreshingly simple. And best of all, the whole thing, from start to finish, can be made in under 3 minutes.
Back when I used to drink a lot, the Paloma was my favorite things to order. After finishing a shift at ACME, the coolest studio/prop house in Brooklyn, my girl Angie and I would walk over to La Superior.
La Superior is one of those restaurants that I constantly dream about. There is nothing fancy about it - just a small hole in the wall nestled on a back street in Williamsburg. However, the flavors that they crank out of their tiny kitchen are world class.
We'd always start by ordering a Paloma. Unlike most, their's is served in a giant water cup and would get you wa-wa-wasted half way through.
Follow that by a million bites of chips and guac, queso fundito and some of the best tacos in NYC.
If you ever plan on going there, please do me a favor and get the cochinita pibil tacos. To this day, they're the best tacos I've ever had in my life!
But alas, back to the cocktail! The Paloma is simple, delicious, and soooo tasty!
I like to make it with Squirt but since that's sometimes hard to find, any Mexican grapefruit soda will do. Oh, and the paloma is best served alongside some spicy food as it's refreshing AF.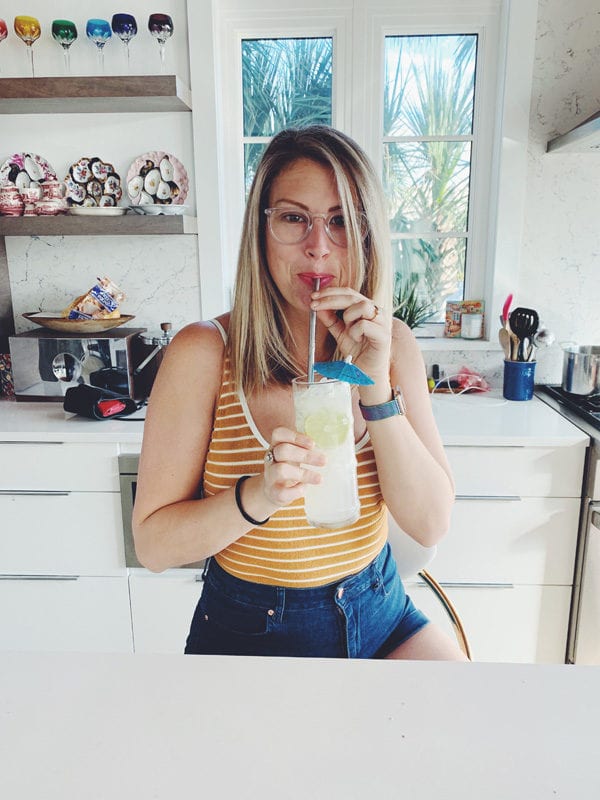 How to Make A Paloma Cocktail- aka a Salty Grapefruit Margarita
The best part about the Paloma is how insanely easy it is to make. It's essentially a grapefruit margarita so you can take that into consideration, too!
All you have to do is grab a collins glass, or another tall skinny glass, and fill it with ice.
Add a pinch of flaky salt and squeeze half of a lime on top.
Then add a shot of tequila (silver/clean/blanco works best) and top it with Grapefruit.
Place the lime back on top and serve!
Best Grapefruit Soda for Paloma
Wondering which grapefruit soda is best for a Paloma?
TING
In my house, we always opt for Ting. This effervescent grapefruit soda is from Jamaica. It's got a super clean grapefruit taste that's not too sweet or overpowering. Some might even say it's too tart but I love that factor in this cocktail. The bubbles are right on and you can find it in the Carribean section at most grocery stores.
JARRITO'S GRAPEFRUIT
If you can't fid Ting, our second choice is the Jarrito's Grapefruit (aka Toronja) soda. It's like a mix between grapefruit and sprite so it's definitely much sweeter than Ting. that being said, it's a good choice if you like sweet cocktails!
SQUIRT
And if you live in a small town like me and can't find either of the mentioned imported drinks, find yourself some Squirt! It's available pretty much everywhere and has an excellent grapefruit taste! It's bright, citrusy and not too sweet. You'll dig it!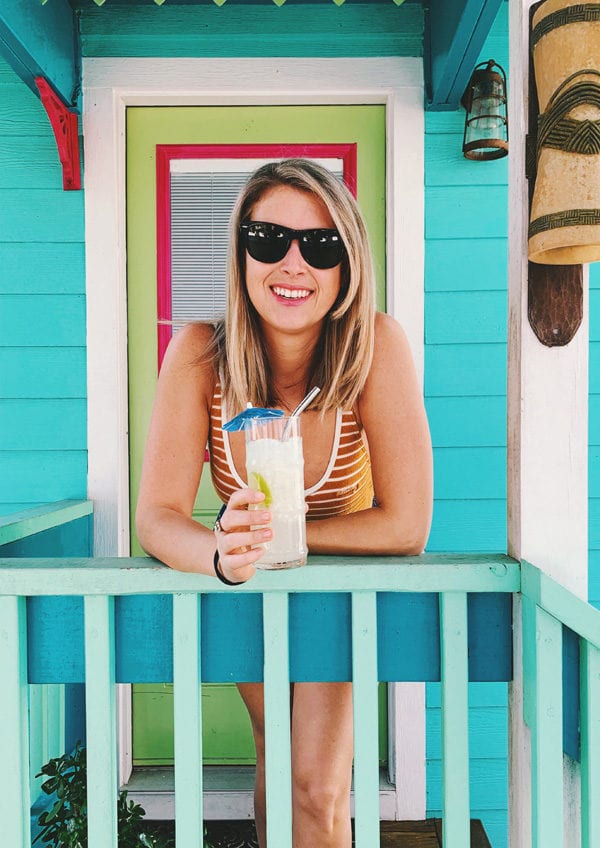 Recipe: Paloma
Recipe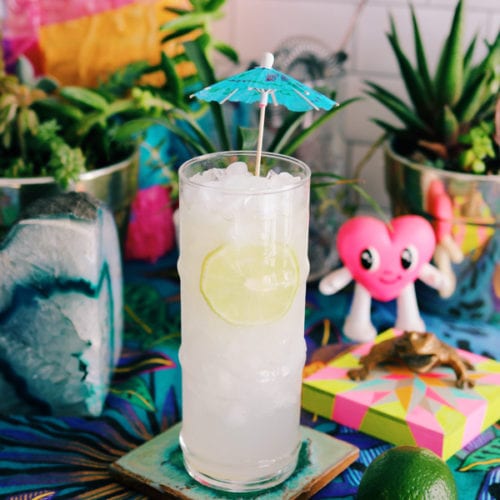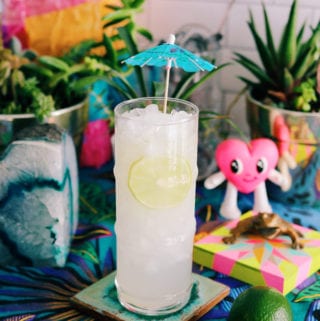 Paloma Cocktail Recipe
This perfect Mexican cocktail is basically a spin on a classic margarita. Made with grapefruit soda, tequila, lime and salt - it's refreshingly simple and can be made in under 3 minutes.
Print
Pin
Ingredients
1

pinch

salt

I like to use flaky salt or kosher salt best

2.5

ounces

Tequila

Squirt

or another type of Mexican Grapefruit Soda

½

lime
Instructions
Fill a Collins glass with ice and add a pinch of flaky salt. Squeeze half a lime over the salted ice and add tequila on top. Fill the rest of the glass with squirt and add the squeezed lime back on top. Serve immediately.
And if you like this Paloma Recipe, you might want to pair it with some of these tasty recipes!
Chicken Tinga: This authentic spicy shredded chicken dish is perfect for tacos, bowls or quesadillas. I love how easy it is to make ahead and the fact that it gets better the day after! Pair it with a Paloma for ultimate awesomeness.
Honey Tequila Street Corn: Similar to elote, this Mexican street corn swaps mayo for a quick and easy honey tequila glaze that is out of this world! Roll the cobs in queso fresco and top it with fresh lime for a tasty side dish that's irresistible.
Coconut Tequila Fish Tacos with Spicy Avocado Salsa: If you've got some leftover tequila from the cocktails -- why not use it to make these awesome fish tacos! It's probably also a good idea to make extra of that spicy avocado salsa because you might just eat it all before the tacos are even ready!
xoxo