This avocado breakfast grilled cheese is one of my absolutely favorites! It's made with Casa Bolo (which is a cheese made from three different types of milk), avocado, scrambled eggs and sriracha. If you can't find this cheese, you can swap it out for gouda or muenster. and it will work perfectly!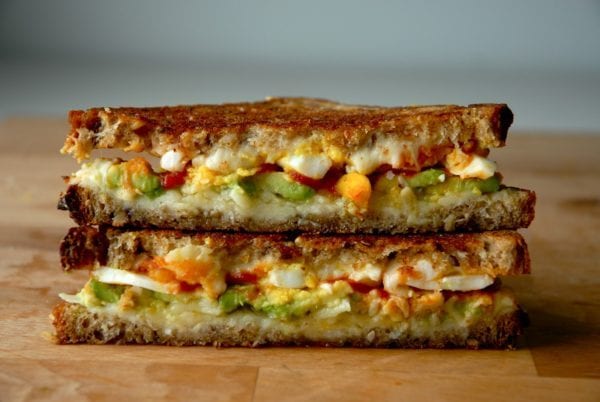 Sriracha and Avocado Breakfast Grilled Cheese
Whoop whoop, it's time for a new post! I haven't done anything with the blog for a while and I apologize for that. You see, I've been extremely lazy busy (seriously though, lazy and busy) and haven't had the time to photograph any new creations. But don't be bummed out, this won't happen again. A few weeks ago I received like 9 pounds of cheese from Wisconsin. Yes, so much cheese, it's unreal. You can call me queso queen. And because I am now the reigning queso queen, I've got like a million grilled cheeses to share with you all, dear readers.
And if you follow me on Facebook or Twitter, you might know that I've been in Thailand for the last week. So I'm about to blow your mind with even more crazy spicy Thai-inspired sandwiches. If I can only figure out what cheese to use. So in the meantime, here's a nice little breakfast grilled cheese that I eat on the reg when I'm hungover. Now that I'm thinking about it, whenever I eat a grilled cheese for brekkie it's usually when I'm hungover. Yikes. Maybe i need to cool down with that, Errrrrr. But yeah, this has become a staple with some of my buddies at Mast Brothers Chocolate. I make it for them when they're hungover, too. See, I'm not the only one, Mom.
Oh, and I might just be listening to some weird, poppy, bass-saturated, glitch hop 'ish so things might get a little weird. I feel weird. I don't know why I'm listening to this, I can't stop, I'm stuck. Help.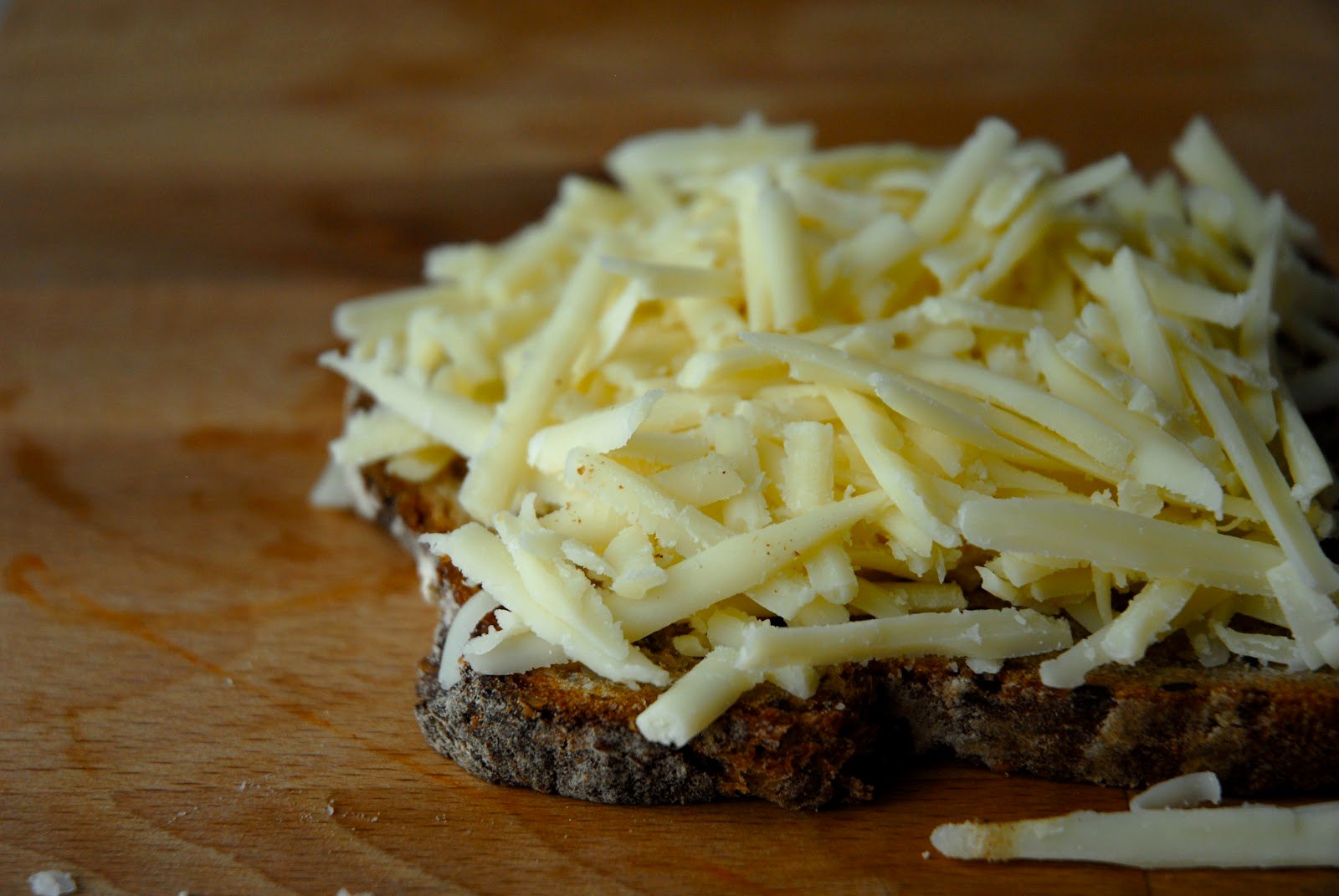 CASO BOLO MELANGE CHEESE
Before I left for Thailand, I represented Wisconsin Cheese at this year's IACP convention. To show off their tasty cheeses, I grilled up about a million little grilled cheese sandwiches for all the convention goers and at the end of the day they gave me a cooler full of their finest cheeses. Yes, an entire cooler full of cheese. Just looking at it made me gain 10 pounds. Or maybe it was that I ate about half of it before I left. I don't know, but anyway, that's how I got this Caso Bolo Melange.
This cheese is totally cray. It's made using three different types of milk - goat, cow, and sheep. Yes, all this goodness is mixed into one lovely, wax-sealed wedge of complex goodness. And best of all, it's from Wisconsin. If you can't find this type of cheese, I think Gouda would work really nicely or muenster, or a mild cheddar. Whichever fromage you decide to use, make sure to grate it up and lay a nice hefty handful on top of one slice of bread.
HOW TO MAKE THIS AVOCADO BREAKFAST GRILLED CHEESE
Scroll down if you just want the recipe card for this avocado breakfast grilled cheese!
First, stack half the cheese onto a slice of multigrain bread.
Now it's time for avocado. For some reason I think its got ultimate healing powers. It's like nature's butter, ya know? Creamy, soft, green, HEALTHY. Imagine Old Greg saying that but with a ripe little avocado instead of a bottle of Bailey's.
Then crumble up one medium boiled egg and lay it on top. If you've never had an egg like this before, it's just like a hard boiled one but with a runnier center. You can do it by gently boiling the eggs for around 8 minutes. I like them better this way. Trust me, I think you will, too.Now drizzle some sriracha all over it. Bathe it in sriracha. Do it.
Slap on the rest of the cheese and lay a slice of bread on top and get ready for grilling.
If your butter is soft then smear it on the bread and if it's not, then just put a dab in your grill pan and turn it to medium heat. Let it melt for a hot second and then add your sammie in. Wait 'til it gets all golden and crispy-looking and wait for the cheese to get gooey and then flip it! Remember to butter both sides, though. Duh. You know that. Why did I even mention it?
Let it rest for a second, chug a glass of water, pop some advils, and put your sunglasses on. Maybe even put on some makeup. I don't know, whatever makes you feel better. When you come back, the sandwich should be cool enough to eat and the cheese should be the perfect temperature. Chow down my friends.
RECIPE: Sriracha and Avocado Breakfast Grilled Cheese
Recipe
So I hope my long break of not posting won't deter any of you from checking the website more often. I've got three more sandwiches in the vault so it should be one post a week from now on. That is unless I get sucked into the computer or some West Coast electronic version of Hackers from the nintendo generation. Wait, what did I just say?
Oh and if you like this recipe, you might also like:
Tequila Bloody Marias with Grilled Cheese Toppers - Because hey, if you can't fight a hangover, might as well give in. The hair of the dog is always a good way out! 
Pork Roll Egg and Cheese Breakfast Grilled Cheese - I grew up going to New Jersey to visit my dad's family. And every time, without doubt, we'd get a pork roll breakfast sandwich. It's kind of like a mix between salami and bologna and it's absolutely awesome. Put it in grilled cheese form and you can bet it's even more awesome...er? Hah! You get what I'm trying to say! 
NYC Bodega Style 2 on a Roll - If you don't live in NYC but want the iconic breakfast sandwich of the millions that live there -- this is for you! 2 eggs on a roll with bacon, american cheese and hot sauce and ketchup! 
Venison Sausage Gravy and Biscuit Grilled Cheese - Honestly, I don't know how to describe this one but I will tell you that you might need a nap after indulging in it's meaty goodness. 
Scrambled Eggs, Goat Cheese and Arugula Pesto Breakfast Grilled Cheese - This is one of those healthy-ish breakfast grilled cheeses if there ever was such a thing. Let's be real, when you start your day with arugula pesto, you know you're doing something right! 
xoxo,
Kenz aka GCS