Jump to Recipe
This Thai Noodle Salad with Sesame Peanut Sauce is one of my favorite recipes! You can serve this easy Asian pasta salad cold or hot and you can even make it a few days ahead of time! 

Thai Noodle Salad
I've always had a soft spot for Thai Noodle Salads.
There's just something so addicting about a sweet and savory peanut sauce slathered on perfectly cooked noodles.
And when you add a bunch of finely chopped colorful veggies and fresh herbs, oohhh weee I'm sold!
If you've ever been to one of my catering events, then you've most likely had this Thai Noodle Salad!
It's 100% always a crowd pleaser and my husband always complains because there's never any leftovers!
And to be truthful, he's been asking me to share this recipe for years now and I'm finally getting around to it!

Ingredients - what you'll need
Soy Sauce
Sweet Chili Sauce
Sesame Oil
Peanut Butter
Rice Vinegar
Hot Chili Oil
Garlic
Lime
Linguini, such as Delallo
red bell pepper
Carrots
Cilantro
Scallions
Red Onion
How to make Sesame Peanut Sauce for Noodles
The recipe for this Sesame Peanut Sauce is ridiculously easy to make!
Begin by whisking together the sauce of the Thai Noodle Salad. Combine soy sauce, peanut butter, sesame oil, sweet chili sauce, rice wine vinegar, hot chili oil, minced fresh garlic and the juice from one lime.
If you can't find the crunchy hot chili oil, you can either order it from amazon or swap it out for sriracha. The texture will be different but it will still be just as tasty!
But let's be real, you need this crunchy hot chili oil in your life! It's SO GOOD!!
If you're wondering what type of peanut butter to use, any old store brand will work!
I should tell you that the typical name brand varieties like jif and skippy will make a slightly sweeter asian pasta salad.
These ones will also be easier to incorporate than the organic varieties since the oils aren't typically as separated. But honestly, it'll be delish either way so just use what you have!
Once everything is whisked together, then just let the sesame peanut sauce rest while you prep the rest of the salad.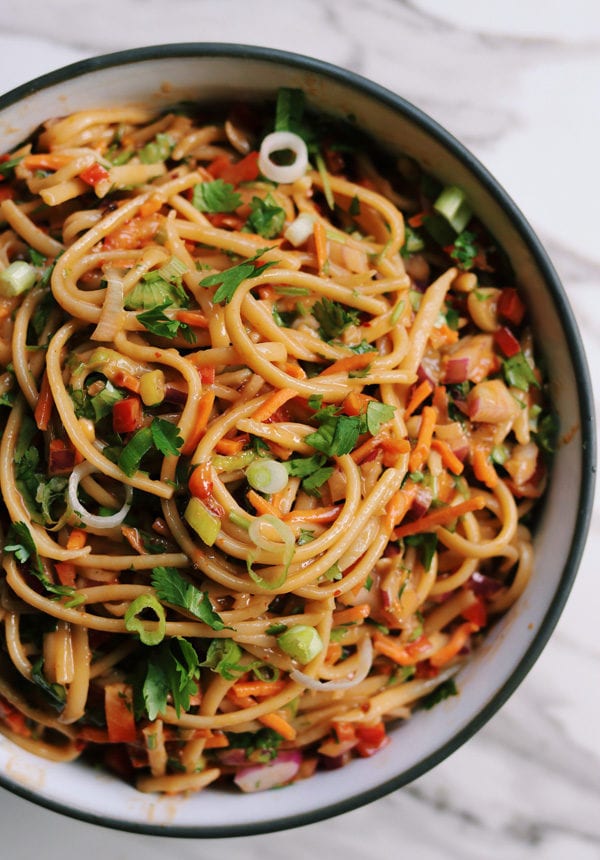 How to make Asian Pasta Salad
Making an Asian Pasta Salad Recipe is super easy!
First, you'll want to cook your pasta in salty water. To test if your water is salted enough, simply taste it and if it tastes like the ocean, you're good to go!
If you live in a small town like me, you might not be able to find authentic asian noodles but that's ok! Regular old spaghetti or linguine (like the one I used from Delallo Foods) will work just fine!
Once you have the salty water boiling, cook your pasta according to the directions on the box. When it's al dente, strain the noodles. Then run cold water over them so they stop cooking.
Meanwhile, as the pasta is cooking, prep the other components.
Begin by mixing your dressing.
You'll need soy sauce, peanut butter, sesame oil, sweet chili sauce, rice wine vinegar, hot chili oil, fresh garlic and lime juice.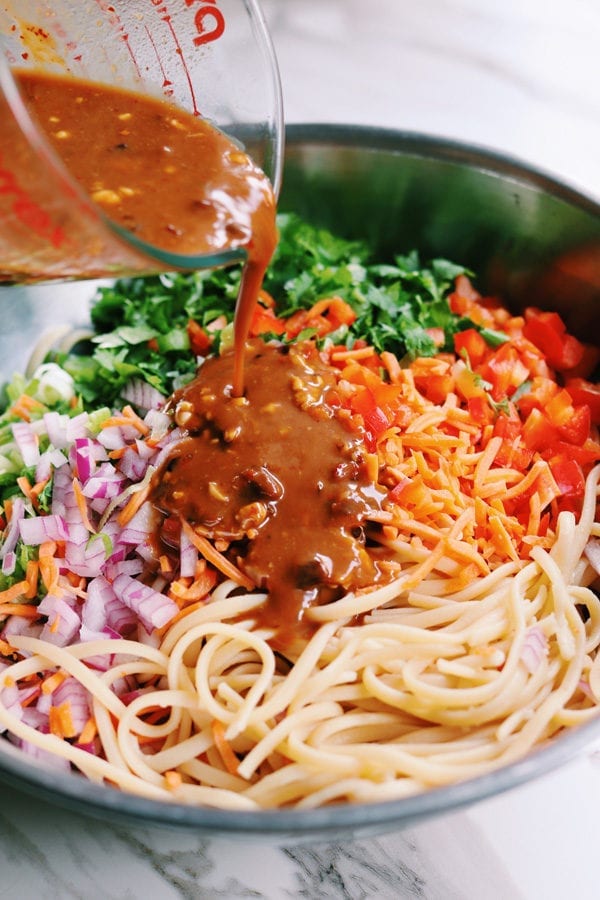 Now that the sauce is cadillac-ing (as my mother would say), prep your veggies!
Finely chop carrots, red onion, red bell pepper, scallion and cilantro.
Pour your cooled noodles in a big mixing bowl and place the veggies on top. Then add your Sesame Peanut Sauce on top and toss the whole thing together until each noodle is coated.
Serve immediately or stick it in the fridge for another time.
Personally, I prefer it cold but my husband loves this Thai Noodle Salad warm! So you do you and serve it however you please!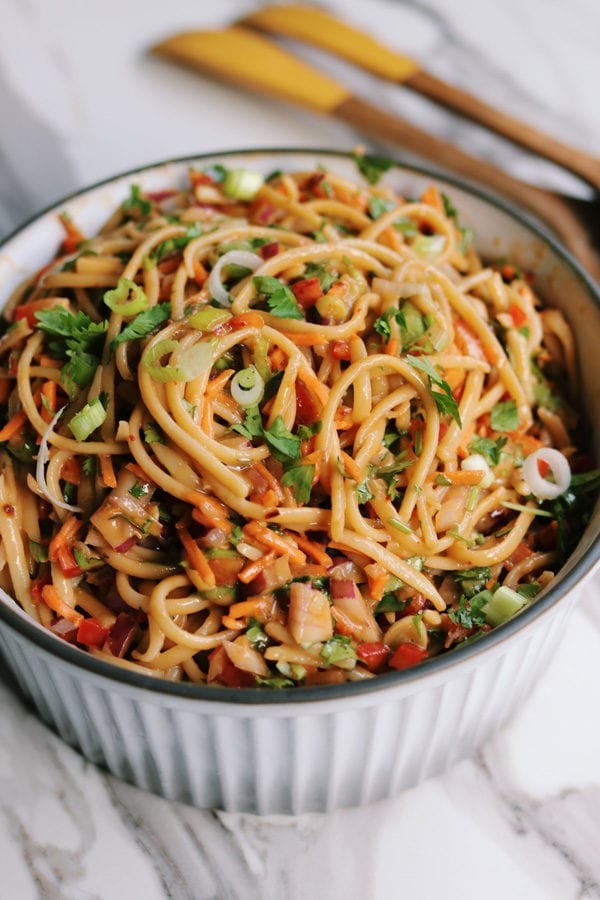 What to pair it with
I recommend serving this with my favorite Healthy Curry Chicken Salad recipe or these colorful Asian Slaw Dogs! If you'd like to serve them with a tasty cocktial, try this Avocado Key Lime Colada!
If you want more easy Asian inspiration, try my easy Hibachi Chicken with Yum Yum Sauce and my Hibachi Noodles!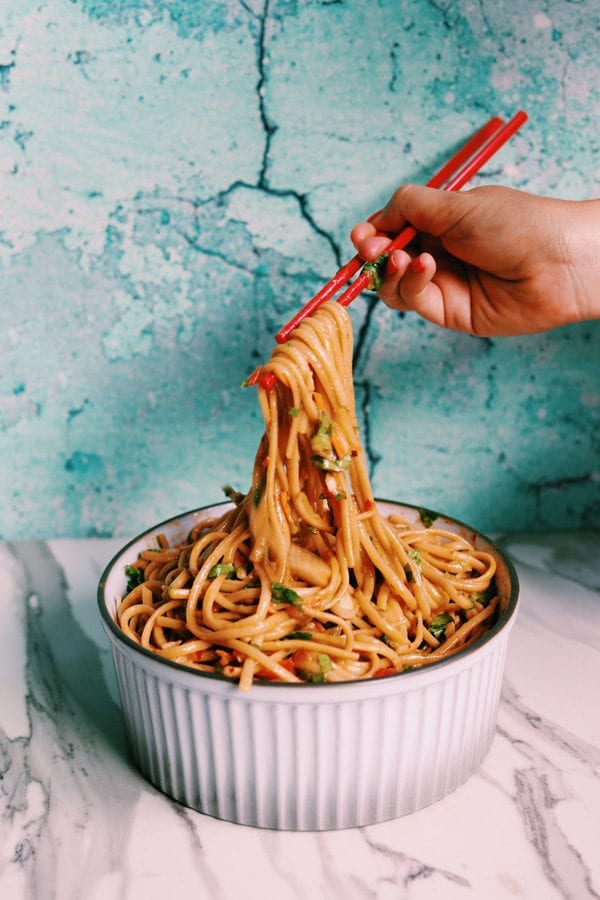 Save this recipe for later

Recipe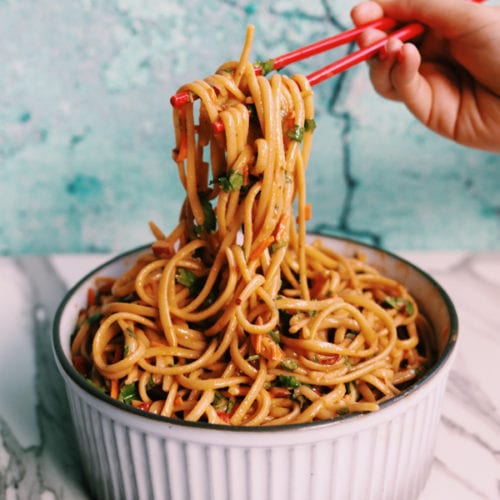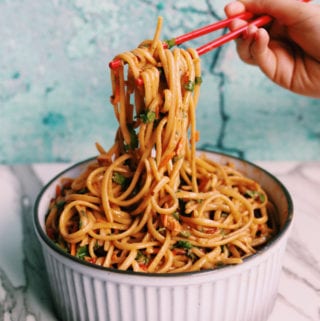 Thai Noodle Salad with Sesame Peanut Sauce
This crunchy Thai noodle salad is smothered in my favorite sesame peanut sauce. It's easy to make and absolutely addicting to eat! You can serve these noodles cold or hot and you can add sriracha for a kick!
Print
Pin
Servings:
6
hungry people
Ingredients
For the Sesame Peanut Suce
For the Thai Noodle Salad
1

lb

linguini

such as Delallo Foods

1

red bell pepper

finely chopped

1

cup

shredded carrots

finely chopped

1

bunch cilantro

finely chopped

½

cup

scallions

finely chopped

½

medium red onion

finely chopped
Instructions
Begin by preparing your noodles al dente according to the directions on the box.

When noodles are done, strain and rinse them with cold water.

Meanwhile, whisk together soy sauce, sweet chili sauce, sesame oil, peanut butter, rice wine vinegar, hot chili oil, garlic, and lime juice until it's smooth and creamy. Let it rest.

Add cooked noodles to a large bowl and top with diced red pepper, carrots, cilantro, scallions, and red onion,

Pour the sauce on top and toss everything together until each noodle is coated. Serve immediately or put in the fridge until chilled.
Notes
If you want it creamier and more sauce-y, use a half pound of pasta. 
xoxo,
GCS aka Kenz