These Brown Butter Churro Rice Krispies Treats are not only ridiculously addicting, but they're super easy to make! A quick dusting of cinnamon sugar adds so much flavor to these childhood treats and when you use infused cannabutter, well, then I can guarantee that the adults-only version is even better!

Ever since I first started getting my period, monthly cramps have been my actual worst enemy. When I was a teen, they used to be so bad that I'd either stay home from school, lay in bed with a heating pad on my tummy ALL DAY, or just take a tylenol pm and sleep through the excruciating pain.
As I got older and got on birth control, the intensity subsided, but that's not to say that they don't still suck. They still happen and I still have to deal with dull aching pain and the low mood that comes along with it which is no fun at all and quite debilitating at times.
So instead of avoiding responsibilities these days by hibernating or using pharmaceuticals to cope, I've started self medicating with cannabis. Now I'm not saying that this is for everyone as I know it's still illegal in most places but hopefully that will change soon and people will start to understand and benefit from the medicinal qualities of cannabis.
And since I'm sure most of you ladies can relate, my sweet tooth goes insane the first few days of my period... when the cramps are the worst. So to satisfy both of these reactions, I started making these little medicated churro flavored rice krispies treats. They're not only great to ease the pain of my cramps but they taste delicious and they also mellow my mood which makes my hormonal imbalances more stable, predictable, and easier to deal with.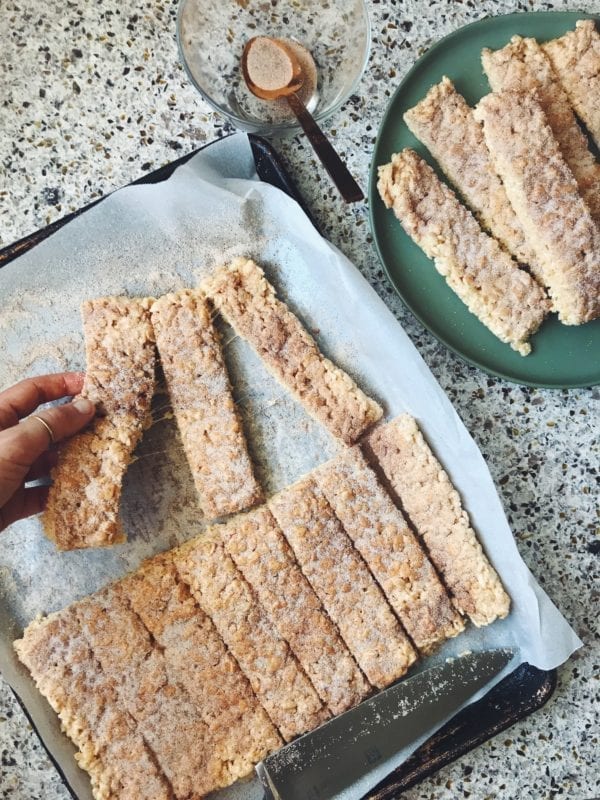 Thanks to the fine ladies at LEVO, they have made a beautiful appliance that takes all the work out of making infused butter or oil. No more crockpots and cheese cloths bubbling away overnight, instead, I have a pretty avocado-green kitchen appliance that makes this whole process 100% easier in less than ¼ of the time. This is totally not sponsored but if you're interested in learning more about this, you should totally check out their website for more information. I'm obsessed with my LEVO and just want to say that it's not exclusively just for cannabis - you can use any herb or flower and any butter or oil. It's a great appliance for those who indulge and those who don't.
As for dosing, the perfect amount for me is 2 of these RKT. They're not very strong but they get the job done and don't leave you feeling panicked or anxious from overdoing it. And if you're new to this, I'd start with a half of one to see how your body reacts. If you're not using a Levo to make this, then your dosage will be different. I am by no means an expert at dosing out this kind of stuff so eat at your own risk but know that these were nowhere near the strength of some of the edibles I've had from recreational dispensaries in California and Colorado.
Oh and this goes without saying, but if you don't want anything to do with cannabutter, then totally leave it out! These will be just as incredible with regular salted butter. But if you do, just be sure to keep it out of reach for kids or unknowing individuals. Basically, keep these in your private stash and don't leave them out because they're so good that someone might eat the whole tray!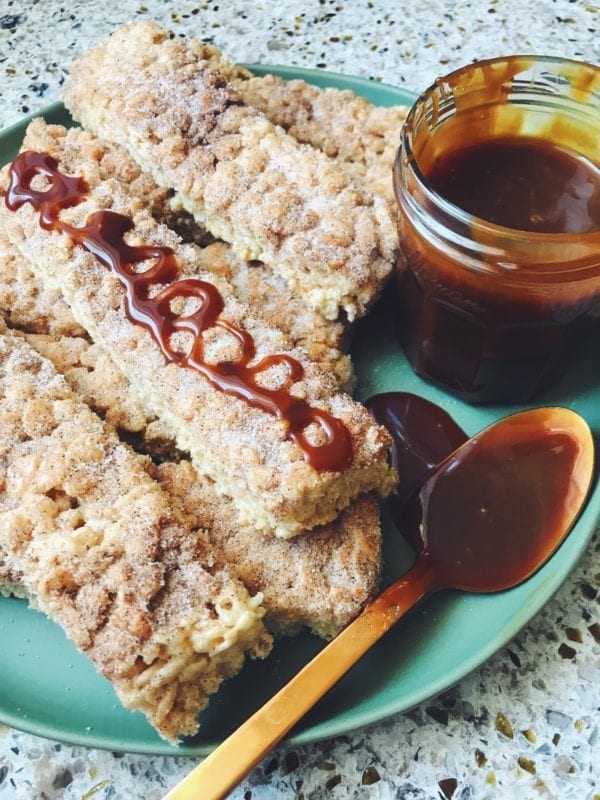 RECIPE: BROWN BUTTER CHURRO RICE KRISPIES TREATS
INGREDIENTS
6 tbsp Levo Infused salted Canna-butter (or regular salted butter!)
6 cups Rice Krispies
1 whole package of marshmallows (10-12 ounces)
⅓ cup white sugar
1 tablespoon cinnamon
**dulce de leche for serving**
INSTRUCTIONS
Add butter to a large sauce pot and turn the heat to medium. Stirring constantly, melt the butter for a few minutes until the butter begins to foam and eventually turns a deep golden brown and the scent smells toasty. This takes about 10 minutes.
Add marshmallows and stir continuously until melted. Stir in Rice Krispies treats until everything is coated in melted marshmallow. Turn off heat.
Lay a large sheet of greased wax paper on the counter and pour the Rice Krispies mixture over the top. Using a spatula, pat the mixture down into an even thickness. At this point it should be cool enough to use your hands (spray them with pam to not stick!) to shape the mixture into a large rectangle. Let them cool for about 15 minutes.
Meanwhile, mix together white sugar and cinnamon in a small bowl and set aside.
After they've cooled a bit, slice them down the middle and then into long strips and slightly separate them so there's a gap between each one. Pour half of the cinnamon sugar over the top of the Rice Krispies Treats and pat the sugar in. Flip the treats and pour the rest of the sugar into them. Scatter them around in the leftover cinnamon sugar until each Rice Krispies stick is coated in cinnamon sugar. Serve with dolce de leche if you'd like -- but they are perfectly delicious on their own!
Enjoy!
xoxo,
GCS