This mango Campari Float will make all other Spring and Summer cocktails obsolete! The sweetness from the ice cream plays off the bitterness of the Campari while the mango adds the perfect pop of fruity goodness. The ways the flavors play together is the perfect example of balance!
Mango Campari Float
Campari is one of my favorite liquors of all time. It's extremely bitter but in the best way possible. If you're unfamiliar with this Italian grapefruit liquor, you've probably tasted it in a Negroni or a Boulevardier. Or you might have had Aperol, which is super similar to Campari, only a little less bitter. Campari is also boozier than Aperol, so there's that, too!
This cocktail plays up the refreshing bitterness of the Campari but cuts it with rich vanilla ice cream. The way the two balance each other out is quite remarkable! And when you add St. Augustine's botanical gin along with some fresh mango juice, the fruitiness of it all just makes the whole thing irresistible. It's like the grown up version of an ice cream float and for that, we're obsessed! If you're unsure, trust me on this one! You need this in your Spring and Summer cocktail lineup!

How to make a Campari Float
Making one of these beautiful Campari Floats is super easy! All you have to do is add equal parts Campari and Gin to a mixing glass. Next, add your sweetener -- this could be a fruit juice or simple syrup. Then add your bubbly element -- you could try seltzer, soda water, champagne or prosecco! Mix it all together in a mixing glass then pour it in a tall collins glass. Before serving, top it with ice cream! Be sure to serve immediately for best practice!
When it comes to my Mango Campari Float, I used Campari and St. Augustine Gin. For the sweetener I added mango juice. And for the bubbly element, I added Perrier's new pineapple mango juice which is a mix between seltzer and juice. If you can't find it, you could easily use another sparkling water and a touch more mango juice. For ice cream, I used Tillamook's Old Fashioned Vanilla Bean Ice Cream. For garnish, I used chopped candied ginger and fresh mint!

Recipe: Mango Campari Float Cocktail
Print Recipe
Mango Campari Float
The sweet richness from the ice cream balances out the bitterness of the Campari while the mango adds just the perfect pop of fruity goodness. Enjoy all spring and summer long!
Ingredients
1.5

oz

Campari

1.5

oz

St. Augustine Gin

1.5

oz

Mango Juice

6

oz

Pineapple Mango Perrier

2

scoops ice cream

1

tsp

chopped candied giner

1

mint leave

2

slices

orange
Instructions
Add two slices of orange to the inside of a Collins glass and set aside. Add Campari, Gin, Mango Juice, and Pineapple Mango Perrier to a mixing glass and stir. Pour the mixture into the Collins glass and top with 2 scoops of ice cream. Add the candied ginger and mint leaves for garnish. Enjoy immediately!
Notes
If you can't find the Pineapple Mango Perrier (it's new!) then you could def use a Mango or Pineapple seltzer water in its place.
If you like this cocktail recipe, you might also like one of these tasty cocktail ideas!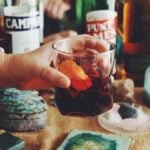 Boulevardier Cocktail - A Boulevardier is super similar to a Negroni. Both are made with Campari and Sweet Vermouth but unlike a Negroni, a Boulevardier is made with Bourbon instead of Gin. The results are completely different yet undeniably delicious!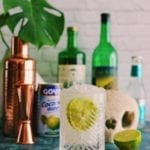 Skinny Coconut Mezcal Margarita - This play on a mezcal margarita is surprisingly smooth and perfectly spicy. Simply combine mezcal, coconut water, citrus tonic, lime and Ancho Reyes Verde to create this tasty concoction. It's perfectly crisp, undeniably fresh and utterly refreshing.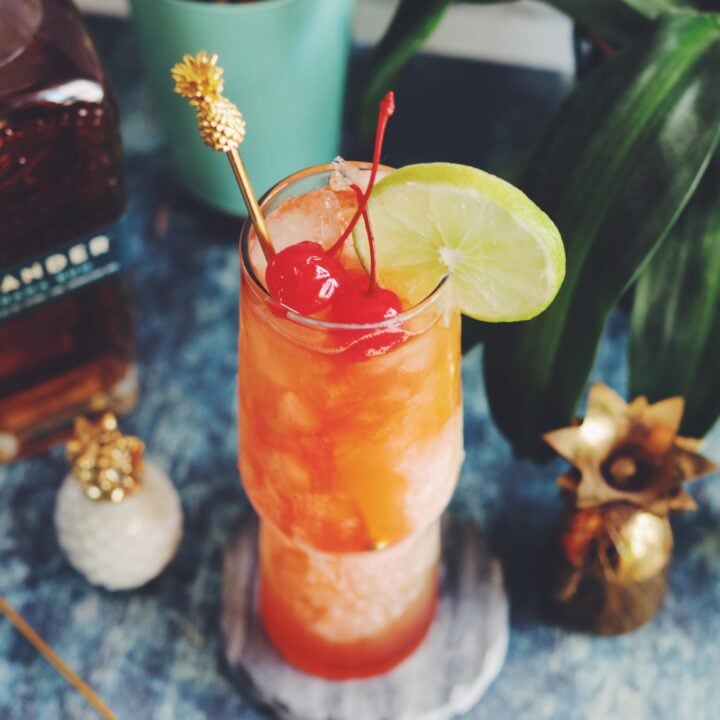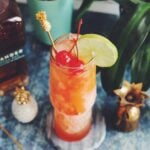 Sunrise Rum Punch - This colorful Sunrise Rum Punch is packed full of tropical flavors. Pineapple, mango coconut, lime and cherry all come together with some Grander Rum to create this beautiful cocktail recipe. You'll feel like you're in the Caribbean after one sip!
xoxo,
Kenz aka GCS