This colorful Sunrise Rum Punch is packed full of tropical flavors. Pineapple, mango, coconut, lime and cherry all come together with some Grander Rum to create this beautiful cocktail recipe. You'll feel like you're in the Caribbean after one sip!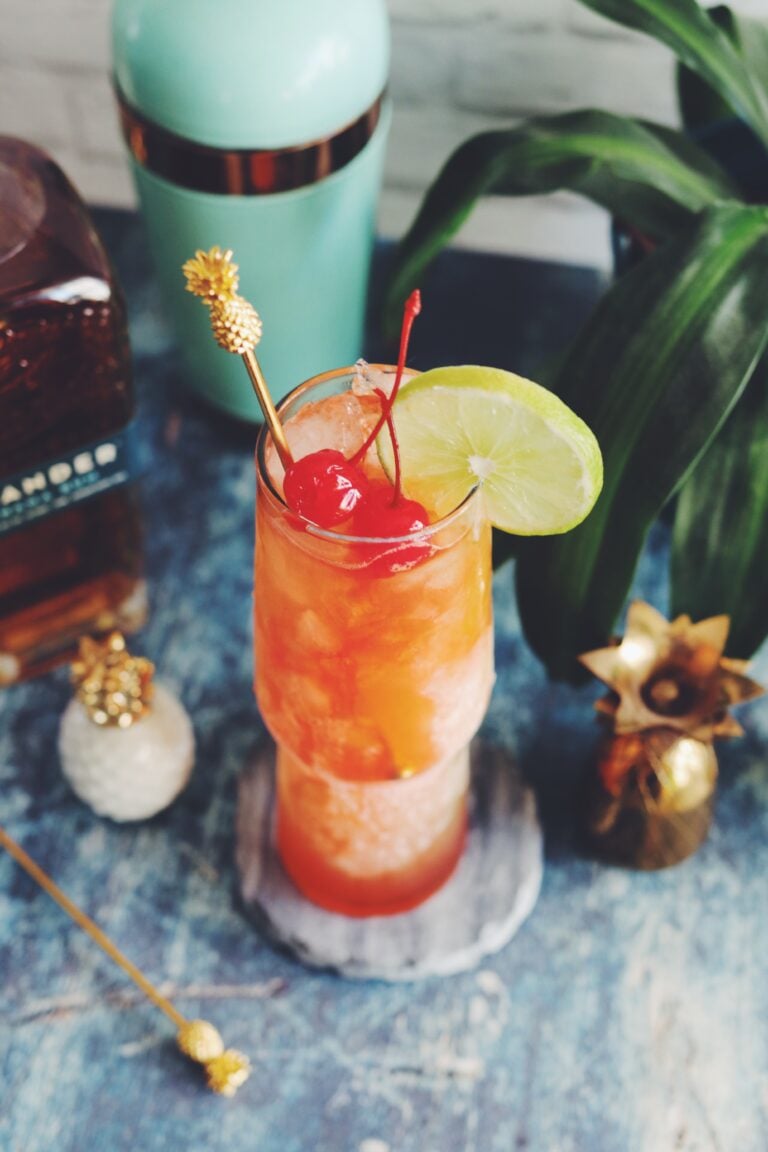 Sunrise Rum Punch Cocktail
Jeremy's back this week with this amazing Sunrise Rum Punch Cocktail Recipe. It's loaded with tropical flavors like mango, pineapple, coconut, lime and cherry. Not only is it super pretty, but it also tastes just like tropical paradise. It's very easy to make, too, which is always a win in my book!
And to be completely honest, I'm not even a rum drinker but I love, love, LOVE this cocktail! You see, I drank way too much Sailor Jerry in college and well, we had to break up. No bueno for this girl. I made way too many bad decisions that lead to terrible hangovers, and well, decided that rum is my enemy. Fast forward 10 years (omg wait was college really 10 years ago? yikes) and now you'll see me sippin' this tasty drink all because of the rum that's used. So what is this rum all about?
For the last three years, Jerm's been creating recipes for our friends at Grander Rum. Grander is a bourbon barrel aged rum that's made in Panama. It's made completely authentically, kind of like farm to table except they say cane to glass. They use absolutely zero preservatives nor any added colorings which makes it clean AF. And since it's aged 10 years in ex-bourbon barrels it actually tastes more like whiskey than rum. So if you're anything like me with your rum relationship, give this brand a try! I bet you'll like it. Oh, and if you'd like to see all of his other hard work, check out their instagram for more of his rum recipes!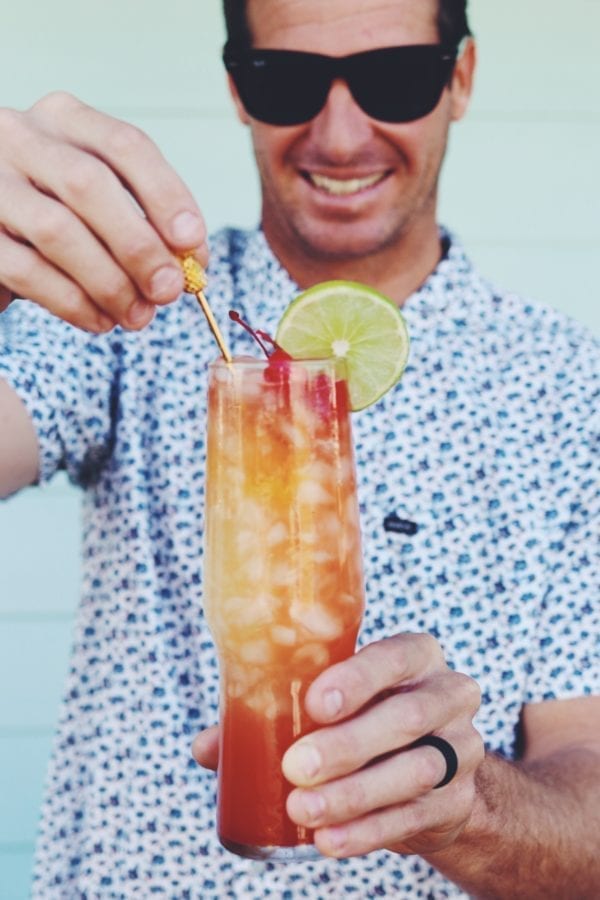 What Goes into a Rum Punch
With the tiki cocktail scene having its own renaissance, you've probably been seeing a ton of rum punch recipes. But unlike the semi-shady all-the-alchohol punches that most of us made in college, rum punch actually has a lot of history.
Back in the 17th century, British sailors were reliant on beer. However, when they reached the Indian Ocean and the warmer weather that accompanied it, the beer went bad and they were shit out of luck. Because alcohol was practically a necessity on these journeys, the sailors started doing as the East Indies locals did and started using indigenous ingredients like rum, various citrus and tropical spices. When the sailors went back to Britain, they brought their new drink with them which became a huge hit which eventually made it all the way back to America.
The main ingredients of the original East Indies Punch include 5 components - sweet, sour, alcohol, water and spice. So depending on where you are making this, punch can be super transformable. For our recipe, we will be using fruit juices as our sweet, lime juice as our sour, Grander rum as our alcohol, scratch the water since the fruit juice has it in there, and nutmeg for the spice since it's classic. As long as you include the 5 categories, you can create your own rum punch recipe - easy peasy!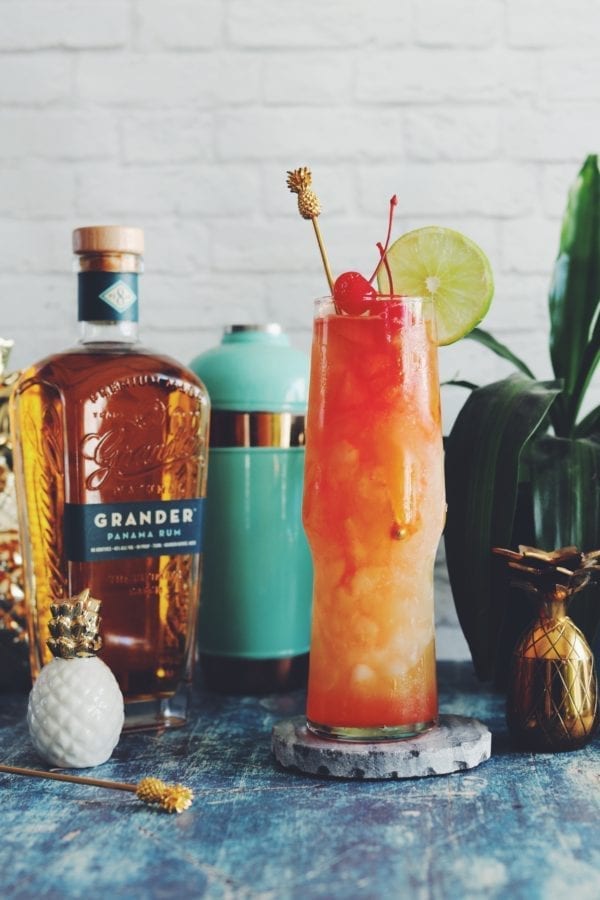 RECIPE: SUNRISE RUM PUNCH COCKTAIL
Recipe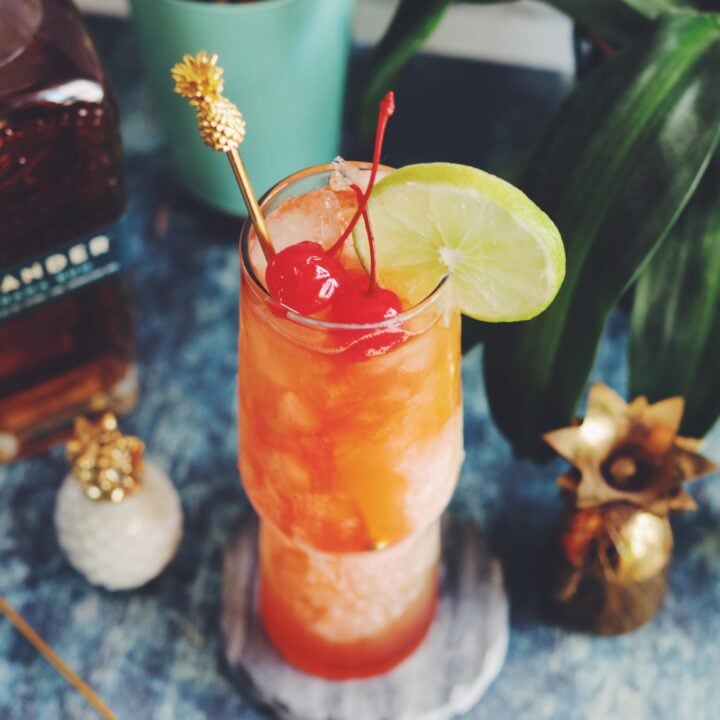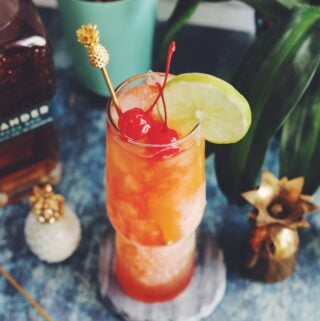 Sunrise Rum Punch
This colorful Sunrise Rum Punch is packed full of tropical flavors. You'll feel like you're in the Caribbean after one sip!
Print
Pin
Ingredients
2

oz

Grander Rum

1

oz

Pineapple Juice

1

oz

Mango Juice

1

oz

Coconut Juice

½

oz

Lime Juice

½

oz

Pure Cane Syrup

a tiny bit of freshly grated nutmeg

2

Dashes Angostura Bitters

2

splashes of Grenadine
Instructions
Add all ingredients into a cocktail shaker with ice, shake until chilled. Then strain into a collins glass over crushed ice. Top with another splash of grenadine and garnish with a lime wheel + cherries.
If you'd like to pair this rum punch cocktail with one of my dishes, try these:
Pineapple Upside Down Baked Brie: Pineapple on pineapple is always a win in my book! Add in baked brie and some puff pastry and well, it's even more bomb! This tiki-inspired retro appetizer is perfect regardless of the season. Just don't eat too much before jumping into the ocean. Don't want you to get a cramp!
Pineapple and Pickled Jalapeno Pizza Grilled Cheese: I love pairing sweet with heat so this grilled cheese is a favorite. And I know some people are super against pineapple on pizza but whatevers. I friggin love it and I know a lot of other people do, too! I mean, yeah, I wouldn't ask for it in Italy... but I probably wouldn't ask for this rum punch either!
Kimchi and Pineapple Grilled Cheese: I adore kimchi. I eat it straight out of the jar standing in front of the fridge more times than I'd like to admit. But like I said in the previous recipe, I love sweet with heat so that's why this pineapple and kimchi grilled cheese works wonders! Pair it with this refreshing cocktail and you'll feel like you're in the beach in the East Sea.
xoxo,
Kenz aka GCS