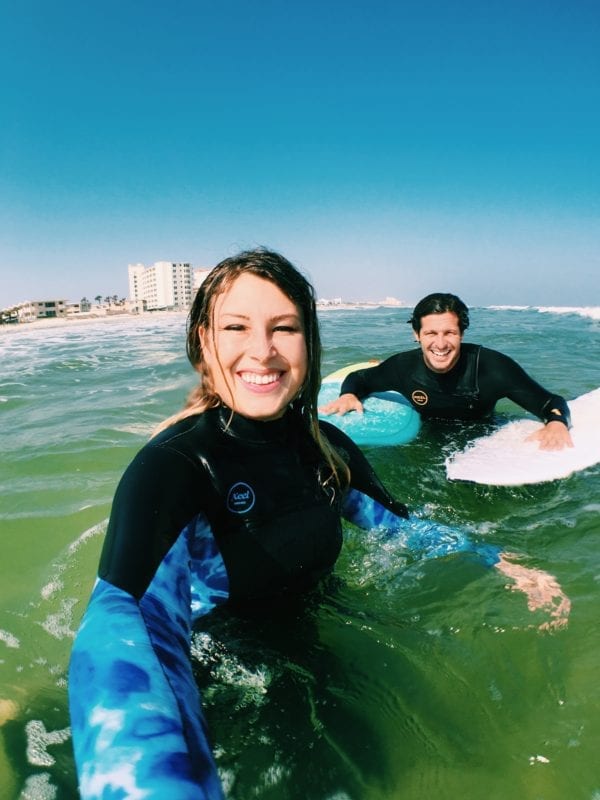 If this isn't already blatantly obvious, I am in love with my home state of Florida! From the crisp, tropical blue water that surrounds us, to the lush and vibrant landscape that grows beneath us, Florida is pure paradise.
We're so excited to announce that Jeremy and I partnered with VISIT FLORIDA to create some Florida Foodie Road Trips to showcase some of our favorite breakfast, lunch, and dinner spots in various cities and small towns. 
We began in our hometown of New Smyrna Beach, Florida. And although it's hard to pick and choose only three of our favorite restaurants, we decided to choose some of the places nearest and dearest to our hearts. Curious to see what they are? Check out our video below.
[embedyt] http://www.youtube.com/watch?v=A6uGrr5_7cQ[/embedyt]
More on Our Favorites!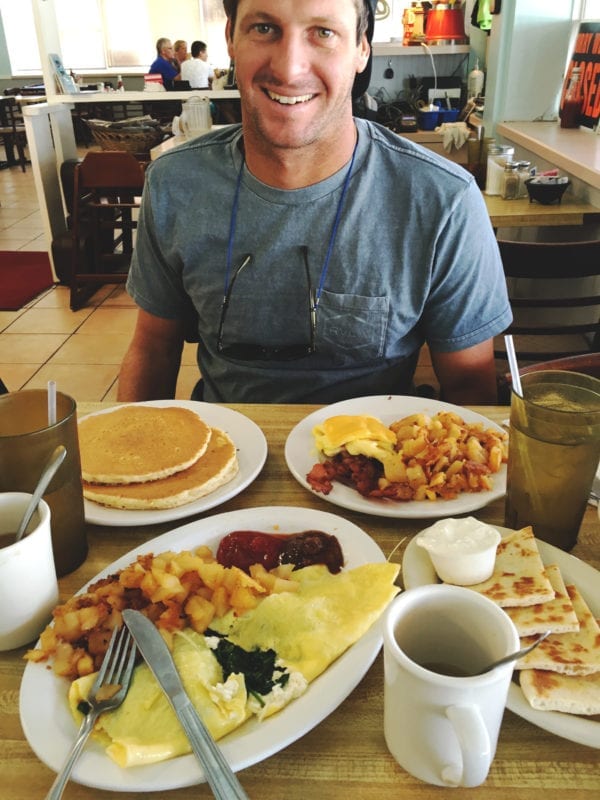 The Beacon
416 Flagler Ave., New Smyrna Beach, FL 32169
(386) 428-8332
The Beacon is probably the most iconic restaurant in New Smyrna Beach (NSB). It was the first place I ate at when I initially visited here 14 years ago. Located on Flagler Avenue, just one block from the beach, The Beacon is just that -- a literal beacon for starting your day in NSB. It's been around for almost 30 years and this neighborhood hangout provides the friendliest southern hospitality imaginable. 
Which begs the question - Is a trip to NSB really a trip to NSB if you didn't start your day at the Beacon? I don't know, but I wouldn't risk it. 
What to order: 
Pancakes:

Even if you're not a pancake person, order

these.

They're made with sweet cream and taste like delicious vanilla cake.

The Number Ten:

Jeremy's been ordering this hungry man special since he was a little kid. Eggs, bacon, AND pancakes for under $5.

Spinach and Feta Omelet:

Since a Greek family owns this spot, it's safe to say that anything with feta on the menu is extra delicious

.

 It's my staple that I can't ever stray from. It comes with two sides of your choice. I recommend getting home fries and toasted pita with a side of their house

-

made tzatziki. 

Secret Beacon Hot Sauce:

I would smother this sweet, spicy, and irresistible chunky hot sauce on my entire life if I could. They don't advertise it anywhere, but if you ask nicely one of the waitresses will bring you an unassuming re-purposed ketchup bottle that is filled to the brim with the good stuff.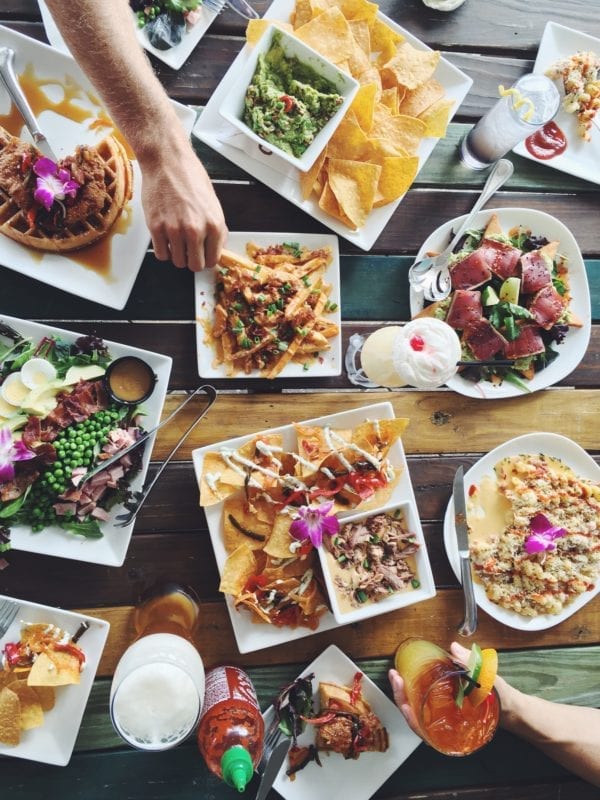 Outriggers Tiki Bar and Grille
200 Boatyard St., New Smyrna Beach, FL 32169
(386) 428-6888
Outriggers is known for its beautiful nautical atmosphere, chill vibes, out-of-control tiki drinks, and fresh-caught seafood. This marina-meets-tiki-bar is one of the newer restaurants in town and one of the hottest go-to spots in NSB. We love it for lunch because there's nothing better than eating a fresh fish sandwich while watching dolphins play between giant yachts and palm trees. 
What to order
Tuna Triangles:

Not only is it the most beautiful dish on the menu

,

it's also one of their most popular items. Deep

-

fried triangles of pita are topped with a dollop of edamame hummus, a thick chunk of fresh

-

seared ahi tuna, and a sweet chili ponzu sauce that will knock your socks off.

Drunk Mermaid Sandwich:

If you're looking for a fish sandwich in NSB, this is the one to get. You

can have it

blackened, fried, or grilled. We recommend getting it blackened so the flavors stand up against the zesty house

-

made remoulade, crunchy fresh coleslaw and melty provolone cheese that

tops it

. 

Mac 'n Cheese:

You can't go wrong with their creamy

-

beer

-

cheese

-

covered cavatappi pasta with crispy chunks of salty ham. Go on a Monday and get the whole dish for $5, which is less than half the normal price, during the "mac'n'monday" special. 

Zombie Cocktail:

Think of a tropical blend of liquors, passion fruit juice, citrus, and bitters. Word to the wise - the two

-

drink warning on the menu should be kept in mind

;

these are more than extra strength.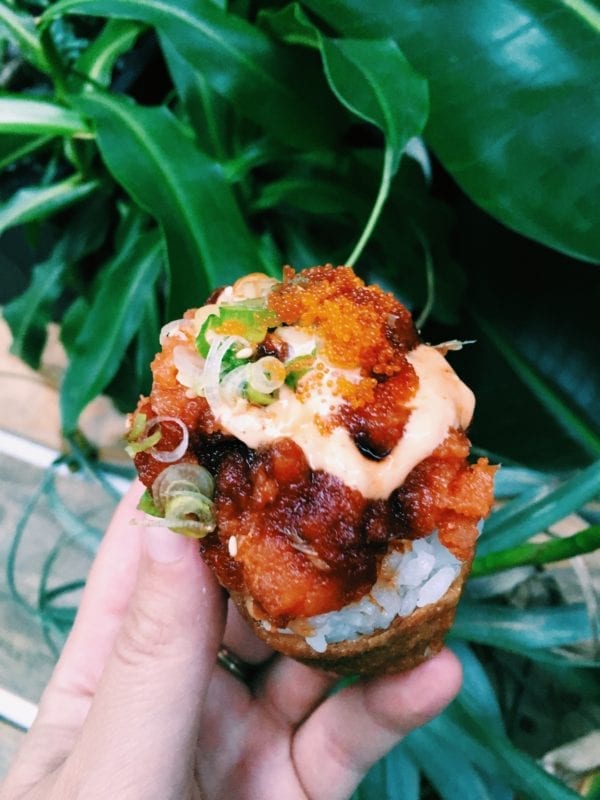 Sasaki Sushi
100 N. Cooper St., New Smyrna Beach, FL 32169
(386) 402-7917
We love Sasaki not only because they make fresh food , but also because of how intimate it is. Sasaki's size makes you feel extra special and attended to. The attention to detail on each plate is outstanding and the ability to watch them work their magic is entertainment in itself. Another remarkable note about Sasaki: they don't have any freezers, so everything they have is the utmost on the freshness scale. 
What to order:
Tuna Poke Bowl:

I'm pretty sure it's an unofficial rule that you have to eat a poke bowl when you visit NSB, and this is my all

-

time favorite. Big, beautiful chunks of fresh yellowfin tuna are tossed with their house

-

made poke sauce and served on top of white or brown rice with fresh avocado, sweet onion, sesame seeds and scallions.

Inari Sanshoku:

These sweet and savory little pouches of goodness have my heart. Lightly sweetened deep

-

fried tofu pouches are stuffed with sushi rice and then

festooned

with

three

different toppings: spicy tuna, glazed salmon, and crab salad. Oh, and not to pick favorites, but, the Inari might just be my favorite thing to eat in all of NSB!

Ceviche Sasaki:

This dish has the ultimate freshness factor. We recommend the mackerel because this light and mellow white fish goes perfectly with the fragrant cilantro and the addicting coconut, yuzu, and lime dressing it's soaked in.

Mochi Dessert:

Unlike most cloyingly sweet desserts, these Japanese treats are perfectly balanced. If you've never had it before, a mochi ball is basically a bite-sized medallion of ice cream encased in a gummy rice

-

paste wrapper. They come in a variety of flavors that change throughout the month. I'm obsessed with the strawberry ones, and Jerm always loves the green tea

.
We hoped that you this Florida Foodie Road Trip in New Smyrna. Tell us where you think we should take our next edible adventure by commenting below.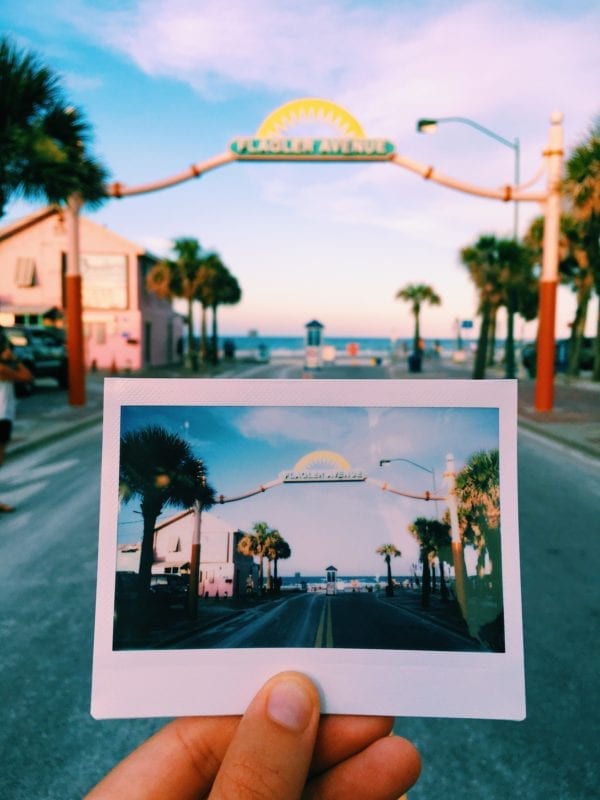 This is a sponsored conversation written by me on behalf of VISIT FLORIDA. The opinions and text are all mine.