These pimento cheese biscuit sliders with ham and sweet hot pickles are absolute perfection. In fact, they're one of my most requested recipes at Black Dolphin Inn.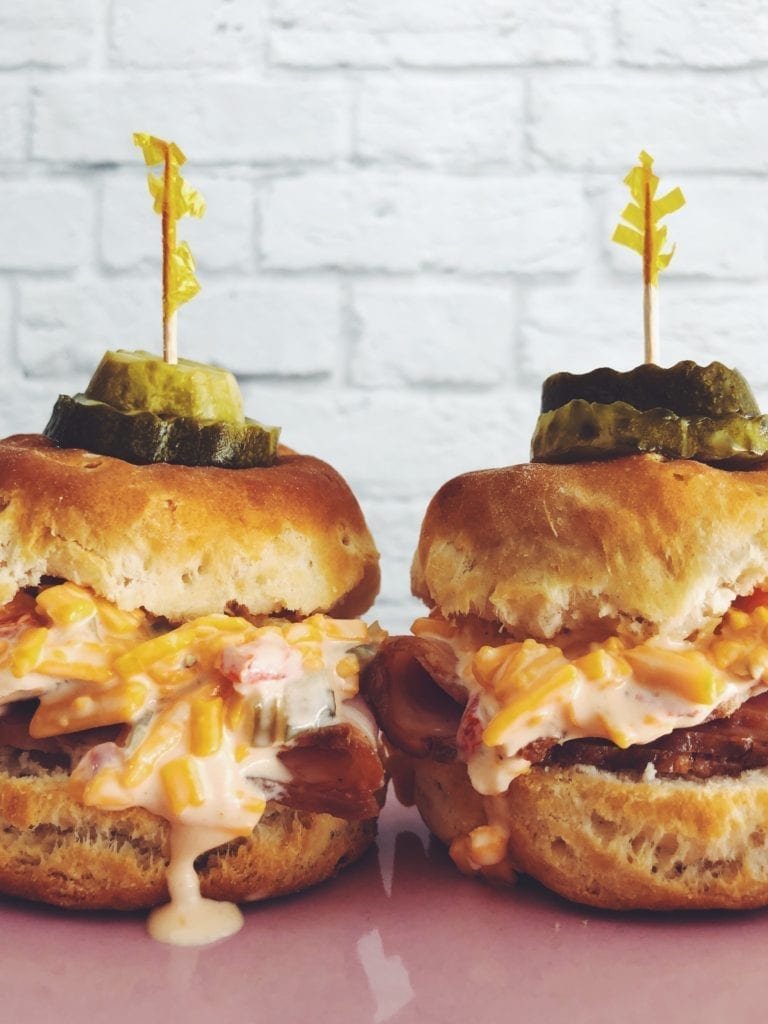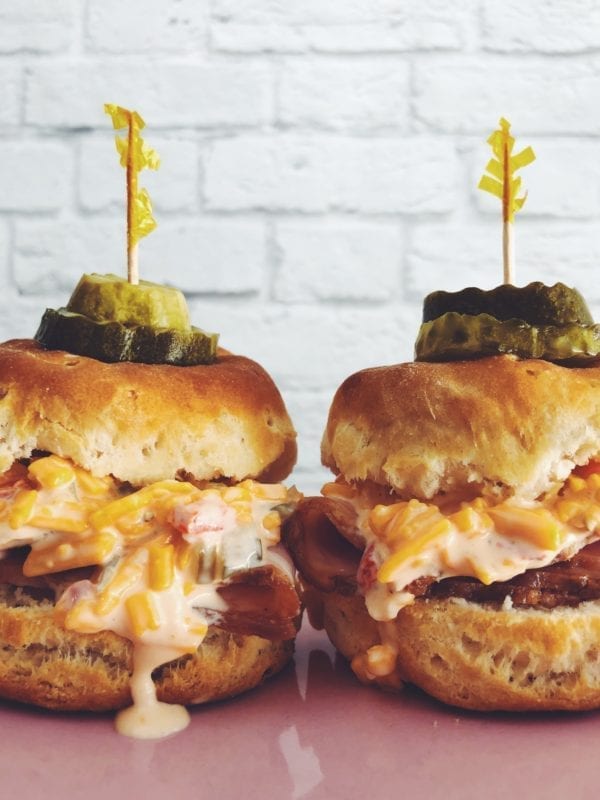 Pimento Cheese Biscuit Sliders
I make these pretty little pimento cheese biscuit sliders all the time at Black Dolphin Inn. And there's a reason that they're one of my most requested recipes. My pimento cheese recipe is inspired by my Grandma, known to many as Meme, but with a few added twists.
She always had a Tupperware (and by tupperware I mean one of a dozen old, unmarked, re-used butter containers) full of pimento cheese in her fridge. I'd watch her spread in on crackers or eat it straight up with a spoon. She loved food more than anyone else. I'm not even exaggerating at all. One time I saw her eat a freshly grown vidalia onion like an apple. I still giggle and think about doing that every time I pick one up.
Meme also took great pride in showing southern hospitality. She did not give two cents if you were full or not. If you came to her house, there would be a plate full of delicious southern food in front of you within seconds. She also greeted all of my guy friends (ALL OF THEM) with a kiss on the lips. You don't understand how much I loved this. These dudes would be so thrown off by this. They'd try to dodge her and she'd follow up with a big smooch right on the mouth. Then she'd laugh her ass off as their face turned bright red. Gah I miss her so friggin much.
Now that I cook breakfast at my family's inn, I love to keep her sassy spirit alive by keeping it on the menu. I've used it in everything from omelets to breakfast grilled cheese. And no matter which way I serve it, guests always beg for the recipe.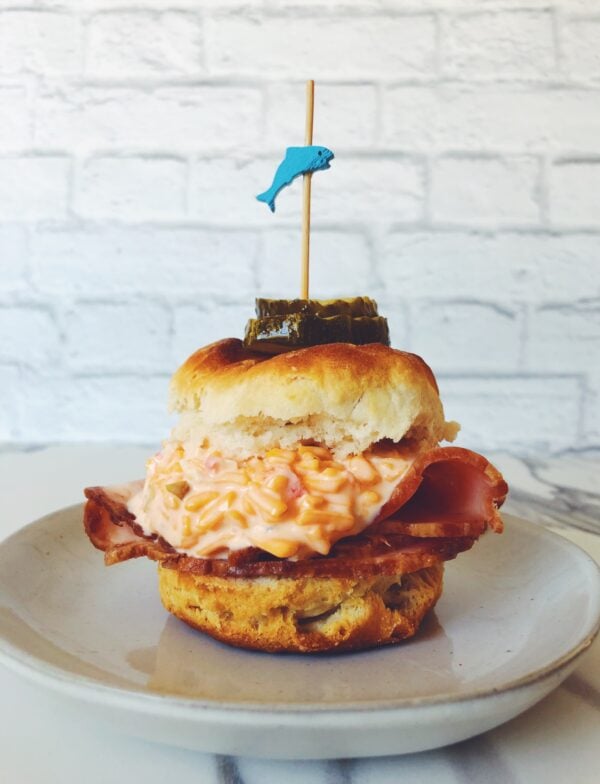 What is Pimento Cheese
Pimento Cheese is one of the most popular southern spreads that's traditionally made with cheddar, pimentos and mayo. Surprisingly, it wasn't originated in the South but rather up North. You see, cream cheese was invented in the Northeast and the first documentation of this dip, although different, came from Good Housekeeping in 1908. The original recipe called for cream cheese, mustard, chives and pimientos, which were just starting to be imported from Spain. The recipe was such a hit that it soon spread all across the country.
At that time, farmers down south were starting to grow, sell, can, and distribute their own red peppers. And since hoop cheese (very similar to cheddar) and mayo were more easily accessible, the south made do. To this day, we see this adaptation all over the country. From appearing in fancy dishes at James Beard nominated restaurants to being served on white bread at your counsin's baby shower, it's easy to see how this simple cheese spread has made a name for itself.
How to Make Pimento Cheese
It's super easy to make our pimento cheese. First you'll want to prep your ingredients. Using a box grater, shred your cheddar and then grate your sweet onion. Then simply add shredded sharp cheddar, Duke's Mayo, drained pimentos, Wickle's Relish, Frank's Hot Sauce, the grated sweet onion, yellow mustard, and salt and pepper to a bowl. Mix well and refrigerate.
In the south, we say it's best to let it cadillac for a while. This term basically means that the food gets better when it sits long enough to let the flavors bloom and come together.
I should also mention that you can 100% make pimento cheese without using the brand names that I mentioned. But to be honest, it's sooo much better if you get the real stuff.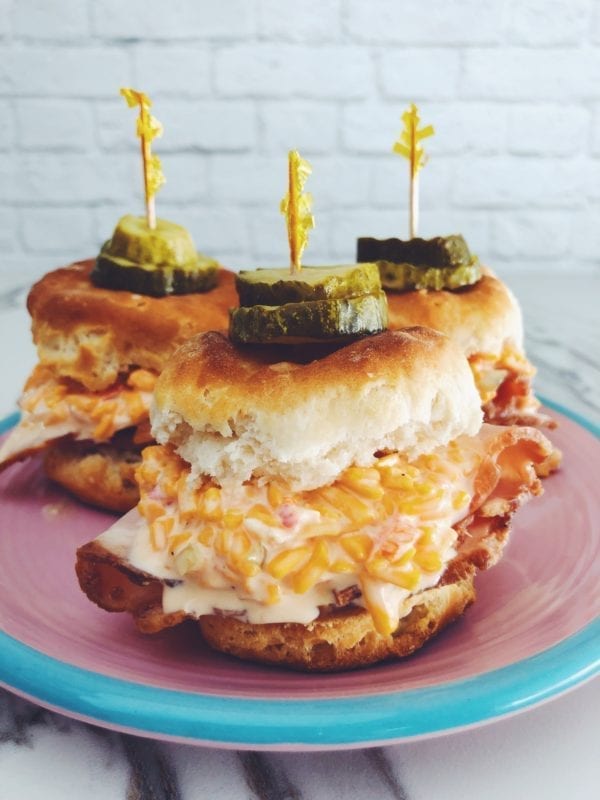 Recipe
Pimento Cheese Biscuit Sliders with Ham and Sweet n Spicy Pickles
These cheesy little biscuit sliders are one of my most requested recipes at Black Dolphin Inn. If you can, use the brands mentioned below as they truly make a difference in the final taste!
Print
Pin
Ingredients
For the Pimento Cheese
4

cups

sharp cheddar

shredded

½

cup

mayo

Duke's is best

4

teaspoon

sweet hot relish

Wickles is best

3

tablespoon

sweet onion

grated

4

oz

diced pimentos

drained

2

teaspoon

hot sauce

Frank's is best

½

teaspoon

yellow mustard
For the Biscuit Sliders
3

buttermilk biscuits

prepared

3

slices

honey ham

6

sweet hot pickle chips

I used McClure's but Wickles is great, too!

3

tablespoon

pimento cheese
Instructions
For the Pimento Cheese
Mix all ingredients in a bowl. Season with about 3 hefty pinches of kosher salt and some fresh cracked pepper. Refrigerate at least 20 minutes or until ready to use.
For the Biscuit Sliders
Split biscuits in half. Fold slices of ham so that they fit the size of the biscuit. Place folded ham on each of the bottom half of the biscuits and top each one with 1 tablespoon of pimento cheese. Add the top half of the biscuit back on top. Place two hot pickles on each biscuit slider and finish with a toothpick to help hold everything in place.
Notes
You don't have to use the Southern brands I mentioned, but they really do make a difference!
And if you like this recipe, you'll probably also like:
SRIRACHA AND AVOCADO BREAKFAST GRILLED CHEESE WITH A SOFT-BOILED EGG - This avocado breakfast grilled chheese is one of my absolute favorites! It's made with casa bolo cheese (but can be swapped for muenster or gouda), avocado, soft boiled eggs and sriracha. It's perfect even if you're not hungover.
ARUGULA PESTO BREAKFAST GRILLED CHEESE WITH GOAT CHEESE AND SCRAMBLED EGGS - This is one of those healthy-ish breakfast grilled cheeses if there ever was such a thing. Let's be real, when you start your day with arugula pesto, you know you're doing something right!
PORK ROLL EGG AND CHEESE BREAKFAST GRILLED CHEESE – I grew up going to New Jersey to visit my dad's family. And every time, without doubt, we'd get a pork roll breakfast sandwich on the very first day. It's kind of like a mix between salami and bologna and it's absolutely awesome. Put it in grilled cheese form and you can bet it's even more awesome…er? Hah!
NYC BODEGA SANDWICH 2 ON A ROLL – If you don't live in NYC but want the iconic breakfast sandwich of the millions that live there — this is for you! 2 eggs on a roll with bacon, american cheese and hot sauce and ketchup!
VENIZON SAUSAGE GRAVY AND BISCUIT BREAKFAST GRILLED CHEESE – Honestly, I don't know how to describe this one but I will tell you that you might need a nap after indulging in it's meaty goodness.
xoxo,
Kenz, aka, GCS