These Honey Sriracha Roasted Carrots with Goat Cheese, Cilantro and Toasted Pumpkin Seeds will rock your world. The sweet, citrusy, heat from the glaze coats the carrots perfectly. The goat cheese balances out the sweetness, while the cilantro adds a note of freshness. And of course, the toasted pumpkin seeds add some much needed crunch.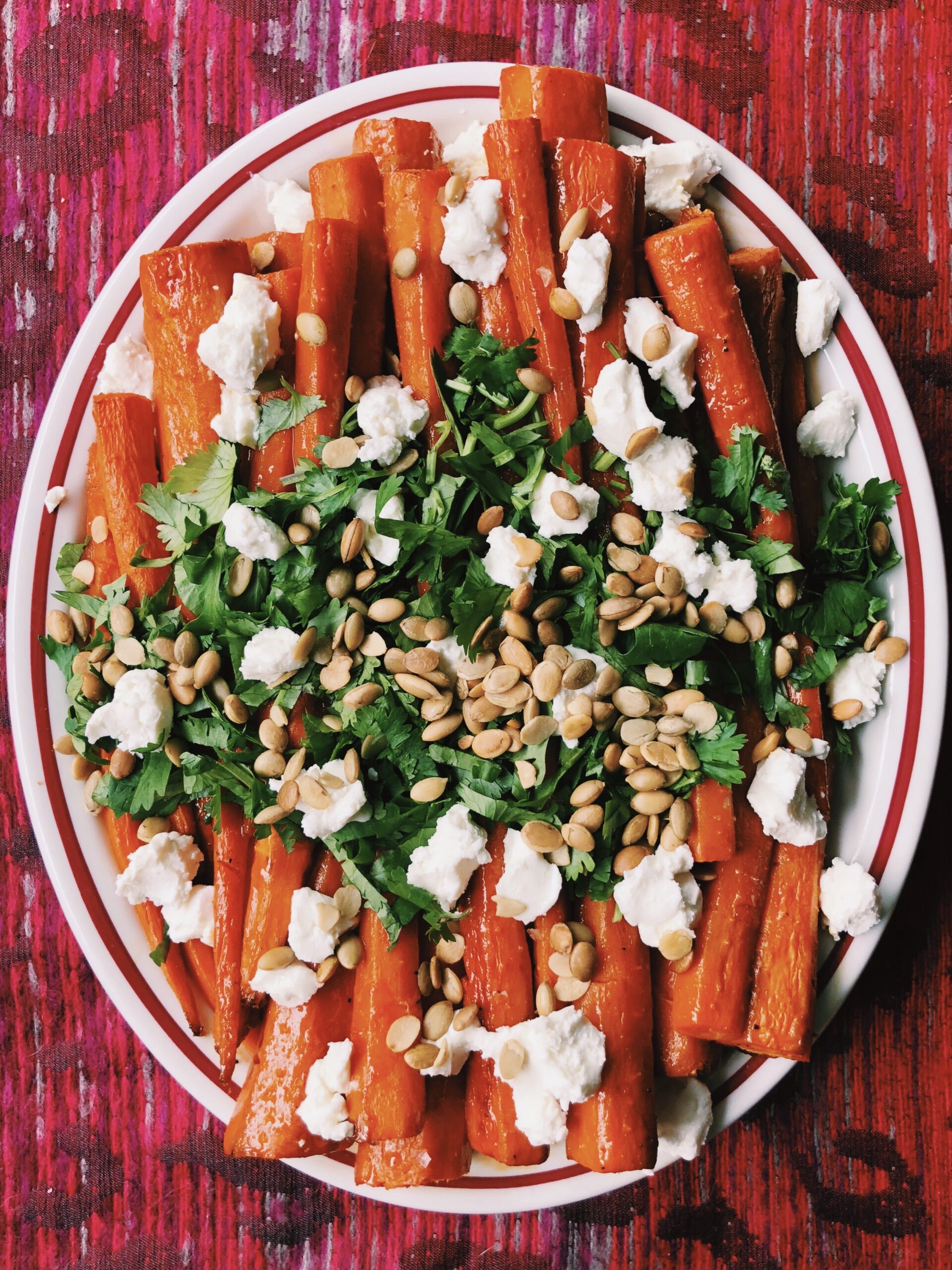 OVEN ROASTED CARROTS
Honey roasted carrots are one of my favorite weeknight go-to's. They're relatively easy to make and you don't really need to tend to them. Once they're in the oven, you're more than halfway to the finish line! And best of all, the sauce and toppings are interchangeable once you know the basics described below.
I've made thousands of variations of this recipe so I figure I should go through a few notes with y'all. If you don't like cilantro, you could totally add fresh chopped basil or crispy fried sage... or just leave it out completely. The goat cheese can be swapped out for feta or honey whipped ricotta which are both equally as delicious. As for the nuts, if you don't have pepitas (aka toasted pumpkin seeds) then you could totally use shelled pistachios or chopped candied cashews.
Trust me on this one - no matter how you spin it, these carrots will always be a hit!
HOW TO OVEN ROAST CARROTS
Oven roasting carrots is one of the easiest ways you can cook these colorful root vegetables. To begin, simply clean the carrots and discard the skin. Preheat the oven to 450 and start prepping for the oven. Depending on how large they are, you can either cut them in half or chop into smaller nuggets depending on the overall look you're trying to achieve.
I like to bake them on a foil lined baking sheet because it's the easiest cleanup. For every 1 pound of carrots you use, you will need 1 tablespoon of olive oil. Be sure to toss the carrots in the olive oil and add a few hefty pinches of kosher salt and fresh cracked pepper. If you'd like to add any other dried herbs and spices, you should do that at this phase and then throw it in the oven.
Roast the carrots for at least 30 minutes or until the they're tender when pierced with a fork. If you notice they are browning too much on the bottom, you should carefully flip them as to not let the sugars burn. When they're done, remove them from the oven and serve however you desire.
HOW TO GLAZE CARROTS IN THE OVEN
As soon as you notice that the carrots are tender when pierced with a fork, it's time to glaze them! To do this, simply whip up the sauce which is made with honey, sriracha, and lemon. If you're not into spicy, you could also omit the sriracha and add something else like balsamic vinegar. Remove the carrots from the oven, pour the sauce over them and gently toss to coat each carrot. Place the carrots back in the oven for another 5 minutes at 450F. Once the sauce begins to bubble, the coating will bind to the carrots which creates the perfect glaze.
And when you remove them from the oven the second time, and you notice there's more sauce on the bottom. You can pour that on top of the carrots once they are on a serving plate.
So that about covers the bases which means... IT'S RECIPE TIME!
RECIPE: Honey Sriracha Roasted Carrots
Recipe
Honey Sriracha Roasted Carrots with Goat Cheese, Pepitas + Cilantro
These sweet and spicy oven roasted carrots with honey, sriracha and fresh lemon are absolute perfection. They're topped with fresh cilantro, goat cheese and toasted pepitas which adds a cheesy, fresh crunch that's out of this world.
Print
Pin
Ingredients
Instructions
Preheat oven to 450F and line a baking sheet with tinfoil. Clean carrots and discard skin. Toss carrots with olive oil and a hefty pinch of salt and pepper. Roast for 30 minutes.

Meanwhile, mix honey, sriracha, and lemon juice together in a small bowl and set aside.

When the carrots are tender and beginning to caramelize, remove from heat and drizzle with the honey sriracha mixture. Put the sheet pan back in the oven for 5 minutes or until sauce bubbles.

Remove from heat and place carrots on a large serving plate. Top with cilantro, crumbled goat cheese and toasted pumpkin seeds.
If you like this recipe, you might also love THESE TASTY BABES
Turmeric Cauliflower - This oven roasted cauliflower dish with honey harissa butternut squash and crispy chickpeas is topped with feta cheese and fresh herbs - packing it full of flavor! It's healthy, hearty and totally addicting!
Roasted Broccoli with Herby Lemony Tahhini Sauce - This oven roasted broccoli dish is topped with a quick and easy tahini sauce that's loaded with herbs, garlic, and lemon juice. It's filling and healthy and pairs perfectly with a falafel salad.
Spicy Lemon, Kale and White Bean Detox Soup - Whether you're looking for a perfect wintertime soup or need something to jumpstart a detox, this spicy lemon soup is where it's at! Packed full of healthy ingredients, yet filling enough to feel like a full meal -- this soup is guaranteed to please!
Broccoli Cheese Boats - This is the exact opposite of healthy but it sure is delicious! Imagine broccoli cheese soup baked into a bread bowl, but flat almost like pizza... with an egg on top. Sounds amazing right?! You need this Georgian specialty in your life!! 
Oh, and I'm mailing out cookbooks today so YEAH! That's happening! If you'd still like to order one, you can do so right here! And if you live in New Smyrna and would like one, stay tuned because I will be doing a book signing very soon! Details to come!
xoxo,
Kenz aka GCS