This oven roasted turmeric cauliflower salad with honey harissa butternut squash and crispy chickpeas is topped with feta cheese and fresh herbs - packing it full of flavor! It's healthy, hearty and totally addicting!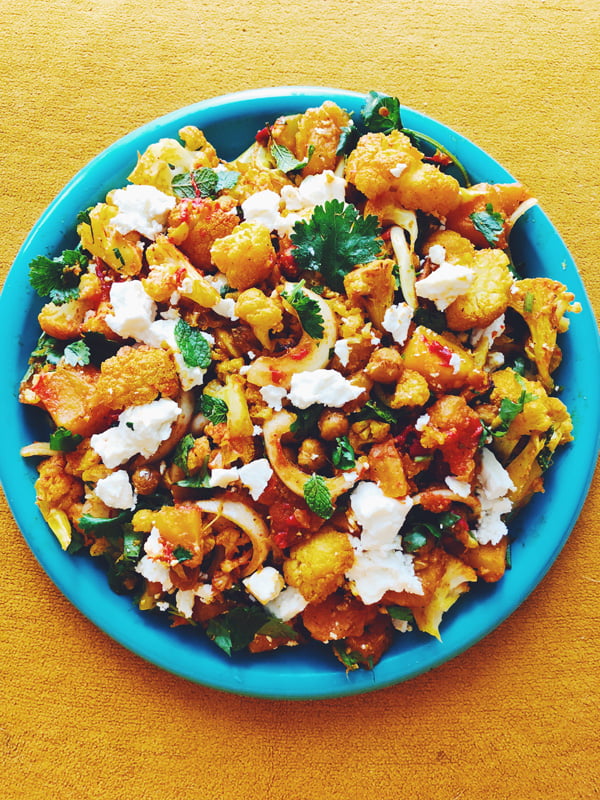 Oven Roasted Turmeric Cauliflower
When it's cold out, I crave roasted veggies like this simple and colorful oven roasted turmeric cauliflower.
And because I'm so in love with fall vegetables, I even added some extra goodness for even more flavor!
Sweet and tender butternut squash and crispy chickpeas are the perfect textural contrasts to the cauliflower.
And when you add tangy feta cheese, fresh fragrant herbs, and crunchy vidalia onions, the whole dish comes together perfectly.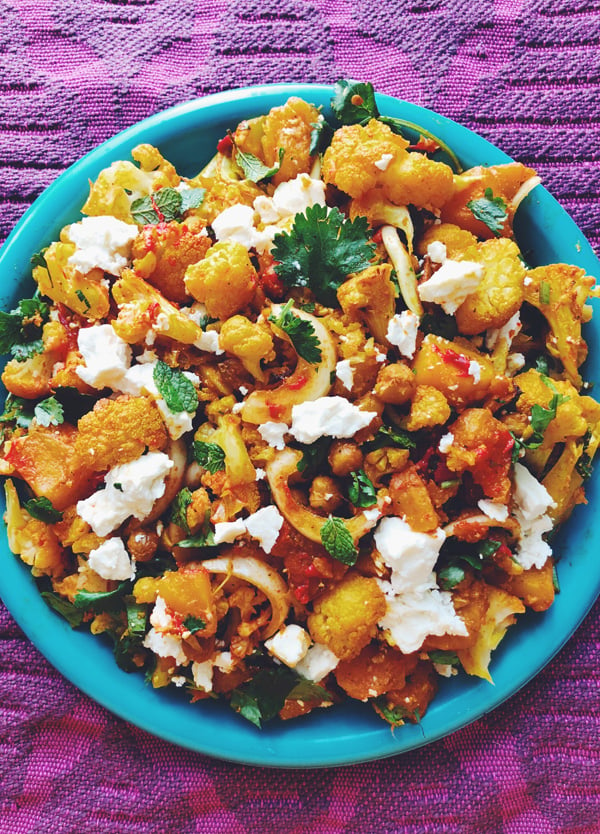 To be honest, I sometimes call these sort of dishes - Hot Salad - and I eat them in one big delicious bowl.
My husband, however, always laughs at me when I call it that.
Soo ummm.... anyone want to help me come up for a new name that isn't so unappetizing? lol.
But anyways, let's get back to it.
You can be like me and eat this as its own meal or you could definitely serve it with grilled chicken and brown rice or maybe even wrapped up in pita with tzaziki sauce.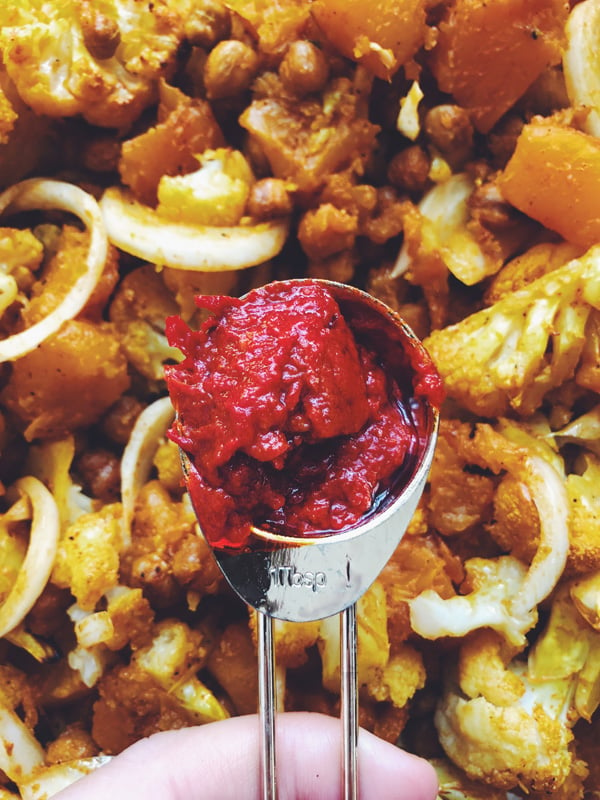 Or with a deep fried chicken sandwich with pomegranate bbq sauce and avocaodo depending on how healthy you're trying to be.
Omg wait, should I make that next? Sounds delicious.
And if you need some tasty dishes to pair it with this roasted broccoli with herby tahini sauce or spicy lemon detox soup, or these smashed brussel sprouts!
Or try my pho inspired deviled eggs or my other favorite I'm trying to be healthy dish -- larb gai!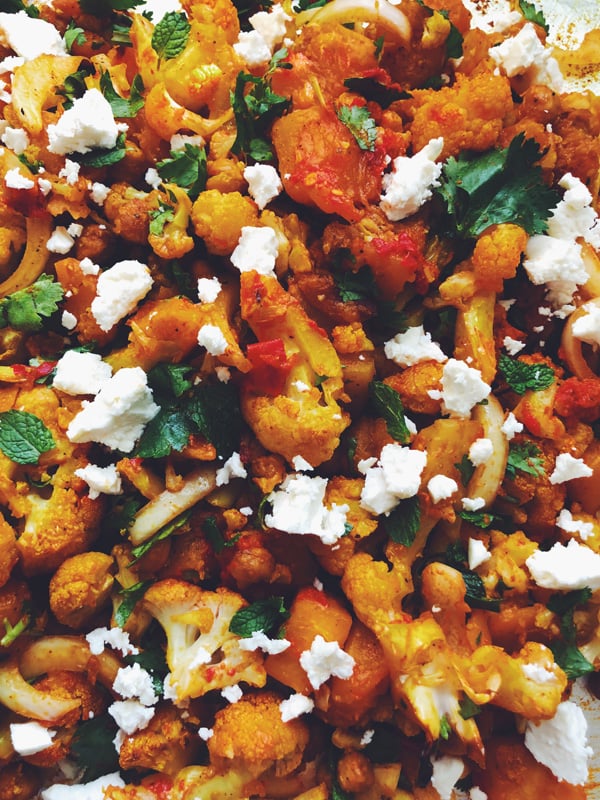 How to Make Turmeric Cauliflower
Roasting cauliflower is super easy. Begin by preheating the oven to 400F then line a baking sheet with tinfoil.
Next, break one cauliflower head down into smaller florets.
Then drizzle with two tablespoons of olive or avocado oil and sprinkle it with a few pinches of salt.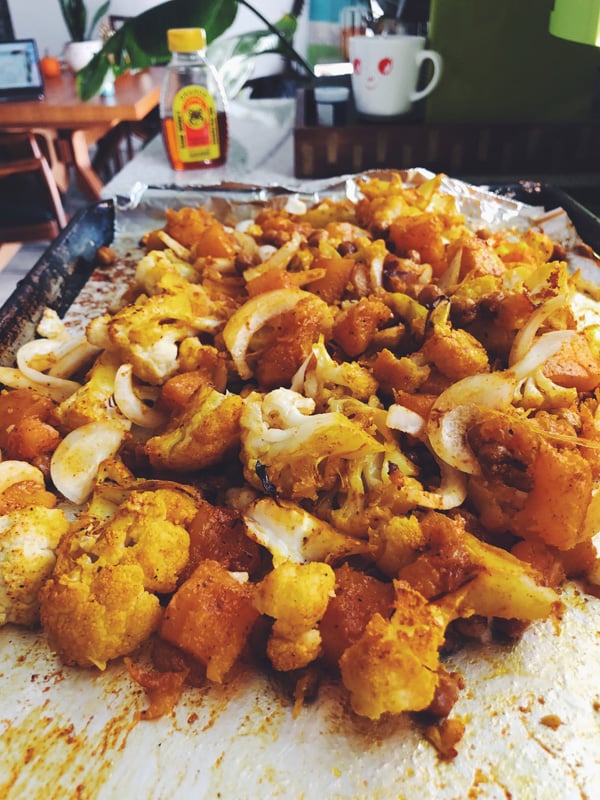 Toss it together with turmeric and whatever spices you choose (you can find my favorite in the recipe below!- and bake for 30 minutes or until it starts to get brown and crispy on the bottom.
Simple as that! See you're already being healthier just by knowing that!
So let's get to it, shall we?
And if you'd like to save these recipes for later on, pin them below!




RECIPE: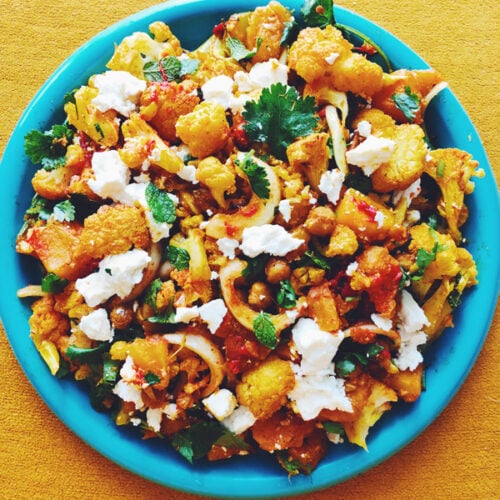 Print Recipe
RECIPE: Turmeric Roasted Cauliflower with Honey Harissa Butternut Squash + Crispy Chickpeas with Fresh Herbs + Feta
This oven roasted cauliflower dish with honey harissa butternut squash and crispy chickpeas is topped with feta cheese and fresh herbs - packing it full of flavor! It's healthy, hearty and totally addicting!
Ingredients
1

head cauliflower

chopped

1

can drained chickpeas

4

cups

butternut squash

chopped

4

tbsp

olive oil

1

tbsp

turmeric

1

tbsp

smoked paprika

¼

tsp

ground ginger

¼

tbsp

chili powder

1-2

tbsp

honey

1

Vidalia onion

thinly sliced

1

tbsp

harissa

The juice of 1 lime

1

cup

fresh cilantro

roughly chopped

2

tbsp

fresh mint

roughly chopped

4

ounces

feta

crumbled

Salt and pepper
Instructions
Preheat oven to 400F. Line 2 baking sheets with tinfoil. Place butternut squash on one sheet, and the cauliflower and chick peas on the other. Toss veggies with olive oil, smoked paprika, turmeric, ginger, chili powder, salt and pepper and bake for 30 minutes then remove form oven.

Drizzle the butternut squash side with honey and toss- adding 1 tbsp more if it's not in season and isn't very sweet. Put the squash on the other baking sheet and add the sliced raw onion and harissa paste. Toss everything together as the residual heat softens the onion.

Finish by squeezing the juice from 1 lime over the mixture then plate. Finish with the chopped cilantro, mint and feta. Salt and pepper to taste.
Notes
If you don't have harissa or can't find it at your local grocery store - feel free to use sriracha, sambal or another chili pepper paste.