Crispy roasted broccoli in a lemon garlic and herb tahini sauce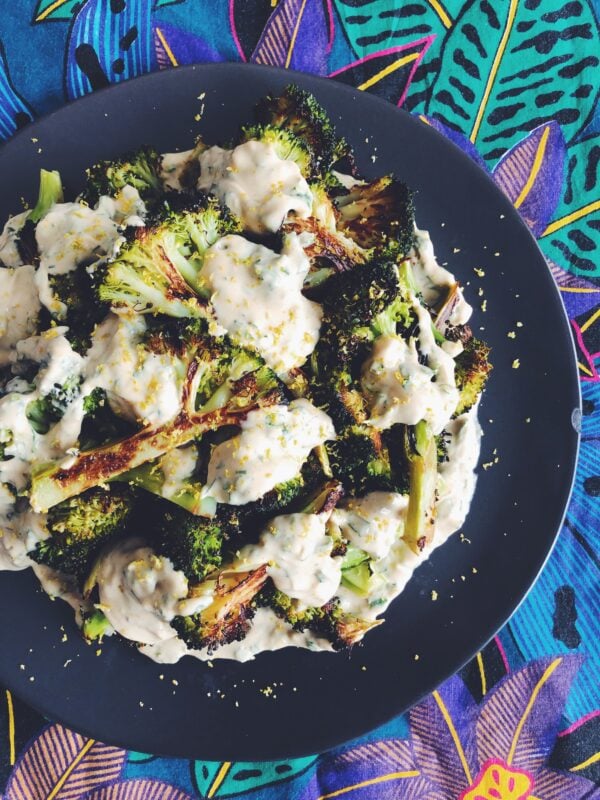 Back when I lived in Bushwick, i would eat at the Bushwick Pita Palace pretty much any time I didn't feel like cooking. Yeah, it was a total dive but it was a solid choice for a falafel salad loaded with every single veggie you could imagine. And the sauce, oh man, let's talk about the sauce. I've been trying to recreate their herby, lemony, garlicy tahini sauce ever since I first had it. It's nutty, tangy, herbaceous and rich -- basically heaven on earth -- but like in a healthy-ish way.
Now that I live in a town without a slightly sketchy yet bombass falafel/burrito shop like the Bushwick Pita Palace, I have to make my own. And I'm not gonna lie - after a few dozen tries, I've gotten pretty dang close!
But instead of simply using it to cover deep fried delicious falafels, I started using the sauce on a variety of things. My most favorite being roasted broccoli! It's nutty yet bright and it it's finger-lickin' good! Yes, I said it.
So what would you serve this with? Well, falafel salad OBVIIIIIII! But for real, I served it last night with a leg of garam masala roasted lamb and some citrus + raisin laced Israeli cous cous. You could also just serve it over a bowl of brown rice with some grilled meat. Or a healthy salad loaded with veggies. I mean honestly, once you try this multifunctional sauce, you'll want to have some on hand at all times.
As for cooking tips: 1. Try to keep the broccoli stalks on the longer end - I think it makes the dish look much more elegant and you get less waste since you use more of the stem. 2. Make the sauce as soon as you put the broccoli in the oven. It takes a a little bit for the flavors to bloom and the 30 minutes for roasting is adequate time!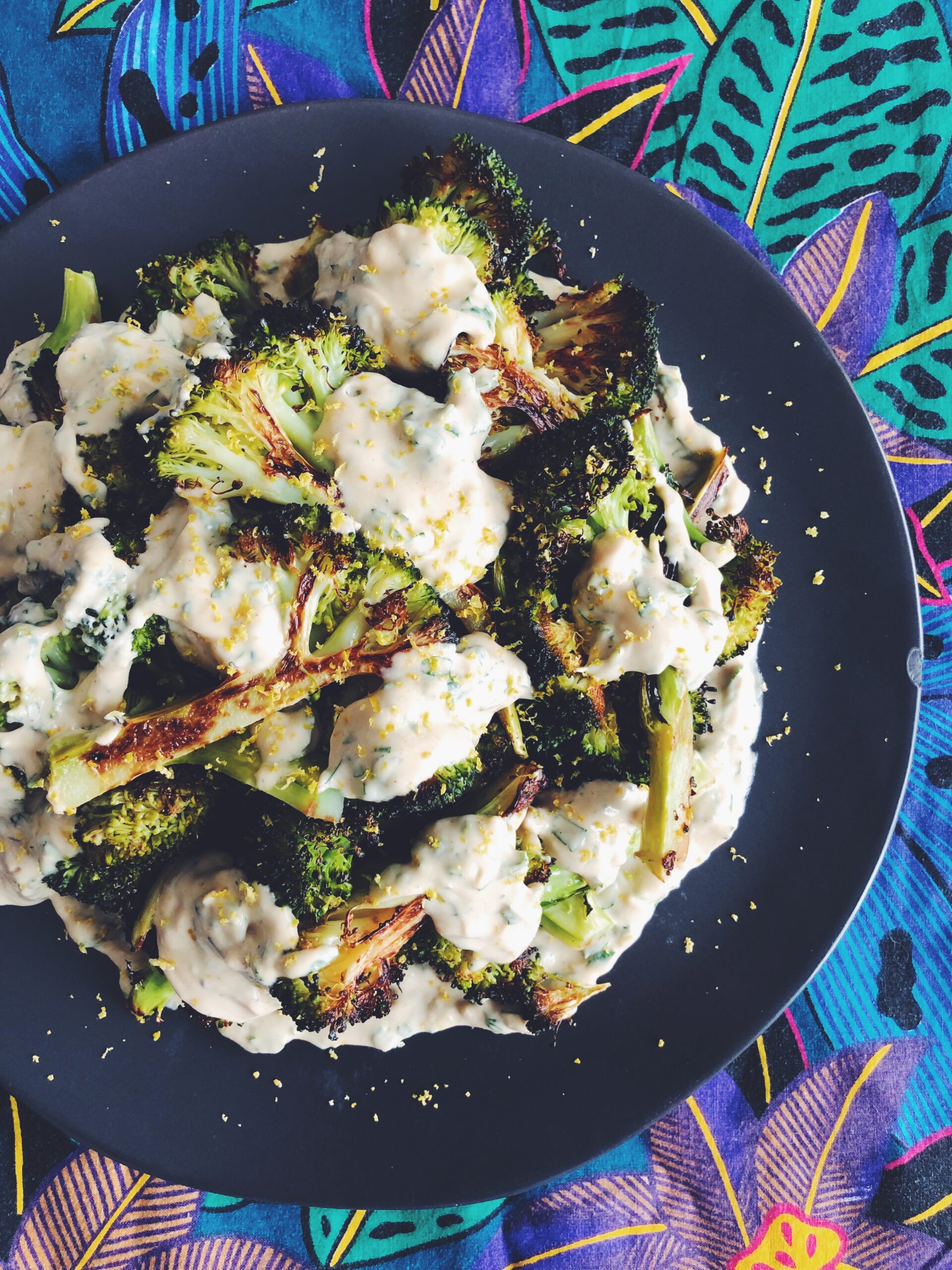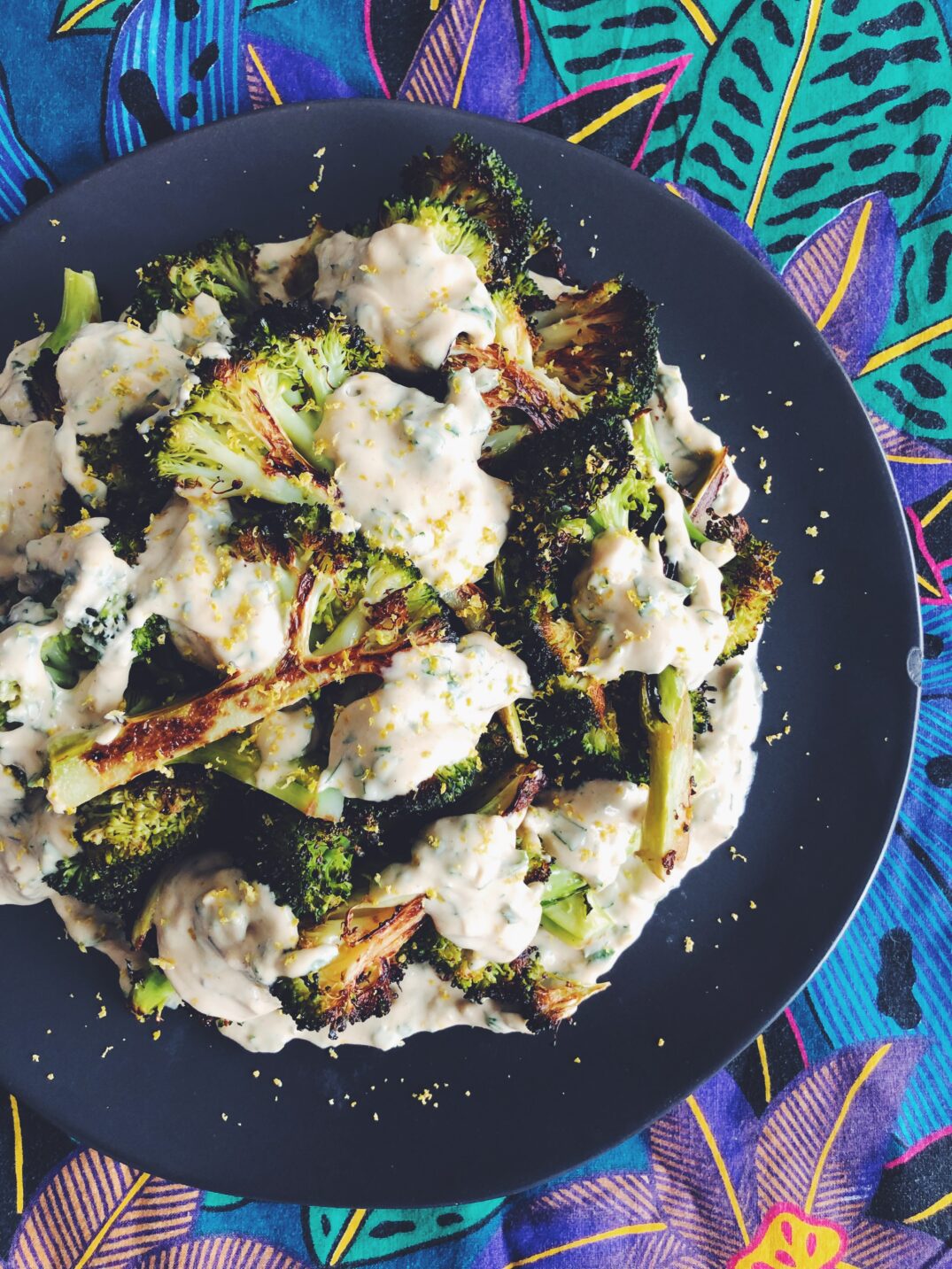 RECIPE: Roasted Broccoli with Lemon Herb + Garlic Tahini Sauce
Recipe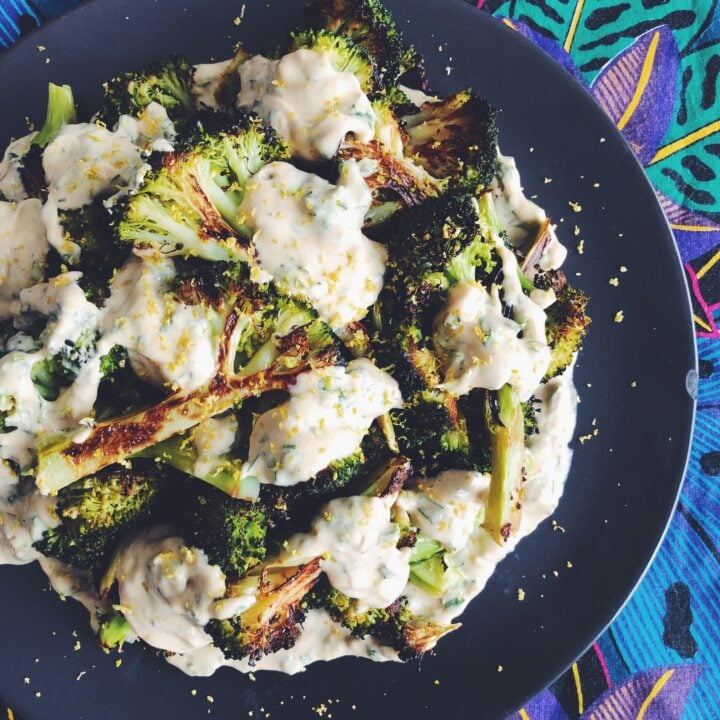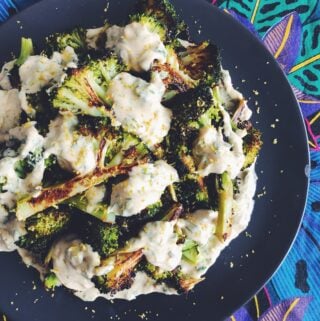 Oven Roasted Broccoli with Garlic, Lemon and Herb Tahini Sauce
This oven roasted broccoli dish with tahini sauce is packed full of nutty herby middle eastern flavors. It's a perfect side dish served best with cous cous and grilled meats.
Print
Pin
Ingredients
Instructions
Preheat oven to 400F. Cut the broccoli florets down into chunks, leaving the stems long. Add broccoli, olive oil, and 2 hefty pinches of salt to a tinfoil lined baking sheet and toss. Bake for 30 minutes or until brown and crispy on the bottom.

Meanwhile, make the sauce. Add tahini, warm water, olive oil, garlic, mint, cilantro, dill, and the juice from 1 lemon to a bowl and whisk. Season with salt to taste. Set aside.

After the broccoli is done roasting, remove it from the oven. Smear half of the tahini sauce onto a plate and top it with the broccoli - creating a dome like shape. Spoon the rest of the tahini sauce on top and finish with fresh lemon zest before serving!