These Vietnamese Pho Inspired Deviled Eggs are the freakin' bomb. They're spicy, sweet, funky, sour + super aromatic - basically all the good things in the world!

Pho-Inspired Vietnamese Deviled Eggs
So I've been workin' on my fitness for the last few months and even though I'm obsessed with all things cheese, these cheese-less eggs have been one of my favorite healthy-ish go-tos! And I don't know about you, but I am soooo not a meal prep type person but for these babes, I would reconsider. I absolutely love having these on hand when I'm ravenous and/or hangry. They provide the perfect pop of protein and they're insanely delicious and addicting.
So what do they taste like and how do you do it? These pretty little deviled eggs are packed full of freshness and are suuuuuuper easy to make! All you need to do is separate the white from the yolk in your boiled eggs. Then use a fork to smash the yolks with with Kewpie Mayo, sweet chili, fish sauce, lime juice, sambal and a bunch of fresh herbs and pickled jalapeños. That mixture gets spooned into the egg whites and topped with sweet hoisin sauce, spicy sriracha and of course, more fresh herbs. It's simple yet perfect which makes making them a no brainer.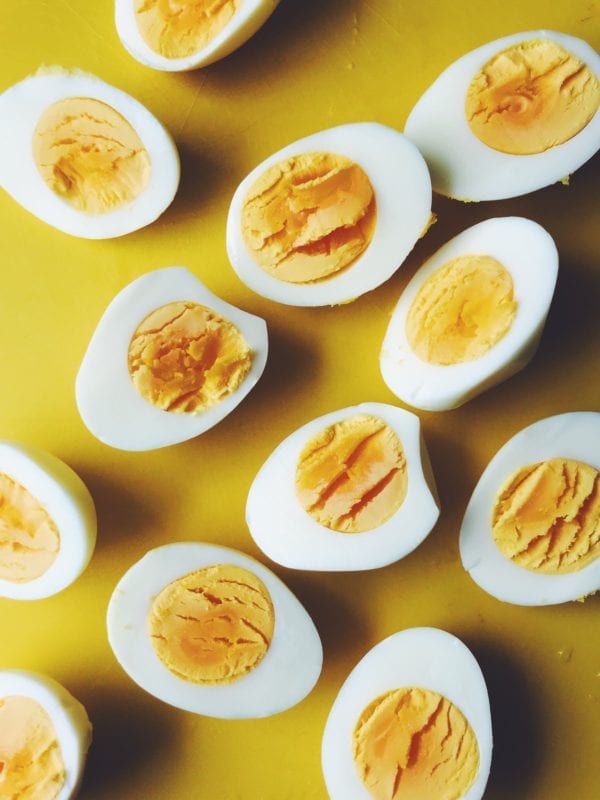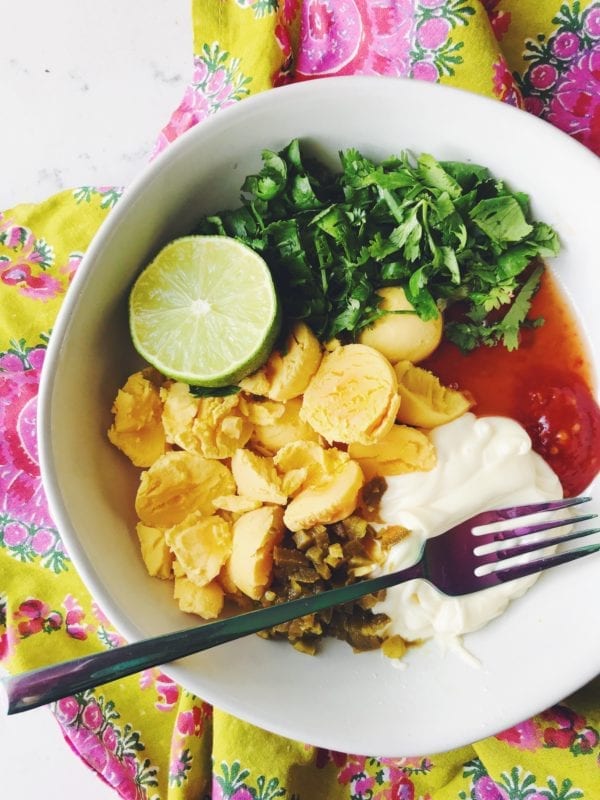 And if you're like "wait! mayo is not healthy MacKenzie what are you saying?!!', then no sweat because you totally don't have to! Just swap out the kewpie mayo for some 0% greek yogurt which has a similar consistency. There's so many other flavorful ingredients, you won't even notice the difference.
What's weird is, I've made these deviled eggs about 300 times but not once have I written down the recipe --until now -- which is so exciting!! Everyone always loves these eggs! Doesn't even matter if I use greek yogurt or mayo! And after one taste, I'm sure you'll know why! They're basically crack in deviled egg form.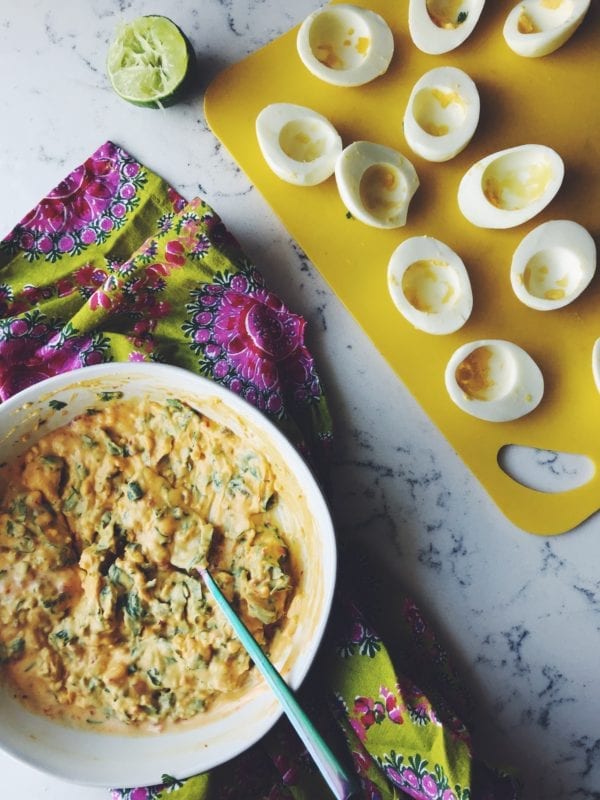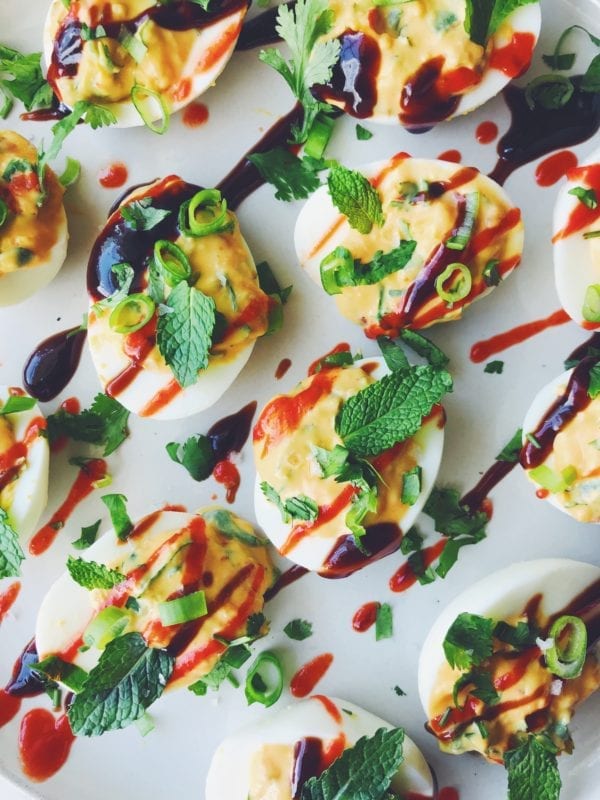 So let's get to it, shall we?
Recipe: Pho-Inspired Vietnamese Deviled Eggs
Recipe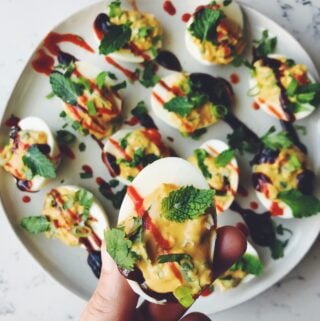 Recipe: Pho Deviled Eggs
These deviled eggs are inspired by the Vietnamese soup dish, pho. They're fresh, flavorful and colorful too - making them the perfect party appetizer!
Print
Pin
Ingredients
6

eggs 

the older they are, the easier they'll be to peel!

2

tablespoon

kewpie mayo

regular mayo will work just fine but this is extra delish

1

teaspoon

fish sauce

1

tablespoon

lime juice

1

tablespoon

sweet chili sauce

1

teaspoon

sambal

or another chili sauce

1

tablespoon

chopped pickled jalapenos

⅓

cup

chopped cilantro

Set a few pinches aside for garnish

1

tablespoon

chopped scallions

1

tablespoon

fresh mint leaves

Maldon Salt Flakes

Hoisin + Sriracha for garnish
Instructions
Bring a large pot of water to a light boil. Gently add eggs and when the water begins to boil lightly again, turn the timer on for 7 minutes. When the timer goes off, remove eggs and place in a ice bath for 5 minute. Peel and slice eggs in half.

Place egg whites on a platter and then put the egg yolks in a medium bowl. Add mayo, fish sauce, lime juice, sambal and sweet chili sauce. Mash mixture with the back of a fork until smooth. Stir in pickled jalapeños and cilantro and season to taste.

Spoon about 1 tablespoon or less of the mixture from step one into each egg. If it looks a little soupy, don't worry, not only will they get covered up in the next step but they're soup-inspired eggs... so NBD... ;).

For garnish, drizzle hoisin and sriracha on top (more or less depending on how spicy ya like it) and finish with a sprinkle of cilantro, scallion and mint.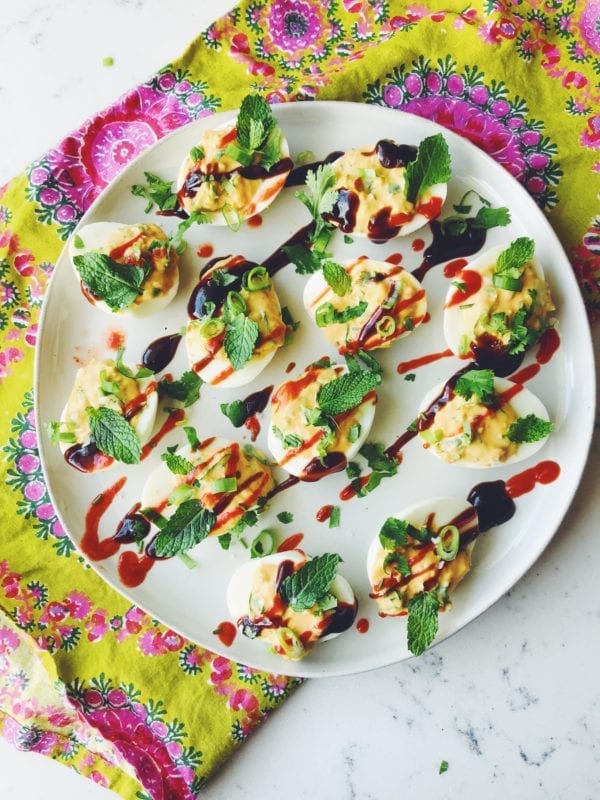 Got any other healthy snack or appetizer ideas that you can share? I need all the help I can get!
xoxo,
GCS