This post about Rock Springs Kelly Park Florida was brought to you by RaceTrac in promotion of their Wintastic Summer Rewards Program. I received compensation to write this post but all opinions expressed are my own.**
This story is about a day trip at Rock Springs but if you'd like more information about Rock Springs Kelly Park Florida, please visit my other post that explains **Everything you Need to Know about Rock Springs Kelly Park**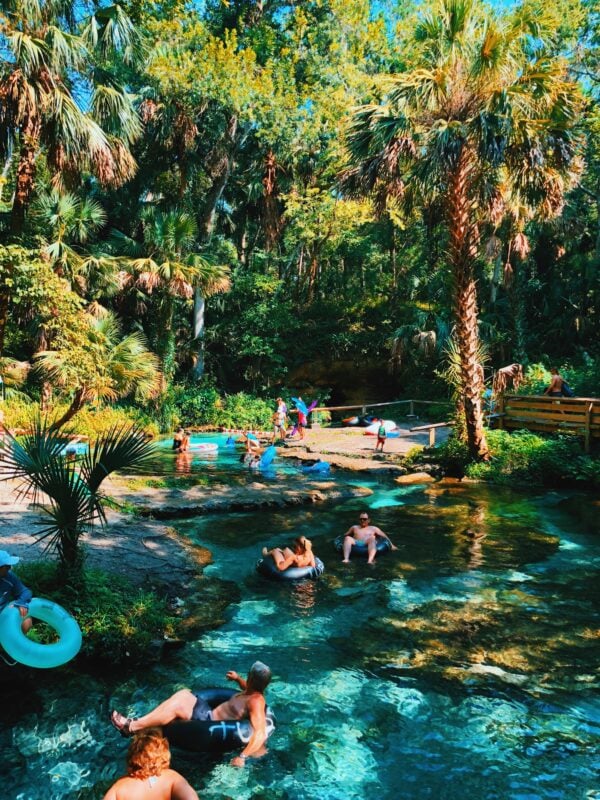 Kelly Park Rock Springs
This past Monday I celebrated my 32nd birthday at one of my new favorite places in Florida - Rock Springs at Kelly Park! This tropical, natural oasis is located in Apopka, just one hour away from where we live in New Smyrna Beach, which makes it a super quick and easy day trip.
But since i'm a hopeless procrastinator that waits until the last minute to look at trip advisor reviews, I didn't know that the park fills up to capacity about an hour after it opens... Whoops.
And since we decided to go to this park pretty spontaneously, we were nowhere near prepared for the next morning. But luckily, we had some tricks up our sleeves to help things go a little faster so we could get there before they stopped letting people in.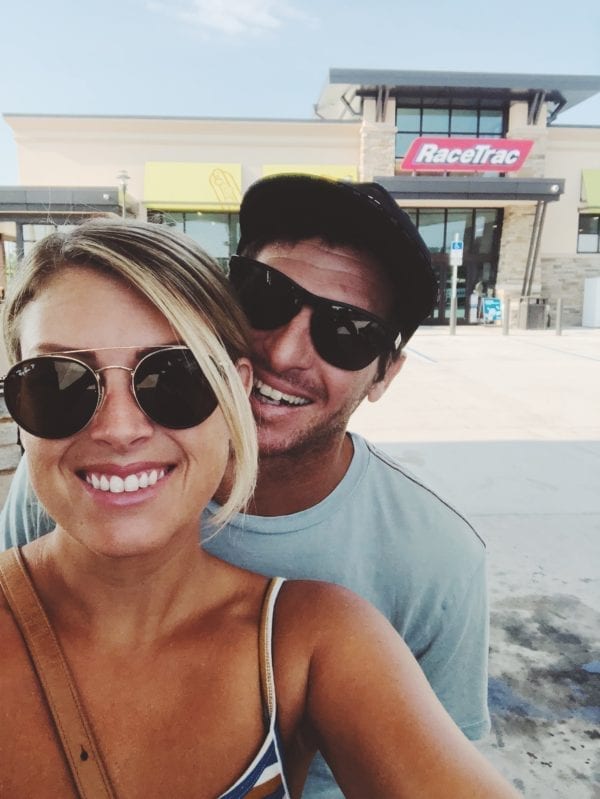 Racetrac Rewards for Roadtrips
Fast forward to the next morning - my official birthday!! After our alarm clock went off, I hopped out of bed and Jerm and I took the pups for a quick doggy walk around the block. We then slipped into our bathing suits and threw our cooler, rafts, waterproof phone cases, and bag full of towels in the car.
15 minutes later, we were on the road heading to Racetrac to get everything we needed for the day. If you're local, you might have seen the new Racetrac gas station open up on 44, right outside of town.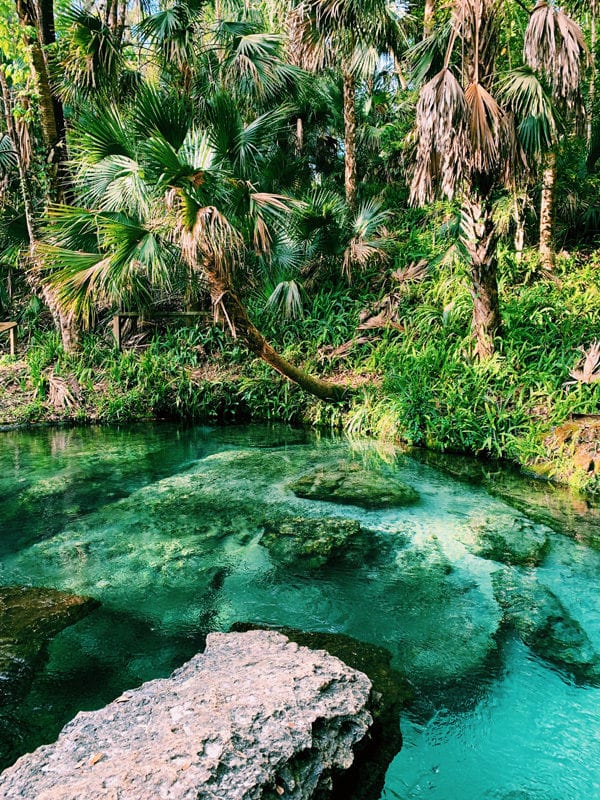 This gas station literally has it all! It's my favorite one-stop-shop for everything that you need for a perfect day trip.
And since it was my birthday and since Jeremy had just had his bday a few days prior, we knew that we were going to go all out and indulge in whatever our hearts desired.
After we filled our Subaru full of gas, we headed inside. We then loaded our shopping basket full of tasty food and refreshing drinks for the adventurous day ahead of us. We grabbed some of their awesome breakfast sandwiches.
Kelly Park Rock Springs Tubing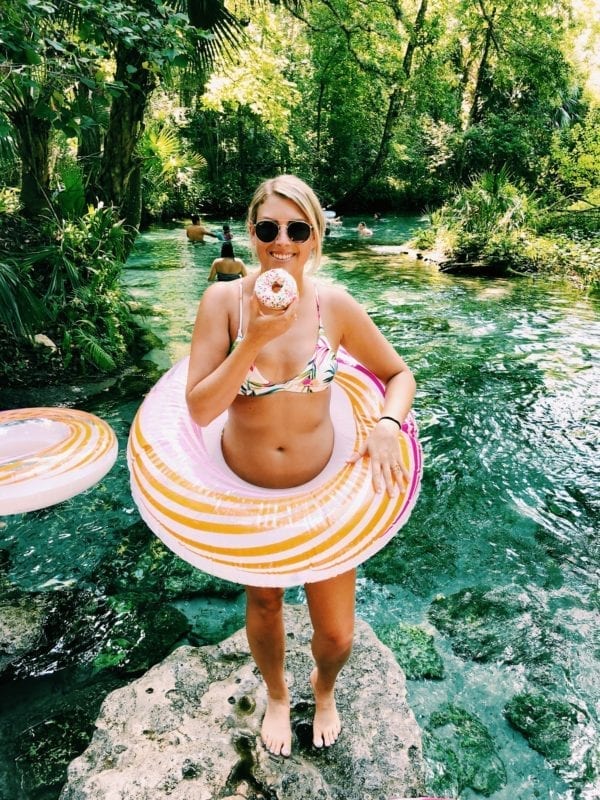 Once we were ready to pay, I whipped out my iphone and scanned my newly updated Racetrac App to score points on their Wintastic Rewards Program.
I'm obsessed with this app! You have a 1 in 3 chance to win every single time you make a qualifying purchase at Racetrac! During this particular stop, we totally won big. We got some of our items for free which was ahhhh-mazing!!
After we left the gas station, I was playing around on the app. I realized that just by scanning it that one time, we got enough points for free stuff!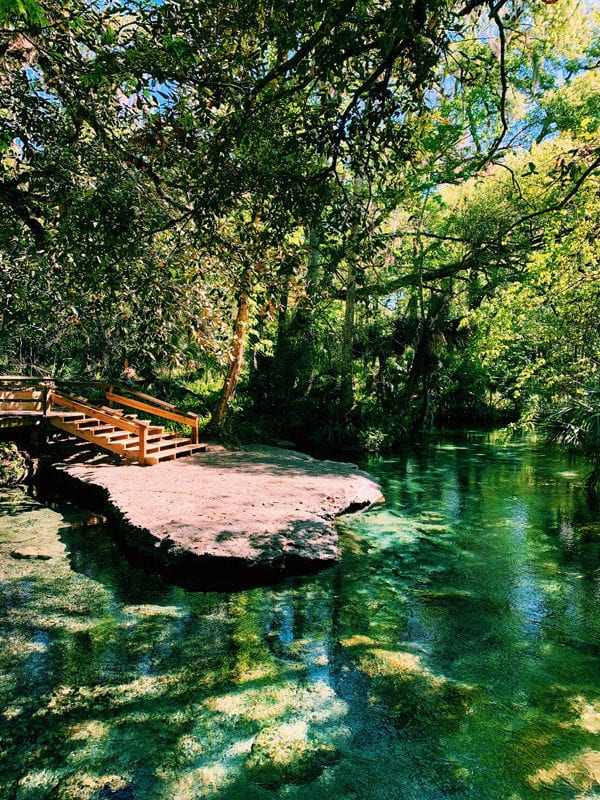 We got free griller item, a donut, a candy bar, and a slice of pizza. Which consequently made my birthday even better!! I mean who doesn't love winning things? Especially on their birthday?!
Once we got to the park, we headed down to the foot of the springs. There, there where giant fossilized rocks are covered in lush green flora.
On top, were native palms and oaks create a canopy of tropical gloriousness. If you can't tell, I thoroughly enjoyed eating this FREE donut in a donut! So meta, lol.
Rock Springs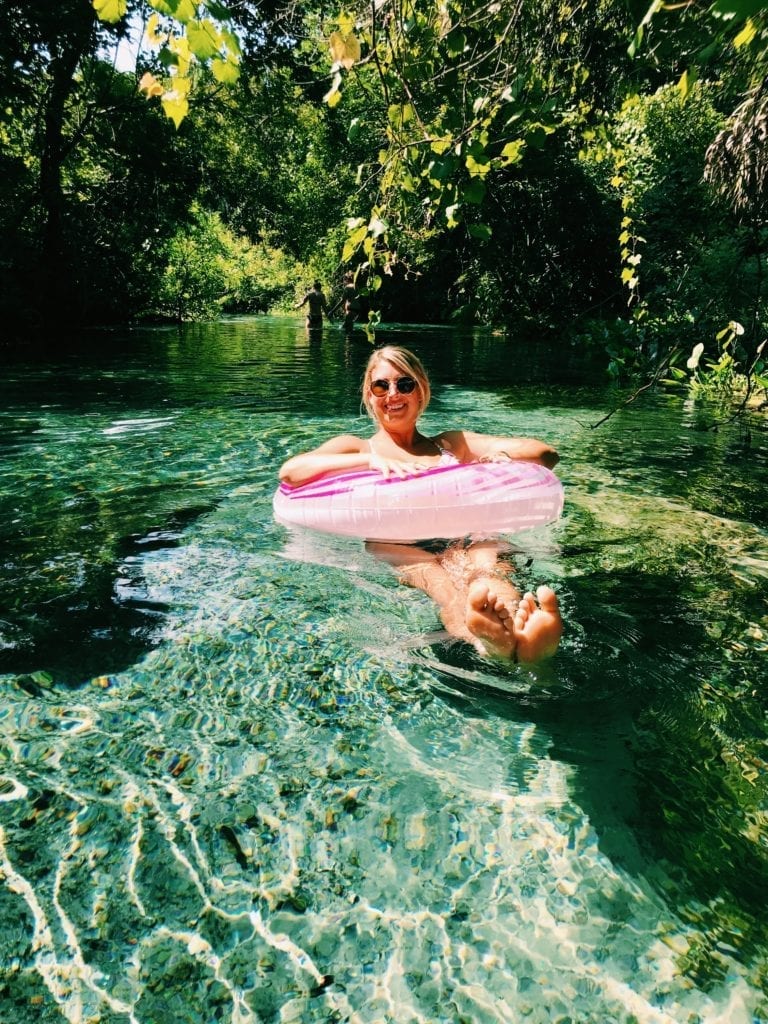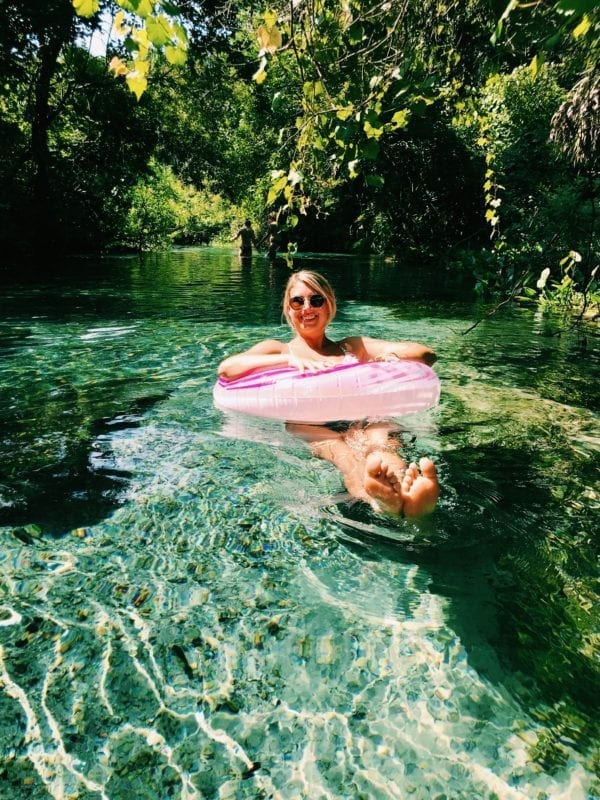 We effortlessly floated down the run in our tubes, over the crystal clear blue water. We saw tons of little fishies, birds, and turtles.
At one point, I looked up into the bank and saw a bunch of little fish jump. I made a little joke about an alligator being the culprit and Jeremy laughed as we kept floating on.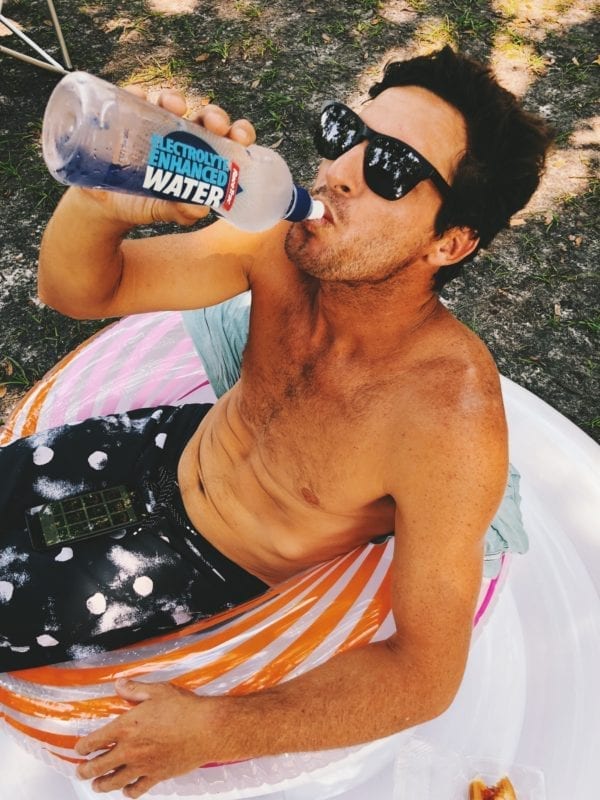 Once we got to the end of the spring, we floated into a giant pool like area. It was so pristine - just like actual swimming pool. At this point, Jerm was parched and I was hungry (surprise!) so we whipped out the cooler.
Jerm went straight for Racetrac's enhanced electrolyte water because let's not joke around, we needed it considering how much fun we had the night before.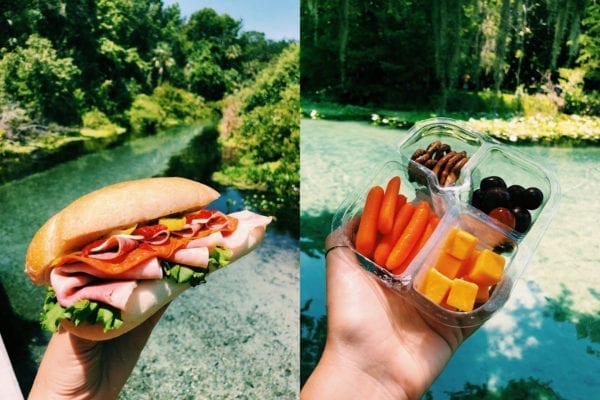 Rock Springs Kelly Park Food
As he was chugging water, I unzipped the cooler and started to pull out the lunch items that we got at Racetrac.
I of course, went for their miniature cheese plate. Jerm, my Italian stallion with a never-ending appetite, had picked their Italian sub. It was was loaded with salami, pepperoni, ham, thick sliced provolone, fresh vegetables, and pickled peppers.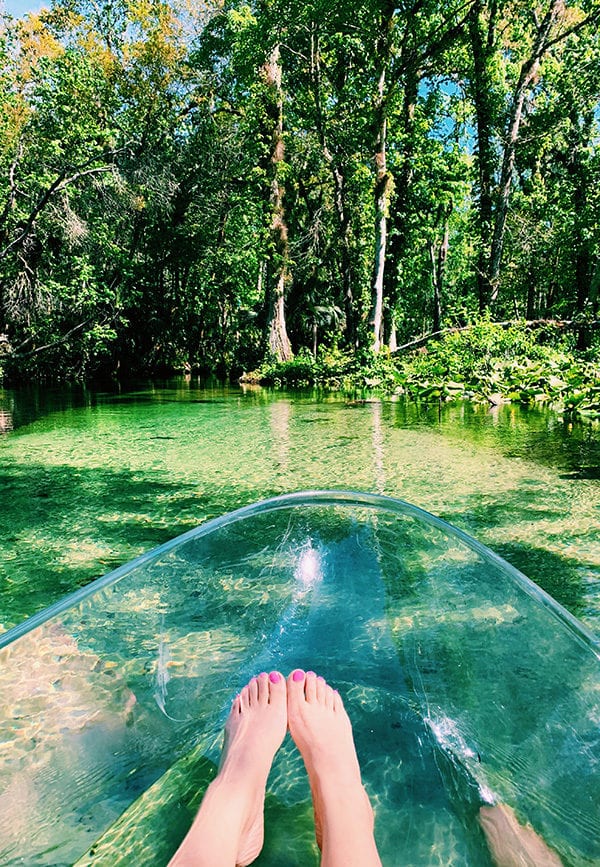 And here's where the story turns. As we were eating our picnic lunch, everyone started rushing to get out of the water.
Turns out, what I thought was an alligator, actually WAS an alligator.
Some kids had spotted it on the shoreline which led to a mandatory evacuation of the spring water.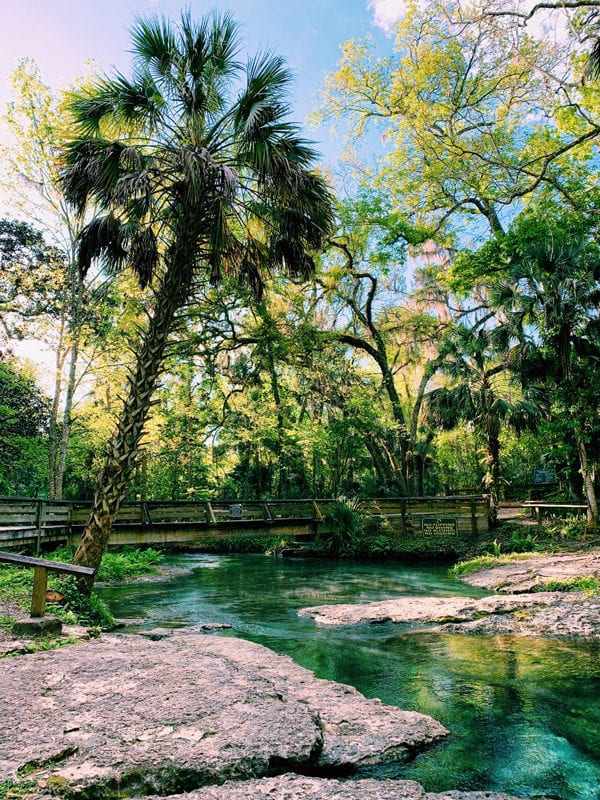 Alligator sighting at Kelly Park
Since we were leisurely enjoying our lunch in the shade, we didn't care too much. However, once we found out that no one was allowed back in the water until the little gator was captured.
So what did we do? We googled the nearest Racetrac and headed that way to claim our rewards points for the drive home.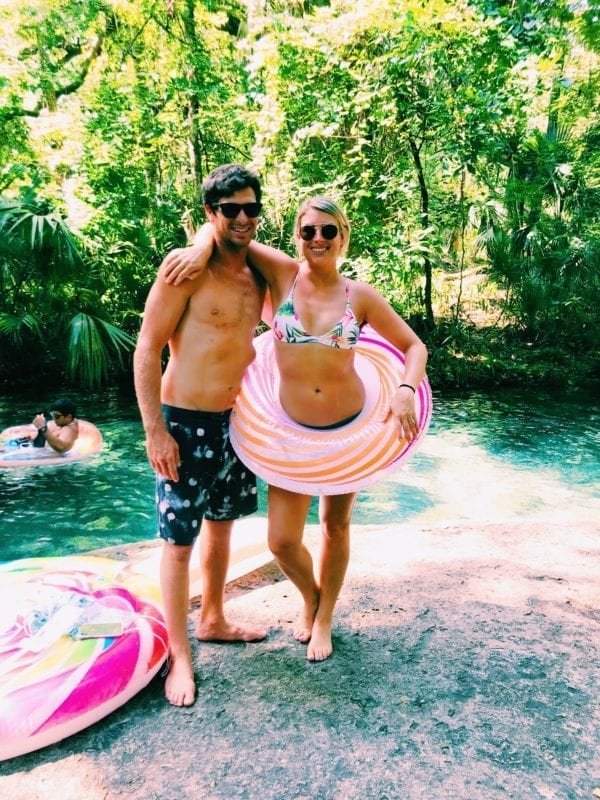 All in all, even though our tubing trip was cut short thanks to a local amphibian, it was a pretty radical day at the springs thanks to all the free stuff we got from the Racetrac Wintastic Rewards App.
And even though this post was sponsored by Racetrac, I highly recommend that you all download the app and use it all summer long!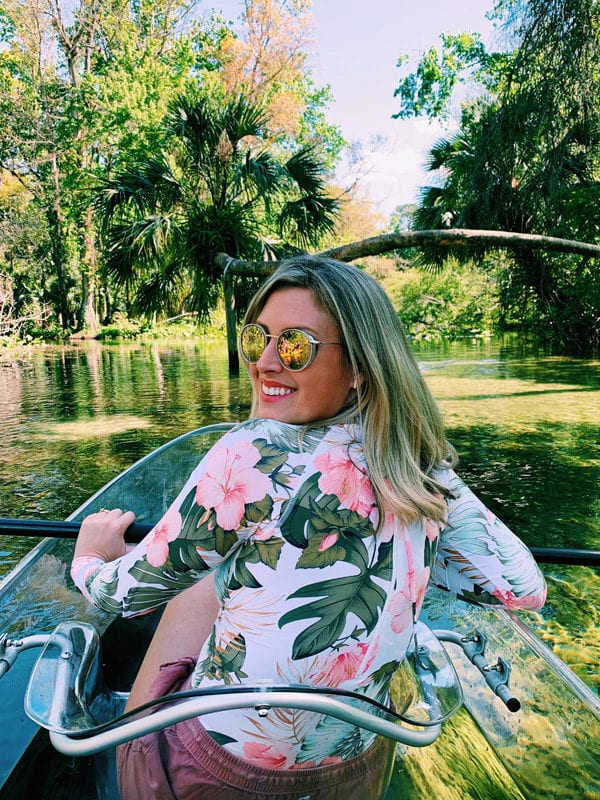 If you'd like to read more about this awesome place, please check out my other post ** Everything you need to know about Rock Springs Kelly Park Florida**!
And if you'd like to watch a video of my husband and I at Rock Springs Kelly Park Florida, check it out below!
[embedyt] https://www.youtube.com/watch?v=Z2uGf2FCRKc[/embedyt]
xoxo,
GCS