This spinach artichoke ditalini pasta salad is the perfect summer recipe! Using cooked pasta, fresh spinach, marinated artichoke hearts and a few other pantry staples, this easy recipe comes together in minutes!
Jump to: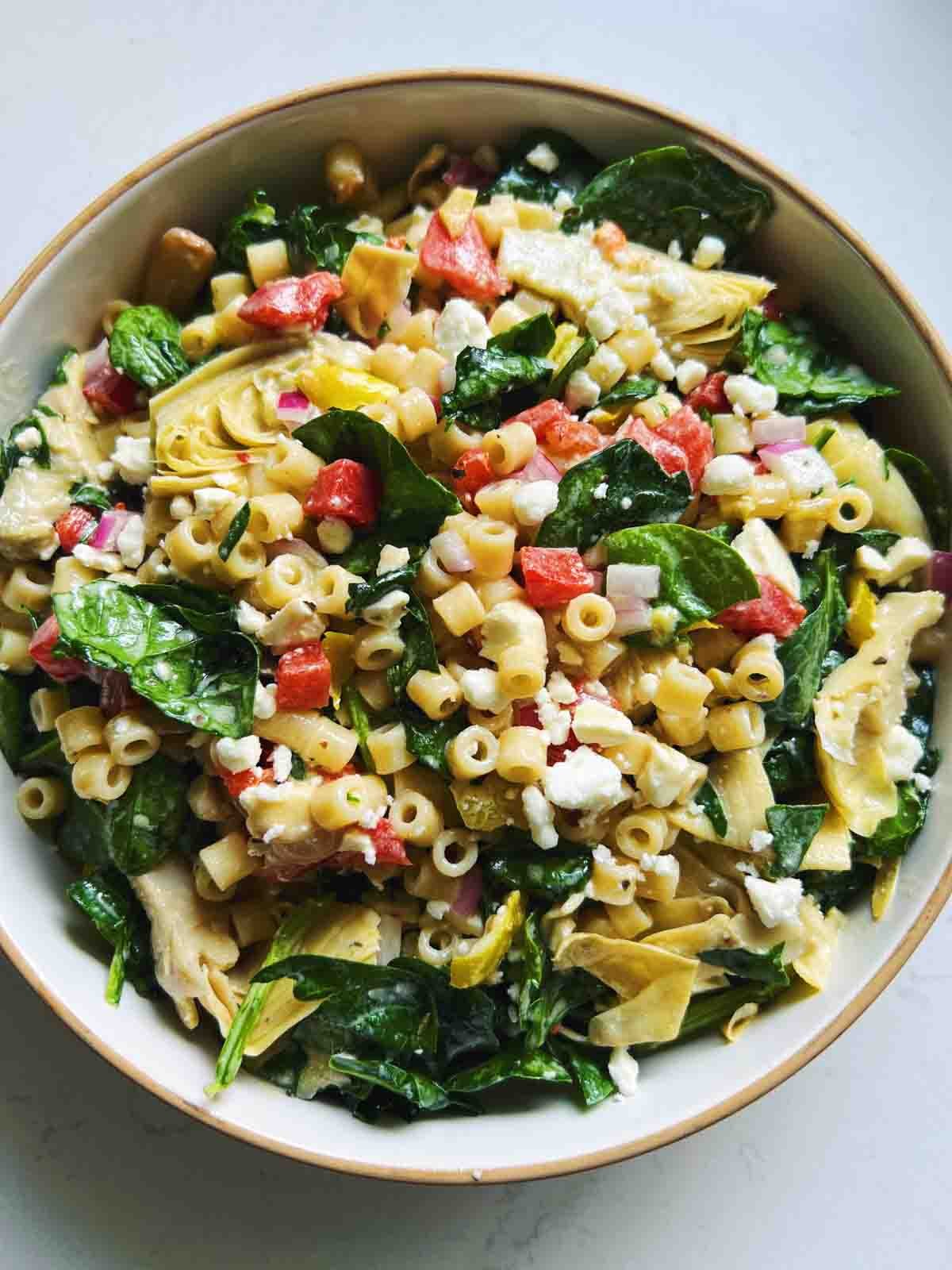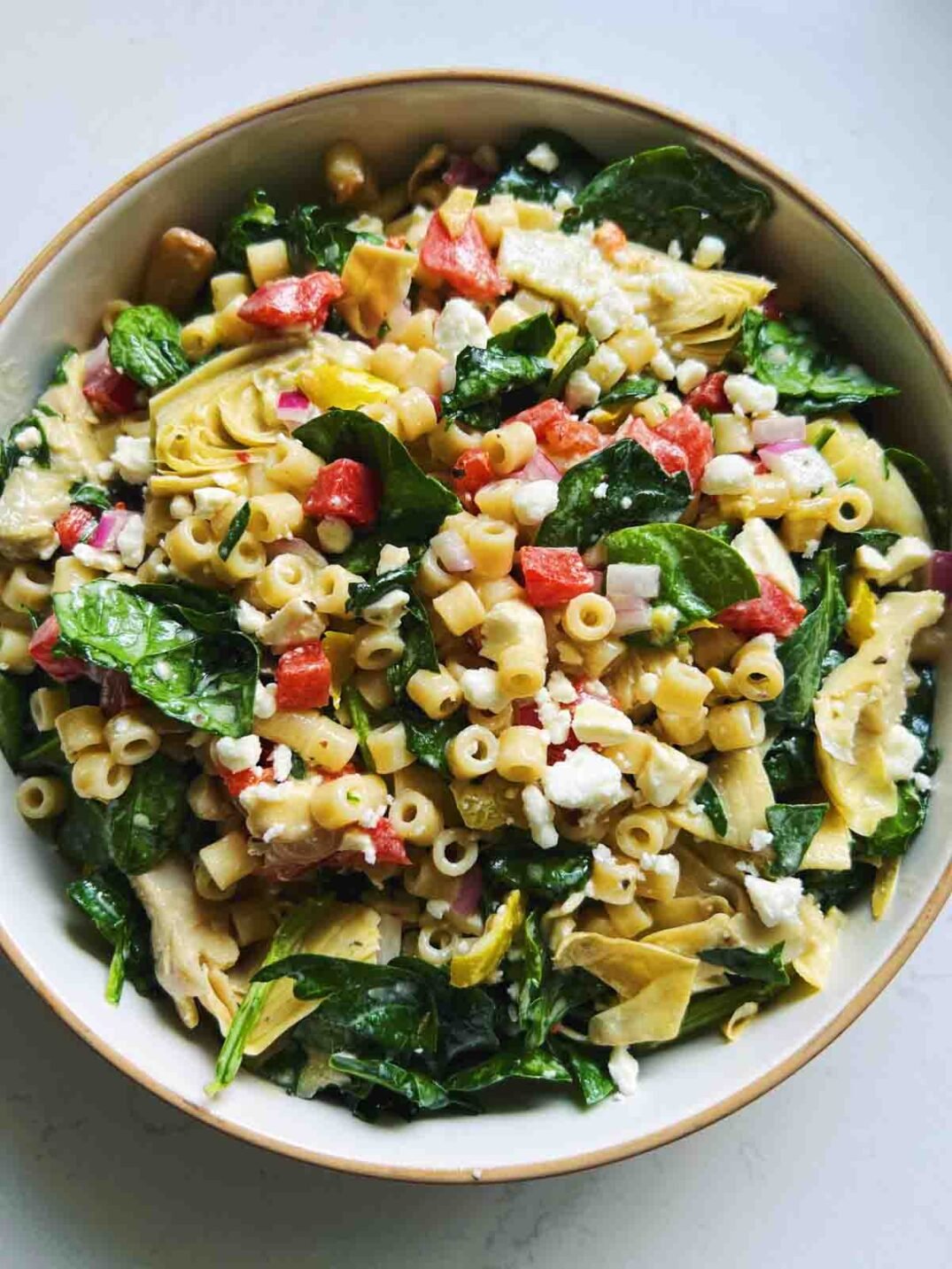 What is Spinach Artichoke Pasta Salad?
Spinach Artichoke Pasta Salad is a flavorful and refreshing salad dish that combines cooked ditalini pasta, flavorful feta cheese, fresh spinach, marinated artichoke hearts, a few briny ingredients and an easy creamy, tangy dressing.
It's a delightful variation of the classic spinach artichoke dip, transformed into a pasta salad with feta cheese for added boldness and flavor.
To mimic the creaminess of spinach artichoke dip, I incorporate just a tiny bit of mayo which seems to do the trick perfectly!
You could also use another creamy component like sour cream or Greek yogurt.
I'm using a store bought garlicky salad dressing known as Garlic Expressions and it is seriously the only premade salad dressing I use. It's so flavorful and saves me time and effort.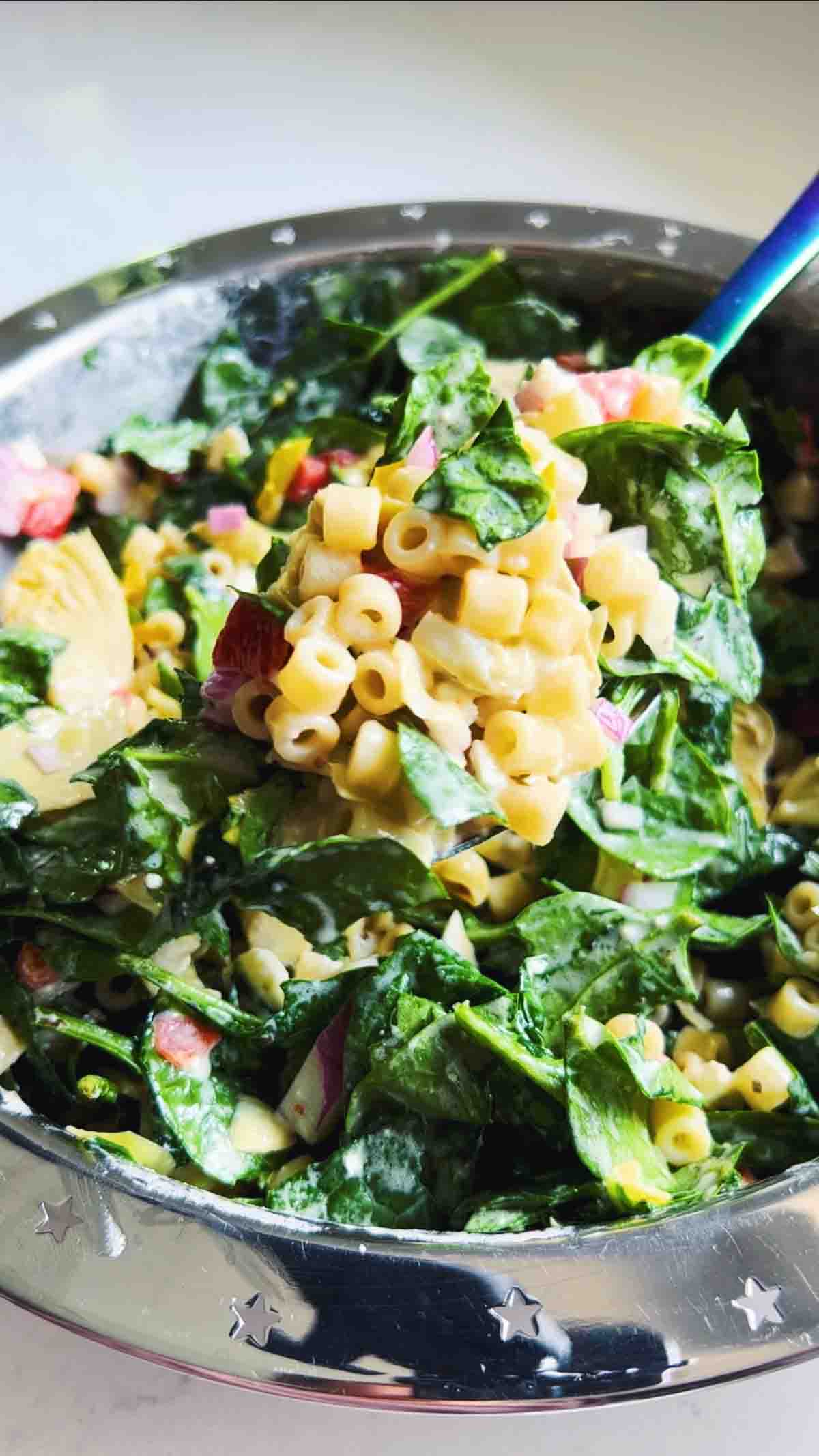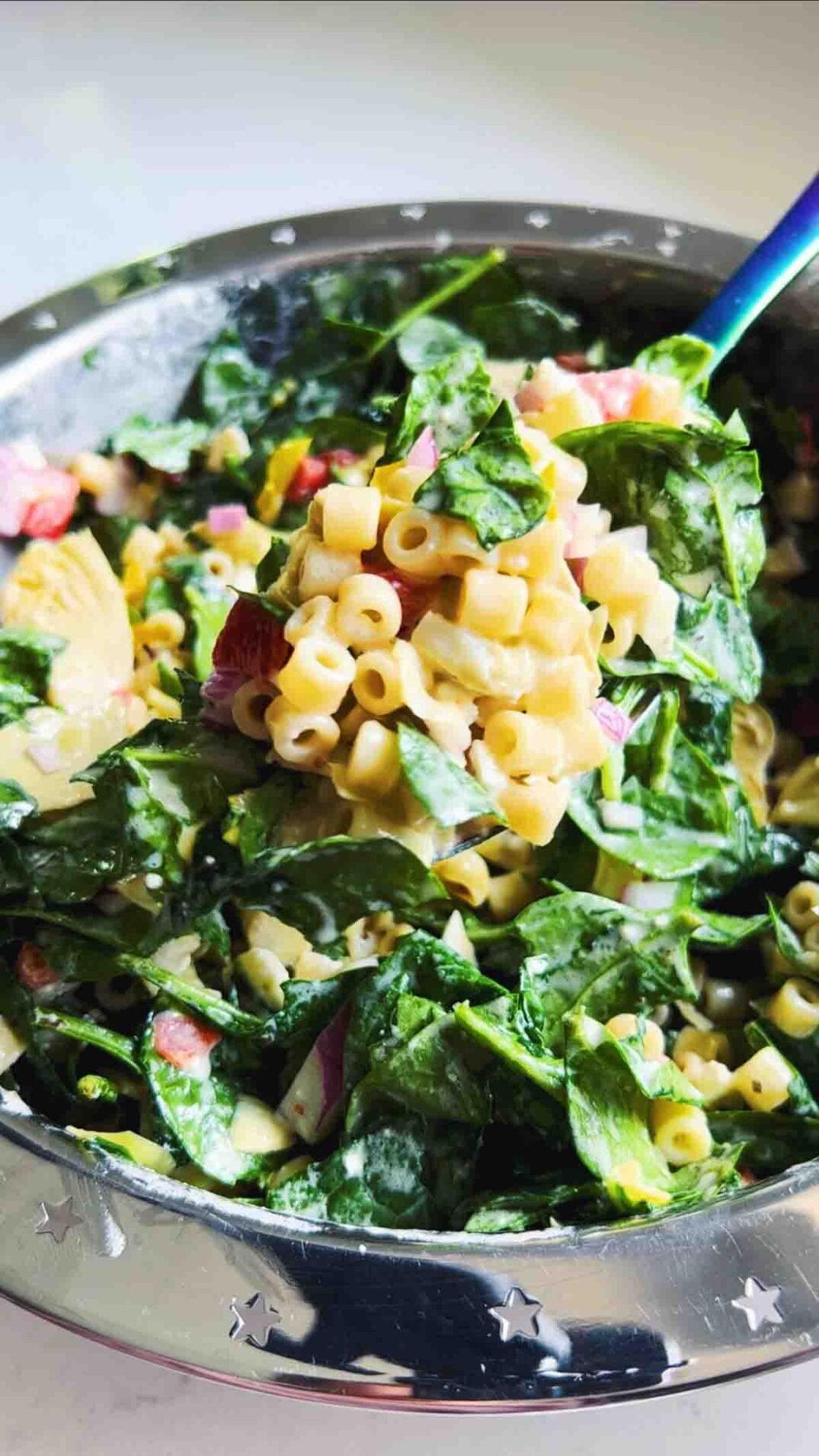 Ingredients and Substitutions to make Spinach Artichoke Pasta Salad
Ditalini Pasta - This short tube-shaped ditalini pasta is my personal fav for pasta salad but absolutely not required - use whatever noodle your heart tells you to!
Feta Cheese - I always use Athenos Feta because they're one of my favorite partners to work with! I think if you were to use another cheese, you would need to add a few different ones to mimic the boldness of feta.
Spinach - Fresh spinach is the best because it makes it more salad-y but you could also use arugula or another hearty green.
Marinated Artichoke Hearts - Please make sure you get the MARINATED artichoke hearts! These have so much flavor and really make this salad delicious. There's no real sub for this but you could leave it out if you didn't like them.
Roasted Red Peppers - I use jarred roasted red peppers but you could def use homemade or fresh for more crunch.
Red Onion - white onion, yellow onion, or sweet onion would work, too!
Banana Peppers - I love banana peppers because they add color and so much flavor! You could also swap for pickled jalapenos if you like spice.
Garlic Expressions - Garlic Expressions is my favorite store bought salad dressing. It's like a garlicky italian and it is literally perfect. You can get some here but if you can't find it, feel free to use your favorite store bought italian dressing.
White Balsamic Vinegar - Regular balsamic vinegar works just fine but white balsamic vinegar is slightly sweet and keeps the color from becoming very dark.
Mayo - I'm using Kewpie Mayo but you could absolutely swap it for greek yogurt or sour cream.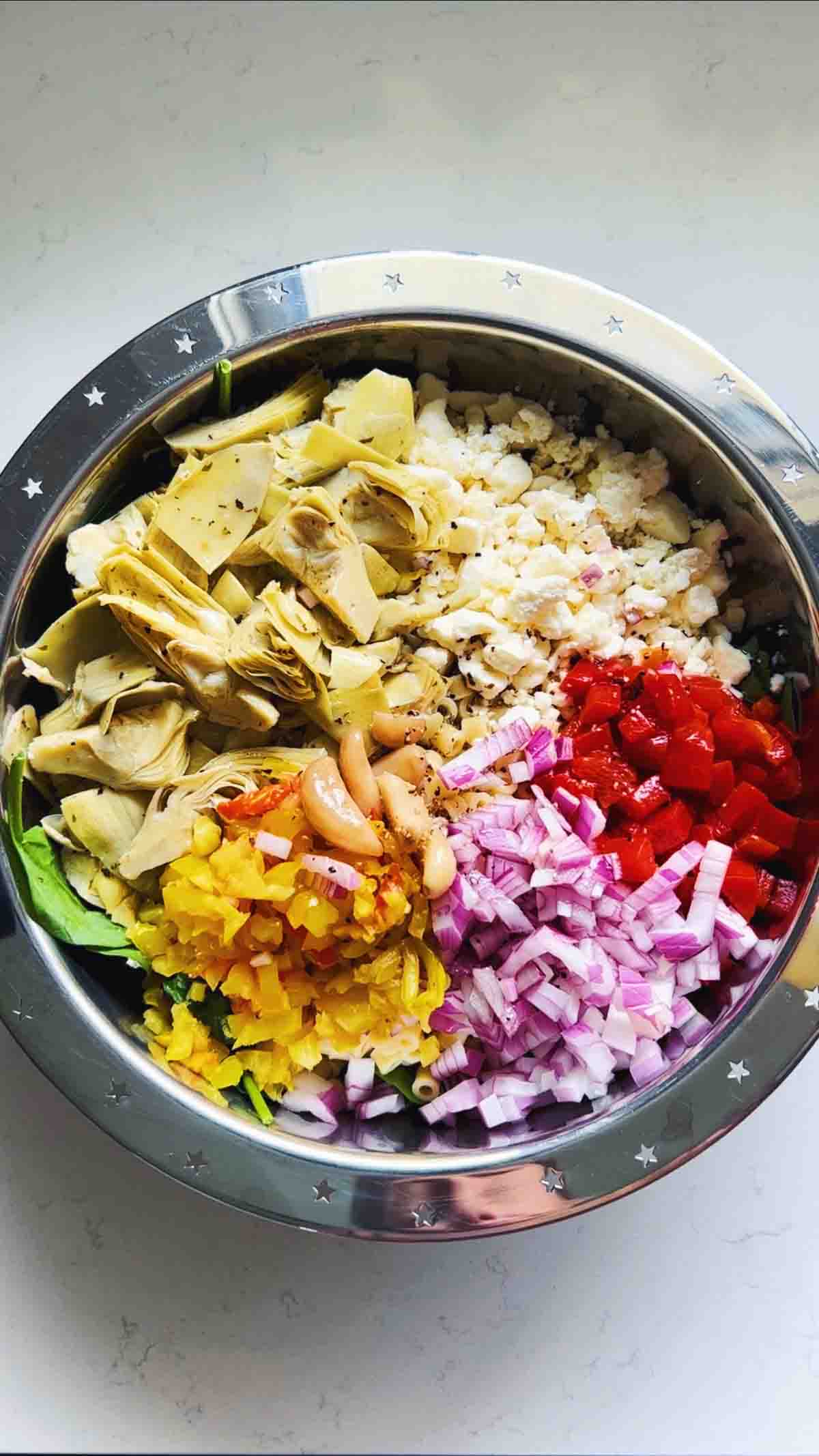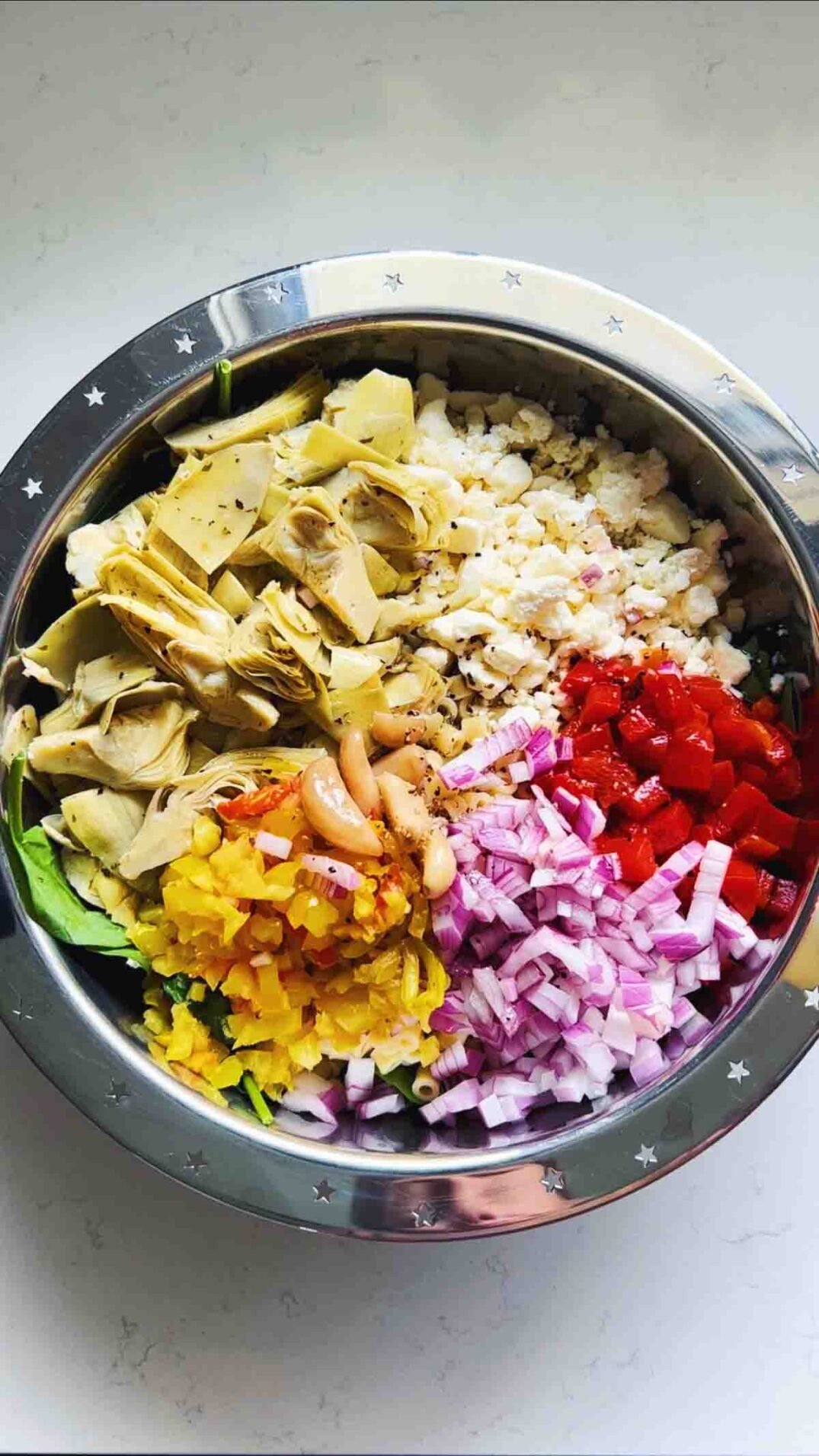 How to make Spinach Artichoke Pasta Salad
This ditalini pasta salad is one of the easiest recipes to make - there is literally nothing to it.
Just chop all the ingredients then add them to a big bowl.
Give it a taste then season with salt and pepper if needed.
You can serve it right away or put it in an air tight container and keep it stored in the fridge for up to 4 days.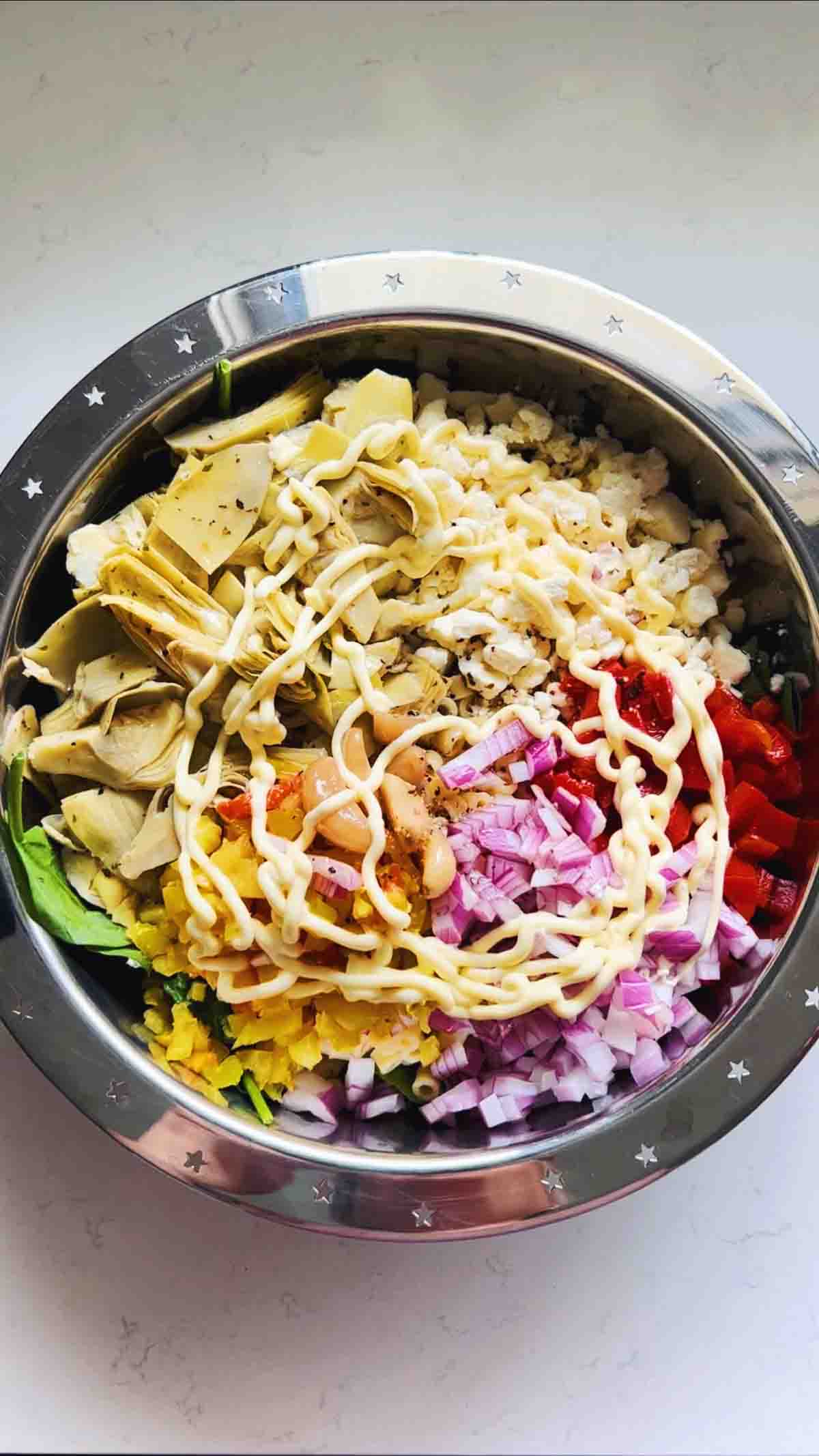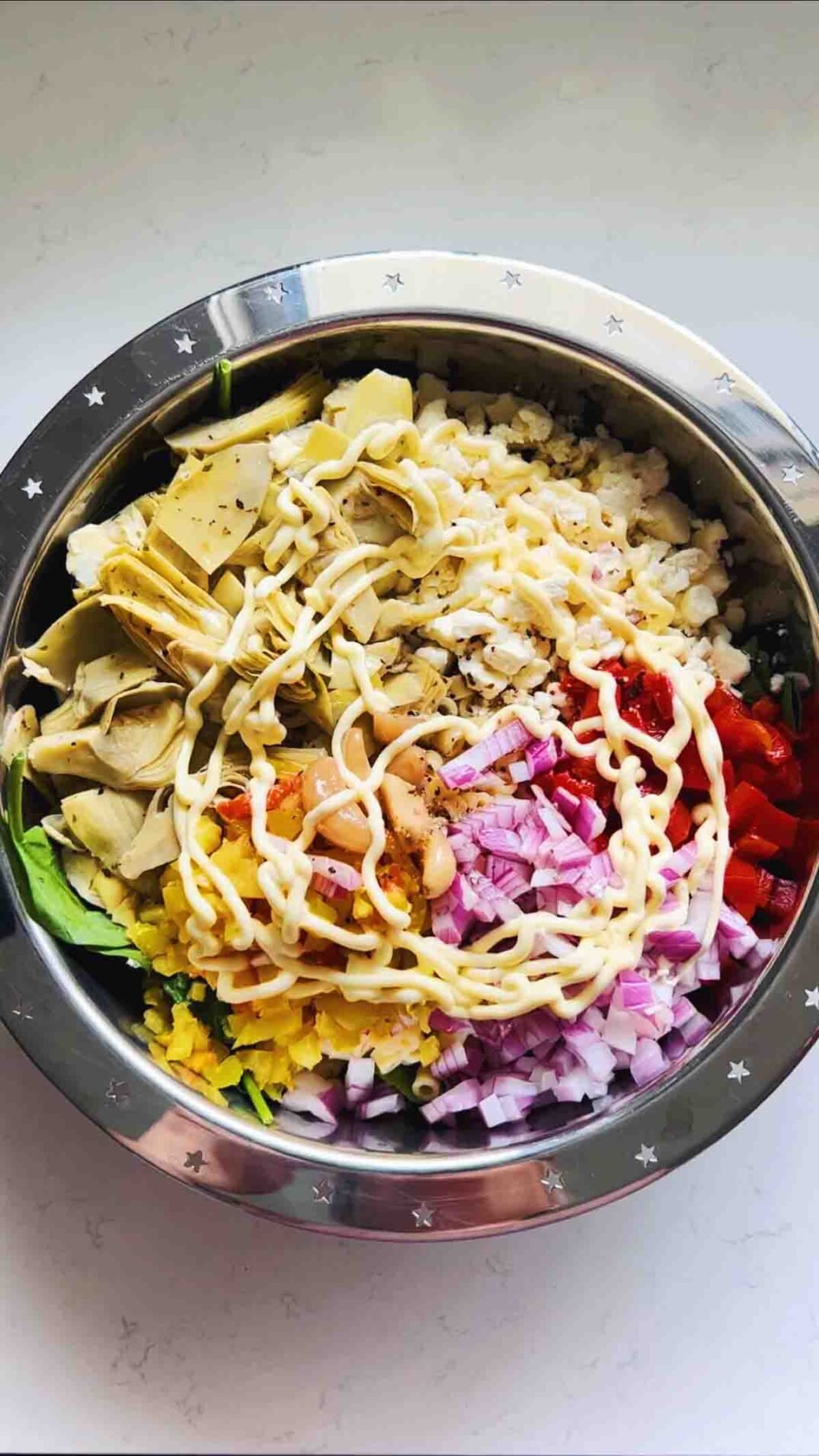 What goes with Ditalini Pasta Salad?
Since it's so versatile, I love pairing Spinach Artichoke Pasta Salad with almost any recipe!
If I were making it for lunch, I'd pair it with my easy ciabatta caprese sandwiches, some rustic tortellini soup or some jerk chicken salad sandwiches.
For dinner, I'd pair it with some creamy pesto pasta, one pot cheesy orzo with broccoli, baked feta spaghetti squash.
For dessert, I would suggest my Mango Croffles or my Vital TikTok Cinnamon Rolls with Heavy Cream.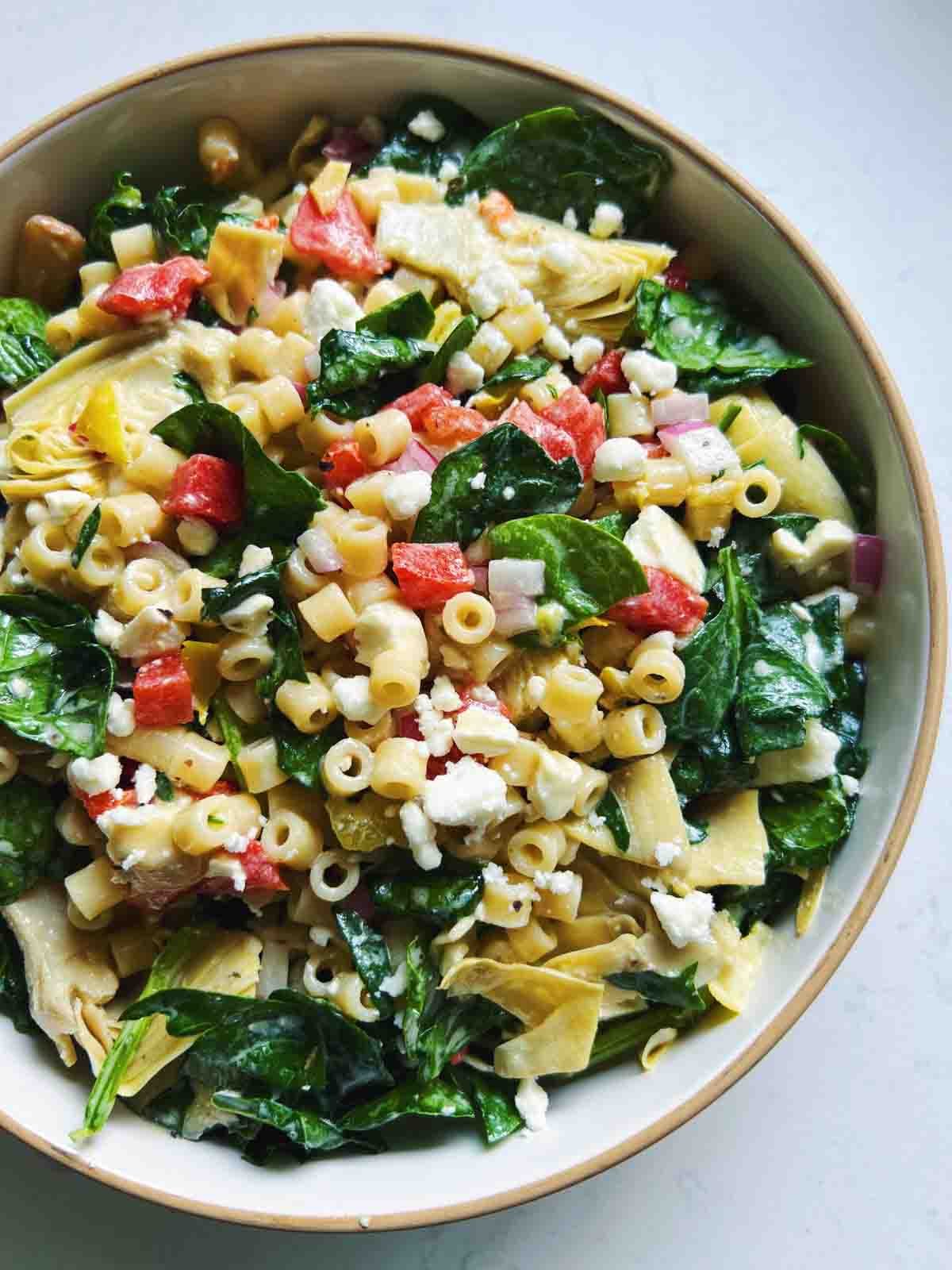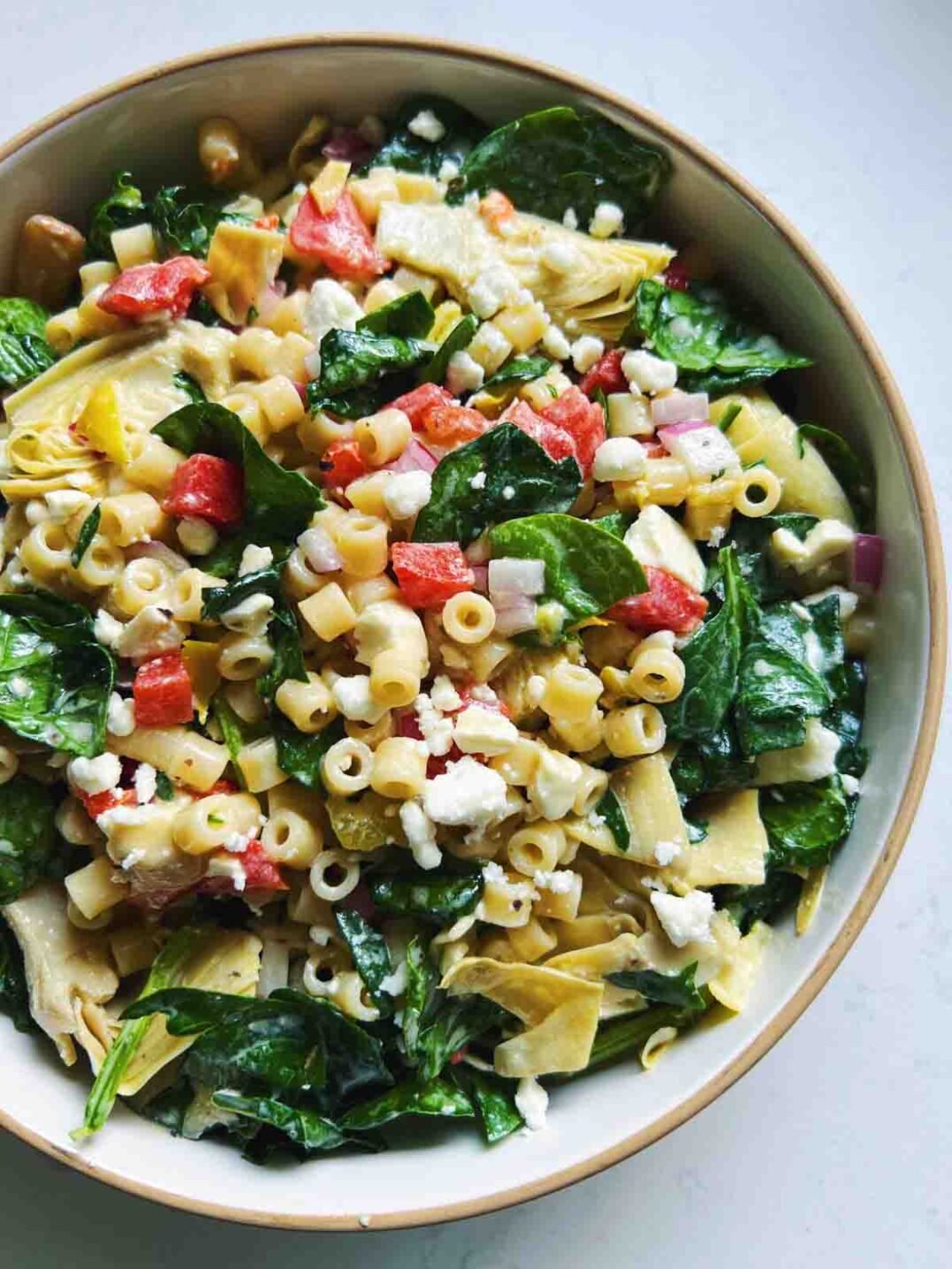 Frequently asked questions
How long is pasta salad good for in the refrigerator?
Typically, pasta salad will last in the fridge for 3-5 days. This is assuming that you store it in an airtight container and keep it cold.
I recommend keeping it in the back of the fridge for optimal shelf life.
Is it OK to make pasta salad the day before?
100% -yes, absolutely! The great part about pasta salads is they can be made ahead of time and they store great in the fridge.
I personally think they're best the second day but that's my personal opinion.
Why is my pasta salad not creamy?
If you're noticing that your pasta salad isn't creamy, try adding a little more oil or even more dressing.
Sometimes, if you don't cook the pasta long enough, it can't grab on to the dressing and will dry out.
On the other hand, if you overcook the pasta, it will be completely soggy and gross.
Cooking the pasta just right and using the correct amount of dressing ensures that your pasta salad will stay perfectly creamy.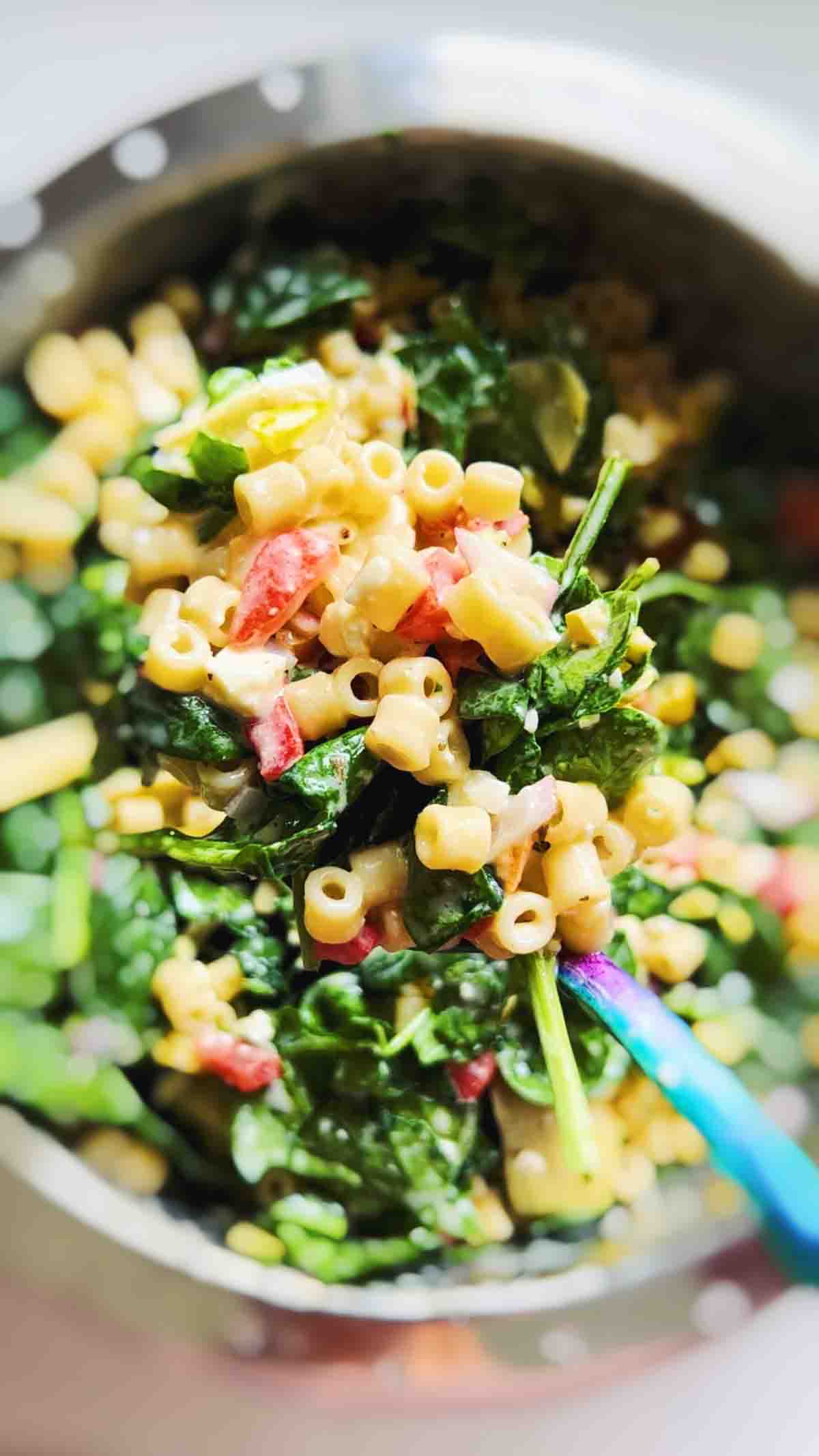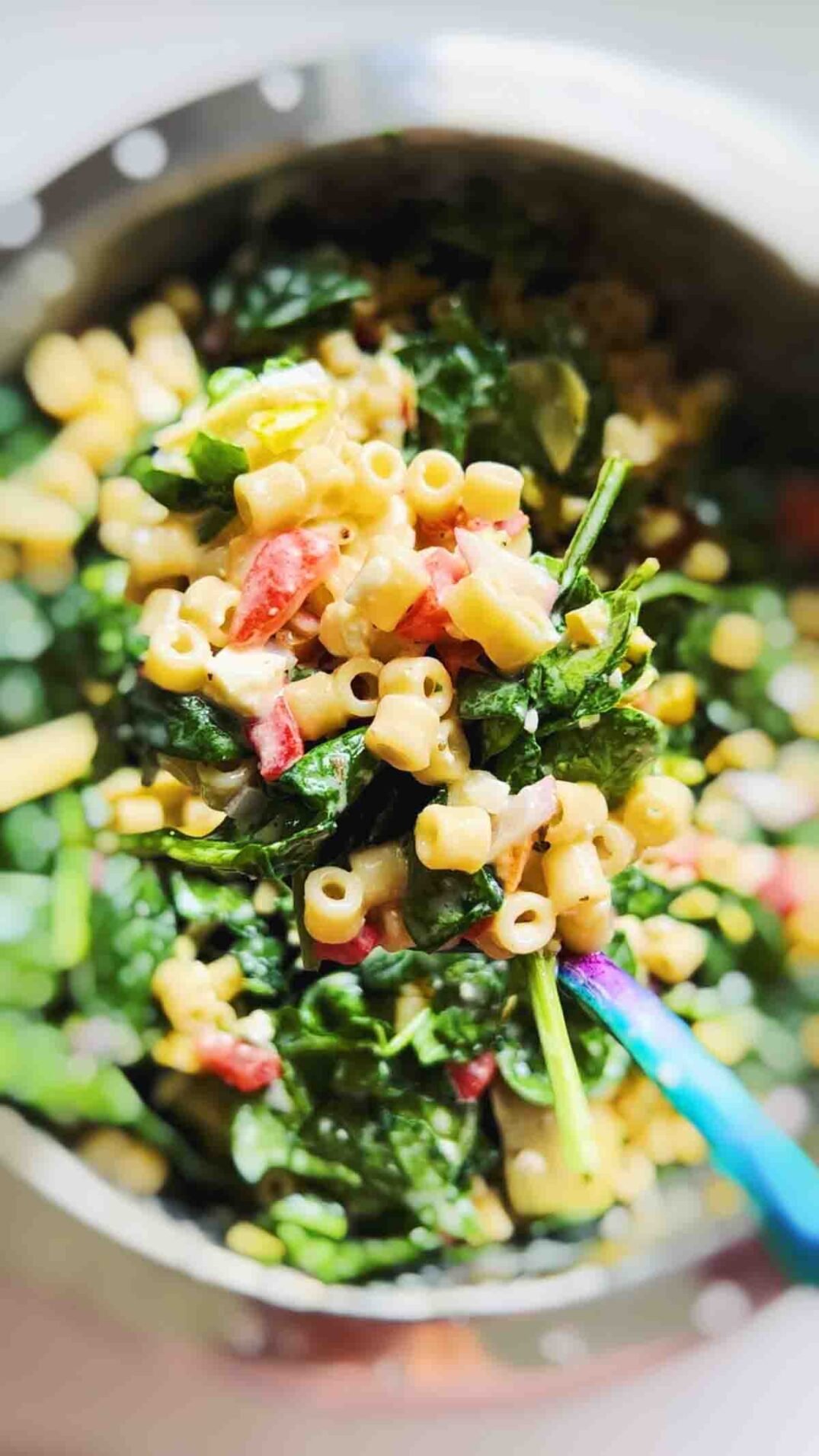 Save this recipe for later
Want to save this Spinach Artichoke Pasta Salad recipe for another time? I got you!
You can pin any image on this page or use the pretty ones I made below specifically for your lunch pinterest boards.
And if you don't already, feel free to follow me on pinterest, instagram, youtube, facebook, and tiktok for tasty inspiration shared daily!
And if pinterest isn't really your thing, you can always scroll down to the bottom of this post and print the printable recipe card.
Video Tutorial
Recipe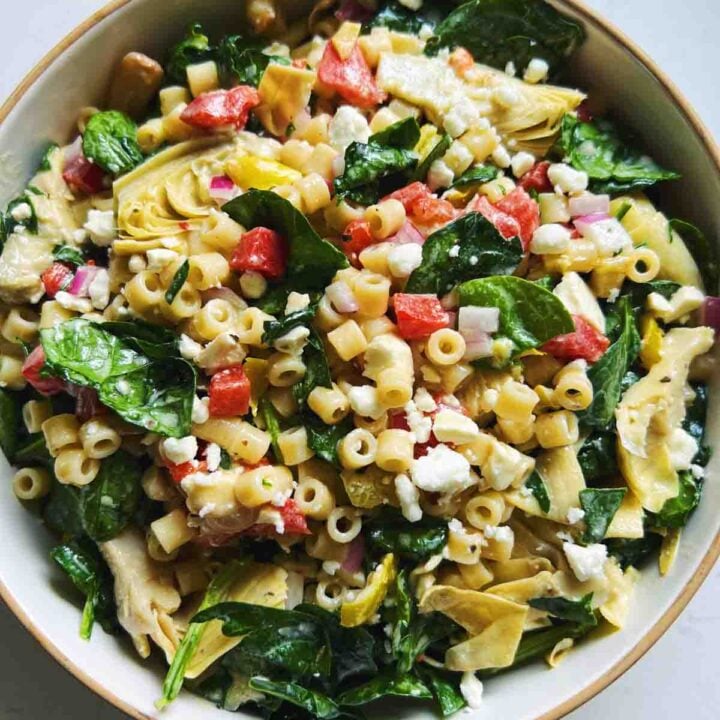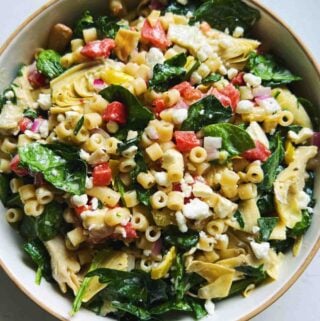 Spinach Artichoke Pasta Salad
This spinach artichoke ditalini pasta salad is the perfect summer recipe! Using cooked pasta, fresh spinach, marinated artichoke hearts and a few other pantry staples, this easy recipe comes together in minutes!
Print
Pin
Instructions
Combine all ingredients in a large bowl and toss. Season with salt and pepper if needed.