This post is sponsored by National Mango Board.
This no bake Mango Sticky Pie is going to be the star of the show at my daughter Poppy's first birthday party! Not only are mangos nutritious and delicious, but they also make a perfectly sweet pie that's fun to eat and easy to make!
Jump to:
When we first started baby-led weaning, Poppy was introduced to a number of soft fruits, veggies and meats.
When it came time to give her mango, she lit up with excitement.
Watching Poppy devour mango was like watching someone feed a shark bait!
She would literally lunge at my hand when I'd put it on her highchair table and would thrust it into her mouth while squealing. It was seriously the cutest thing I've ever seen!
So now that my baby is about to turn one, I figured I'd make her a birthday cake that she would love and one that I can feel good about giving her!
This mango sticky pie is a play off of one our favorite Thai desserts -- mango sticky rice!
Sweet, flavorful and juicy mango is combined with cream of coconut and whipped topping. It's sweet, fluffy and tropical tasting!
Since I'm a new mom and barely have time to brush my hair, I'm using a store-bought pie crust as a short cut.
Once the pie filling is made, it's poured into the crust and popped in the freezer for at least 3 hours (and up to 5 days).
Once it's ready to serve, you just add a little more fresh mango, a drizzle of sweetened condensed milk and some black sesame seeds.
Not only is this frozen pie perfect for a teething baby but it's also provides vitamins C, A and B6!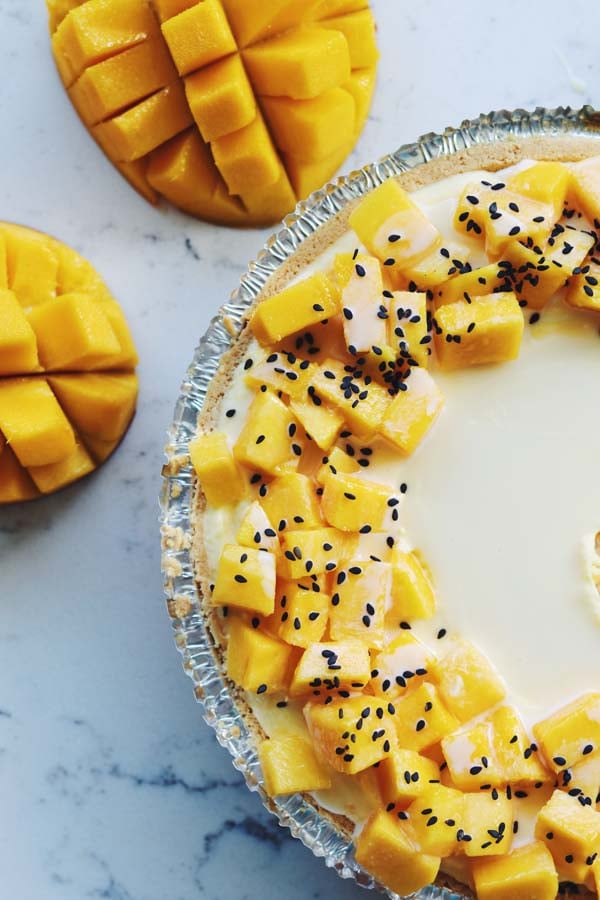 Ingredients & Substitutions
Fresh Mango - There is no substitution for fresh mango! This superfruit is flavorful and nutritious.
Cream of Coconut - You could also use regular coconut cream or even coconut milk although it wouldn't be as sweet and creamy!
Whipped Topping - Feel free to swap out traditional whipped topping for homemade whipped cream or any other dairy free alternative.
Store bought Graham Cracker Pie Crust - If you're not into store bought pie crust, you could definitely make your own!
Sweetened Condensed Milk - This adds the perfect creamy sweet finish to the pie, and I highly recommend it. But it's not 100% necessary if you don't have any.
Black Sesame Seeds - These are mostly for visual interest, but regular toasted sesame seeds or traditional Thai split mung beans could also be used.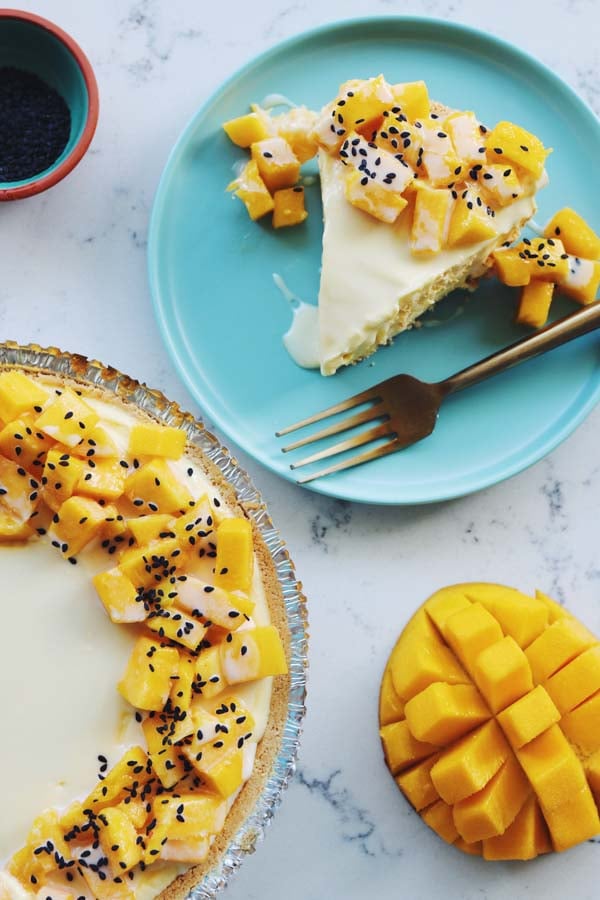 How to make Mango Sticky Pie
To make mango sticky pie, you must first prepare your mango.
To do this, hold the mango upright and slice down the longer sides to avoid the seed.
Once the "cheeks" are off, gently take a knife and score the meat of the fruit in perpendicular lines.
Now you can carefully cut the fruit off into small pieces.
Once you have the middle leftover, carefully use a paring knife to remove the skin then trim the rest of the fruit off -- being sure to avoid the seed or any hard part of the pit.
After cutting up two large ripe mangos, you'll want to add them to a blender or food processor with the cream of coconut.
Blitz this mixture until smooth then carefully fold in the whipped topping.
Pour the filling into your pie crust and set in the freezer for at least 3 hours or up to 5 days.
When you're ready to serve, add more chopped mango to the exterior circle of the pie and drizzle with sweetened condensed milk. Finish with a sprinkle of black sesame seeds.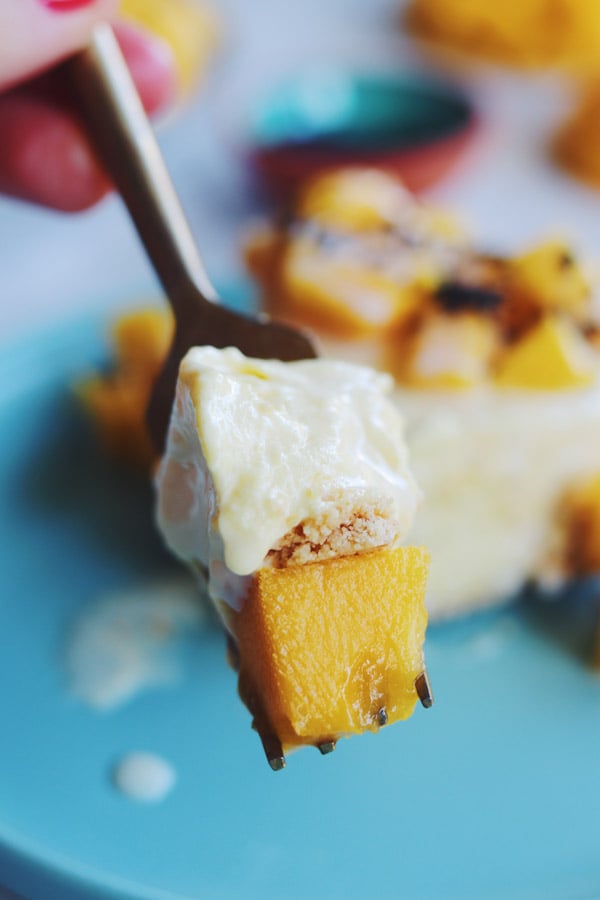 Are Mangos Healthy?
Mangos are definitely healthy -- they're actually considered a super fruit!
Did you know that just one serving of mango has vitamins, minerals, polyphenols and dietary fiber? Here are some awesome mango nutrition facts!
Mangos are an excellent source of vitamin C. One serving gives you 50% of your daily value! This plays an important role in immune function and skin health.
They are also a good source of folate, which provides you with 15% of your daily value! This is vital for a healthy immune system!
One serving also gives you 8% daily value of vitamin A which helps maintain healthy skin and eye health!
And one serving of mango gives you 8% of your daily value for vitamin B6 which plays a critical role in metabolism, supports immune function and brain health!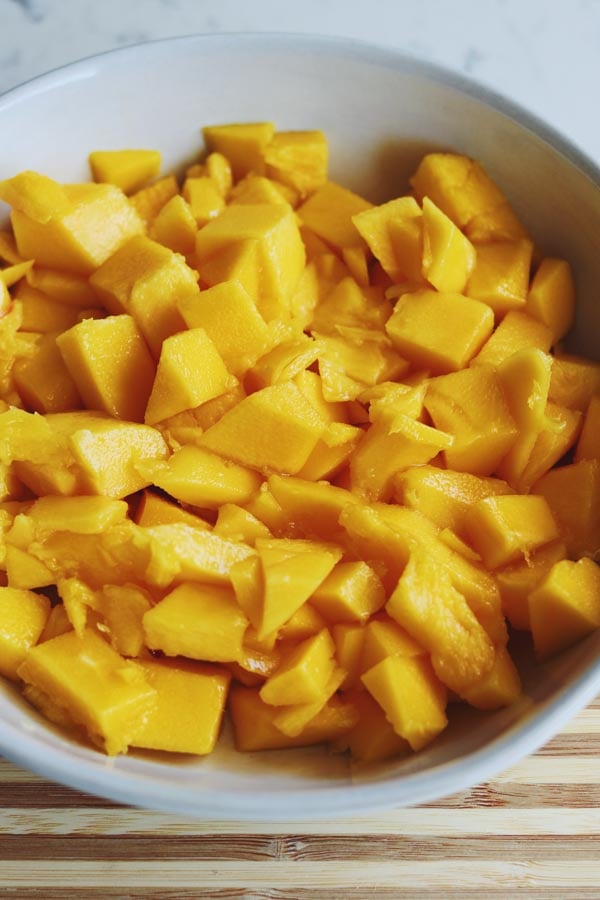 How to pick the perfect mango
When it comes to picking the perfect mango, I've got a few helpful tricks and tips that will help you!
You may think that color has to do with a mango's ripeness but surprisingly, it doesn't!
Instead, pick up the mango and give it a squeeze. A perfectly ripe mango gives in a bit when pressed. They should be slightly soft but not mushy. Firm but not hard!
Once ripe, mangos will continue to ripen at room temperature, becoming sweeter and softer over several days.
If you don't plan to use them when they're perfectly ripe, mangos should
be moved to the refrigerator, which will slow down the ripening process. They can last up to 5 days this way!
However, if you'd like them to get riper faster, place them in a paper bag and fold over the sides.
For meal prep purposes, I recommend cutting, peeling or cubing ripe mango and storing them in an airtight container in the fridge for several days... or up to 6 months in the freezer. Personally, I find that I make healthier choices for snacks if I have fresh mangos cut up like this!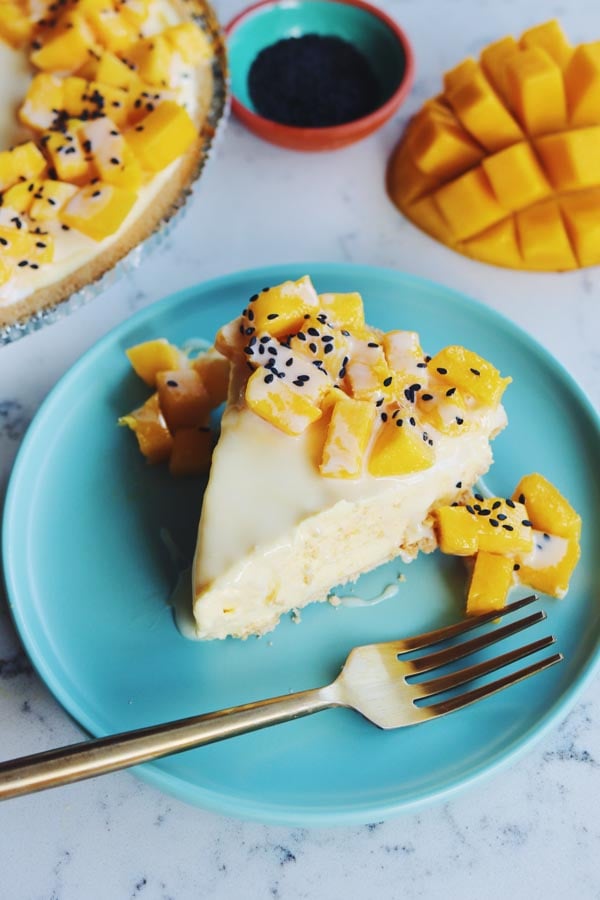 What to pair it with
This mango sticky pie goes perfectly with these Asian Slaw Dogs, this Spicy Tuna Poke, or this Thai inspired Canned Tuna Lettuce Wraps!
To see even more tasty recipes, click here to see all of my creations!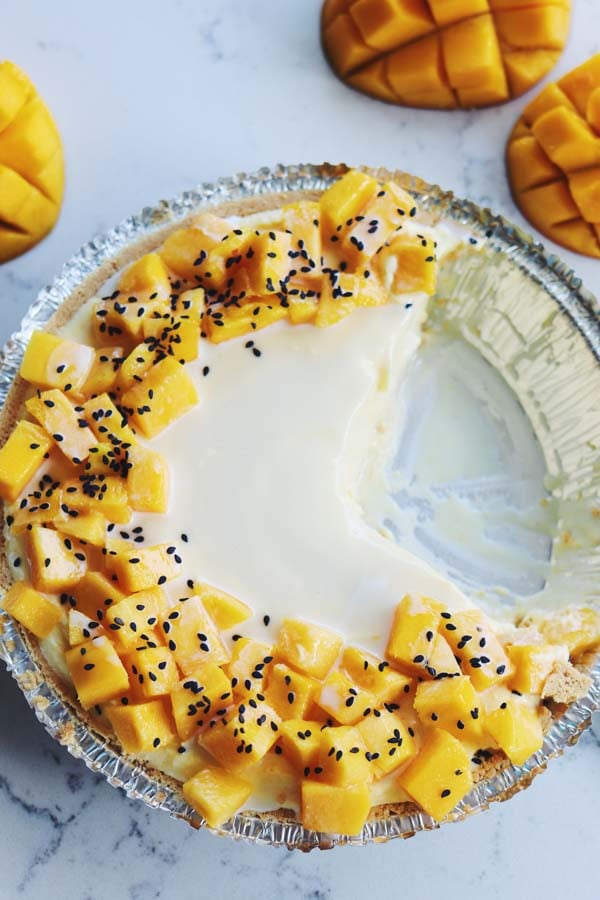 Save this recipe for later
Want to save this delicious Mango Sticky Pie recipe for a later time! Go for it!
I created these pretty Pinterest images below for your Pinterest pages. But you could also just hover over any image, click pin, and save the recipe!
And if you'd like more daily tasty inspiration, please join the other 17,000 people and follow me on Pinterest!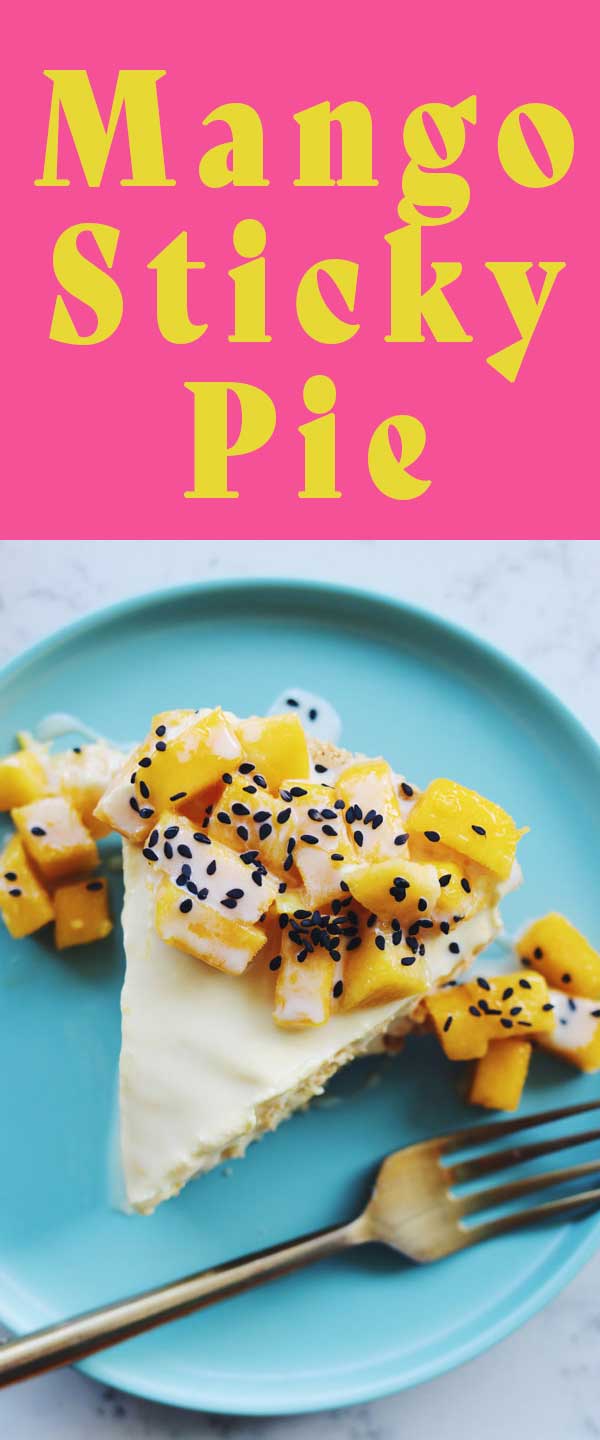 Video
Recipe
Print Recipe
No Bake Mango Sticky Pie
This no bake Mango Sticky Pie is going to be the starof the show at my daughter Poppy's first birthday party! Not only is itnutritious and delicious, but it's also fun to eat and easy to make!
Ingredients
3

large

mangos

diced, peeled, and divided

1

cup

cream of coconut

1

cup

whipped topping

1

store bought graham cracker pie crust

2

tbsp

sweetened condensed milk

1

tsp

black sesame seeds
Instructions
Place 2 large diced mangos to a blender and top with 1 cupof cream of coconut. Blitz until smooth and creamy.

Pour into a large bowl and gently fold in the whipped topping.

Pour the mixture in a store bought pie crust and use a spoo nor spatula to even out the surface.

Place the pie in the freezer for at least 3 hours or up to 4 days.

Once ready to serve, add the remaining mango cubes to the exterior rim of the pie and drizzle the whole thing with the sweetened condensed milk. Finish with a sprinkle of sesame seeds and enjoy.