Make this black truffle brie wheel for your friends and you will become everyone's favorite human! With just four ingredients, you can do it yourself! Brie cheese with black truffles makes the perfect centerpiece or tasty gift for the holidays.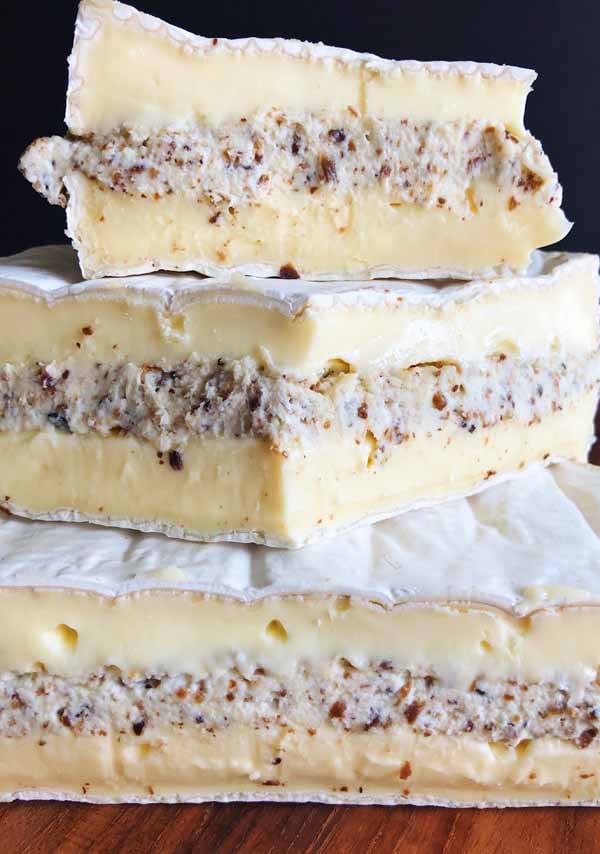 Jump to:
Black Truffle Brie
When I was in London last year, I visited my of my friends at Paxton & Whitfield.
Paxton & Whitfield is the oldest cheese shop in London. It's also the registered royal cheese shop which means they provide and procure all the cheese for the royal family.
So yes, they're basically magic cheesemongers and the shop is amazing!
While I was there, I probably sampled about 100 cheeses.
From perfectly aged English cheddars to the best funky British blues, I savored every bite.
Then I was handed a piece of their black truffle brie that they make in house.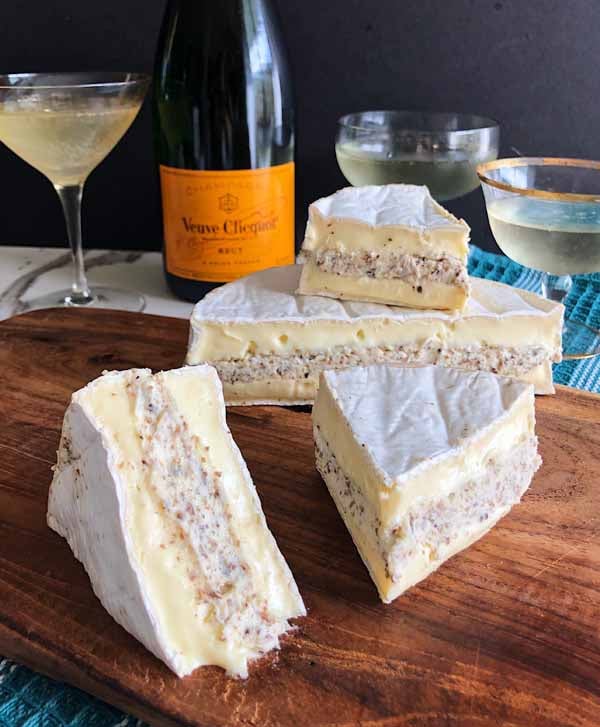 After one taste, my brain exploded. Brie Cheese with Black Truffles is a rich, creamy, truffle-y absurdly delicious concoction!
I was told it was made with mascarpone, truffle paste and a fancy french brie that they loved.
With that knowledge, I knew I had to make myself a wheel as soon as I got back.
After a few test runs, I had perfected it!
And now with this easy recipe, you can make it yourself! I recommend putting it on a cheese plate, giving a wheel as a gift, or just having it around to nosh when you want to feel fancy AF.
If you'd like to serve it as an appetizer, you could either put it on this fancy Fall cheese board, or this baked burrata pasta or this a classic penne pomodoro! Or, you could be even more extra and make this baked brie with fig jam with it!
If you'd like to serve it with a tasty cocktail, I recommend this boulevardier or this smokey sweet tea old fashioned!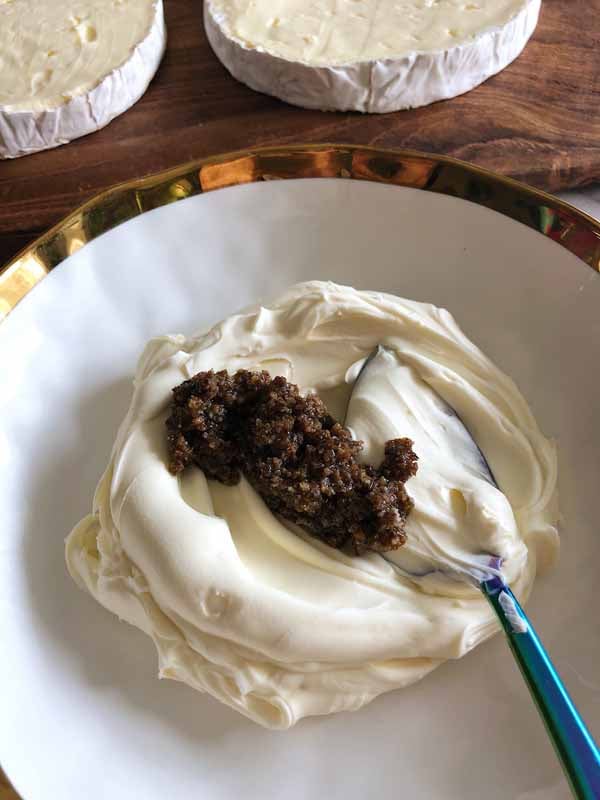 Finding the right Truffle Paste
Before you begin making your own black truffle brie, you need to source some black truffle paste.
You can either order it online (if you have time) or you can find some at your local gourmet market or cheese shop.
I've also had some luck finding truffle paste at Home Goods which always surprises me! With this method, you never really know the quality of the truffles and how strong they're going to be. But if you're familiar with the brand or are on a budget -- why not?!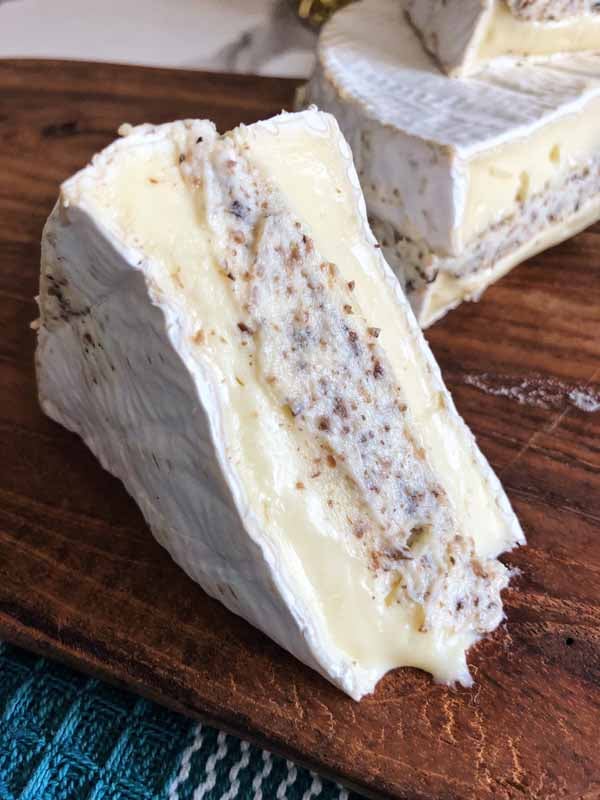 If you're sourcing them online - I recommend this one by Urbani Truffles. This brand is definitely reputable and always delicious. They make a super rich paste that's flavored with summer truffles and wild mushrooms. It's also much more affordable than the others on amazon.
There's also this one by La Rustichella although I haven't tried it personally. It's more expensive but it has great reviews from other buyers!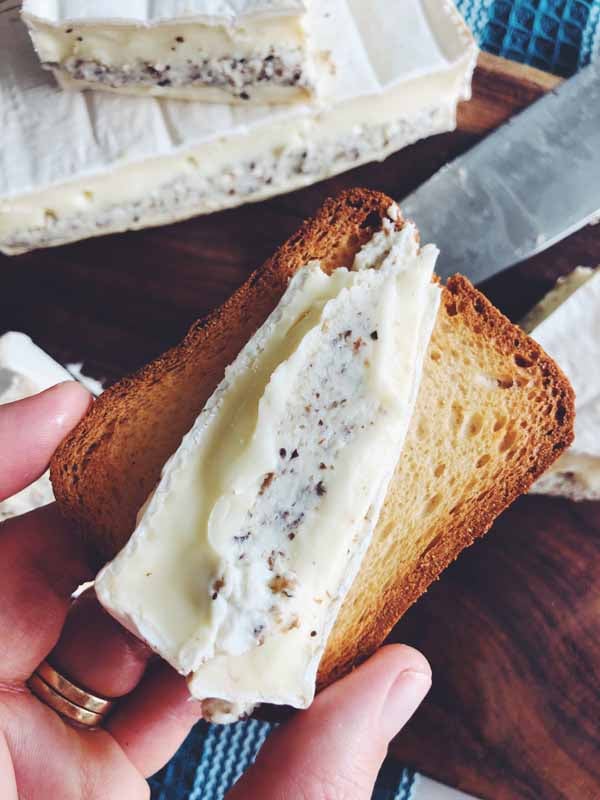 How to make Brie Cheese with Black Truffles
Now that you've picked out the right truffle paste. It's to gather the other ingredients.
You'll need one round standard wheel of brie - typically about 7-8 oz.
Now you'll need some mascarpone cheese. Mascarpone is an Italian semi-sweet cream cheese style cheese. You can find this in most grocery stores in the speciality cheese section.
The last ingredient is kosher salt and you probably already have this on hand. This just enhances the truffle flavor.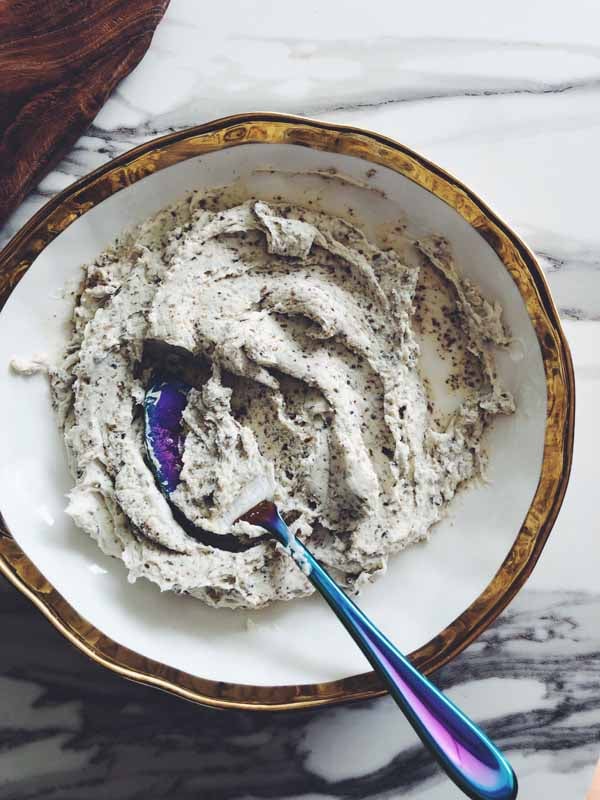 To begin, add one cup of mascarpone to a bowl. Then stir in 1-3 tablespoon of truffle paste. The reason this measurement isn't exact is because it's relevant to the brand you're using. It's also depends on how truffle-y you like it!
I recommend mixing in 1 tablespoon at a time until you get the right amount of truffle for you!
Once you reach the correct level, add in a few pinches of salt to enhance and preserve the truffle flavor.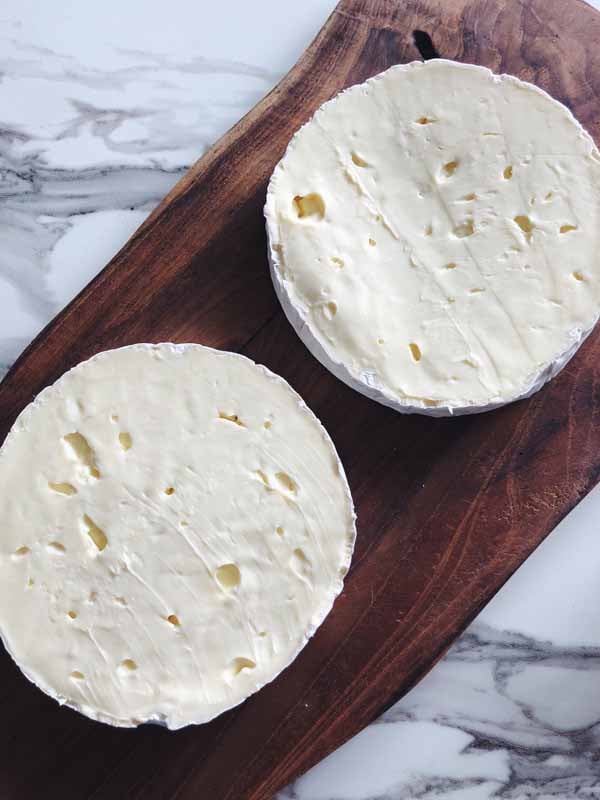 Now that your filling is ready, slice your wheel of brie down the middle like in the picture above.
Smear on the truffle mascarpone paste about ½ inch thick and close up the wheel. If you have extra, don't worry - just smear it on some crackers and have a little snack!
Wrap the whole thing in plastic wrap (or formaticum cheese wrappers) and refrigerate for at least 30 minutes or up to a week.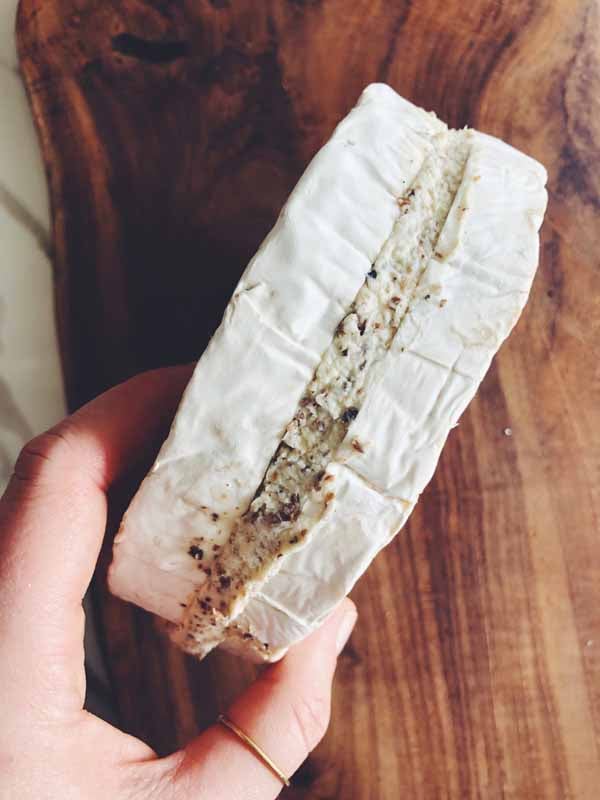 When you're ready to serve, let the cheese sit out and come to room temperature for one hour to reach its peak flavor-fulness is reached.
And if you'd like to save this recipe for later, pin it below!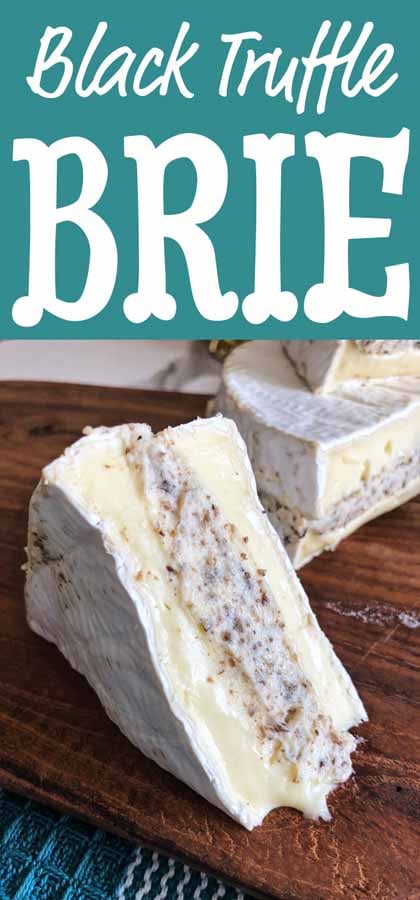 RECIPE: Black Truffle Brie
Recipe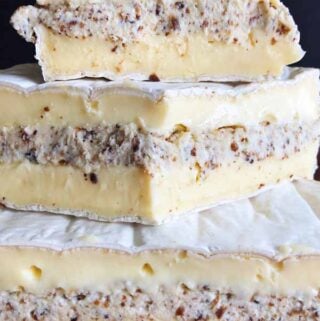 DIY Black Truffle Brie
Make this black truffle brie wheel for your friends and you will become everyone's favorite human! With just four ingredients, you can do it yourself! It makes the perfect centerpiece or tasty gift for the holidays.
Print
Pin
Ingredients
1

cup

mascarpone cheese

1-3

tablespoon

truffle paste

2

pinches

salt

1

wheel of brie about 7-8 ounces
Instructions
Mix mascarpone, and 1 tablespoon of truffle paste in a small bowl. If it's not truffle-y enough, add another tablespoon of truffle paste and another if needed. Once you reach desired truffle-y ness, add two pinches of salt and stir one last time.

Slice brie wheel in half and smear on truffle paste; about a half inch thick. Enjoy the rest if there's leftovers!

Close up the brie wheel and wrap cheese tightly in cheese paper or plastic wrap. Let the wheel set in the fridge for at least 30 minutes and up to one week.

Before serving, allow to come to room temperature for at least one hour before digging in.