If you're wondering how to create the perfect festive Fall Cheese Board, then look no more! This guide not only has a shopping list for everything you need but I also share wine recommendations and some simple tricks for keeping the price affordable!
This Post was sponsored by Roth Cheese but opinions are all my own!
Fall Cheese Board
With all the holiday parties fast approaching, I like to rely on my perfect little friend - The Cheese Board!
Why? Well not only is it the greatest appetizer in the history of appetizers, but it's easy to assemble, beautiful to look at, and there's always a little something for everyone!
In the past, I've shared my guide to creating cheap yet attractive cheese boards. And I also have a Pinterest board with hundreds of creations and endless inspiration.
But this year, I wanted to share one that was not only beautiful but also extravagant AF... which is how this post was born!
Roth Cheese
This past September, I traveled to Madison Wisconsin to visit my friends at Roth Cheese. About a dozen awesome bloggers all came together to learn about their cheesy goodness and what makes them so unique.
If you'd like to watch the highlights from my story, you can check them out on my instagram!
On this trip, we not only ate all the cheese that our bodies could handle, but we also ate at a bunch of amazing restaurants and toured their factory and got o know some of their cows from small family farms!
I felt incredibly inspired the entire time, especially on the last day when we had an interactive cheese plate building workshop.
And truth be told, this trip inspired me to share this Fall Cheese Board guide!
How to Build a Fall Cheese Board
Choosing The Cheese
Building a breathtaking Fall Cheese Board is much easier than you think and it starts with -- you guessed it -- the cheese!
There are about a million ways to choose the right cheeses, but I think the texture method is easiest and most approachable.
I recommend choosing one hard, one semi-soft, one fresh and one funky.
It's also super important to remember to pull your cheese out of the fridge one hour before serving. Allowing the cheese to come to room temp will provide more flavor and texture and well, it'll just be better in general!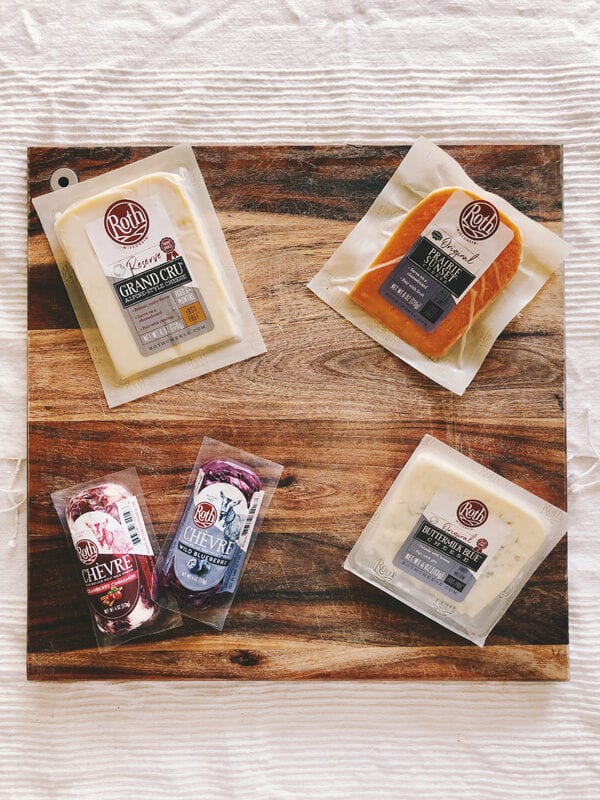 For this cheese plate I used:
Hard - Grand Cru Reserve: Grand Cru is basically a delicious Gruyere that's made in Wisconsin. It's nutty, caramel-y and so damn tasty! I chose the reserve because it's been aged for 6 months so it has those perfect little cheese crystals in it. Did you know those cheese crystals are called Tyrosine and eating them produces the same effect on your brain as hugging a baby or kissing a loved one? Insane right?
Semi-Soft - Prairie Sunset: I love this cheese not only because it's the perfect color for Fall but because it tastes amazing too! You can think of it as a blend between a cheddar and a gouda. It's mild and nutty yet has a sweet note of butterscotch on the finish. Oh, and it melts in the mouth, too which makes it extra luxurious.
Funky - Buttermilk Blue: I think Roth's Buttermilk Blue is one of the most perfect American-made blue cheeses. The funkiness is mellowed by a smooth and creamy finish which makes it a top notch blue cheese. Another reason that I always recommend it is because it's super approachable... and when it's drizzled with honey, it's a great way to transform blue-haters into blue-lovers!
Fresh - Wild Blueberry & Cranberry Cinnamon Chèvre: : You've probably seen the berry covered logs all over the internet and there's good reason for that! Not only are they stunning, but the sweet and tangy flavor contrast is absolutely addicting!
Choosing the Other Ingredients
When it comes to choosing the rest of the ingredients, I like to keep it pretty standard. As long as you have at least one from each category, you can build a baller cheese plate just like one of mine!
Charcuterie - If you've got meat-lovin friends, go ahead and load up on the charcuterie! This is any type of cured meat - Think salami, chorizo, prosciutto and rosemary ham. Since I live in a small town and can't really find charcuterie by the pound, I always rely on the trio sample packs from the grocery store. They're super affordable and they the perfect amount of meat!
Condiments - You'll want to pick condiments that enhance the cheeses profile and help create the perfect bite. I always use at least one sweet and one savory. For this board, I'm using caramelized onion jam, honey, and grainy mustard.
Fruit - I recommend using a mix of dried and fresh fruit because they provide the perfect pop of color. I used raspberries, blackberries, dried apricots, dried apple chips, and fresh pears to highlight Autumn. I cut the pears into slices and stacked them on top of each other which adds such a fancy touch!
Nuts - You always need a crunch when it to cheese plates! And since I like to provide a variety, I always use at least one sweet and one savory. This board features candied walnuts, salt and pepper cashews, and chocolate covered almonds.
Brine - Since we're eating a bunch of rich cheese, there's nothing like a pickle to help cut through that richness and cleanse the palette! I love Castelvetrano olives because they're the most mild, buttery olive and even non-olive eaters like them! And of course, I'm obsessed with cornichons which are basically teeny tiny sour dill pickles that fit perfectly on cheese plates!
Garnish - Since we're building a Fall Cheese Board, I think it's best to stick to hearty fresh herbs like rosemary and sage. Not only do they look stunning on the board, but they smell amazing, too!
How to Keep Costs Down on your Fall Cheese Board
One of the most common DM's I receive is how to keep the costs down on cheese plate building. And I totally get why!
Sure, it's easy to rack up $100 at the grocery store when buying ingredients but I've got some easy tricks and tips to help you avoid spending an arm and leg.
But I should point out the obvious. Cheese is not cheap and that's because it takes a lot of work, resources and time to make it! And to be honest, you want cheese that is made with the good stuff! Not only will it taste better, but it's better for the world, too!
So save your money for good cheese and you can cut your prices with some of these tips below!
Most importantly - Check your fridge and don't buy what you already have!
There's a good chance that you have some sort of jam, mustard, and honey on hand, right? Use those and boom - you've got your condiments covered! That's probably $10-$15 saved right there!
Check your pickle section, too! I bet you have some sort of pickles and olives on hand. Only have big dill pickles? Simply chop them down into bite sized chunks and you're instantly saving at least $5.
When it comes to the nuts and fruit (either fresh or dried) there is no shame in using what you already have! Shoot, you can even throw trail mix on the board if you have it! And that mix probably has both fruits and nuts so it's like you're doubling down on awesomeness right there!
What Wines to Pair with your Fall Cheese Board
When it comes to pairing cheese with wine, I always say to keep it simple and straight forward.
Since everyone has a different preference, I recommend buying at least one red, one white and one bubbly.
This is also a great piece of the party that your friends can pitch in on! Just ask them to bring their favorite wine to eat with cheese and voila - you'll get a bunch of different varieties and flavor profiles!
Reds: My favorites are a Cabernet Sauvignon or Pino Noir for red wines. They both pair really nicely with both the grand cru and the prairie sunset. Port also goes really great with the buttermilk blue if you're looking for a red that's a little sweeter!
Whites: When it comes to whites, I always go for Sauvignon Blanc which goes really nicely with goat cheese or a Riesling which also holds up nicely to the blue.
Bubbly: Since you'll be enjoying rich and delicious cheeses and charcuteries, bubbles are perfect to cut through the fattiness. I always opt for Prosecco, Vinho Verde or Champagne.
Fall Cheese Board Shopping List
Print Recipe
Fall Cheese Board Shopping List
If you're wondering how to create the perfect festive Fall Cheese Board, then look no more! This guide not only has a shopping list for everything you need but I also share wine recommendations and some simple tricks for keeping the price affordable!
Ingredients
Cheeses
1

6 oz

wedge of Grand Cru by Roth Cheese

1

6 oz

wedge of Prairie Sunset by Roth Cheese

1

4 oz

wedge of Buttermilk Blue by Roth Cheese

1

4 oz

log of Blueberry Chèvre by Roth Cheese

1

4 oz

log of Cranberry Chèvre by Roth Cheese
Charcuterie
1

trio charcuterie sampler pack

Salami, Chorizo, Capocollo
Condiments
Honey

Mustard

Caramelized Onion Jam
Fruit
2

pears

Fresh Berries such as Blackberries and Raspberries

Dried Apricots

Dried Apple Chips
Brine
Castelvetrano Olives

patted dry

Cornichons or small pickles

patted dry
Nuts
Candied Walnuts

Salty and Pepper Cashews

Chocolate Covered Almonds
Instructions
Begin by slicing the cheese and putting one in each corner of the cutting board. You can use the picture above for arrangement details.

Next, add the meat. You can roll, create cones, or fold the different cuts of meat to create texture and contrast.

Now add the tiny ramekins full of the condiments. Fill one with grainy mustard, honey, and onion jam.

Now add all of the fruits around the goat cheese and blue cheese

Then add the briny items around the Grand Cru and Prairie Sunset.

Lastly, fill in the middle with the different nut varieties.

Add fresh rosemary all throughout the board for garnish.

Wrap with saran wrap and pull out one hour before serving to allow the cheese to get to room temp.
Or pin this recipe for later!