Penne Pomodoro is a quick and easy Italian tomato sauce based pasta that's super fresh and flavorful. Traditionally pasta pomodoro is served with basil and fresh mozzarella, I swap it out for a chunk of burrata cheese. And best of all, penne pomodoro can be made in about 30 minutes.
Jump to:
Penne Pomodoro
This Penne Pomodoro Sauce recipe is one of my favorites because of how fresh, simple, and tasty it is. This classic tomato sauce requires barely any time or ingredients in comparison to more traditional Italian dishes like Bolognese. And since it's so light and has such a short cook-time, it's the perfect pasta recipe for summertime!
Pasta Pomodoro is traditionally served with fresh Mozzarella cheese or grated Parmesan. But since I'm obsessed with Burrata and think it tastes superior to Mozzarella, I think it makes a natural pairing.
If you're unfamiliar with Burrata, think of it as Mozzarella's less put-together, more indulgent cousin. The outside is remarkably similar to mozzarella in look and feel. But the inside is completely different. Rather than having a dense, unanimously textured center, burrata is filled with creamy chunks of stracciatella.
Stracciatella is basically threads of mozzarella soaked in salty heavy cream. The result is undeniably addicting and I highly recommend trying it if you've never had it before!
To serve this dish, I recommend starting with my favorite cheat yet beautiful cheese board or with some of my citrus kale avocado salad. If you'd like a fun drink, why not try this mango campari float? And for dessert, you've got to try my blueberry lemon ricotta bars.
How to make Pasta Pomodoro Sauce
The technique for making pomodoro sauce is super easy! The most important part is choosing the right can of real, Italian, DOP certified San Marzano whole tomatoes. These tomatoes are from Italy and taste delicious compared to most American brands. Although it's not absolutely necessary to use them, certified San Marzano tomatoes will result in a far more superior sauce.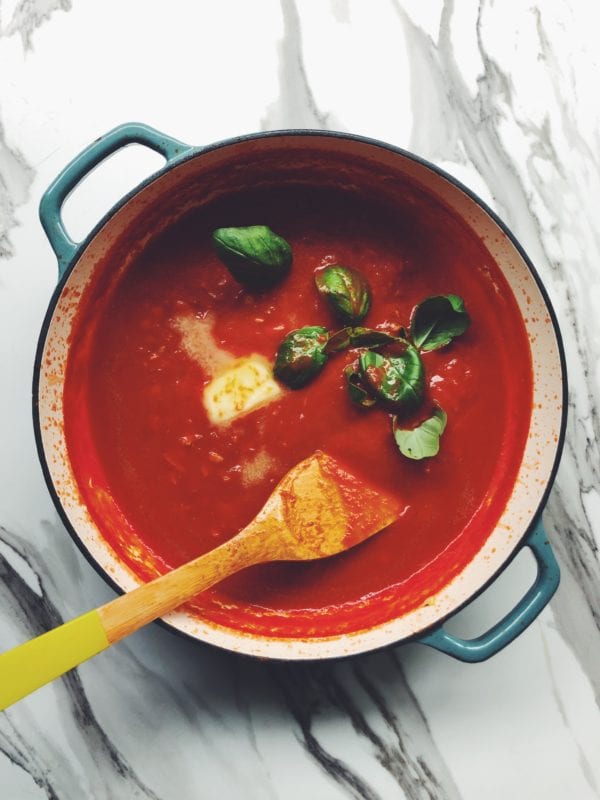 To begin, you'll sauté a little bit of onion, garlic, salt, red pepper flakes and olive together until soft and fragrant.
While that's cooking, puree the can of whole tomatoes with an immersion blender or food processor. Add the tomatoes and cook down for 20 minutes or until the sauce thickens.
Before adding pasta, add a chunk of butter and a few basil leaves and stir until incorporated. Season with salt if needed.
Once the sauce is ready, you'll add al dente pasta to the sauce and cook it over medium heat for a few more minutes. This helps the sauce absorb into each noodle.
Before plating, remove the wilted basil.
Serve each bowl with a few scoops of pasta pomodoro, a chunk of burrata cheese, a few leaves of hand-torn basil, a drizzle of olive oil and a sprinkle of salt and red pepper flakes.
RECIPE: Penne Pomodoro with Burrata and Basil
Recipe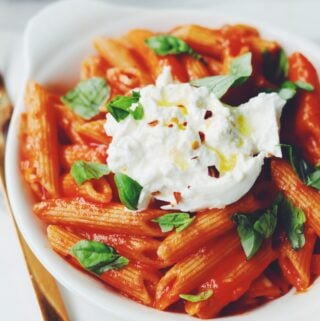 Pomodoro Sauce with Penne, Burrata and Basil
Pomodoro Sauce is a quick and easy Italian tomato sauce that's super fresh and flavorful -- it's best served with penne pasta, fresh basil and burrata!
Print
Pin
Ingredients
For the Pomodoro Sauce
2

tablespoon

olive oil

1

sweet onion

finely diced

⅛

teaspoon

crushed red pepper flakes

10

cloves

garlic

minced

1

large can (28 oz)

DOP San Marzano Plum Tomatoes

1

pinch

of sugar

3

tablespoon

butter

3

basil sprigs
For the Penne Pomodoro
1

lb

penne pasta, cooked al dente

2

balls burrata

cut into thirds

1

handful of fresh basil
Instructions
For the Pomodoro Sauce.
Add olive oil to a sauce pot and turn the heat to medium. Add onions, red pepper flakes, and two pinches of salt and stir - cook for 5 minutes. Add garlic and cook for another 2 minutes until fragrant.

Meanwhile, use an immersion blender or food processor to puree the can of tomatoes until smooth. Add tomatoes to the pot with a pinch of sugar and two more pinches of salt. Stir and cook for about 20 minutes or until the sauce reduces. Before adding pasta, add in butter and basil and stir - cook for another two minutes. Season with more salt if needed.
For the Penne Pomodoro
Add al dente pasta to the pomodoro sauce and cook over medium heat until the sauce coats each noodle - about 2 minutes. Remove the wilted basil before plating pasta.

To plate, add a few spoonfuls of the penne pomodoro to each bowl. Top each bowl with a chunk of burrata, a pinch of salt, fresh basil and a drizzle of olive oil.
And if you like this penne pomodoro recipe, you might also like my new cook book, too!
And if you'd like to save this recipe for later, pin it below!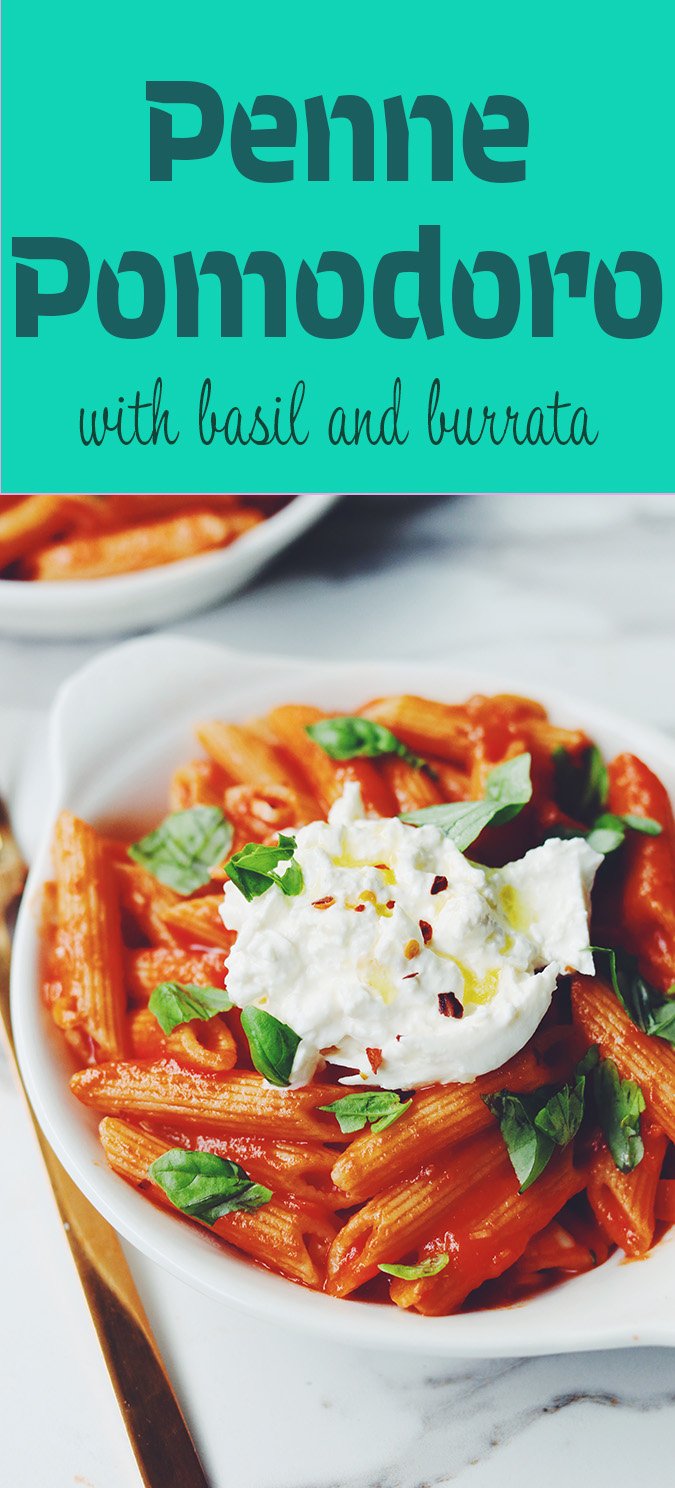 xoxo,
GCS