This Yaupon Tea Old Fashioned made with High West Whiskey is one of our favorite cocktails of all time. It tastes like a smokey sweet tea Old Fashioned!

Yaupon Tea Old Fashioned
Jerm's back, bringin' the sweet, smokey heat with this week's Yaupon Tea Old Fashioned! This modern spin on a classic cocktail is absolutely heavenly. At first sip, I squealed in excitement because it tasted like my two favorite drinks that I rarely indulge in — sweet tea and whiskey! What makes this smokey sweet tea old fashioned so great? Two ingredients – the High West Campfire Whiskey and the Yaupon Tea Simple Syrup!
I'll start with the High West Whiskey because I want to go more in-depth about how awesome Yaupon is.
When we visited Deer Valley in Park City for our Mini-moon, so many of our followers DM'd us about High West Distillery. So we decided to check it out and fell in love instantly. They have a few varieties, but the Campfire blend, made of scotch, rye, and bourbon, was our absolute favorite. Its got these beautiful smokey undertones yet its smooth enough to sip. As you might remember from last week's Happiest Hour, Jerm loves mezcal and Campfire tastes similar – only in whiskey form of course.
As for the simple syrup, I'm not gonna lie, I most definitely sipped it like sweet tea when he wasn't looking. It's like catnip for Southern people! But what I like most about using Yaupon versus black tea is how much more complex Yaupon is than your standard black tea. So what is Yaupon exactly? Keep on reading!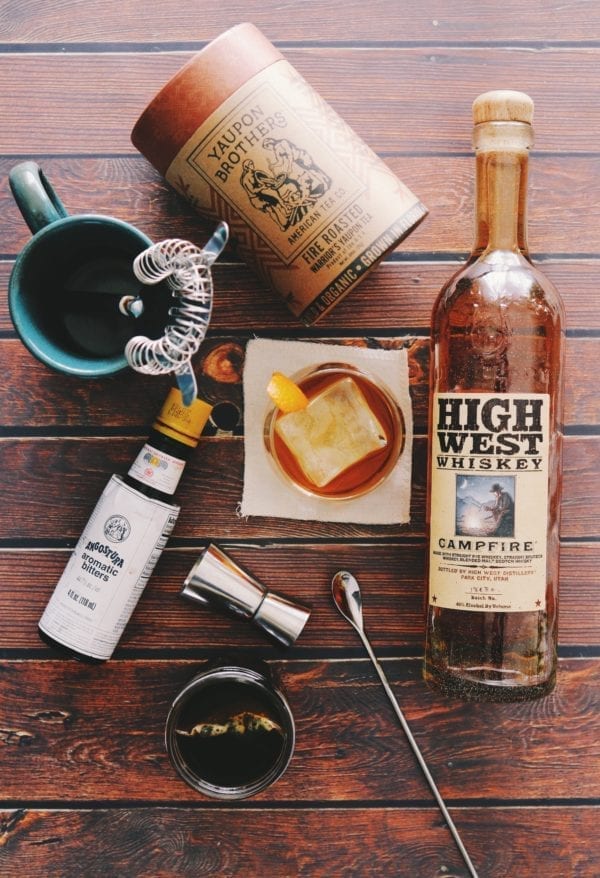 What is Yaupon Tea?
Yaupon, is a type of holly that's native to Florida, where it has been consumed for thousands of years. Similar to herba mate, it contains anti-inflammatory properties, natural caffeine, and is high in antioxidants. But unlike coffee, it doesn't leave you with a caffeine crash when it wears off. It's basically a superfood… errrr or shall I say – a superdrink! It's nuts to think about this, but Yaupon has been enjoyed by the indigenous tribes of Florida for thousands of years yet we are just catching on! And, truth be told, it's North America's only caffeinated plant that grows natively!
The brothers friends behind Yaupon Brother's, Bryon and Kyle White, are close friends of mine and I'm super proud of them. They produce this amazing tea right in my hometown of New Smyrna Beach, Florida. It's Wild Craft certified Organic and is sustainably grown and harvested in the pristine forests along our coastline. Today, Bryon and Kyle are mixing this ancient drink with modern flavors to bring you a tea experience unlike any other.
If you'd like to read more about this amazing journey, you can do so here.
So what does it taste like? Although they have a few flavors, this variety is roasted over open flame, similar to how the Florida Timucua people prepared Yaupon for millennia. The result is a slight but irresistible smokiness that really complements bourbon, scotch, and other rich aged spirits. What I love most about this tea is how extremely smooth it is, due to its lack of tannin.
Want to try some?
I should also say that this post is not sponsored by Yaupon — we just truly love it and want more people to try it. And since they're such nice guys, they are giving everybody 15% off with the code: GRILLEDCHEESE until Monday the 28th. I'll also be doing a giveaway on my instagram today where you can win all four tubes which contain all their flavors! So get excited!

Recipe: Yaupon Tea Old Fashioned
Print Recipe
Smokey Sweet Tea Old Fashioned
This Yaupon Tea Old Fashioned is one of our FAVORITE COCKTAILS EVER! Made with High West Campfire Whiskey and Fire Roasted Yaupon Tea Simple Syrup, it tastes like a smoked sweet tea Old Fashioned!
Ingredients
For the Fire Roasted Yaupon Tea Simple Syrup
1

cup

water

1/2

cup

raw sugar

1

Fire Roasted Yaupon Tea Bag
For The Cocktail
2

oz

CampFire High West Whiskey

1/2

oz

Fire Roasted Yapoun Simple Syrup

2

Dashes Angostura Bitters

1

orange peel
Instructions
For The Yaupon Fire Roasted Simple Syrup
Add 1 cup water in a small pot, turn the heat to med-high, and wait for the water to simmer. Add 1/2 cup raw sugar and 1 Fire Roasted Yaupon tea bag. Turn the heat to low, and stir, until the sugar has dissolved and water looks light brown. Let cool and refrigerate until ready to use.
For The Old Fashioned
Add all ingredients into a mixing glass with ice, stir a few times. Then strain into a cocktail glass with a large ice cube. Garnish with orange peel and enjoy.
And if you're looking for something tasty to pair this with, definitely check out these recipes:
PIMENTO CHEESE BISCUIT SLIDERS WITH HAM AND SWEET HOT PICKLES – These Pimento Cheese Biscuit Sliders with ham and sweet hot pickles are absolute perfection. In fact, they're one of my most requested recipes at Black Dolphin Inn.
PUMPKIN SMOKED GRUYERE + CHEDDAR MAC N CHEESE – This smoked gruyere and pumpkin mac n cheese is just what the doctor ordered. It's smoky, savory, slightly sweet in just the right way, and utterly addicting. It is truly a next level mac n cheese dish that's not only impressive AF but it also pairs perfectly with this cocktail!
HAM + CHEESE CORNBREAD SANDWICH WITH PICKLED JALAPENOS AND CHOW CHOW MAYO – This cornbread sandwich is Southern AF so of course it goes perfectly with a smoked sweet tea old fashioned! And if you start partying and forget to make it, it also makes a great hangover sandwich! See, I'm always lookin' out for ya!
BRUSSELS SPROUTS AU GRATIN WITH BACON AND CARAMELIZED ONIONS – I'm the kind of person that could eat an entire bowl of brussels sprouts au gratin for dinner and not blink an eye. Screw main courses, I'm all about those side dishes! And when you've got a drink as strong as this, a bowl of cheesy, bacon-y vegetables is just perfect.
xoxo,
Kenz aka GCS