This Ina Garten inspired Curry Chicken Salad recipe with grapes and Greek yogurt is the bomb! And it's undercover healthy, too! It's made with tons of fresh lime juice, curry powder, and fragrant herbs, which makes it super flavorful. There's also a little bit of honey for sweetness and sriracha for spice! If you're doing Weight Watchers, get excited because this recipe is only 2 smart points!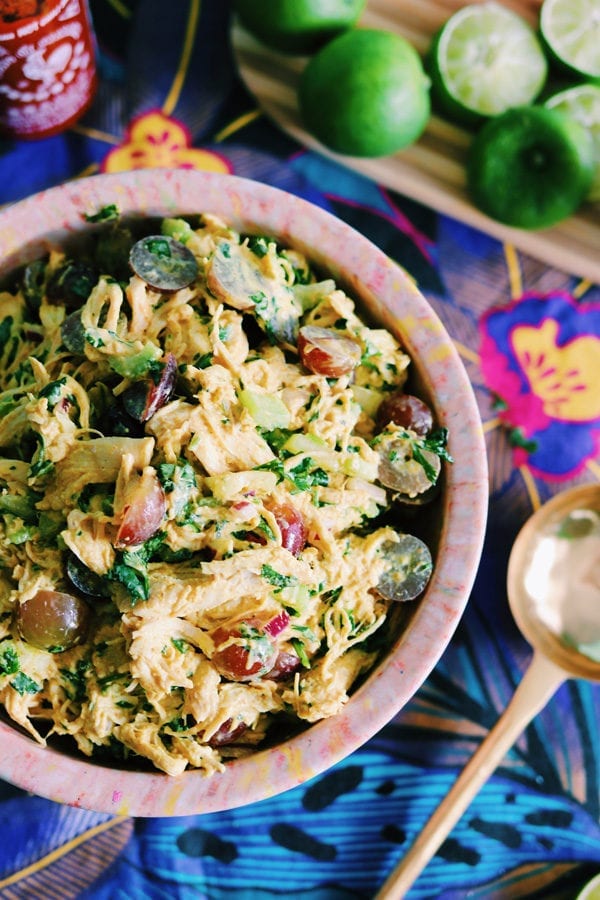 Jump to:
Ina Garten Inspired Chicken Curry Salad
This healthy Curry Chicken Salad recipe is made with grapes and greek yogurt. Not only is it super easy to make, but it tastes amazing and is undercover healthy, too! A win-win for everyone!
I make it almost every other week at our house because it so simple and great! It's truly one of those recipes that's on constant repeat!
I came up with it while I was first doing Weight Watchers a few years ago. It's a delicious low point lunch option that doesn't take a lot of prep work.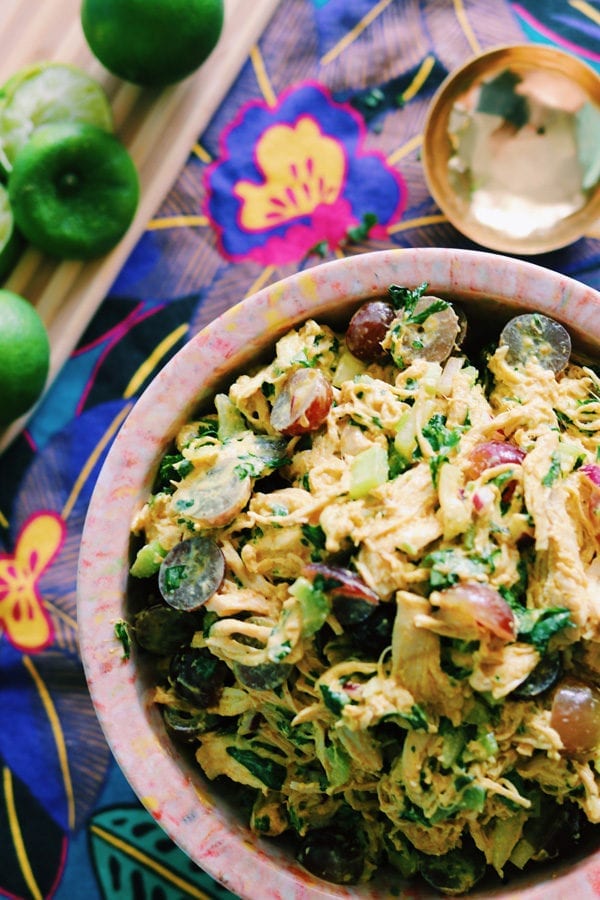 It's got a lot of great nutritional benefits, too!
I love how this recipe has high protein from the chicken and tons of healthy probiotics from the yogurt.
The grapes provide great fiber and the lime juice has high vitamin C and antioxidants.
Honey, which is always a healthier alternative to sugar, also helps your blood sugar stay regulated while also giving you more energy.
Oh, and best of all, one batch makes about 6-8 servings and is only 2 points per serving! And trust me, each serving is more than enough!
And I'm not much of a meal-prepper but I definitely make healthier choiceswhen there's a big batch of this stuff sitting in the fridge!
I recommend serving it on top of cucumber slices with this tasty citrus avocado kale salad. Or you could build a wrap or sandwich and serve it with my spicy detox soup with kale and white beans!
If you're looking for a more substantial meal, you could always serve it on top of brown rice with pickled vegetables like this Vietnamese Rice Bowl recipe!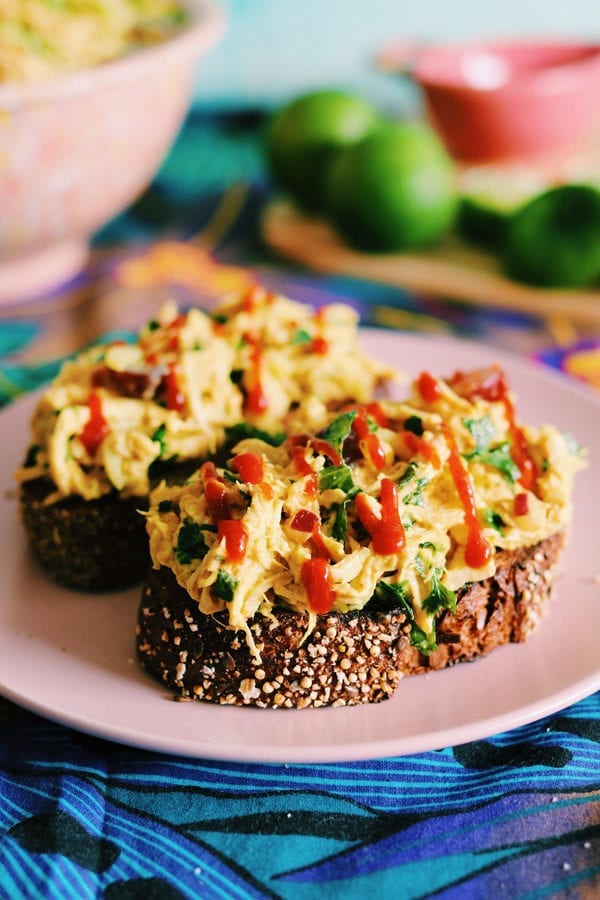 How to Make Chicken Salad Healthier
Making healthy chicken salad is easier than you think! And if you're on Weight Watchers, you'll love it even more! It clocks in at just 2 smart points!
To begin, ditch the mayo. Not only is mayo super high in fat and calories, but it is also easily replaceable!
Instead of traditional mayo, I recommend using 0% greek yogurt! Not only is this a zero point food on the WW system, but it's also a great probiotic so it's a win-win!
You should also use skinless and boneless breast meat as it has less cholesterol and fat than dark meat.
And lastly, you might've noticed that a lot of curry chicken salad recipes use raisins or dried cranberries for a burst of sweetness. But since those have so many points, we'll use fresh produce like red grapes which have zero!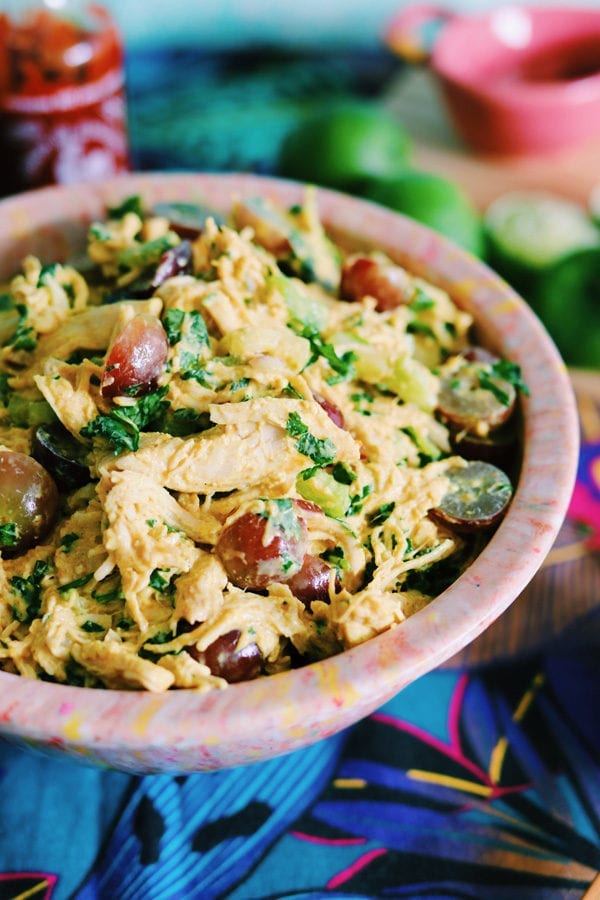 How to Make Chicken Curry Salad with grapes and Greek Yogurt
To begin making chicken curry salad, you must first cook your chicken.
You can do this by boiling the breasts in super salty water. Or you can cook them in your instant pot on high pressure for 12 minutes.
Once the breasts are cooked through, let them cool down so you can shred them without burning yourself.
Once the chicken is shredded, it's time to make the dressing.
Combine greek yogurt with yellow curry powder, sriracha, lime juice, honey, cilantro, mint and salt.
If you taste it at this step, just be aware that this will not taste the same after you toss everything together! The flavors need time to sit and develop so don't second guess yourself!
Once the sauce is made, add chopped grapes, celery and red onion to the shredded chicken breasts then cover in the sauce.
Next, toss everything together and season with more salt or lime juice if needed. You can also add more sriracha if you like it hot!
After that, simply place the curry chicken salad in the fridge and let it sit. Not only will this help the flavors develop and enhance, but it also firms everything up and makes it oh-so delicious!
This recipe will last up to a week if you don't eat it all before then!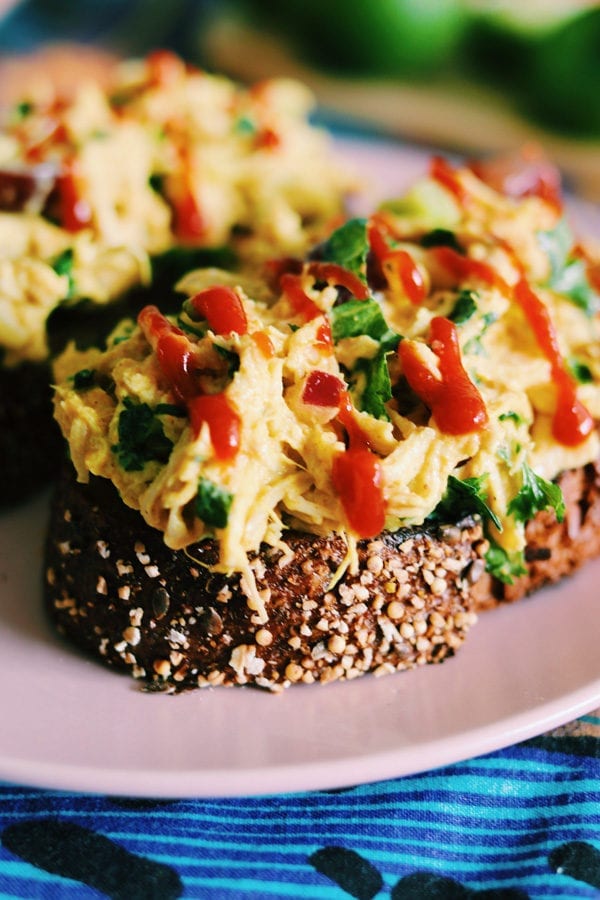 And if you'd like to save this recipe for later, pin them below or keep scrolling!

Recipe:
Recipe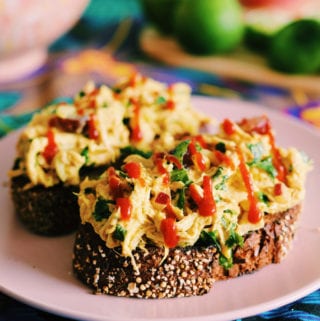 Healthy Curry Chicken Salad with Grapes and Greek Yogurt
This Curry Chicken Salad with grapes and Greek yogurt is the bomb! And it's undercover healthy, too!
Print
Pin
Ingredients
Instructions
Bring a pot of super salty water to a boil and add the chicken breasts. Poach until each breast is cooked through then allow to cool. Shred the chicken and place it in a big mixing bowl.

In another bowl, combine greek yogurt with curry powder, sriracha, lime juice, honey, cilantro, mint and salt. Stir everything together and set aside.

Add grapes, celery and onion to the shredded chicken then pour on the curry mixture. Toss everything together then refrigerate for at least 20 minutes for the flavors to develop.

Serve on toast, with salad, on top of cucumbers or in a wrap for a healthy lunch!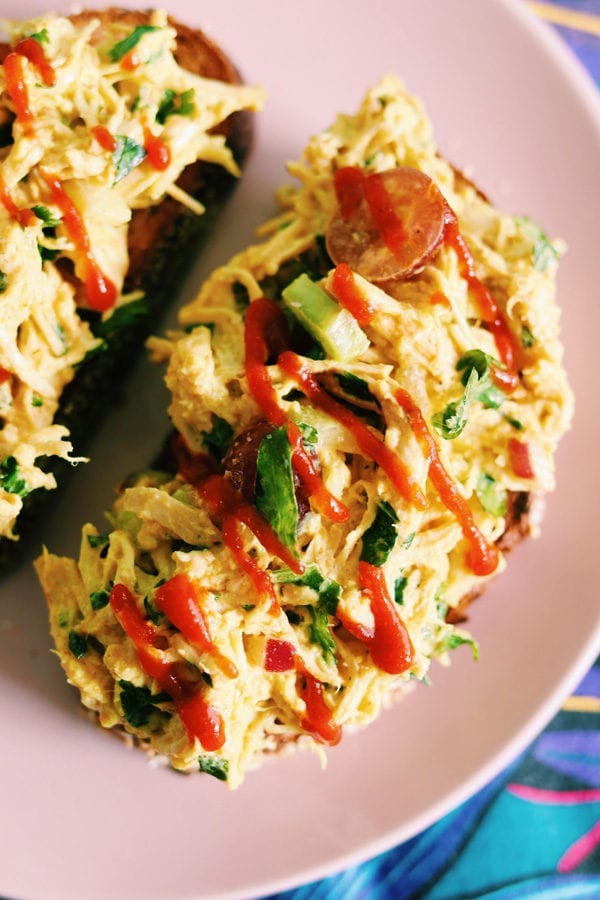 xoxo,
GCS aka Kenz