The recipe for these Vietnamese Grilled Chicken + Rice Bowls with Pickled Veg + Nuoc Cham (sweet, sour, and sometimes spicy citrusy fish sauce) is out of this world delicious! In Vietnamese, it's pronounced Com Ga Nuong. It's perfect for summer barbecues or hot days when you're craving something refreshing and satisfying.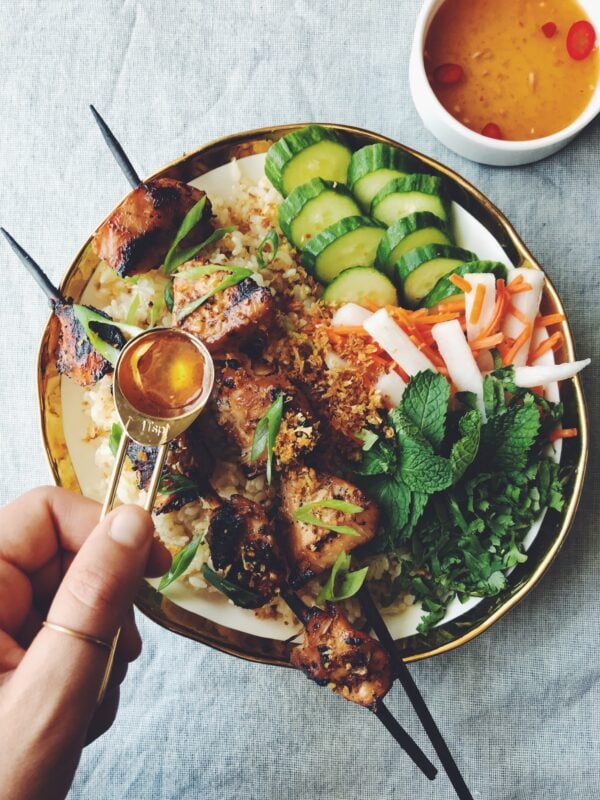 I've never been to Vietnam but I have been to about a million Vietnamese restaurants. And every time, without fail, I tell myself that I'm going to order something different. And every time, without fail, I see Com Ga Nuong and get instant anxiety about missing out my favorite chicken and rice bowl.
Luckily, I date a guy that can eat more food than any human I've ever met so we always get it in addition to the new stuff. And every time, I catch myself scarfing down this damn fine dish before Jeremy can even get a fork in. Don't get me wrong, I love a good shared dish, but when it comes to this – it's mine, ALL MINE!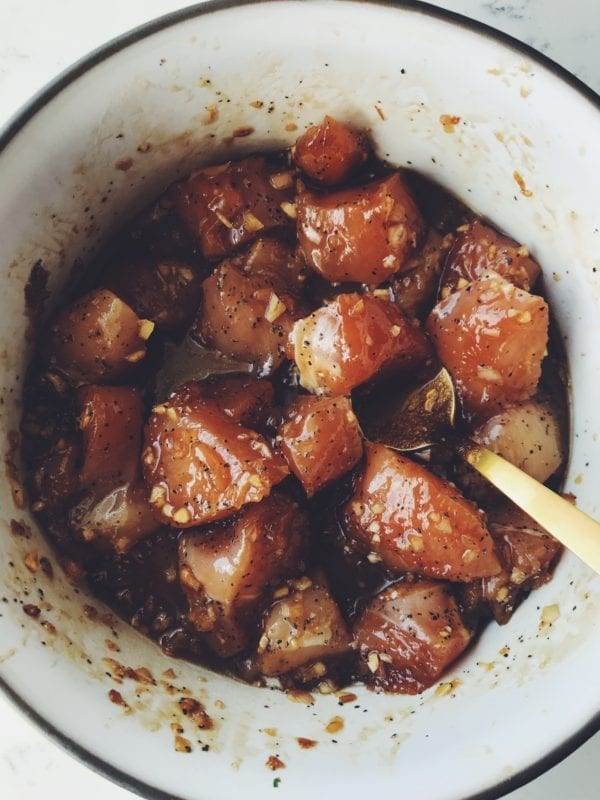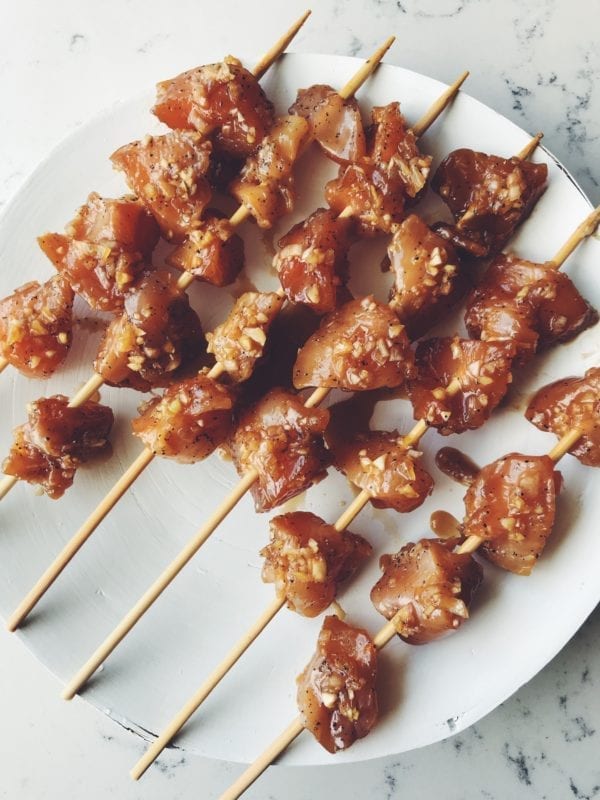 And i know this is sort of weird but how beautiful is this marinated chicken? I've literally never said that about raw chicken, but hey, there's a first time for everything. Right?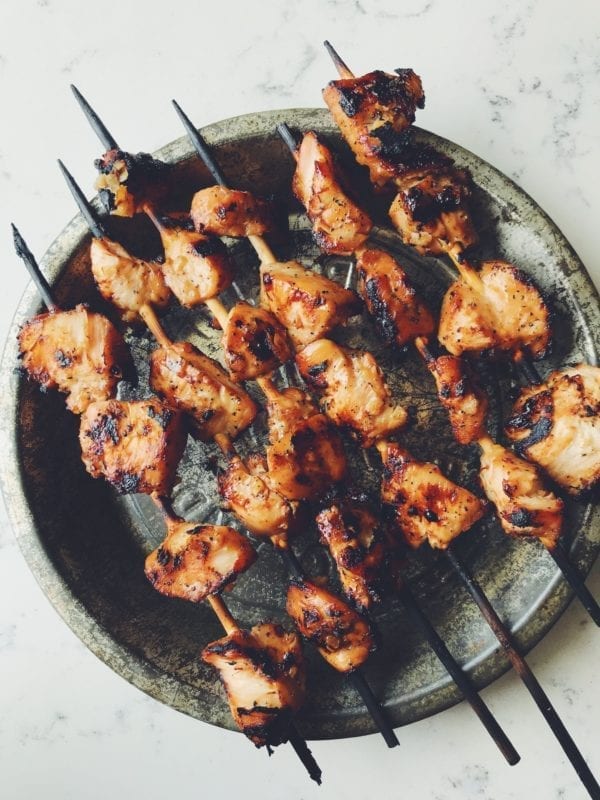 Ok, wait, pause. Time out. Everything that you just read was written yesterday, seconds before our kitchen caught on fire. And well, I don't feel like changing or rewriting everything right now because in ten minutes I have to leave for Orlando to style the First Watch cookbook. And to be honest, I don't have the time/energy to write any sort of funny story whatsoever but I want this to go up before the fourth… so here we go!
All I want to say is that the fourth of july is tomorrow (and yes, maybe it's just the PTSD talking) but there's going to be a shit ton of potential for fires to happen. And if you can take one thing from this me and this post, GO RIGHT NOW and check your fire extinguisher or amazon prime one right now. The first two we tried to use were duds and surprisingly, I've received like 24 DMs from people who have had a similar experience… which is (excuse my language) FUCKING terrifying!!!
Luckily my bestie's husband is a firefighter and he told me that the best one to get is a Dry Chemical Fire Extinguisher for ABC fires which apparently covers gas, electrical, and whatever else kind of fire there is. I'm ordering like fourty of this version in case anybody wants a recommendation. Also one of my friends told me to get one for my car which is genius so I felt like I should share that tip, too!
But yes, I could go on and on about how scary that was but i'll spare you. Watch my insta-stories if you're interested in the whole story. It's now time for me to hop in the car and head to O-town. In the meantime, everyone be safe and seriously, check your fire extinguisher!!! Our entire house could have burned down if my mom didn't run around to all of our neighbors houses looking for a working one.
So yes, sorry about the bad vibes, but here's a really tasty recipe to make if I didn't scare you away from open flames.

RECIPE: Vietnamese Grilled Chicken Rice Bowls with Pickled Daikon and Carrots + Nuoc Cham (Sweet, Sour, Salty Dipping Sauce)
(makes 2-3 bowls)
INGREDIENTS
–FOR THE CHICKEN MARINADE–
2 large shallots, minced
3 cloves garlic, minced
1/4 cup white sugar
1/2 tablespoon pepper
1 tablespoon dark soy sauce (the thick one!)
1 tablespoon fish sauce
1/4 cup grapeseed oil (or another neutral oil)
1.5 lbs chicken breast, cut into chunks
–FOR THE NUOC CHAM DIPPING SAUCE–
1/3 cup lukewarm water
2 tablespoons sugar
the juice from 1/2 fresh lime
2 tablespoons fish sauce
1 garlic clove, finely minced
1 teaspoon sambal or sriracha or a few slices of birds eye chili if you can find 'em
–FOR THE PICKLED CARROTS AND DAIKON–
1 teaspoon salt, divided
1/2 cup grated carrots
1/2 cup grated daikon radish
1/4 cup warm water
2 tablespoon sugar
1/4 cup white vinegar
–FOR THE BOWLS–
5 cups brown rice
1/4 cup fresh mint
1/4 cup fresh cilantro
2 scallions, diced
2 tbsp cripsy fried garlic or onion for garnish
1/2 cup sliced english cucumbers
quick pickled daikon and carrots
INSTRUCTIONS
–FOR THE CHICKEN MARINADE–
Whisk together everything but the chicken in a small bowl for 1 minute until combined and sugar is starting to dissolved. Add the chicken chunks and stir to coat. Refrigerate over night or at least 4 hours.
Meanwhile, soak 6 long wooden skewers in water for at least an hour.
Fire up the grill and let it get all hot and fiery. Add a few chunks of chicken to each skewer and grill until the chicken is cooked through and there's a nice char on the nuggets. Remove from heat and set aside.
–FOR THE NUOC CHAM DIPPING SAUCE–
Add water and sugar to a bowl and stir for 1 minute until dissolved. Add in lime juice, fish sauce, garlic, and sambal. Add more fish sauce if you'd like it saltier and add more sambal if you like it spicy!
–FOR THE PICKLED CARROTS AND DAIKON–
Toss carrots and daikon with 1/2 teaspoon salt and place in a strainer over a sink/bowl. Let the mix sit for 15 minutes then rinse with cool water to wash off salt. Set on paper towels to dry.
Whisk together sugar with warm water until dissolved. Add in vinegar and stir again.
Toss pickling liquid with the vegetable mixture and let sit for at least 20 minutes.
–FOR THE BOWLS–
Add 2.5 cups of rice to one side of each bowl. Add cucumbers, pickled daikon and carrots, fresh cilantro, and fresh mint to the other side of each bowl.
Place 2-3 skewers on top of the rice side of each bowl and sprinkle with chopped scallions and crispy fried shallots.
Serve with nuoc cham and enjoy!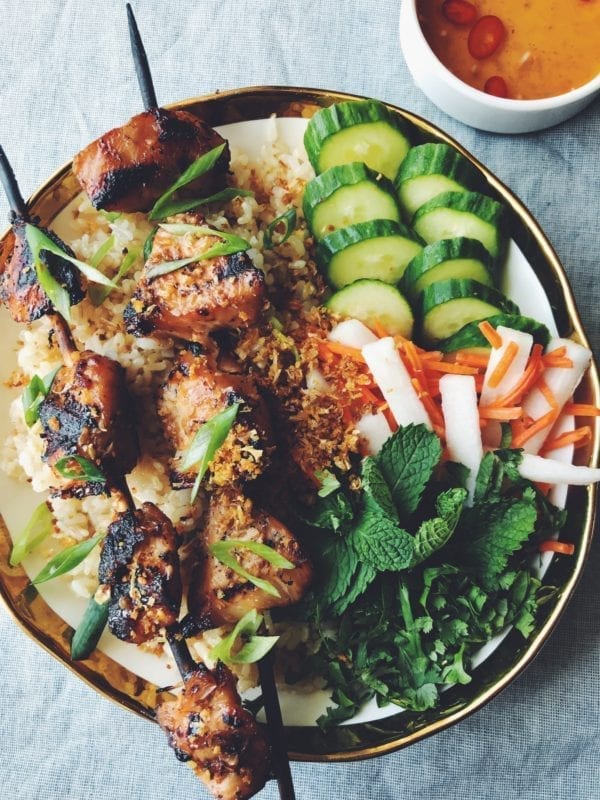 Also, I'm kind of spazzed out right now so please feel free to DM me if any part of this recipe doesn't make sense. I'm always there to answer alll the questions! Again, I love you guys! Thanks for all the sweet messages of support. Everyone be super safe tomorrow!!
xoxo,
GCS