This pineapple baked brie recipe is unlike anything you've ever had before! Creamy brie is wrapped in pastry dough and is then baked on top of caramelized pineapples and cherries. It's the perfect sweet and salty way to enjoy baked brie!

Pineapple Upside Down Baked Brie
A few months ago, I had a food tour grilled cheese pop-up in Chicago for About.com. Besides making about 700 grilled cheese sandwiches for lots of hungry ad agents, the boyfriend and I also ate and drank our weight in the deliciousness that Chi-town had to offer. One of the nights my dearest pal Joanna Miller, from Wisconsin Cheese, took us out and showed us how a real mid-westerner did the city. So like big city people, we uber'd out to Logan Square to begin our adventure! to meet her at Bang Bang Pie where we had... you guessed it... PIE!
We started our eating tour on a sweet note at Bang Bang Pie. Here,we had two pies and a grilled cheese (whoops)! We then headed out to get our salt on with some ice cold margaritas and a never ending supply of tacos at Big Star. After that, we then somehow made it across the street for too many super strong cocktails at The Violet Hour. And because I don't really drink anymore and because I find that it nearly impossible to imbibe without finishing on a full belly of food (you know to help with the hangover of course), we headed to Lost Lake to get found. This was my favorite bar by far. Tiki drinks, cutie pie waitresses dressed as Polynesian princesses, and a super tasteful spunky retro asian food menu that paired perfectly with all the coconut and pineapple liquors that we were downing.
We had such an amazing time in Chicago. And to our surprise, we also discovered how the tiki scene was something remarkable. Before that, we were totally unaware of the retro comeback before we visited the city. And because I have to turn every memory into something delicious to savor it even more, Joanna and I thought it would be cool to come up with a retro inspired tiki-centric cheesy appetizer. And that's how this bad boy was born.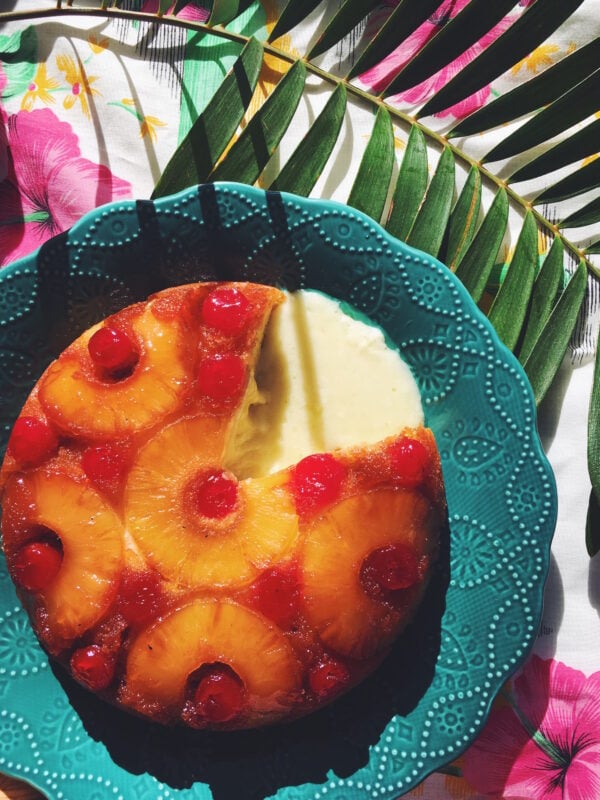 How to make Baked Brie with Fruit
Making a baked brie is easier than you think. First, begin by preheating your oven. Then, wrap your wheel of brie in pastry dough. You can use phyllo dough, puff pastry, pizza dough or crescent roll dough. If you'd like to bake fruit or jam inside of the pastry, then be sure to put it on top of the brie before wrapping it. Bake the brie for about 20 minutes or until the bread is crispy and the cheese has melted.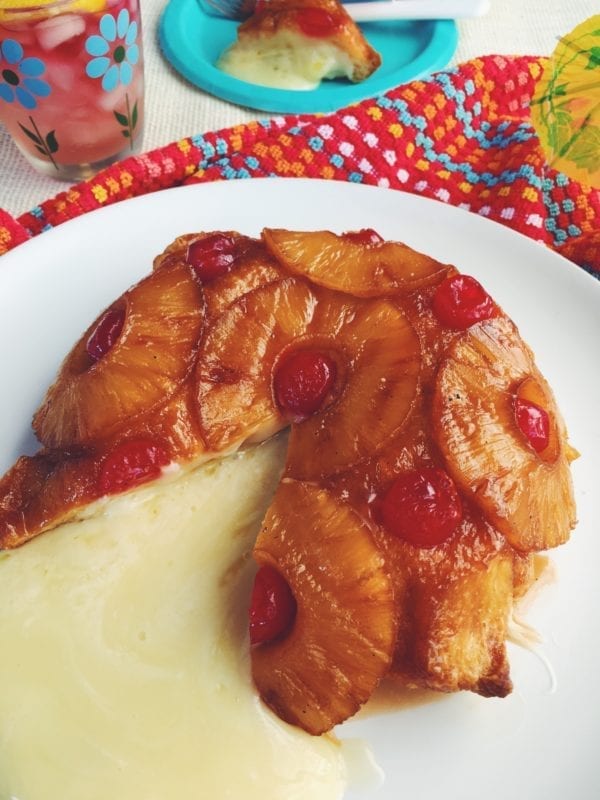 RECIPE: Pineapple Upside Down Baked Brie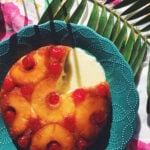 Print Recipe
Pineapple Upside Down Baked Brie
This version of baked brie will blow your mind!
Ingredients
6

canned pineapple rings

9

maraschino cherries

2

tablespoons

light brown sugar

divided

Cooking spray

1

tablespoon

salted butter

melted

1

8 ounce

tube seamless crescent roll dough

1

small 6-9 ounce

wheel Wisconsin brie cheese
Instructions
Place pineapple rings and maraschino cherries on folded paper towels and let stand about 10 minutes to drain excess liquid. Sprinkle pineapple slices with ½ tablespoon brown sugar; grill or broil until rings begin to caramelize. Set aside.
 


Heat oven to 360°F.
 
Spray sides of small cast iron skillet with cooking spray; add melted butter. Add remaining 1 ½ tablespoons light brown sugar to skillet and stir until evenly combined. Place 1 pineapple ring in center of skillet and arrange remaining 5 rings around it so cast iron skillet bottom is covered. Place 1 cherry in each center hole of pineapple rings.
 



Unroll crescent dough on lightly floured or nonstick surface. Trim dough into square shape; place brie in center of square. Tightly wrap crescent dough around brie and pinch ends together to tightly seal dough.
 
Place brie, seam-side-down, over pineapple rings.


Bake until brown sugar is bubbling and top of crescent dough is a light golden brown, about 25-35 minutes. Quickly invert brie onto plate; let sit 10-15 minutes before cutting and serving.

If you like this baked brie recipe, you might also like one of these tasty brunch recipes!
Summer Squash Frittata with Goat Cheese and Caramelized Onions - This summer squash frittata is filled with tangy goat cheese, fragrant dill and sweet caramelized onions. It's the perfect cheesy baked brunch dish to make for a crowd. Enjoy it with a lightly dressed green side salad and a toasted croissant.
Bacon Wrapped Dates Bouquet with Blue Cheese - Bacon wrapped dates stuffed with blue cheese is legitimately one of my favorite appetizers. It's sweet, savory, cheesy and meaty! And when you use them to make a bouquet, they're even more perfect! And best of all, they make the cutest Valentine's and Galentine's gift for the cheese and charcuterie lover in your life!
How to Build a Beautiful Yet Cheap Cheese Plate - Building a cheap cheese plate for under $30 is super easy and totally doable. It's a great way to entertain without spending a lot of money. And best of all, cheese and charcuterie pairs perfectly with wine and cheese. Below I'll build one out plus give you some helpful tips to make yours even cheaper.
You might also like my brand new cook book!
xoxo,
GCS