This Gorgonzola Jalapeño Cream Cheese Garlic Bread is the perfect game day appetizer! Funky gorgonzola cheese, nutty gouda, and creamy cream cheese is combined with fresh garlic and pickled jalapeños. Mix it up, then bake it right into a crunchy french baguette. The results are like a grown up version of the frozen french bread pizzas we all used to eat growing up.
Gorgonzola Jalapeño Cream Cheese Garlic Bread
This gorgonzola jalapeño cheesy garlic bread should 100% without-a-doubt be at all super bowl parties. In fact, I take that back. Regardless of the occasion, this cheesy garlic bread should be at all parties in general. It's pretty much the perfect appetizer. It takes all the goodness of a cheesy dip but bakes it right onto the vessel itself.
And best of all, it's super easy to make! The whole thing, from start to finish, takes less than 20 minutes. All you have to do is whip up the cheese paste, slather it onto a french baguette, and then bake it at 400F. 13 minutes later, you've got yourself hot bubbly gorgonzola jalapeño cheesy garlic bread that's completely irresistable. It's the kind of grab-n-go, no mess appetizer that's perfect for both kids and adults of all ages.
Oh and what's cool about this recipe is that it's totally transformable. Don't like jalapeños or gorgonzola? Swap it out for another tasty ingredient! All you need to do is follow the guidelines below. And as for serving, that's easy, too! I like to chop them up into bite size squares, put them on a plate, and serve them alongside of some ranch or blue cheese dressing.
How to make Cheesy Garlic Bread
Making cheesy garlic bread is ridiculously easy. To begin, you'll need to create a cheese paste that's spread onto the bread. I like to use cream cheese as the binder because it holds everything together perfectly. If you don't have cream cheese, you can also use mayonnaise or butter.
Now it's time to talk about what's in the cheese paste. In this recipe, I used a combo of gorgonzola and gouda. I love the funkiness of the gorgonzola but realize it's not for everyone. If you don't like it, try using a more flavorful cheese like pepper jack or sharp cheddar. Whatever the blend, just be sure to use about the same quantities - 1 8 oz block of cream cheese and 2 cups of shredded cheese and ½ cup of a super flavorful cheese.
Now let's talk about the enhancing the flavor even more. Since the base is garlic bread, it's important to use raw, fresh, minced garlic. You might be scared because it sounds overpowering, but once it's baked, each tiny garlic bit releases its flavor and mellows out. It's the backbone of this recipe so it's super important to use it!
In addition to that, you could add jalapeños like I did for this gorgonzola jalapeño cheesy garlic bread... or swap it out for something else. I recommend ingredients like sun dried tomatoes, balsamic glazed mushrooms, crumbled bacon, candied pears and/or caramelized onions. It's totally up to you, so use whatever ingredients make your mouth water!
RECIPE: Gorgonzola Jalapeño Cheesy Garlic Bread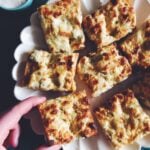 Print Recipe
Gorgonzola Jalapeño Cheesy Garlic Bread
This creamy, spicy gorgonzola jalapeño cheesy garlic bread is a crowd pleaser!
Ingredients
2

cups

shredded gouda

1

8 oz block cream cheese

room temp

½

cup

gorgonzola

crumbled

3

garlic cloves

minced

¼

cup

pickled jalapeños

roughly chopped

1

French baguette

Salt and pepper
Instructions
Preheat oven to 400F degrees.

Add gouda, cream cheese, gorgonzola, garlic and pickled jalapeños to a big bowl. Mix thoroughly until everything is combined and paste-like.

Cover a baking sheet in parchment paper or tinfoil. Cut the baguette down the middle, and then cut each in half so that you now have four equal parts. Smear mixture onto the interior of baguettes about ¼ inch thick.

Place baguette pieces equally apart on the lined baking sheet and bake for 13 minutes or until bubbly and brown. Remove from oven and serve with ranch of blue cheese dressing!
Notes
Depending on the size of your baguette, you might have some of the cheese paste left over. If you have a lot, throw it in a ramekin and bake it for 15 minutes for a fun spin on a funky spicy queso dip!
Don't like jalapeños? Swap them out for another ingredient like sun dried tomatoes, caramelized onions, chunks of pear, balsamic glazed mushrooms… whatever your heart desires!
Similar Easy Jalapeno Appetizer Recipes:
Pho-Inspired Deviled Eggs: There are probably millions of ways to make deviled eggs, but these vietnamese inspired ones are my absolute favorite! Fresh herbs, sriracha, hoisin and lime juice make these bad boys totally delectable!
Jalapeno Popper Mac n Cheese Cups: I made these a few years ago for Wisconsin Cheese and they're still one of my most popular pins on pinterest. Creamy jalapeno popper mac n cheese is baked into tiny bread cups that make them perfectly poppable.
Jalapeno Popper Grilled Cheese Sandwich: Of course I've got a jalapeno popper grilled cheese recipe! How could I run the world's largest grilled cheese blog without one!? This variation calls for smoked cheddar, cream cheese, pickled jalapenos and bacon... And yes, it is absolutely amazing.
xoxo,
Kenz aka GCS